---
Early in 2004, candidate John Kerry claimed he had Bush 'on the run'...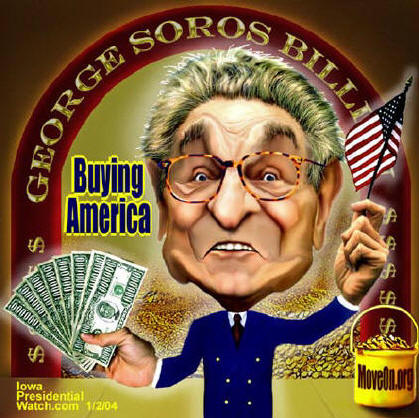 Jan. 2, 2004...Socialist billionaire George Soros showed us the money
as he sought
Jan. 22, 2004
Deanís Scream
America and political pundits continued to react to Howard Deanís antics Monday night [Jan. 19, 2004] when he behaved like an angry possessed individual as he addressed his supporters in Des Moines following his third place showing in the Iowa Caucuses. The Manchester Union Leader reported Dean was more subdued in his appearances on Tuesday in New Hampshire:
On the first day of the rest of his political life, Howard Dean chose a new diet yesterday. He replaced the red meat with plain, white toast.
"If he wanted to create a moment no one would ever forget, he succeeded," said Christine Iverson of the Republican National Committee yesterday.
"People get uncomfortable if they perceive a leader is out of control. The only president who really got away with it was Teddy Roosevelt," said Bruce Buchanan, a presidential historian at the University of Texas.
In a Boston Globe story Dean defended his incredible antics in Iowa:
The former Vermont governor said he wanted to show his appreciation to his Iowa volunteers. "I think that I owed them the reason that they came to this campaign, which was passion," Dean said. Later, in Concord, Dean responded to hecklers by breaking into song, and his supporters joined him in singing "The Star-Spangled Banner."
Feb. 18, 2004
Dean done
The truth of Howard Deanís campaign death became apparent in Wisconsinís election with an 18 percent finish and 13 delegates to Sen. John Edwards' 34 percent and 24 delegates and Sen. John Kerryís 40 percent and 30 delegates. The Doctor hopefully is going back to Vermont where he will make the call to cease life support efforts and pull the plug on a campaign that will be studied and written about for years to come.
Feb. 29, 2004... John Kerry ("Actually, I voted for the $87 billion before I voted against it")
launched verbal attacks on the Bush Administration for underfunding the troops.
Chief complaint: lack of body armor for the troops.
Chief problem: Kerry himself voted against it when it came to a vote in the Senate...
---
paid for by the Iowa Presidential Watch PAC
P.O. Box 171, Webster City, IA 50595
---