---
March 3, 2004... John Kerry's frequent changes of positions
on issues earned him the title of "Senator FlipFlop"...
March 3, 2004... Veterans launched a petition declaring
John Kerry to be unfit as Commander-in-Chief...
Dec. 29, 2003... The French bungle a terrorist plan hijacking attempt...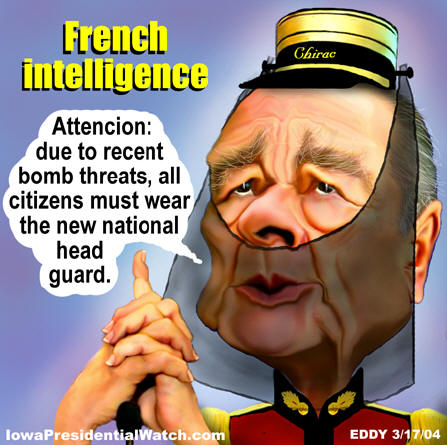 March 17, 2004... France bravely reversed it's earlier law
banning the wearing of head guards by Muslim women...
Mar. 20, 2004... John Kerry's 18-year voting record as a U.S. Senator showed
persistent no votes on defense spending and yes votes on defense cuts...
here's a list of weapons systems Kerry has opposed over the years:
the B-1 bomber
the B-2
the F-15
the F-14A
the F-14D,
the AH-64 Apache helicopter
the AV-8B Harrier jet
the Patriot missile
the Aegis air-defense cruiser
the Trident missile
Kerry sought to reduce procurement of the following:
the M1 Abrams tank,
the Bradley Fighting Vehicle
the Tomahawk cruise missile
the F-16 jet
---
paid for by the Iowa Presidential Watch PAC
P.O. Box 171, Webster City, IA 50595
---