---
May 27, 2004... John Kerry is the most liberal senator in Congress,
with an 18-year voting record to prove it...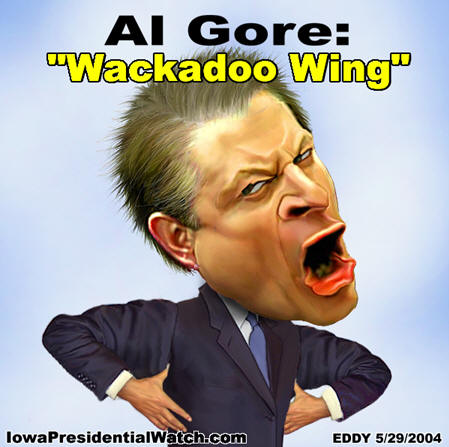 May 29, 2004
Wackadoo Al Gore
Al Gore continued his vitriolic rhetoric against President Bush during an hour-long speech at New York University... a speech sponsored by MoveOn.org PAC. During his speech, Gore called for the resignations of Secretary of Defense Donald Rumsfeld, National Security Adviser Condoleezza Rice and CIA Director George Tenet. Also targeted by Gore for resignation were three of Mr. Rumsfeld's top civilian deputies - the deputy defense secretary, Paul D. Wolfowitz; Douglas J. Feith, the under secretary for policy; and Stephen A. Cambone, the under secretary for intelligence.
By many news accounts, Gore was at his screaming and hollering best – or worst, depending upon your point of view. Here's what New York Times columnist Maureen Dowd had to say:
"John Kerry's advisers were surprised and annoyed to hear that Mr. Gore hollered so much, he made Howard Dean look like George Pataki. They don't want voters to be reminded of the wackadoo wing of the Democratic Party."
"They would like Mr. Gore, who brought bad karma to Mr. Dean with his primary endorsement, to zip it and go away. But more and more Democrats think it is Mr. Kerry who should zip it and go away."
June 2, 2004
Kerry's America... back in the Vietnam boat again
The Kerry campaign has a new theme, "Let America be America again." Best of the Web's James Taranto has this to say about it:
"Let America be America again." What does this mean? We didn't realize America stopped being America, and we have no idea what America is now if not America."
Senator Kerry attempted to clear up the fog with the following explanations: "Talking about 'Let America be America again' is tapping into that value system that people think makes this country strong..." "What is it that makes us strong, and what do we have to do to get that back, to let America be America? Strength means people being able to do better in their jobs. Strength means having the courage to stand up to special interests that steal the agenda here in Washington. Strength is fighting to have health coverage for children. . . .
And this hippie-zone one-liner Kerry "shaped" all by himself: "For America to be America for any of us, America must be America for all of us..."
And finally, Kerry offers this view of America: "We were Americans and we were literally in the same boat," he said, recalling his Navy crew in Vietnam. "We're all in the same boat here in America, and we need to come together now to lift this country up, not tear it down. . . . We are the can-do people, we are the can-do country, and we need to get the job done."
And there you have it... John Kerry's "Let America be America again" means we're all back in that Vietnam boat again -- with John, and Jane. Ah, I can almost hear the campaign music. Yes! It's the Beatles ...
Get back, get back,
Get back to where you was belonged....
June 3, 2004
Kerry honored by Vietnamese Communists
From wintersoldier.com:
In the Vietnamese Communist War Remnants Museum (formerly known as the "War Crimes Museum") in Ho Chi Minh City (Saigon), a photograph of John Kerry hangs in a room dedicated to the anti-war activists who helped the Vietnamese Communists win the Vietnam War. The photograph shows Senator Kerry being greeted by the General Secretary of the Communist Party of Vietnam, Comrade Do Muoi.
Jeffrey M. Epstein of Vietnam Vets for the Truth acquired the photograph over the Memorial Day weekend as America was commemorating its military heroes. Epstein's organization, Vietnam Vets for the Truth, had issued a general request last week for photographs documenting Kerry's activities on behalf of the enemy. Bob Shirley, a Vietnam Swift Boat veteran (www.pcf45.com), sent the photograph to Epstein in response to that call. Shirley recently joined over 200 other Swift Boat veterans in signing an open letter questioning Kerry's fitness to serve as Commander-in-Chief.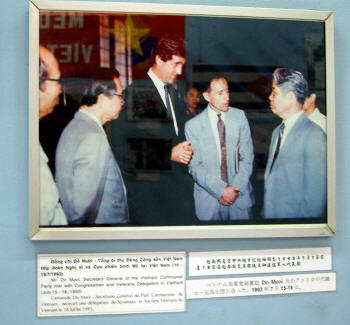 Photograph of John Kerry meeting with Comrade Do Muoi, General Secretary of the Communist Party of Vietnam, in Vietnam, July 15-18, 1993. Photo taken in the War Remnants Museum (formerly the "War Crimes Museum") in Saigon in May 2004.
July, 2004... artwork created by IPW's Linda Eddy, on behalf of the Vietnam Veterans for Truth
website "KerryLied.com" (no longer online)...
---
paid for by the Iowa Presidential Watch PAC
P.O. Box 171, Webster City, IA 50595
---