---
June 25, 2004... Bill Clinton admits he and Hillary lied on national television
during a 1992 interview regarding his affair with Genifer Flowers..
June 30, 2004... there are some things even money can't buy...
July 2, 2003... John Kerry's lackluster personality has many liberals worried. ...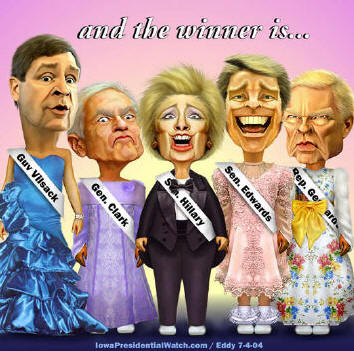 July 4, 2004
July 6 Veep Announcement?
According to an AmericanSpectator article, Democrat John Kerry will announce his vice presidential candidate on July 6. The consensus had been targeting a July 11 revelation and suggests Kerry's campaign is moving up the announcement out of sheer desperation. Despite low approval ratings for President Bush, Kerry is still failing to capitalize on the situation. Naming the VP candidate could shore up lagging poll numbers and revive a disinterested press:
"It's accelerated. It all began happening on Wednesday," says the campaign source. "For the past week we've been told there was no decision, then all of sudden, this. We've been sifting through some cruddy poll numbers, so maybe that has something to do with it."
"When you factor in a president down in the 40s of approval, and a candidate that many people claim they don't know much about, there is no way we should be losing Michigan and Pennsylvania. But we are," says the Kerry adviser. "We've spent $50 million and have nothing to show for it. Not a single point."
A Kerry campaign source named the following as top contenders for the Veep spot:
Sen. John Edwards, Rep. Dick Gephardt, Iowa Gov. Tom Vilsack, Wesley Clark, and a "surprise candidate." Supposedly, each were asked to supply their contact and travel info for the July 4th weekend.
So, who is the "surpise candidate"? According to the Kerry campaign source:
"It could be Hillary. It's assumed that she has been vetted on a separate track from the others. At least that's the talk. No one here knows for sure," says the source.
According to a Clinton Senate staffer in New York City, late on Wednesday, a staff colleague called from the road and indicated that "the Senator may need to change some things around next week." "But we weren't told to do anything for now," says the staffer.
July 6, 2004... Playing coy for way too long, John Kerry
finally picks his, ummm, man for Veep...
---
paid for by the Iowa Presidential Watch PAC
P.O. Box 171, Webster City, IA 50595
---