---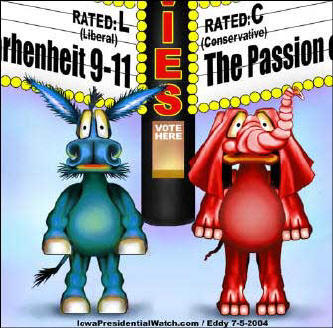 July 5, 2004... A polarized America is seen in the viewing audiences of 2 films:
Moore's Bush-bashing mockumentary "Fahrenheit 9-11" and Mel Gibson's "The Passion of Christ"...
July 16, 2004
Hillary not speaking
July 14, 2004...The speakers lineup for the Democrat National Convention in Boston has been released and Hillary Clinton is not on the list. However, her husband, Bill, is the opening night speaker.
The NY Times reports that the Kerry campaign stated:
"She never asked," said Stephanie Cutter, a spokeswoman for the Kerry campaign. "Obviously, Hillary Clinton is a leader in the party and is working hard to elect John Kerry." But Ms. Cutter said she did not know whether each speaker, including Ms. Clinton's husband, had formally requested time.
What's this? It seems that she still could get a spot at the microphone:
As for Mrs. Clinton, Lina Garcia, a spokeswoman for the convention, said there was still a chance that Mrs. Clinton could land a role as a speaker. "There's a possibility she could," she said. "There's a possibility she couldn't."
The Senator speaks
July 16, 2004...Sen. John Kerry's campaign has caved in to the real power in the Democrat Party, Hillary Clinton, and offered a speaking slot to the other Senator.
Kerry asked Hillary Rodham Clinton on Thursday to address the Democratic National Convention on its opening night and introduce her husband, former President Clinton, ending an intense lobbying campaign by the New York senator's backers angered by her non-speaking role.
On Wednesday, the former chairwoman of the New York State Democratic Party had called the slight of Clinton a "total outrage" and "very stupid." Kerry's campaign responded to Judith Hope's criticism by saying it had no plans for giving the senator a speaking role, because she didn't request one.
Other speakers have reported that the way in which their speaking assignments were handled was poorly done.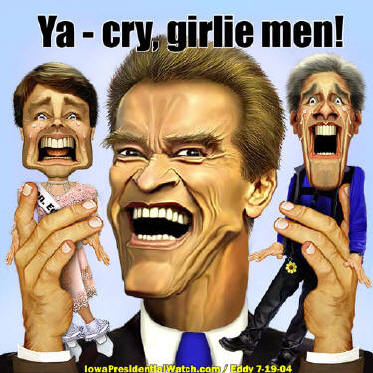 July 19, 2003... Spoofing the old Saturday Night Live spoof of himself, new Guv Schwarzenegger
gets lots of press for urging other politicians not to be 'girlie men'. ...
July 21, 2004
Berger's 'honest mistake'
Former Clinton national security adviser Sandy Berger says that the problem with pilfering classified national security documents is just an honest mistake.
"Last year, when I was in the Archives reviewing documents, I made an honest mistake. It's one that I deeply regret," Berger said. "I dealt with this issue in October 2003 fully and completely. Everything that I have done all along in this process has been for the purpose of aiding and supporting the work of the 9/11 commission, and any suggestion to the contrary is simply, absolutely wrong."
Reports are that this is a serious matter.
"The length of the investigation indicates that they are trying to dot their i's and cross their t's," former federal prosecutor Joseph diGenova said. "I'm not surprised that they're taking this case seriously, especially given the bizarre circumstances."
The circumstances he was referring to are reports that Berger had stuffed classified documents and/or his handwritten notes into his jacket, his pants and even his socks. And according to Berger's own lawyer, this was done five times.
Kerry offered the following public comment concerning his advisor who has been accused of sharing information from the classified documents with Kerry.
"Sandy Berger is my friend, and he has tirelessly served this nation with honor and distinction. I respect his decision to step aside as an adviser to this campaign until this matter is resolved objectively and fairly," said John Kerry.
Berger said that every Clinton administration document requested by the Sept. 11 commission was provided to the panel. Berger also said he returned some classified documents and all his handwritten notes when he was asked about them, except for two or three copies of the millennium report that may have been thrown away.
The millennium report was written by former National Security Council aide Richard Clarke, it outlines the 1999 plot to attack U.S. millennium celebrations and offered more than two dozen recommendations for improving the response to Osama bin Laden's al-Qaida network. The recommendations were not implemented.
Reaction from Republicans was harsh on both Berger and Kerry.
"Right after the documents were taken, John Kerry held a photo op and attacked the president on port security. The documents that were taken may have been utilized for that press conference. They were then destroyed, according to Mr. Berger," said Sen. Gordon H. Smith, Oregon Republican.
"I just simply think it's important for the American people to know how disappointing this conduct is as they try to take down the president of the United States," Smith said.
"Did these documents detail simple negligence, or did they contain something more sinister?" Said House Speaker J. Dennis Hastert. "Was this a bungled attempt to rewrite history and keep critical information from the 9/11 commission and potentially put their report under a cloud?" asked Hastert.
July 25, 2004
Kerry's real Band of Brothers
The Democratic Convention begins tomorrow and much has been made of the 'introducing of John Kerry to America' with hype focused on Kerry's Vietnam service as a swift boat captain.
But the real story of Kerry's Vietnam service has not been told by the Kerry Campaign. It's been falsely told through a photograph of Kerry with 19 of members of his Navy swift boat crew. Calling it Kerry's 'Band of Brothers,' the Kerry Campaign failed to mention that only two of the 19 individuals shown in the picture actually support Kerry's campaign for the presidency. And 11 of those 19 vets pictured are suing Kerry for falsely using their image. They, and numerous other veterans -- including those in command over Kerry during his abbreviated Vietnam tour -- have also written and signed a letter stating Kerry is "unfit to serve as Commander-in-Chief."
In light of this, why does Kerry keep trumpeting his Vietnam credentials? Because the mainstream media is not reporting the truth about John Kerry's Vietnam record. The mainstream media is not reporting what the thousands of Vietnam veterans are really saying about John Kerry.
· Kerry lied in 1971 to Congress about war atrocities committed by his brethren.
· Kerry is recognized in the North Vietnamese War Museum as one of their heroes for helping them defeat the USA and win the war for the Communists.
· Kerry has voted against more than a dozen of the key weapons that are critical to our nation's defense.
· The Kerry POW/MIA cover-up.
· Kerry voted to go to war and then voted against the $87 billion to fund it. (Oh that's right, he "first voted for it before he voted against it.")
[NOTE: see WINTER SOLDIER, KERRYLIED.COM, SWIFTVETS.COM]
Kerry's true "Band of Brothers" are not his fellow Vietnam veterans. They are the those who would weaken America... the internationalists... the terrorists who would blame us for 'intervening.' The true friends of Kerry are all of those who want us to feel guilty for the fact that America is an exceptional nation, filled with individuals whose freedoms enable us to rise constantly higher.
---
paid for by the Iowa Presidential Watch PAC
P.O. Box 171, Webster City, IA 50595
---