April 12, 2005
Hillary book bashing...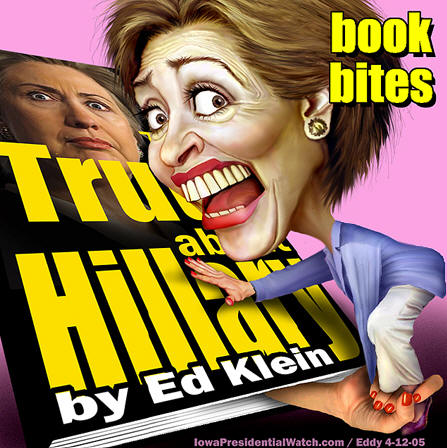 Hillary book buzz
There is growing buzz concerning upcoming attacks on Hillary Clinton. The NY Daily News has this titillating brief regarding Ed Kleinís yet to be published book titled, "The Truth About Hillary: What She Knew, When She Knew it, and How Far She'll Go to Become President". The book is touted as being potentially as devastating as the Swift Boat veterans book on John Kerry, and thus could squash Hillary's presidential aspirations:
Klein yesterday wouldn't shed any light on Drudge's account and uttered a noncommittal "uh-huh" when I noted that some might consider the report a ploy by Sentinel to generate prepublication buzz.
Meanwhile, Clinton's press secretary, Philippe Reines, told me: "We don't comment on works of fiction."
But Sentinel associate publisher Will Weisser insisted: "We are very excited about publishing the Clinton book for September, but it's an embargoed book. I can't comment about any kind of internal discussions at Penguin."
On another front, Bill Clinton appeared in Harlem to announce a $10 million initiative aimed at eradicating HIV/AIDS among children in Africa. While there he took on Republican operative Arthur Finkelstein, who recently married his gay partner. Finkelstein recently announced the formation of a Stop Hillary Now campaign.
"I thought, one of two things. Either this guy believes his party is not serious, and is totally Machiavellian in his position, or there's some sort of self-loathing there. I was more sad for him," Bill Clinton said.
our political cartoonist Linda Eddy is the exclusive artist
for top online conservative shop RightWingStuff.com :