September 7, 2005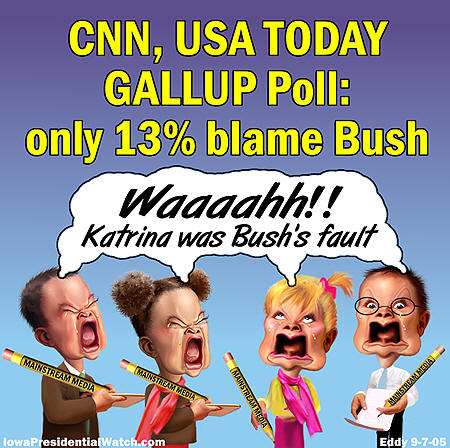 CNN / USA TODAY / GALLUP Poll:
only 13% blame Bush for Katrina
LINK: click here for full article on Gallop.com
Excerpts: Despite widespread criticism of the response by Bush and, separately, the federal government, to the problems caused by the hurricane, the public seems on balance only mildly critical. Forty-two percent say Bush did a "bad" (18%) or "terrible" (24%) job, but 35% rate his response as either "great" (10%) or "good" (25%).
...
When asked to identify who was most responsible for the problems in New Orleans after the hurricane, 38% of Americans said no one was really to blame, while 13% cited Bush, 18% the federal agencies, and 25% state and local officials.
...
Few Americans feel that any top official in the agencies responsible for handling emergencies should be dismissed from office -- just 29% say someone should be fired, while 63% disagree.

our political cartoonist Linda Eddy is the exclusive artist
for top online conservative shop RightWingStuff.com :