March 9, 2005
Dan Rather's farewell...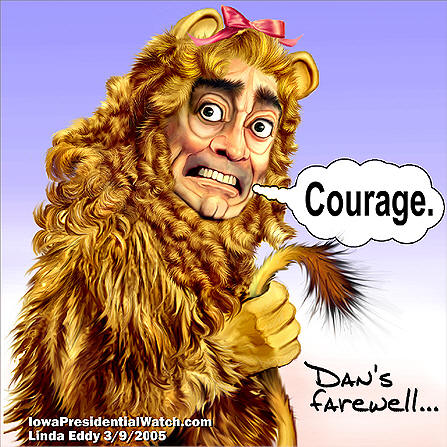 Dan says 'courage'
Itís official: Dan Rather is retired from his position as anchor for CBS news. Hereís an excerpt, courtesy of Drudge.com:
Dan Rather echoed a word he once briefly used to sign off the "CBS Evening News" - courage - in anchoring the program for the final time after 24 years on Wednesday.
In a brief statement at the end of the broadcast, Rather paid tribute to Sept. 11 terrorist victims, tsunami survivors, American military forces, the oppressed, those in failing health and fellow journalists in dangerous places.
"And, to each of you," he said. "Courage."
our political cartoonist Linda Eddy is the exclusive artist
for top online conservative shop RightWingStuff.com :