November 14, 2005
DNC Chair Howard Dean ducks out of a head-to-head with
RNC Chair Ken Mehlman on "Meet The Press"...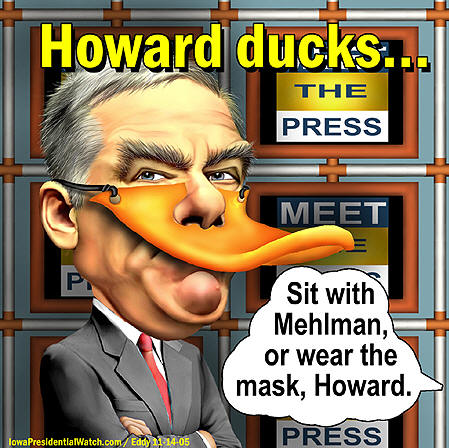 Dean's cowardice
The handlers of Democrat National Committee Chairman Howard Dean continue to refuse to allow him any face-to-face exchanges with Republican National Committee Chairman Ken Mehlman. Drudge reports on Sunday's events regarding NBC's "Meet the Press" incident:
DRUDGE has learned MEET THE PRESS producers have been working to get a head to head Dean/Mehlman appearance on the program since Dean was named chair back in February. Dean and his handlers have repeatedly turned down the request. The former Vermont governor only agreed to do this week's program if they appeared in back-to-back interviews.
our political cartoonist Linda Eddy is the exclusive artist
for top online conservative shop RightWingStuff.com :