June 26, 2006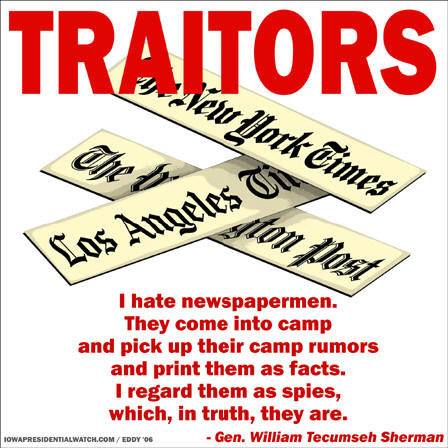 Traitors
"We're at war with a bunch of people who want to hurt the United States of America. And for people to leak that program, and for a newspaper to publish it, does great harm to the United States of America," President Bush said about the newspapers the NY Times, Washington Post and LA Times who published national secrets about a financial spying program.
Rep. Curt Weldon (R-PA) on PBS's "The News Hour" was livid that the NY Times would betray our country at a time of war. He further blamed Congress in breaking their legal requirements for preserving our nation's security as a source of the story.
The New York Times reported Friday that the US government had secretly monitored thousands of international banking transactions since the attacks on New York and Washington in order to track suspected terrorists.
The newspaper said it refused government requests not to publish the story. Other major media followed with their own reports after the Times story came out.
"…I'm calling on the attorney general to begin a criminal investigation and prosecution of the New York Times, its reporters, the editors that worked on this, and the publisher," Rep. Peter King (R-NY) chairman of the House of Representatives the Committee on Homeland Security said.
"We believe The Times and others in the press have served the public interest by accurately reporting on these programs so that the public can have an informed view of them," NY Times executive editor Bill Keller said in a letter to readers Sunday.
our political cartoonist Linda Eddy is the exclusive artist
for top online conservative shop RightWingStuff.com :