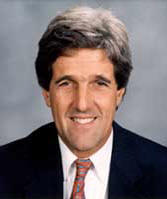 John Kerry

excerpts from the Iowa Daily Report
January 16-31, 2004
---
Gephardt "is reigning Iowa champ with 20 years of building the ground game," and "Dean's headquarters is the size of a city block," said Michael Meehan of the Kerry campaign. "We are competitive but definitely outgunned" on the ground, he said.  (1/16/2004)
---
Race up for grabs
In a tight race anything can happen and usually does. However, an organization that has been identifying which voters are favorable to the candidate and turnout of those voters is everything at this point. The polls are probably underestimating the Gephardt and Dean support. Many of Dean's supporters have cell phones and are not being called in the polling numbers we are seeing. The other group that is probably under-represented are the union members supporting Gephardt. Contrary to popular belief, many of these people are not registered as Democrats, and therefore not called in polling endeavors.
In the latest three-day tracking poll, Kerry gained two percentage points to 24 percent, with Howard Dean and Richard Gephardt each dropped two points to 19 percent. John Edwards is holding steady at 17 percent. "Any one of the four can win this one," pollster John Zogby said.
Reports are that lots of undecided voters are showing up at all of the candidates' visits. Clearly Iowa Caucuses could see a very large turnout and the buyers are hot to decide.
It will be interesting to see how well the old industrial unions deliver for Gephardt. They are in the fight of their life to maintain top influence over the service unions, who have endorsed Howard Dean. How well they perform in the Iowa contest has great consequences for them within the union movement.
Kerry continues to surprise and impress people with his late push to the front of what is a statistical dead even race within polling margins of error. Iowa's First Lady Christie Vilsack seems to be providing a flood of women joining the Kerry campaign. And Kerry's personal performance seems to be catching on with some voters. He is giving 20-minute stump speeches that focuses on issues -- corporate responsibility, foreign policy, taxes and health care. He verbally slaps around President Bush and does not say a word about any of his Democratic opponents. His close is:
"As Democrats, we cannot just offer anger," he said. "We've got to offer solutions." He ends by urging people to caucus for him and to "go there not just to send a message, but to send America a president."
A big part of the issue in campaigning is how the Democrats run against Bush. If a candidate goes to the middle, they will depress their base vote turnout. President Bush's political advisor Karl Rove complained about the millions of Christian Right that sat out the last election, for example. The debate at hand in the Democrat Party right now is the core of the question of electability among Democrat candidates. Here is what the Post quotes Dean's campaign manager Joe Trippi saying:
In an interview, Trippi said, "The established way is to go after the middle, even if it means depressing your base." He said that swing voters will look at large issues -- the war and the budget -- but that policy positions are secondary to the larger mood and promise Dean conveys.  (1/16/2004)
Kerry gets a dig in on Dean in Ft Dodge
Looking over his audience in Fort Dodge, many of them retirees and veterans, Kerry dryly said, "This is a great tribute to the democratic process … out here in Iowa, and I respect it. I have not seen any special interests anywhere in this Iowa caucus process."
Kerry is strong in his attack on Bush according to the Mason City Globe Gazette:
"If you're a drug company, if you're a polluter, if you're among the wealthy in this country, then George Bush can beat his chest and say 'mission accomplished.'
"But if you're unemployed, if you're a family farmer, if you're without health insurance, it's mission deserted, mission abandoned, mission not even tried," said Kerry.  (1/16/2004)
t's a wild race
"I think its organization," Iowa Gov. Tom Vilsack said Friday in an interview with The Des Moines Register. "But even more than that, it's the sophistication of the people at the caucuses to persuade uncommitted Democrats."

Four candidates are bunched at the top in the first Democrat Presidential contest in Iowa. The campaigns that built solid staffs and recruited volunteers now have the best opportunity of gaining the advantage over their opponents.

Des Moines has become the "Spin City" of the world. This is the time of playing the expectations spin game. In restaurants all over Des Moines, senior Gephardt, Kerry, Dean, and Edwards campaign officials dined with major league reporters to spin the media on what to think about their candidate's performance in the Iowa Caucuses. The goal is to convince reporters and pundits that their candidate is going to do terrible and if they do better than that then their candidate is clearly the one with the momentum coming out of Iowa. The buzzwords they're trying hardest to plant in reporters' minds are: 'strong third' or 'strong fourth' and 'momentum.'

Momentum and lower expectations are diametrically opposed to each other. The NY Times has story about momentum:

"It is kind of a double-edged sword," said Mr. Bartels, the Princeton professor. "On the one hand, you want to build up expectations. But you don't want to build them up so high that come caucus night, people are disappointed."

Tonight on the 10:00 news the last Des Moines Register Iowa Poll numbers will be reported. Its meaning will be much debated. With the level of intensity and organization on the ground, Monday night will be the only thing that really counts from here on in.

This is also the time of last minute attacks by mail and missteps by candidates. A past quote by Sen. John Kerry is causing that campaign a bit of concern. Kerry made some comments about reducing the Department of Agriculture during the time of Al Gore's Reinvent Government Commission:

"Get rid of the Agriculture Department, or at least render it three-quarters the size it is today," the Democratic presidential candidate said in a story published in the Worcester (Mass.) Telegram & Gazette in 1996.

The Kerry campaign response was quick:

"Then, as now, John Kerry supports eliminating waste, fraud and abuse and creating an Agriculture Department that works better for farmers," Kerry spokeswoman Stephanie Cutter said Friday.

Senator Tom Harkin of Iowa, who has endorsed Howard Dean, brought the charges against Kerry without directly naming him. Dean aides later sought out reporters to make sure they knew Mr. Harkin was referring to Mr. Kerry, whom they also faulted for voting with Republicans in favor of an amendment to the 1996 farm bill that would have phased out federal farm supports over seven years. This new approach by Dean's campaign was coordinated between himself and Dick Gephardt as both quit firing at each other and took aim at Kerry and Edwards. Dean and Gephardt have pulled their attack ads against each other off the air. But don't expect the nasty things they are mailing into caucus attendees' homes to be pulled…

The NY Times

covers this new approach from Dean and Gephardt, and the NY Times covers Gephardt's new approach to his stump speech:

But as the Iowa caucuses near, Mr. Gephardt has turned up the fire on a stump speech that once conveyed more plain-spoken sincerity than flash or flair. Locked in a four-way battle for Iowa caucus voters, Mr. Gephardt is working hard to engage his audience.

The Des Moines Register points out in their caucus coverage that Kerry's statement is an exaggeration:

Kerry's claim that there were more bureaucrats than farmers was a bit of an overstatement. The USDA, which has 110,000 employees, counted more than 1.9 million farms in its 1997 census.

Kerry's statement also required Iowa Secretary of Agriculture Patty Judge to come to Kerry's defense:

"I would never support a candidate for president of the United States who would harm Iowa's family farmers," she said in a prepared statement. "There is certainly nothing wrong in calling for government accountability. . . . He showed his leadership when he called for an overhaul of the Agriculture Department, and he will show leadership as president to continue to fight for family farmers."

Kerry continues to try to bring new participants to the caucuses by focusing on Iowa's veterans. Former Georgia Senator Max Cleland, an amputee veteran of Vietnam, was in Sioux City drumming up support and enthusiasm with fellow vets:

"There is only one man who could get me to leave the warm climate of Georgia for the cold of Iowa in January. That person is John Kerry," Cleland said.

Gephardt is as confident as anyone. His campaign has assembled with union support -- the best traditional organization in the state's history. "This has been an organizational force in the state that has never been seen before by anybody, Democrats or Republicans," claimed Gephardt campaign spokesman Bill Burton. "It's going to be remembered for a long time."

Edwards remains hopeful about his campaign. "This is like night and day. I'd have events like this a month ago, and we'd have 40 to 50 people. Now you can't get people into the room. It's something to see," Edwards told reporters as he prepared to leave for Council Bluffs for another six rallies fitted into the day. Edwards also believes that his organization is up to the task of converting this new enthusiasm for his candidacy into caucus delegates.

Dean has been losing support daily according to many tracking polls. The race can't end soon enough for his campaign. They are still banking on the outside volunteers and the government and service sector unions pulling him through organizationally. The Washington Post and the Boston Globe offers a story about how Dean is off his pace. And the question is, will Dean's newcomers show up Monday night and know how to beg and barter for delegates?

In a typical 'look who's supporting Dean now' moment, Dean received the endorsement of rock singer Joan Jett who performed several of her hit songs to a packed crowd at Java Joes Coffeehouse at 214 Fourth St. in Des Moines. The songs she performed included "Bad Reputation" and "I Hate Myself for Loving You," which may not have been the best of themes considering Dean's record of late…

Campaign manager Joe Trippi said on CNN that the campaign had budgeted $20,000 a month for travel expenses for Carol Moseley Braun and a staff aide in Braun's new role as a surrogate for Dean in future state contests. He denied charges that the campaign was paying Braun a salary. Trippi also said there was no deal made to retire her campaign debt. He stated a "huge unity dinner" would be held after the nomination is decided to pay off the debts of unsuccessful contenders.

Dean's authenticity and electability is called into question in an upcoming Sunday Post article:

But in our love affair with so-called reality entertainment, we don't dwell on the fact that the "reality" in reality TV is really just an affectation, and the shows are theatrical productions like any other. Melanie, a cast member of the British version of "Big Brother," once said of that show: "We were manipulated into stereotypes. That wasn't me, it was a caricature of me. . . . The power of the production is incredible. It's not real. Don't be fooled!" The current season of "The Real World" features a group of almost impossibly good-looking people in the same house with copious amounts of alcohol, a hot tub and little to do other than flirt.

The NY Times reports on how Dean's campaign's coziness with the press has gone out the window:

…during a series of conversations with ABC News last weekend, Dr. Dean's advisers threatened to take away the network's seat on the campaign plane if ABC went forward with plans to report that a Vermont state trooper who Dr. Dean once called "a wonderful parent" turned out to be a wife abuser.  (1/17/2004)
---
---
Kerry's latest endorsement
In New Hampshire the Concord Monitor has endorsed Sen. John Kerry:
Kerry's two decades in the U.S. Senate and his service on the Foreign Relations Committee have made him a statesman. He has traveled widely and met with most of the world's leaders. He has been heavily involved in seeking peace in the Middle East and an end to the AIDS epidemic in Africa. In Congress he proved that he has the ability to work with Republicans to break logjams and keep the nation's business moving.
People trust Kerry when he speaks because he has thought things through and knows where he stands. He does not advocate one policy one week, another the next. And he strongly believes in what the nation is sorely missing, an open, accountable government.  (1/19/2004)
John Kerry
Sen. John Kerry received another boost from the latest Iowa Poll showing him still in the lead with 26 percent of likely caucus attendees. He is currently fending off questions about whether he wants to dismantle the Department of Agriculture. His message is that he wants to fight for the small farmer against large conglomerates that are unfairly taking the majority of the nation's farm subsidies.
He also fired away at President Bush stating, "I think this administration has run the most reckless, arrogant, inept, and ideological foreign policy in modern history.
When a woman in an audience asked why he would make a better president than Edwards, Kerry brought up the age question and stated that when he returned from a tour of duty in Vietnam in 1969, "I'm not sure that John Edwards was out of diapers."
Edwards' response to that was, "I honor his service in Vietnam," Edwards said. "In 1969, I was sitting around the kitchen table with my parents trying to figure out how we would pay for college like so many Iowans do. ... And that is a difference between me and Senator Kerry."  (1/19/2004)
Unions Lose
The big losers in the Iowa Caucuses were the nation's unions. The biggest losers were the industrial unions who had endorsed Rep. Dick Gephardt -- of the 21 unions who had endorsed Gephardt, they represented some 96,000 members in Iowa. Gephardt came in at a mere 11 percent of the delegates out of over 120,000 Iowans who attended the Caucuses. The old industrial unions are no more. They cannot deliver even 10 percent of their members to their candidate of choice.
Gephardt may have been too much of the past and caucus attendees' fears of not sparking enough enthusiasm for his campaign probably hurt. However, no other candidate delivered on the industrial unions' issues and unions were greatly indebted to Gephardt for his long years of service. They did not deliver on their debt or for their own sake.
The defeat is all the worse because national union presidents were in Iowa for days before the caucuses working to create, in their words, "the most awesome organizational effort Iowa has ever seen."
The big news from Gephardt's camp now will be who he endorses. It will be interesting to see if he consults with his union friends before he throws his weight behind a candidate. Watch Edwards because of Gephardt's parting Iowa compliments towards him.
The other interesting thing to watch is where Gephardt's super delegates go. He had the second most delegates. Look for Iowa Sen. Tom Harkin, Al Gore, and Bill Bradley to begin working the phones to those delegates to stop the erosion. Remember -- Dean still has the most delegates for now.
The service unions faired only slightly better in their pick of Dean. AFSME and CEIU provided the professional basis for many of Dean's volunteers in Iowa. Dean's 18 percent showing was well behind the two front runners. It is an embarrassing finish for Dean and the unions who backed him. Sen. John Kerry at 38 percent more than doubled Dean's showing and the second place finisher Sen. John Edwards at 32 percent almost doubled Dean as well.
There is no doubt that Dean is not done yet. However, there are grave doubts this morning as to whether Dean will be successful. Before Iowa, Dean appeared on an unstoppable track to the nomination. Now, the pile of money sitting in his account is the only thing keeping him from the fate that has befallen Gephardt.
Dean has received more than a body blow. He has been knocked to the mat. In picking himself up last night, his speech to the faithful was part raging bull, part fiery preacher. It was not a sight that inspired confidence or did anything to assuage American's fears that he is too angry.
Dean's blog was a buzz last night. It did not appear that the campaign true believers have come to the realization that the difference between a minority position and a majority position takes more than evangelizing -- it takes the forging of uneasy alliances with those who find it prudent to achieve the same goal.
Dean will have to remake his campaign in order to be successful. However, the remaking of his campaign may destroy the very nature of his insurgency and therefore, destroy his campaign.
Kerry and Edwards didn't get a tail wind out of Iowa. Instead, they are riding rockets into New Hampshire. The question will be whether they can control the direction of their campaign boost in order to get the most good from their Iowa boost.
Kerry acknowledged that he has come back from the abyss in his victory speech last night: "Not so long ago, this campaign was written off… You stood with me," Kerry told supporters, "so that we can take on George Bush and the special interests and literally give America back its future and its soul."
Wesley Clark was quick to challenge Kerry and fired the first shot before Kerry arrived in New Hampshire. "He's got military background, but nobody in this race has got the kind of background I've got," said Clark.
Edwards' campaign is energized and for the first time is being taken seriously. Upon landing in New Hampshire last night Edwards was greeted by a jubilant crowd. "Can you feel it? The people of New Hampshire are going to feel it a week from tonight. We're going to sweep across the country and we're going to do it without the negative politics of cynicism," said Edwards.
The Associated Press offers this analysis:
Ultimately, however, Iowans backed a candidate who voted in favor of Bush's decision to go to war — but criticizes the president's prosecution of it — and who wants to eliminate the Bush tax cuts going to the richest Americans, but keep the rest of the tax-cut package.
The other key factor that spurred Kerry and Edwards ahead was the belief that they have a good chance of beating President Bush. The poll numbers of those who thought Dean could beat Bush were much lower than those who thought Kerry or Edwards could.
Look for Edwards to emphasize that the South is his backyard and that no Democrat has won the White House without winning five Southern states. This, of course, puts him in a big showdown with Wesley Clark in South Carolina on Feb. 3.
The balance of time, organization and message between the Jan. 27th New Hampshire race and the Feb. 3rd round of states will be especially critical to these three. Dean's money and radical movement can keep him in the race, but of these three the only thing that will suffice is that they are the Dean alternative. That cannot be all three of them. In the end, there can be only one.
Who's next?
The nomination process will turn to the real focus of 'who gets knocked off next?' It is a foregone conclusion that Sen. Joe Lieberman's campaign is the walking dead. The fight will be between Kerry, Edwards and Clark. Clark will, by the very nature of Kerry and Edwards' support, have to fight a two-front campaign. Clark has the advantage of timing -- New Hampshire is Jan. 27 and South Carolina is Feb. 3. This will enable him to hold off on South Carolina until after New Hampshire, where Kerry has the regional advantage. But timing will also enable Edwards to concentrate on South Carolina -- his must win state -- more heavily. It is a deadly triangle that will witness the eventual demise of one of the three.
Look for Clark's black ops communication director Chris Lehane to begin to put out dirt on Kerry and Edwards around Thursday and Friday of this week. The purpose is to put some drag on their Iowa boost… even more than the President's State of the Union Message tonight. Nothing like putting a campaign on the defensive…
Speaking of the State of the Union, look for the Democrat candidates to remind the American public what President Bush said in last year's State of the Union: that Iraq of possessed all manner of dangerous weapons, which are yet to be found. Bush also suggested a Saddam link to al Qaeda, which has since been disavowed. There will be even more Democratic appeals for an independent commission to investigate the development and use of intelligence related to Iraq. There are also some who hope that it would lead to impeachment proceedings.
Speaking of defensive, Clark's many missteps and contradictions are bound to come out much more during the run-up to the New Hampshire Primary.
As Bob Dole said, "Politics isn't bean-bag."  (1/20/2004)
Poll watching
A New Hampshire television poll shows:
Released at 6p.m. Tuesday the poll was taken from Jan. 17-19. It has a margin of error of +/-5 percent.
Dean 33
Kerry 24
Clark 18
Edwards 8
Lieberman 5
Kucinich 3
Gephardt 3
Sharpton 0
Undecided 6
Check out the Washington Posts' breakdown of Iowa Caucus attendees.  (1/21/2004)
Kerry & Edwards in the money
One of the benefits of winning or in this case beating expectations is that money flows into your campaign. The Associated Press reports that both Sen. John Edwards and Sen. John Kerry hit the jackpot after their showings in Iowa:
"I need your help, and I need it immediately to continue the surge in New Hampshire," Kerry wrote Tuesday. "Please contribute today, as much as you can afford."
Along with his e-mail, Kerry challenged donors to help him raise $365,000 over the Internet on Tuesday — marking the 365 days left before the 2005 inauguration — and collected roughly $300,000 by late afternoon.
Edwards brought in at least $250,000 online between Monday and Tuesday evenings, his campaign said.
Kerry also received good news in the Wall Street Journal concerning a shift away form the war to economics among the most important issue of concern among Democrats:
"If the Iowa trend holds, the lessening of the war as a campaign issue will be good news for Massachusetts Sen. John Kerry, the Iowa winner. His biggest problem has been explaining to Democratic loyalists why he voted in favor of the congressional resolution that authorized the war in Iraq... An economic focus may not be so good for former Gen. Wesley Clark," whose "late entry into the Democratic contest was based on his standing as a former general and national-security pro who opposed the Iraq war." (1/21/2004)
Organization in S. Carolina
The State offers a view of the various campaigns organizational strength in S. Carolina. Sen. John Kerry is in a mad dash to bring his staff back from Iowa to S. Carolina:
WESLEY CLARK
• Volunteers — 2,000
• Paid staff — 40
• Offices — Columbia, Orangeburg, Charleston, Greenville, Florence
• Endorsements — More than 40
HOWARD DEAN
• Volunteers — More than 350
• Paid staff — More than 50
• Offices — Columbia (2), Charleston, Greenville, Orangeburg, Florence
• Endorsements — 25
JOHN EDWARDS
• Volunteers — 400
• Paid staff — 9
• Offices — Columbia, North Charleston, Greenville, Florence
• Endorsements — More than 75
JOHN KERRY
• Volunteers — 321
• Paid staff — 7
• Offices — Columbia, Charleston
• Endorsements — More than 30
DENNIS KUCINICH
• Volunteers — 210
• Paid staff — None
• Offices — Columbia
• Endorsements — About 10
JOE LIEBERMAN
• Volunteers — 500
• Paid staff — 8
• Offices — Columbia, Charleston, Greenville
• Endorsements — About 60
AL SHARPTON
• Volunteers — About 200
• Paid staff — 4
• Offices — Columbia, Spartanburg, Florence (2)
• Endorsements — Campaign could not provide     (1/21/2004)
---
"Kerry can fight with Bush on the national security field because of his service to the country in Vietnam and his leadership in the U.S. Senate. Those are two areas where Dean wasn't even in the arena," said Republican strategist Scott Reed.

"What you have in Kerry is an extreme liberal from liberal Massachusetts who agrees with Kennedy," said Michael Franc of the conservative Heritage Foundation.  (1/21/2004)
---
State of the campaigns
One day after the Iowa Caucuses President Bush had his say to the nation in the traditional State of the Union Message. The divided and partisan nature of this campaign year was evident in the split between Democrats' and Republicans' reactions to the speech -- Democrats were frequently visible in their lack of applause to the President's speech.
In New Hampshire according to New Hampshire Politics.com the Democrats were unanimous in their Bush bashing.
Clark watched the State of the Union with about 850 people at the Palace Theater.
Many in the audience booed at the first camera shots of Vice President Dick Cheney and Secretary of Defense Donald Rumsfeld. They remained silent during President Bush's entrance, though hissed at Bush's call to renew the USA Patriot Act.
Following the President's speech, Clark was interviewed by Tom Brokaw. When Clark went into a tirade about the war in Iraq, Brokaw asked about Clark's initial support for the war. Clark then interrupted Brokaw several times, insisting he never supported the war – even though last midterm election Clark campaigned for a Democrat Congressional candidate and urged her to support the war resolution that was then before congress.
Clark said, "The sad fact is that today, two years after he coined the term, we've got a new axis of evil. It's one our President himself has created. It's an axis of fiscal policies that threaten our future... foreign policies that threaten our security... and domestic policies that put families dead last. Call it the Bush axis of evil."
Sen. John Edwards continued in his class warfare attack on the President:
"Tonight, the president said that 'the state of our Union is confident and strong.' The first question you and I need to ask is, 'Which union Mr. President.' His America - the country where the Washington lobbyists, special interests and his CEO friends get what they want, when they want it-is doing just fine. But in our America, the state of working Americans is a struggle every single day..."
"What this president fails to understand is that we still live in two different Americas," Edwards said in a released statement.
"Instead of proposing ideas that would help heal our great divides," the North Carolina senator said, "he is dividing us even further and believes that compassionate language and empty slogans will make working Americans forget the burdens they face every day."
Sen. John Kerry continued on the theme of attacking special interests and privilege:
"Paul O'Neill is right because this president only hears the special interests and lobbyists," Kerry's statement read. "He doesn't see what's happening in our economy, in the workplace and to families everywhere."
"I'm running for president because it's time we put country over campaign contributions," he said.
Howard Dean offered the following statement:
"George Bush's empty proposals do nothing to address the real problems facing working Americans--problems his presidency has only made worse. On creating jobs, providing health care, and educating our children, I wish this President could learn from our example in Vermont, where we delivered real results for families.
"The State of the Union may look rosy from the White House balcony or the suites of George Bush's wealthiest donors. But hard-working Americans will see through this President's effort to wrap his radical agenda with a compassionate ribbon.
"This week in New Hampshire, and as the campaign moves ahead, I look forward to debating with my opponents about who has stood up to George Bush on the issues that matter. About who has actually delivered results for people. About who has the experience and strength to bring real change for American families," said Dean.
Kucinich offered the following statement:
"I actually thought it didn't have that much content. He spent a lot of time talking about terror. And see, it's kind of instructive. He can spend time talking about that and if you spend a lot of time talking about that you don't have to explain why America's lost 3 million manufacturing jobs. You don't have to explain why unemployment, while it hovers around 6 percent it doesn't really reflect the massive unemployment that exists in this country from people who have stopped looking for work. You don't have to explain why 43 million Americans don't have any health insurance at all. So just talk about terror and you don't have to talk about anything else."  (1/21/2004)
---
"Right now,'' John Kerry said, "this (campaign) is like a freight train out of control.''

"I'm not drawing any distinction in rank," he said. "I'm drawing what I've done," said Wesley Clark about calling Sen. John Kerry a junior officer.  (1/23/2004)
---
NH Debate
The Manchester Union Leader has as part of its New Hampshire debate coverage a fact-check concerning some of the things that were said by the Democratic presidential candidates. And low and behold… some of the statements made during the debate do not line up with the facts. One of those mis-statements was made by Sen. John Edwards, complaining about President Clinton's signing of the defense of family act:
Sen. John Edwards, voicing his objections to the Defense of Marriage Act signed by President Clinton in 1996, said it "took away the power of states ... to be able to do what they chose to do" about gay civil unions." He said, "I think these are decisions that the states should have the power to make."
States have that option under the law. The act allows states to refuse to honor same-sex unions performed outside their boundaries, but also lets them legalize the unions if they want. It specifies that such unions would not be recognized by the federal government.
Another mis-statement was made by Wesley Clark, when asked when it was that he knew he was a Democrat:
"I voted for Bill Clinton and Al Gore," the retired general said in a Democratic presidential debate Thursday, then stopped there. He also has said previously that he voted for Republicans including Richard Nixon, Ronald Reagan and the first George Bush.
Clark was also asked about being a superhuman President who would stop all future 9-11 attacks:
"…I never used the word 'guarantee,'" he said.
However, here's the actual quote of Clark on the subject:
"If I'm president of the United States, I'm going to take care of the American people," Clark was quoted by the Concord Monitor in New Hampshire earlier this month. "We are not going to have one of these incidents."
Maybe Clark just sort of means it… kind of…
The Leader also accuses Sen. John Kerry of demagogism on the issue of senior health care:
Kerry flatly accused President Bush of "pushing seniors off of Medicare into HMOs."
The new prescription drug program subsidizes costs for low-income patients and encourages private insurance companies to offer coverage for the elderly willing to opt out of traditional Medicare. Nothing in the law forces seniors off of Medicare.
Overall, the debate was notable for its lack of attacks upon each other and its focus of attacks on President Bush. One of the funniest moments came in an exchange from Al Sharpton commenting on Howard Dean's statement about his hollering screaming speech in Iowa:
"I'm not a perfect person," Dean said. "I think a lot of people have had fun at my expense over the Iowa hooting and hollering."
"I wanted to say to Gov. Dean, don't be hard on yourself about the hootering and hollering," Sharpton said. "If I spent the money you did and got 18 percent, I'd still be hollering to Iowa. Don't worry about it, Howard."
"Thanks, reverend," Dean replied.
Kerry is still having trouble with some New Hampshire voters regarding his vote to go to war. He has consistently offered the following statement to get voters to support him:
"If anybody in New Hampshire believes that John Kerry would have gone to war as President Bush had done, then they shouldn't vote for me," Kerry said.
There were no break-away performances by any of the candidates. Sen. Joe Lieberman offered a convincing performance that kept him outside of the rest of the liberal candidates seeking the nomination. There still are no convincing events that suggest that he will survive Tuesday's election.
Clark failed to ignite the crowd and looks to be sagging in New Hampshire voters' minds when pitted against John Kerry. In addition, Edwards might get a boost for just being himself.
"I think it's conceivable that Edwards might go up in the polls beyond Clark in a couple days as a result of his performance," Dean Spiliotes, visiting politics professor at St. Anselm College said. "Kerry seemed pretty even, and I think it's going to be reasonably tight between him and Dean," Spiliotes said.
In the spin room afterwards, the Kerry campaign tried to turn down expectations for Kerry according to New Hampshire Politics.com:
Billy Shaheen downplayed expectations for Sen. John Kerry in the debate spin room. Shaheen, the state chair of Kerry's campaign, said that he thinks Kerry is still an underdog, despite Kerry's Iowa victory and surge in the polls.
"Gov. Dean still has a great organization," Shaheen said. "He has a lot of people that committed to him and have not abandoned, and I think he'll be a tough competitor."
[For transcripts of the debate, use this link.]  (1/23/2004)
Poll watching
The latest MSNBC, Reuters, Zogby poll shows: Kerry 30%; Dean 22%; Clark 14%; Edwards 7%; and Lieberman 7%.
Negative campaigning
Peter Jennings tried to get Joe Lieberman to criticize Howard Dean and John Kerry, to which Lieberman replied, 'nice try.' Everyone was gun shy from the fallout from the negative campaigning in Iowa. Edwards is also riding a popular perception of being Mr. Nice. The American public cannot expect that negative campaigning will suddenly vanish from the political scene after Iowa. The reason is: negative campaigning works.
It has long been understood that not only does the recipient of negative campaigning go down in support, but those delivering the negative message about the opponent lose support as well. Howard Dean was attacked relentlessly by Rep. Dick Gephardt prior to the Iowa Caucuses. Both of these candidates watched their support erode as Senators John Kerry and John Edwards went up in support and eventually came in number one and two in Iowa.
The key to running in a multiple field is to stop your attacks with enough time to rebuild your positives -- something Gephardt failed to do.
The NY Times covers how the campaigns have changed their TV ads to not be the one who fails to switch in time to a positive ad.  (1/23/2004)
Kerry skates for homeless
John Kerry will face-off with a team of legendary Boston Bruins, including Ray Bourque and Cam Neely, for a history-making game of hockey on Saturday, January 24, at the JFK Arena in Manchester, New Hampshire. The unprecedented event will bring together legendary hockey stars and a presidential candidate on ice for the first time in the history of the New Hampshire primary.
Also scheduled to skate with John Kerry in this pre-primary celebration of hockey, family and politics are Bruins greats: Bob Sweeney, Ken Hodge, Rick Middleton, Ken Linesman, Gord Kluzak, Nevin Markwart, Gary Doak, Bob Beers, Billy O'Dwyer and Ken Hodge, Jr. Local firefighters and other New Hampshire supporters will also be on hand to cheer John Kerry as he heads toward the goal in New Hampshire.
Doors will open for this unique event at 12:00PM. Tickets are free to the public and available by contacting John Kerry for President at (603) 622-9100. Callers should ask for John Haines.
All those attending the game are asked to bring a canned good to the JFK Arena which will be distributed to local homeless shelters.  (1/23/2004)
Kerry endorsed
John Kerry today was endorsed by the The Cabinet Press. The Chain Four New Hampshire Weekly Papers have a Combined circulation of 35,000 – the Milford Cabinet, the Bedford Journal, the Hollis Brookline Journal, and the Merrimack Journal. Here is an excerpt from the endorsement:
Kerry's the choice
Massachusetts Sen. John Kerry is a man of experience in foreign and domestic affairs and that counts in an increasingly complex world.
That is one reason that he is the Cabinet's choice for the Democratic nomination for president the Jan. 27 First in the Nation New Hampshire primary.
While he did support President Bush's imprudent invasions of Iraq, Sen. Kerry has pledged to work closely with our allies and the United Nations to solve the problems facing us as we try to help Iraqis rebuild their country.
"We have to be prepared to be a partner in the global community," the senator recently told the Cabinet's editorial board. We couldn't agree more, and we hope the senator isn't merely talking about Iraq. America will never be safe from terrorist attacks until the people of the world see us as a partner.
Among Kerry's many other strong positions is his pledge to roll back President Bush's tax cuts for the wealthy.
Unlike Vermont's Howard Dean, one of his major challengers for the Democratic presidential nomination, Sen. Kerry would allow middle class voters to retain their tax cuts, such as they were.
The senator has a $75 billion plan to significantly lower the cost of health insurance, funded in part by the rollback of tax cuts for the wealthy. It would include a $35 billion federal fund to pay 75 percent of catastrophic cases.
He would allow people 55-64 to buy into Medicare early and allow others to buy into the congressional insurance plan; he would allow bulk purchasing of prescription drugs; he would reduce America's dependence upon foreign oil by providing tax incentives for those willing to break from reliance on fossil fuels.
He pledges to close tax loopholes that have made taking jobs offshore profitable and would create health-care and tax incentives for companies that create jobs in the U.S.
We believe it is much more beneficial to the nation to have in the White House an insider like Sen. Kerry who knows how to get things done.
These are the reasons Democrats should select John Kerry as their nominee.
They are also the reasons the nation should select him over President Bush in November.  (1/23/2004)
Kerry on Roe vs. Wade
"The 31st anniversary of Roe v. Wade marks the year when women who were not afraid to stand up and fight won a victory for choice. But today, it also marks a moment when all Americans must stand up and fight harder than ever to preserve this victory. Never in my years in public service have the rights of women been at such risk – never have women been assaulted in their citizenship here at home or womanhood around the globe as they are by this Administration.
"I have always believed that women have the right to control their own bodies, their own lives, and their own destinies. And I am proud that I am the only presidential candidate to pledge that I will support only pro-choice judges to the Supreme Court. Some may call this a litmus test – but I call it a test of our will to uphold a Constitutional right that protects women's right to choose and to make their own decisions in consultation with their doctor, their conscience, and their God. And If I get to share a stage with this President and debate him, one of the first things I'll tell him is: 'There's a defining issue between us. I trust women to make their own decisions. You don't. And that's the difference.'
"We can't go back to the days of back alleys – days in which women were shamed and put to all kinds of risk. We can't put women in the place where their choice is to break the law and be branded a criminal.
"The right to choose didn't just happen. People made it happen – women most of all. Now we need to work just as hard to protect it. We need to energize a new generation of citizens who care about freedom – who care about respect for women – and who will stand up and make clear that we can't go back. We will never go back. We will never, ever let this right be taken away."   (1/23/2004)
---
Whether it's economic policy, national security or social issues, John Kerry

is out of sync with most voters,''

Republican National Committee Chairman Ed Gillespie told an audience of conservatives in suburban Washington, D.C.

"Who would have guessed it? Ted Kennedy is the conservative senator from Massachusetts,'' said Ed Gillespie.

"He's been there, done that and gotten a few holes in his T-shirt,'' said former Sen. Max Cleland about Sen. John Kerry's service record.  (1/24/2004)
---
Kerry on the rise
Sen. John Kerry has the momentum and is trying to look ahead. That may be why Sen. Fritz Hollings (S. Carolina) was in New Hampshire with Kerry. Hollings offered an 'unwelcome' to Wesley Clark at a Veterans rally in New Hampshire billed as a Band of Brothers:
``We're gonna teach that fellow in South Carolina that there are more lieutenants, than generals,'' said Hollings in reference to Clark disparaging Kerry as a junior officer earlier in the week.
Kerry is shown leading Howard Dean in most polls by 12 to 15 percent. Kerry reportedly has raised $1 million this week, following his victory in Iowa. If that isn't enough proof of his front-runner status, then Republican National Committee Chairman Ed Gillespie's attack on Kerry at the Conservative Political Action Conference (CPAC) in Washington, D.C. is.
Kerry also upstaged the Clark campaign with the endorsement of Walter Mondale, who said Kerry could do the job of President on 'day one' and had the character and integrity needed. That was a far cry from Clark's spokesman Jamie Rubin (from the Clinton administration), who just keeping singing the same old song about Clark.
Kerry is embracing Sen. Ted Kennedy and former New Hampshire Governor Jeanne Shaheen, National Campaign Chair, to rally Granite State voters in Nashua, Hampton and Somersworth tomorrow. He also continues to receive Congressional support from the Iowa momentum. Howard Dean has long hoped that his money would drain his opponents' energy to compete and pay his way in to the nomination. Now, both Sen. John Edwards and Kerry are able to take Dean on in the Feb. 3 rounds. Edwards still must win South Carolina on Feb. 3 in order to knock Wesley Clark down. However, Clark and his not ready yet for prime time campaign is certain to help Edwards out.
Former New Hampshire Gov. Jeanne Shaheen sent an e-mail for Kerry, stating: "We know that a strong showing in the New Hampshire primary can provide essential momentum as the presidential race intensifies, beginning with contests on February 3rd in Missouri, Delaware, Arizona, North Dakota, New Mexico, South Carolina, and Oklahoma. Over the last 24 hours, I've talked to our campaign organizers in many of those states and they report that John Kerry's victory in Iowa and the strength of our New Hampshire campaign are creating waves of enthusiasm all across the nation."
R. W. Apple of the NY Times reports that Donald L. Fowler -- former chairman of the National Democrat Party -- has been worried Kerry would not put in a strong effort in South Carolina on Feb. 3. He received a call back from Mary Beth Cahill saying they are definitely going South.
Expect a series of attacks on Kerry's record in the U.S. Senate, the NY Times story reports:
For example, at the end of the cold war, Mr. Kerry advocated scaling back the Central Intelligence Agency, but after the Sept. 11, 2001, attacks, he complained about a lack of intelligence capability. In the 1980's, he opposed the death penalty for terrorists who killed Americans abroad, but he now supports the death penalty for terrorist acts. In the 1990's, he joined with Republican colleagues to sponsor proposals to end tenure for public school teachers and allow direct grants to religion-based charities, measures that many Democratic groups opposed. In 1997, he voted to require elderly people with higher incomes to pay a larger share of Medicare premiums.  (1/24/2004)
NH Primary Analysis
by Roger Wm. Hughes
Tomorrow's results will once again knock candidates out of the race. At this point unless Clark improves his standing he will begin to bleed the resources needed to win the nomination. The big story is not the winners – it's the losers who cannot continue.
John Kerry
Kerry is the one who hit the home run on Sunday with the talking heads, including being on "60 Minutes". He may now find himself in a tightening race. However, this is the guy who risked it all on Iowa and has found a new life for his campaign. He is in the hunt for the Presidency once again.
Speaking of "60 minutes" Kerry mentioned how he was intimidated by his wife's wealth – a story also carried in the Boston Herald:
Kerry, meanwhile, admitted in the largely glowing ``60 Minutes'' profile that he was intimidated by the ketchup heiress' millions when they started dating.
``At first, I was a little bit, actually, sort of intimidated by that. I think it's one of the reasons I was cautious,'' Kerry said. ``But then, you know, emotions and feelings take precedence, and you take what comes with it. I'm not worried about it.'' Heinz Kerry then interjected, ``I came with it.''
Of course the big questions is whether Kerry really meant what he said about the South.
"Everybody always makes the mistake of looking South," Kerry said, in response to a question about winning the region. "Al Gore proved he could have been president of the United States without winning one Southern state, including his own," said Kerry.
If you are wondering what Kerry will be hit on concerning his record you might think about:
* "his opposition to mandatory minimum sentences for dealers who sell drugs to children"
* "voting against the death penalty for terrorists"
* "efforts to provide cash benefits to drug addicts and alcoholics"
* "onetime opposition to a modest work requirement for welfare recipients"
* "supporting more than half a trillion dollars in tax increases--including hikes in gas taxes and Social Security taxes"
* "accepting free housing and other goodies for himself from friendly influence-peddlers"
* serving as Lt. Governor under Dukakis when Massachusetts "famously furloughed more than 500 murders and sex offenders under a program Kerry later defended as tough"  (1/26/2004)
Michigan Labor needs a home
Sen. John Kerry offers this story from the Detroit press on his website:
Less than two weeks before the Feb. 7 Democratic presidential primary, Big Labor is split on which of the remaining candidates to back with its substantial money and foot soldiers.
Last week's Iowa caucus purged the field of labor champion Dick Gephardt, a Missouri congressman who quit after he limped to a fourth-place finish despite his heavy blue-collar union support, including the Teamsters.
Former Vermont Gov. Howard Dean, who had the support of public-employee unions, came in third in Iowa, after leading the polls for months. Massachusetts Sen. John Kerry and North Carolina Sen. John Edwards finished first and second, respectively.
So where does labor go now?
"We're going to regroup," said Mark Gaffney, president of the 700,000-member Michigan AFL-CIO. "The unions are going to, on their own, decide who to back. And I'm afraid the labor movement is going to split up."
Some voters, like Darrell Stewart of Detroit, have not decided who would make the best president.
"Nobody really stands out," said Stewart, a Detroit bus driver and longtime member of the Amalgamated Transit Union. "If Hillary Clinton were running, I'd vote for her, but I need to see more from the other Democratic candidates before I make a decision."
Gaffney lamented the loss of Gephardt from the field.
"Gephardt would have made a great president. He's best on the issues. He just didn't turn people on," he said.
Gaffney personally backs Edwards. But Lu Battaglieri, president of the politically potent Michigan Education Association, personally backs Kerry, who is supported by firefighters and utility workers. Neither of their state unions, however, officially has endorsed a candidate.
The United Auto Workers, the biggest affiliate in the Michigan AFL-CIO and the most powerful force in the Michigan Democratic Party, remains neutral.
Gaffney does not expect the UAW and the Teamsters to endorse before Michigan's Feb. 7 vote.
"It's a reflection of the field," Gaffney said. "The field is varied ... but there's not that one candidate yet. Folks all have that sort of different opinion on who is the best."
Still, LeRoy Carter is standing firm behind his support for former Vermont Gov. Howard Dean, an early front-runner who came in third in the Iowa caucus. Carter admires Dean's tenacity.
"He's a Democrat. I think there are too many closet Republicans calling themselves Democrats," said Carter, 50, of Ann Arbor, a staff representative for Michigan AFSCME Council 25.
In the first significant Michigan fallout from his upset victory in Iowa, Kerry won the endorsement of two AFL-CIO affiliates.
They are the Grand Rapids-based Local 951 of the United Food and Commercial Workers, whose 34,000 members consist primarily of workers at 80 Meijer stores, and the 20,000-member Retail, Wholesale and Department Store Union Michigan Council.
Local 951 President Robert Potter pledged "vigorous" efforts on Kerry's behalf, as well as financial support.
Kerry claims "swelling support" in Michigan. His backers include ex-Gov.James J. Blanchard, Dan Mulhern, Gov. Jennifer Granholm's husband, and co-chair, with Blanchard, of Kerry's Michigan campaign.
Granholm said she may endorse a candidate between Tuesday's New Hampshire's primary and the Michigan caucus.
Also weighing options are Detroit Mayor Kwame Kilpatrick and Sens. Carl Levin and Debbie Stabenow. Ex-U.S. Sen. Don Riegle of Michigan endorsed Kerry Friday.
With some of his federation's affiliates neutral or embracing Kerry or Dean, why does Gaffney support Edwards?
"I tell people, 'If you love Dick Gephardt, you're going to at least like John Edwards.' Similar background. Middle class. Father was a mill worker. Mother had to make ends meet for the family. And by the way, his dad's mill closed down. So John Edwards understands what I think is the biggest issue in this country: job loss."  (1/26/2004)
Poll watching
Sen. John Kerry leads Howard Dean 31 percent to 28 percent In New Hampshire in the newest poll. Sen. John Edwards jumped three points to narrowly trail Wesley Clark for third place, 13 percent to 12 percent. Sen. Joe Lieberman remains static at 9 percent.  (1/26/2004)
---
"I love New Hampshire! And I love Iowa, too!" John Kerry said.

"Now this campaign goes on to places all over this country, and I ask Democrats everywhere to join us so that we can defeat George W. Bush and the economy of privilege," John Kerry said.

I have spent my whole life fighting against powerful interests — and I've only just begun to fight," John Kerry said

"We'll see if John Kerry can take the number of body blows that Howard Dean did and still be standing," Dean spokeswoman Tricia Enright said.

Kerry ran best among voters who put the highest priority on leadership and political experience. Dean defeated Kerry among voters who placed the highest priority on a candidate who would offer new ideas and bring about the greatest change.  -- writes Ronald Brownstein of the LA Times.  (1/28/2004)
---
IPW Analysis: Money and organization
It is all about money and organization now. Candidates will hardly be able to get to states holding elections and caucuses more than twice. The question is, who can play in all of the states? And it looks like the answer is, Howard Dean will. How many states and how much money Sen. John Kerry can pony up will be a big challenge.
Spending the money can be a problem.
For example if you wanted to put together three new TV ads -- one each for the Midwest, South, and another for the Southwest -- it would require going to these states with the candidate, putting together the taping crew, editing the tapes, copying, shipping to the stations, paying in advance and signing the forms. It is about money and organization.
The following states are up next Tuesday:
Feb. 3, 2004: Delaware presidential primary
Feb. 3, 2004: South Carolina Democratic presidential primary
Feb. 3, 2004: Missouri presidential primary
Feb. 3, 2004: Arizona presidential primary
Feb. 3, 2004: New Mexico Democratic caucuses
Feb. 3, 2004: Virginia GOP caucuses
Feb. 3, 2004: Oklahoma presidential primary
Feb. 3, 2004: North Dakota Democratic caucuses
There was discussion in the Dean camp about not fighting the war on all fronts. Advisers urged Dean to concentrate on a few states to conserve resources. But he vetoed the strategy, insisting his campaign is muscular enough to compete nationally according to the Associated Press:
In an interview with the Associated Press, Dean acknowledged that aides urged him to skip South Carolina. "There was some discussion about it," he said. "I never gave it any thought."
Dean raised more than $200,000 in the 24 hours before the primary, but has been spending money just as fast — and he will keep up the pricey pace with his new strategy.  (1/28/2004)
Kerry & Dean in the Battle of the States
Kerry is going to Missouri first and John Norris, who ran Iowa next door, is heading there on Kerry's behalf as well. Kerry has also picked up good Gephardt people in Missouri. He needs to win Missouri to keep his string going and delegate-rich Missouri is a prize worth winning.
Dean will fall back on his union support from AFSME and SEUI in Missouri. There were hard feelings between Gephardt staff and those unions before. Missouri will be a very interesting battleground on Feb. 3. Aides to Mr. Gephardt said on Monday that he would not endorse anyone before the contest there.
Kerry will receive the benefit of being the double winner and money should come in. He will also receive more press attention than the other candidates in the upcoming states because of his wins.
A state to watch is Oklahoma, where Rep. Dick Gephardt had run up a large number of endorsements from union members and party faithful. If these previous Gephardt supporters start going in mass to Kerry in Oklahoma, Dean will have a hard time putting up the firewall.
Dean, it seems, is interested in visiting Michigan, Washington and Wisconsin. He may be at $5 million in the bank at this point. Will those Deanies throw their plastic credit cards at the cyber-bat and keep Dean alive? How long will it take for the Deanies to pay off this credit card financed campaign? Will they provide the increasing millions of dollars to rollover the Democrat establishment and win the nomination? How bloody will this get? Will Dean get a million contributors at $100 each?
It could get very bloody, according to the Washington Post:
But House Minority Leader Nancy Pelosi (D-Calif.) said it will probably be another month before the nomination is certain. "Kerry has been impressive," she said, "but we have to see how this plays out in the rest of the country."
The LA Times reports:
Dean's failure to win the primary is ominous for his presidential hopes. New Hampshire has among the country's greatest concentrations of highly educated, socially liberal voters, the group that had been most attracted to his candidacy.
More than 60 % of Tuesday's voters held at least a four-year college degree; the share of college graduates casting ballots in South Carolina, Missouri and Oklahoma — some of the key contests next Tuesday — is likely to be much smaller.
Dean did best only among voters who described themselves as "very liberal," while Kerry carried moderates, liberals and conservatives.  (1/28/2004)
Kerry -- what now?
South Carolina Rep. Jim Clyburn and Iowa Gov. Tom Vilsack intend to endorse Kerry, officials said Wednesday -- a coup for the Democratic presidential front-runner. Iowa Governor Tom Vilsack's wife previously endorsed Kerry in the Iowa Caucuses. This puts Vilsack at odds with Iowa Sen. Tom Harkin, who endorsed Dean. Harkin is the one who warmed up the crowd prior to the Dean I have a Scream speech -- the same thing he did at Senator Paul Wellstone's funeral. Gov. Vilsack is traveling to neighboring Missouri to make the his Kerry endorsement.
An AP analysis of the delegate count shows Kerry winning 13 delegates and Dean capturing nine. The others fell under the 15 percent threshold for claiming delegates.
Kerry is competing in all seven-state contests on Feb. 3 (including tiny North Dakota), where 269 delegates to the Democratic convention are at stake. That represents 12 percent of the delegates needed to claim the nomination. Kerry's bought television ad time in all seven states.
Watch for how Kerry deals with his Congressional record as a front-runner. The Washington Post reports:
Kerry said he would use his candidacy to challenge Bush and the "influence peddlers, the polluters, the HMOs" and other corporations that he said had special access to the White House. "We're coming," he said. "You're going. And don't let the door hit you on the way out."  (1/28/2004)
---
"The test of running for the president is a long one and it's a tough one. I expect to compete with the same underdog mentality. I'm going to fight for every vote and I'll be at it every day, every minute," said John Kerry.

Kerry told New Hampshire that he had seriously disadvantaged people: "I've been a prosecutor. I've sent people to jail for the rest of their life." He punctuated this manly indifference to syntax by noting that he is a gun owner who supported the 1996 welfare reform. It repealed the entitlement Aid to Families With Dependent Children. -- writes George Will.

"To the extent to which there is an establishment, it wants what the Democratic primary voters want: the strongest candidate in the fall," said Senator Evan Bayh of Indiana. "I think the consensus is that John will be a more formidable candidate than Howard."

"I think we understand the case people would make against John Kerry: a 20-year voting record that some would characterize as liberal," said Chris Gates, the Colorado Democratic chairman.  (1/29/2004)
---
Kerry is riding the wave
"All I was saying was if Al Gore had won New Hampshire [in 2000], he would have been president without a southern state," Sen. John Kerry said. "I am not saying that's the way to run."
"Florida will be the battleground state in the election," Florida Democrat Chairman Scott Maddox said, "and I think John Kerry can absolutely carry the state of Florida. The thing with Dean is he seems — his persona — is more liberal. I don't think he's as liberal as they make him out to be, but the question is could he shake the moniker."
Kerry is riding the wave of being the front-runner. He is beginning to clarify his statement on not having to win a Southern state and picking up important endorsements, as reported yesterday by IPW. It is the product of victory and a short schedule that takes us to the Super Seven States on Feb. 3 primaries and caucuses. Kerry's front-runner status brings him greater scrutiny in media coverage. Consensus is that his record is worth scrutinizing, for it could prove to be his undoing. Normally, the press would be splashing this. But this is not a 'normal' week in the press -- Sunday is the Super Bowl, and top media coverage will be on it instead of politics, leaving Kerry nicely under the radar going into the Feb. 3rd Big Seven Primaries. Kerry also benefits from Howard Dean's campaign being in disarray and topping the media coverage; therefore, keeping questions about Kerry's record out of the news.
Kerry still has skeptics. One prominent South Carolina Democrat when asked about Kerry's statement that he could win the Presidency without winning in the South, said, "That's crazy." Kerry is the front-runner but he is not the presumptive nominee. There seems to be a lot of pressure from top Democrats to have the selection of the presumptive nominee happen very quickly. Dean's being told by his Congressional supporters that he 'needs a number-one win soon, or else,' is an example of the wish by many to get this bloody process over.
The way it is
However, the week leading into the Feb. 3 Super Seven round of Presidential selection process shows very little possibility of an early end to the cacophony of sound coming from the Democrats. Lieberman is still walking around dead. Kucinich will never stop -- he may even be on a ticket with Ralph Nader. It is possible. Dean could still win. Wesley Clark doesn't understand he has proven himself irrelevant. John Edwards is still the best campaign without money that the Democrats have.
Kerry is also benefiting in the shift of region and that makes his vote to go to war less salient. The Washington Post reports on the issue:
But with the primary battleground shifting to southern and western states where the war may be even less salient, it appears that the hatchet has been buried among the major candidates. And it was the voters who buried it.
"I think in their daily lives more Democrats are hurt by Bush's war on work than by his war in Iraq, and it should come as no surprise that pocketbook issues would rise to the fore," said Bruce Reed, president of the Democratic Leadership Council, a centrist group that has argued for more than a year that the party should not build its message on an antiwar foundation.    (1/29/2004)
Get ready
National Republican Chairman Ed Gillespie has some questions about why we should trust Sen. John Kerry, "In 1984 he called for a freeze on testing, production and deployment of nuclear warheads, missiles, and other delivery systems. In 1985, he introduced a Comprehensive Nuclear Freeze Bill, and sponsored two amendments to freeze SDI-related nuclear development until the Soviet Union tested a nuclear weapon. In 1991, he acknowledged Saddam Hussein's possession of WMD, but voted against military action. In 1993, Sen. Kerry introduced a plan to: cut the number of Navy submarines and their crews; reduce the number of light infantry units in the Army down to one; reduce Air Force tactical fighter wings; terminate the Navy's coastal mine-hunting ship program; and force the retirement of no less than 60,000 members of the Armed Forces in one year... In 1995, Sen. Kerry voted to freeze Defense spending for 7 years, cutting over $34 billion from Defense."   (1/29/2004)
Kerry's Botox
The Howard Dean Blog is alive with the hopes that Sen. John Kerry has had wrinkle-erasing Botox injections – an accusation already denied by the Senator. Deanies think catching Kerry in a lie about using Botox would derail his candidacy.
Step One for the Deanies , though, is to first prove Kerry had the wrinkle-erasing injections. Well, The NY Daily News has a story featuring an M.D. confirming the Deanies' hopes that Kerry has indeed received Botox injections.
Dr. Gerald Ember, an attending plastic surgeon at New York Presbyterian Hospital, agreed.
"The pictures ... show a marked absence of the horizontal lines of the forehead and wrinkles between the eyes. Only Botox or a forehead lift would do this," he said. "And I say good for him!"   (1/29/2004)
---
"Republicans are scared stiff," Kerry said. "That's why they are sending their attack dogs out. It isn't going to work, I'm a fighter."  (1/30/2004)
---
Kerry still on a roll
Sen. John Kerry is shown moving ahead in Missouri and Arizona in Zogby polls. He is continuing to target veterans, Kerry and Sen. Fritz Hollings, former Sen. Max Cleland, and a former Kerry crew member will join him for a S. Carolina town hall meeting. The campaign calls its veterans outreach the "veterans brigade," and that it's more effective when veterans call other veterans, rather than have civilians call. It is what Kerry first patented in Iowa.
Kerry responded to the Republican National Committee's attack on him with his characteristic bring it on.
"It's the greatest form of flattery -- bring it on. Let's have this debate. I have voted for the largest defense budgets in the history of this country. I have voted for all the biggest weapons systems. Unfortunately these people haven't met a weapons system they don't like. I have... That's the debate I want to have. That's precisely the strength I bring. I don't think they are doing the best job of making America safe. I want them to know that I'm a fighter -- I'm someone who says what I mean and means what I say. I have a 35-year record of standing up and fighting against special interests in this country...," said Kerry.
The Debate coverage of the debate was almost uniform in expressing that Howard Dean was more subdued than in the past. Most expressed the fact that Dean did not challenge Sen. John Kerry until late into the debate when he challenged him on his 11 bills on health care that never became law.
The person who delivered the most damning attack was Sen. John Edwards against President Bush by questioning if Bush can walk and chew gum at the same time:
I think the problem here is the administration is not doing the things, number one, that need to be done to keep this country safe, both here and abroad.
And number two, the president actually has to be able to do two things at once. This president thinks his presidency is only about the war on terrorism, only about national security. Those things are critical for a commander in chief. The president of the United States has to actually be able to walk and chew chewing gum at the same time, has to be able to do two things at the same time.
[click here for a transcript of last night's South Carolina debate]   (1/30/2004)
Kerry donations pour in
The Associated Press says John Kerry's lead dog position in the Democratic Presidential Nomination race is giving him big pull with the donors. It seems like only yesterday when we learned of Kerry's taking out a $6 million mortgage to finance his campaign -- as rival Howard Dean commandeered a monstrous cyber war chest and giddily proclaimed his Declaration of Financial Independence.
– sigh –
Today, "Miracle on 34th Street" Kerry has suddenly found his 'Santa'; as Howard Dean sits and counts his lumps of coal – his once $41 million  now a mere $5 million. What's Dean's new mantra? Leaner and meaner? Perhaps more apt would be, 'boasted and toasted.' Even his campaign workers are counting lumps of coal, with a two-week pay loss. And there's more lumps to come, according the AP story:
When asked whether there would be layoffs as Dean looks to cut costs, a senior official said Dean was serious when he said the campaign would be leaner. The official said that rather than wholesale staff cuts, the campaign would reduce or shift staff as it makes decisions about which primary states to compete in.
Dean is already withholding staff salaries and decided against airing ads in any of the seven states holding delegate contests next Tuesday.
Meanwhile, back at Kerry's campaign, it's The Second Coming of Santa. The AP reports he took in more than $500,000 by Internet in 48 hours following his New Hampshire win. That brings his total online dollars to over $1.6 just since the Jan. 19 Iowa caucuses.  (1/30/2004)
Newest Kerry endorsements
Prominent South Carolina Official Don Fowler had officially endorsed John Kerry for president. Fowler is the former Democratic National Committee chairman.
The Communications Workers of America (CWA) endorsed John Kerry today on a conference call with CWA President Morton Bahr.
Congressman Kendrick Meek (D-FL) endorsed John Kerry via conference call this morning, citing his strong record of leadership and experience as the primary factors leading to his backing of Kerry. (1/30/2004)
Poll Watching
Zogby's surveys, Kerry dominates in Missouri, with 45 percent. Running a distant second in that state is North Carolina Sen. John Edwards at 11 percent. If these numbers hold, Kerry could sweep all 74 of Missouri's delegates.
Dean was at 9 percent, Sen. Joseph Lieberman was at 4 percent, Clark at 3 percent, Al Sharpton at 2 percent and Rep. Dennis Kucinich at 1 percent.
In Arizona, Kerry has 38 percent over Clark's 17 percent, with Dean at 12 percent, Edwards and Lieberman 6 percent, Kucinich 2 percent and Sharpton 1 percent.
Clark was leading Kerry in Oklahoma 27 percent to 19 percent, with Edwards right behind at 17 percent, Dean at 9 percent, Lieberman at 5 percent and Sharpton and Kucinich at 1 percent.   (1/30/2004)