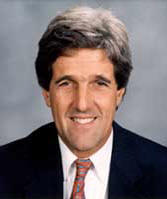 John Kerry

U.S. Senator, Massachusetts
Committees: Finance [Senate] / Commerce, Science & Transportation [Senate] / Foreign Relations [Senate] / Small Business and Entrepreneurship [Senate] / Ranking Member
Family: Wife: Teresa Heinz / 2 Daughters: Alexandra, Vanessa / 3 Stepsons: John, Andre, Christopher / Birthdate: 12/11/43 / Birthplace: Denver, CO / Home City: Boston, MA / Religion: Roman Catholic
Education: JD, Boston College Law School, 1976 / BA, Yale University, 1966.
Professional Experience: First Assistant District Attorney, Middlesex County, MA, 1977-1982 / Attorney, Admitted Massachusetts Bar, 1976 / Lieutenant, United States Navy, 1966-1970 / Received Silver Star, Bronze Star, 3 Purple Hearts, 2 Presidential Unit Citations and a National Defense Medal.
Political Experience: Senator, United States Senate, 1984-present / Lieutenant Governor, Massachusetts, 1983-1985 / Democratic Nominee, United States House of Representatives, 1972.
Organizations: Leader, Vietnam Veterans Against the War / Co-Founder, Vietnam Veterans of America.
---
Official campaign website: www.JohnKerry.com
Mailing address: 519 C Street, N.E., Washington, DC 20002
Phone: 202-548-6800 fax: 202-548-6801
National Campaign Manager: James M. Jordan
National Press Secretary: David Wade
---
Iowa Caucus Organization information:
Iowa campaign headquarters: 1500 Locust Street, Des Moines, IA
phone: 515-288-5504
Iowa State Director: John Norris
Iowa Field Director: Angelique Pirozzi
Iowa Regional Field Directors:
Beth Leonard, David Barnhart, Chris Hayler, Ruth Steinmetz
Constituency/Scheduling Coordinator: Linda Chappetto
Office Manager: John Liipfert
State Chair: Jerry Crawford
---
excerpts from the Iowa Daily Report
| | |
| --- | --- |
| | January 1-15, 2004 |
| February 2003 | January 16-31, 2004 |
| March 2003 | February 1-15, 2004 |
| April 2003 | February 16-29, 2004 |
| May 2003 | |
| June 2003 | |
| | |
| August 1-15, 2003 | |
| August 16-31, 2003 | |
| September 1-15, 2003 | |
| September 16-23, 2003 | |
| September 24-30, 2003 | |
| October 1-15, 2003 | |
| October 16-31, 2003 | |
| November 1-15, 2003 | |
| November 16-30, 2003 | |
| December 1-15, 2003 | |
| December 16-31, 2003 | |