Thursday, April 10, 2008

McCain erases Obama lead
Sen. John McCain has erased Sen. Barack Obama's 10-point advantage in a head-to-head matchup, leaving him essentially tied with both Democratic candidates in an Associated Press-Ipsos national poll released Thursday.
Obama's former pastor keynoting NAACP dinner
Rev. Jeremiah A. Wright, the controversial former pastor to presidential candidate Barack Obama, was named this morning as the keynote speaker for the NAACP Detroit, Michigan branch's 53rd annual Fight for Freedom Fund Dinner.
... The April 27 dinner at Cobo Center is billed as the largest sit-down dinner in America. It is the primary fundraising event for the branch, which is one of the NAACP's most prominent, historical and largest.
President Bush halts troop withdrawals, cuts army tours to 12 months

The move is in response to intense pressure from service commanders who have expressed anxiety about the toll of long deployments on their soldiers and, more broadly, about the U.S. military's ability to confront unanticipated threats. Bush will announce the decision during a national speech, in which aides said he will also embrace Army Gen. David H. Petraeus's plan to indefinitely suspend a drawdown of forces.
Most of Dan Rather's lawsuit thrown out by judge

A lawyer for the defendants, lead outside counsel James Quinn, said the judge's ruling eliminated Rather's core complaints of fraud and breach of good faith and fair dealing.
The lawyer said it was hard to see how the ex-anchor's assertion of a conspiracy between CBS and the Bush administration "will have any traction going forward."
American Idol dumps prez candidates...
"American Idol," the powerful TV ratings juggernaut, bumped the presidential candidates from its Wednesday show when its special charity edition ran long. Previously recorded videos from Senators Obama, McCain and Hillary Rodham Clinton will be played tonight.
Public financing? Obama and McCain appear split


Mr. Obama, who has shattered fund-raising records for candidates of either party, is sending fresh signals that he may bypass public financing for the general election. He argues that his small contributors, many of whom have given again and again over the Internet, have injected a new democracy into fund-raising, with the result that a kind of "parallel public financing system" has been created.
Mr. McCain, conversely, increasingly offers indications that he will partake in public financing, a decision that would bar him from accepting private donations for the fall and limit his general spending to the $84.1 million that the Treasury would provide. His campaign recently began returning contributions that had been designated for the general election, asking the donors instead to contribute to a special fund, not subject to the public financing limits, for legal and accounting costs in the fall campaign.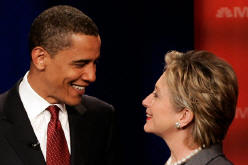 North Carolina debate
still up in the air
Obama has not officially agreed to the April 27 debate. Obama initially offered to debate Clinton in North Carolina before April 22 (which is the date of the Pennsylvania primary, where Clinton is favored); Clinton didn't accept that offer and countered with the offer for April 27.
THE CANDIDATES:
John McCain... today's headlines with excerpts

McCain and Bloomberg talk buzzes
John McCain is scheduled to speak at a small business roundtable in Bay Ridge today. He'll be introduced by Mayor Michael Bloomberg.
The mayor has not declared his support for any presidential candidate, although he has said he would support someone who worked to solve problems and avoided partisan politics.
NRA: McCain has work to do with gun owners

"John McCain still has some work to do to give them a comfort level," Chris Cox, executive director of the NRA, said during an interview with The Hill. "Truth be told, he's not there yet."
Cox said McCain and the anti-gun control group have endured some "high-profile disagreements" in the last several years that have left many gun owners concerned about his candidacy.
Specifically, McCain played a leading role in crafting the campaign finance reform law that bears his name and that also enraged many lobbying groups. The NRA was one of the most outspoken.
Asked about deficit, McCain cites Reagan's example

"When Ronald Reagan came to office,'' he said, "we had 10 percent unemployment, 20 percent interest rates, and 10 percent inflation, if I've got those numbers right. That was when Ronald Reagan came to office in 1980. And so what did we do? We didn't raise taxes, and we didn't cut entitlements. What we did was we cut taxes and we put in governmental reductions in regulations, stimulus to the economy, and by the way, Jack Kennedy also did that as well – and so my answer to it is a growing economy. And I think you best grow the economy by the most efficient use of the tax dollar.''
Foreign policy: 2 camps seek McCain's ear

... concerns have emerged in the weeks since Mr. McCain became his party's presumptive nominee and began more formally assembling a list of foreign policy advisers. Among those on the list are several prominent neoconservatives, including Robert Kagan, an author who helped write much of the foreign policy speech that Mr. McCain delivered in Los Angeles on March 26, in which he described himself as "a realistic idealist." Others include the security analyst Max Boot and a former United Nations ambassador, John R. Bolton.
... So far, Mr. McCain has not established a formal foreign policy briefing process within his campaign. If he needs information or perspective on an issue, advisers say he picks up the phone and calls any number of people, among them Mr. Kissinger, Mr. Shultz or Senators Lindsey Graham, Republican of South Carolina, and Joseph I. Lieberman, independent of Connecticut.
McCain won't rule out pre-emptive war
... "I don't think you could make a blanket statement about pre-emptive war, because obviously, it depends on the threat that the United States of America faces," McCain told his audience...
"If someone is about to launch a weapon that would devastate America, or have the capability to do so, obviously, you would have to act immediately in defense of this nation's national security interests."
McCain outlines differences with Bush
Speaking before a global investment firm this afternoon, Sen. John McCain (R-Ariz.) took pains to distance himself from President Bush even as he reiterated his support for Gen. David Petraeus's handling of the war in Iraq.
Campaign finance reform group targets McCain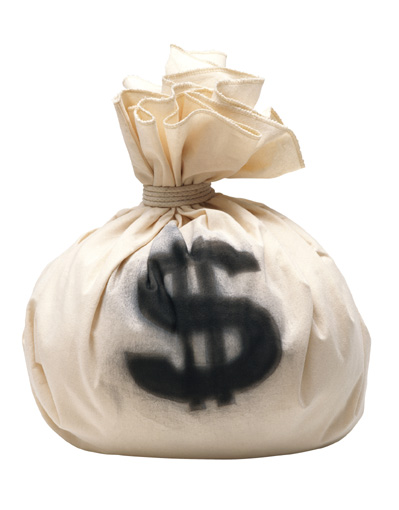 ...Public Campaign Action Fund, a nonpartisan group, once rallied behind McCain's proposals for new campaign finance laws. Tonight, as McCain is joined at the Willard Hotel by a crowd of Washington lobbyists who will be donating to his presidential campaign, the group will protest the senator who was once an ally. David Donnelly, the group's national campaigns director, is releasing a sharply critical report called "McCain's Multiple Views on Public Financing of Elections." The report outlines McCain's gathering support for the concept of public financing and then shows his retreat over the past two years.
Hillary Clinton... today's headlines with excerpts
Hillary told true tale of woe, says kin of dead woman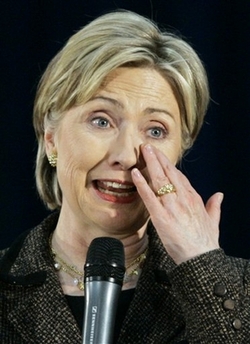 ...over the weekend, Clinton came under fire when officials at O'Bleness Memorial Hospital, after reading about her remarks, demanded that she stop recounting it because the patient, Trina Bechtel, was admitted there and did have insurance.
That part, it turns out, is true. But so is Clinton's claim that Bechtel did not get care at another hospital that wanted a $100 pre-payment before seeing her, according to the young woman's aunt, Lisa Casto. "It's a true story," said Casto, 53.
Casto added some details that were not part -- or differed from -- the Clinton anecdote: She said her niece had previously been in debt to a local hospital that later sent her a letter informing her that she could only be treated there in the future if she gave them a $100 deposit. At the time she went into debt to that hospital, Casto said, Bechtel was uninsured, though she later obtained health insurance and was insured at the time of her death.
Hillary steps away from husband's position on trade

In the wake of reports that both her husband and former chief strategist support expanded trade relations with Colombia, Sen. Hillary Rodham Clinton said again on Wednesday that she opposes the pending free trade agreement -- and that there is no conflict within her campaign on the subject.
Many couples disagree on issues, she said. And, Clinton said, "this is a great debate."
Elton John: sexism hurts Hillary Clinton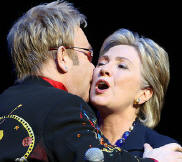 A bitter Sir Elton John thinks America's sexism may be sinking his friend Hillary Rodham Clinton.
John, a knighted British subject, said that gender discrimination is behind Clinton's problems in the polls as he addressed 5,000 Clinton supporters at Radio City Musical Hall last night in an event that raised $2.5 million for the cash-strapped campaign.
"I never cease to be amazed by the misogynistic attitudes of some people in this country," said John, wearing a spangled black evening coat over a vermilion silk shirt. "I say to hell with them. ... I love you, Hillary, I'll always be there for you."
Barack Obama... today's headlines with excerpts
Obama's mom [TIME profile]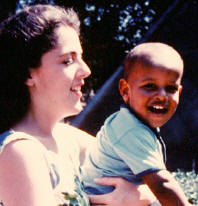 Each of us lives a life of contradictory truths. We are not one thing or another. Barack Obama's mother was at least a dozen things. S. Ann Soetoro was a teen mother who later got a Ph.D. in anthropology; a white woman from the Midwest who was more comfortable in Indonesia; a natural-born mother obsessed with her work; a romantic pragmatist, if such a thing is possible.
"When I think about my mother," Obama told me recently, "I think that there was a certain combination of being very grounded in who she was, what she believed in. But also a certain recklessness. I think she was always searching for something. She wasn't comfortable seeing her life confined to a certain box."
Obama slams McCain's economic stance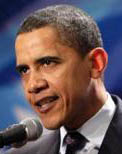 Sen. Barack Obama yesterday said presumptive Republican presidential nominee Sen. John McCain planned to "sit idly by" while the economy foundered.
"It's time to end the Bush-Cheney-McCain policy that tells the American people, 'You're on your own,' because we're all in this together," Mr. Obama said at a rally in Malvern, Pa., where he campaigned for the state's Democratic primary April 22.
Obama on China Olympics boycott: wait, then decide
Mr. Obama said Wednesday that President Bush should leave open the option of boycotting the opening ceremonies of the Olympic Games if the Chinese government did not take steps to help stop genocide in Darfur as well as improving human rights for the people of Tibet. Still, he said, a decision to boycott should be made closer to the Games...
Colin Powell praises Obama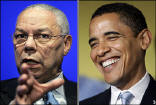 "I think that Sen. Obama handled the issue [Rev. Jeremiah Wright] well . . . he didn't look the other way. He didn't wait for the, for the, you know, for the storm to go over. He went on television, and I thought, gave a very, very thoughtful, direct speech. And he didn't abandon the minister who brought him closer to his faith," Powell told ABC's Diane Sawyer.
... "It was a good (speech)," Powell said. "I admired him for giving it. And I agreed with much of what he said."
Gay press frustrated by Obama approach
The Philadelphia Gay News rebuke highlighted Obama's complex relationship with the gay community, and touched off a blogosphere debate about the role of the gay media in presidential campaign coverage and the ethics of gay journalists...
Oprah takes a big dive for supporting Obama

To be sure, Oprah remains one of the most popular figures in America, but recent data suggest her popularity has eroded. One possible explanation for this decline is that her endorsement of Obama and her support for him may have done more to damage impressions of her than to strengthen support for Obama...
Ralph Nader... today's headlines with excerpts