Weekend Report April 12-13, 2008
GENERAL NEWS HEADLINES with excerpts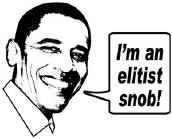 Barack shock: slams small town folks:
clinging to religion, guns, xenophobia
"You go into these small towns in Pennsylvania and, like a lot of small towns in the Midwest, the jobs have been gone now for 25 years and nothing's replaced them," Obama said. "And they fell through the Clinton Administration, and the Bush Administration, and each successive administration has said that somehow these communities are gonna regenerate and they have not.
"And it's not surprising then they get bitter, they cling to guns or religion or antipathy to people who aren't like them or anti-immigrant sentiment or anti-trade sentiment as a way to explain their frustrations."
Opponents paint Obama as an elitist:
Clinton, McCain camps react:
McCain spokesman Steve Schmidt said that Mr. Obama's initial remarks, made at a fundraiser in San Francisco, "shows an elitism and condescension towards hardworking Americans that is nothing short of breathtaking."
"Pennsylvania doesn't need a president who looks down on them," Mrs. Clinton said...
'Bittergate' continues: Obama defends small town slam
"No, I'm in touch. I know exactly what's going on," Mr. Obama said...
Clinton, McCain camps react:
"Instead of apologizing for offending small town America, Senator Obama chose to repeat and embrace the comments he made earlier this week," Clinton spokesman Phil Singer said. "It's unfortunate that Senator Obama didn't say he was sorry for what he said."
"Instead of apologizing to small town Americans for dismissing their values, Barack Obama arrogantly tried to spin his way out of his outrageous San Francisco remarks," said McCain spokesman Tucker Bounds. "Barack Obama thinks he knows your hopes and fears better than you do. You can't be more out of touch than that."
Huckabee signs with talent agency
Former Republican presidential hopeful Mike Huckabee has signed a contract with one of the largest talent agencies in Hollywood, Creative Artists Agencies (CAA).
... CAA represents more than 2,000 clients, including George Clooney, Brad Pitt, Christina Aguilera, Jennifer Aniston, Drew Barrymore and Tony Bennett.
Gore has personal stake in global warming campaign
Al Gore, alarmist-in-chief of the anti-global warming campaign, stands to make money from his investments in "green" firms selling various climate change remedies.
Gore spoke in Monterey, California, at a March 1 TED (Technology, Entertainment, Design) Conference, which bills itself as "an invitation-only event where the world's leading thinkers and doers gather to find inspiration." He admitted to having "a stake" in a number of green "investments" that he recommended attendees put their money into," according to NewsBusters.
Conservative group 'Freedom's Watch' eludes expectations
...after a splashy debut last summer, in which it spent $15 million in a nationwide advertising blitz supporting President Bush's troop escalation in Iraq, the group has been mostly quiet, beset by internal problems that have paralyzed it and raised questions about what kind of role, if any, it will actually play this fall...
THE CANDIDATES:
John McCain... today's headlines with excerpts
McCain to Obama: keep your word
Senator John McCain – who thought he had an agreement with Senator Barack Obama that they would both accept public financing if they faced each other in the November election – called Friday for Mr. Obama to keep his word.
..."I am the presumptive Republican nominee; I will take public financing. Keep your word to the American people. He's always talking in his speeches about how we need to keep our word to the American people. Please keep your word to the American people on the commitment you made in writing.''
see also: McCain may take public funds
Marketing McCain
campaign plays up a political brand that stands for independence from the Republican Party...
... McCain's advisers attribute this seeming contradiction to what they believe is McCain - a political brand that for over a decade has stood for strength, experience, straight talk and independence, qualities they believe help buffer him from many of the ills of his party.
Hillary Clinton... today's headlines with excerpts
Err apparent: Bill's fibs keep campaign from gaining ground
As the saying goes, if you want political reporters to eat their vegetables, it helps if they have nothing else on their plate. The Clintons, meanwhile, are serving whoppers.
Former president Bill Clinton is the latest to hand out a juicy fib -- circling back to Bosnia to cram four falsehoods into 23 words: His wife, he said, "one time late at night when she was exhausted, misstated and immediately apologized for it, what happened to her in Bosnia in 1995."
More calls for Penn to be fired
A powerful coalition of labor unions and a Clinton adviser ramped up their comments that Mark Penn should be totally removed from Hillary Rodham Clinton's campaign team...
Clinton aide's databank venture breaking ground in politicking
Harold Ickes is president of Catalist, a for-profit databank that has sold its voter files to the Obama and the Clinton presidential campaigns for their get-out-the-vote efforts. With his equity stake in the firm, Mr. Ickes stands to benefit financially no matter which candidate becomes the Democratic nominee...
Hillary looks to cut U.S. murder rate
Hillary Rodham Clinton yesterday courted urban voters with a call to cut the nation's murder rate in half with a $4 billion-a-year crime-fighting plan she announced in her rival's stronghold of Philadelphia.
The New York Democratic presidential aspirant said the price tag for hiring 100,000 new police officers, setting up re-entry programs for convicts and cracking down on the methamphetamine scourge pales in comparison to the cost of the Iraq war and would be paid for by nixing some corporate subsidies.
Barack Obama... today's headlines with excerpts
Obama's 'bitter' gaffe could reshape campaign
THE DAMAGE: The swipe at small-town voters hurts with the former Reagan Democrats, a promising voters group for Obama, and antagonizes the very people who would have been worried about Rev. Wright. And it will allow the Clinton campaign to argue that she hasn't cornered the market on divisiveness.
***Many Americans (especially potential "Obamacans," as he calls his Republican supporters) embrace religion not because they're bitter but because they believe it, and because it brings them daily purpose and comfort.

Ralph Nader... today's headlines with excerpts