Friday, April 18, 2008
GENERAL NEWS HEADLINES with excerpts
LA Times:
Did Obama give Hillary the finger?
watch it on YouTube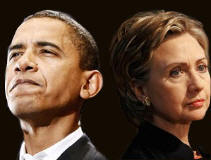 Newsweek poll: Obama takes big national lead over Hillary
Obama 54, Clinton 35
AP: Time, delegate math working against Clinton
Time is running out on Hillary Rodham Clinton, the long-ago front-runner for the Democratic presidential nomination who now trails Barack Obama in delegates, states won and popular votes.
Compounding Clinton's woes, Obama appears on track to finish the primary campaign fewer than 100 delegates shy of the 2,025 needed to win...
Dean: I need a decision now
An increasingly firm Howard Dean told CNN again Thursday that he needs superdelegates to say who they're for – and "I need them to say who they're for starting now."
"We cannot give up two or three months of active campaigning and healing time," the Democratic National Committee Chairman told CNN's Wolf Blitzer. "We've got to know who our nominee is."
The Dean 25 could decide Clinton's fate
If, as Hillary Rodham Clinton has suggested, her campaign takes the fight to seat the Florida and Michigan delegations all the way to the Democratic National Convention this summer, the fate of her challenge is all but certain to hinge on 25 individuals appointed to the Credentials Committee by party Chairman Howard Dean.
The Credentials Committee, which also includes 161 members selected from the states based on primary and caucus results, is the 186-member body that will help determine whether to seat the two rogue delegations.
USA TODAY: Pa. primary won't sway superdelegates
Dozens of uncommitted superdelegates with sway over the Democratic presidential nomination say Pennsylvania's primary on Tuesday won't be the decisive factor in their choice between Hillary Rodham Clinton and Barack Obama.
Instead, they told USA TODAY and Gannett News Service, they will choose by July 1, a deadline suggested by Democratic National Chairman Howard Dean.
see also: Superdelegates unswayed by Clinton's attacks
Clinton, Obama appear on Colbert Show
see clips
Carter in Syria for talks with Hamas supremo
Former US president Jimmy Carter met Syrian President Bashar al-Assad on Friday on the latest stop of a regional tour dominated by impending talks with the exiled leader of Hamas.
Carter held talks with Assad before preparing to defy US and Israeli opposition by meeting with the Damascus-based Hamas leader Khaled Mashaal.
Lieberman: Carter is naive for Hamas meeting
Lieberman told Fox News on Thursday that "at best, President Carter is being naive" for reaching out to a group directly linked to terrorism.
There is a long list of people who thought they could reason with dictators and killers, going back to Neville Chamberlain and Hitler in the 1930s, but it has been shown to be absolutely wrong," Lieberman said.
see also: Rep. Due Myrick: revoke Carter's passport
---
THE CANDIDATES:
John McCain... today's headlines with excerpts
McCain releases 2006, 2007 tax records*
Senate salary:  $161,675     $161,708
Book royalty income:   $80,390     $176,508
Social Security income:   $22,104     $23,157
U.S. Navy pension:   $56,496     $58,358
*Cindy McCain will not release her tax records
see also: McCain reports $258,000 in taxes
DNC looking for dirt on McCain
In early February, there was a sharp uptick in the number of FOIA [Freedom of Information Act] requests from the DNC with McCain as a specific target. February was about the same time McCain emerged as the front-runner and likely nominee.
... According to one filing, Alicia McClintock, a DNC operative, wrote DOI asking for "any and all records of communication (including but not limited to letters, written requests, reports, telephone records, electronic communication) between your agency and John McCain or his offices/staff from 1999 to present during which period he has been a United States Senator."
Peggy Noonan: just one term for McCain?
..."It seems to me it would be a brilliant thing for [McCain] to announce he means to be a one-term president, that he means to have a clean, serious, one-term presidency in which he will do things those under pressure of re-election do not and cannot do. This would be received as a refreshment, a way out for the voters in a year they seem to want a way out. For many in the middle it would be a twofer. You get a good man, for only four years, and Mr. Obama gets to grow and deepen. He'll be better older."
Washington Times editorial: John McCain's math
"Don't get us wrong. We love tax cuts. And we love promises to use the veto to eliminate wasteful spending, especially corruption-inducing, politically self-serving, pork-barrel earmarks. But we also understand arithmetic, and we're concerned that Mr. McCain does not..."
see also:
McCain's plans for tax cuts, balanced budget don't add up
McCain readies unorthodox campaign
McCain will lean heavily on the well-funded Republican National Committee. He will merge key functions of his campaign hierarchy with the RNC while also relying on an unconventional structure of 10 regional campaign managers.
And finally — and perhaps most importantly — McCain will rely on free media to an unprecedented degree to get out his message in a fashion that aims to not only minimize his financial disadvantage but also drive a triangulated contrast among himself, the Democratic nominee and President Bush.
Senators trying to remove doubt on McCain's eligibility
...while opinions in the Senate about John McCain's presidential qualifications can definitely be mixed, Democrats and Republicans hope to find unanimous agreement on at least one basic aspect of their colleague's run for the White House – that he is unequivocally eligible to be president even though he was born in the Panama Canal Zone...

 
Hillary Clinton... today's headlines with excerpts
Noonan: next time she runs, she will wear skirts
"This is what I think will happen. At some future point Mrs. Clinton will leave, and at a more distant one she will try to come back. But more than one cycle will have to pass before she does. She'll need more than four years to shake off the impression she made in 2008. And this is how you'll know she's making another bid for the presidency. She will wear skirts."
Rasmussen: Hillary's Pa. lead down to just 3 points...
Clinton 47, Obama 44
Hillary's goal: win big in Pa., sow doubts over Obama
...even if Sen. Clinton wins strongly, she still will remain behind in delegates, so her goal must be to change the dynamic of the race, raising doubts about Sen. Obama's ability to carry states like Pennsylvania and lifting her chances of replicating the win in Indiana on May 6.
Bill: I didn't hear Hillary 'whining'
"[Obama staffers] were saying, 'Oh this is so negative, why are they doing this.' Well, they've been beatin' up on her for 15 months," Clinton said. "I didn't hear her whining when he said she was untruthful in Iowa, or called her the senator from Punjab... But you know, this is a contact sport. If you don't want to play, keep your uniform off." Clinton also noted that the Obama camp has "said some pretty rough things about me, too,
Clinton: debate is nothing like White House pressures
"Being asked tough questions in a debate is nothing like the pressures you face inside the White House," Mrs. Clinton said in an interview with the Fox News affiliate in Philadelphia. "In fact, when the going gets tough, you just can't walk away because we're going to have some very tough decisions that we have to make. I think we need a president who can take whatever comes your way."
She added, "That goes with the territory, having been inside the White House, I know the pressures inside the White House, I know how hard it is every single day."
see also: Clinton attacks Obama's 'complaining'
 
Barack Obama... today's headlines with excerpts
Brooks: how Obama fell to earth
A few months ago, Obama was riding his talents. Clinton has ground him down, and we are now facing an interesting phenomenon. Republicans have long assumed they would lose because of the economy and the sad state of their party. Now, Democrats are deeply worried their nominee will lose in November.
Welcome to 2008. Everybody's miserable.
Woods Fund could become Obama's 'swift boat'
Sen. Hillary Clinton's reference to a Chicago charitable organization may have flown over the heads of viewers of Wednesday's Democratic debate. But many in Washington wonder whether the Woods Fund could be the "swift boat" of this campaign.
The Woods Charitable Fund of Chicago is a touchstone in the latest controversy swirling around Sen. Obama's past associations. In this case, the association is with William Ayers, a 1970s radical turned college professor, whose tenure as a director of the charity overlapped with Sen. Obama's for three years ending in 2001...
Obama, post-debate, decries 'gotcha games'
It's a town of "gotcha games," "anything goes," and "slash-and-burn politics," and Obama added, "Sen. Clinton looked in her element" on the ABC stage last night, as Obama grappled with questions about why he doesn't wear a flag pin his on his lapel, the Wright scandal redux, and Obama's relationship with Ayers, a prominent Chicago resident who had been a member of the radical '60s terrorist group the Weathermen.
Obama to Hamas: no thanks
Mr. Obama's campaign yesterday was forced to reject an unsolicited endorsement by the Islamist terror group Hamas...
Hamas' top political adviser, Ahmed Yousef, embraced the Obama campaign Sunday in an interview on WABC radio, saying, "We like Mr. Obama. We hope he will [win] the election."
Obama looks to turn debate into a victory
Obama and his team appeared taken aback by some of the negative reviews of his performance in the 90-minute debate in Philadelphia with Sen. Hillary Rodham Clinton (D-N.Y.). In their estimation, he had more than held his own and delivered a stronger performance than in some early debates, when his low-key style sometimes appeared soft in contrast to Clinton's bite...
see also: Obama hints: you know, I'm not sure we need another debate
Robert Reich to endorse Obama - was Clinton's 1st Secty Labor
Robert Reich, Bill Clinton's first Secretary of Labor and a friend of both the former president and his wife for four decades.... intends formally to declare his support for Obama on his blog.
Ralph Nader... today's headlines with excerpts