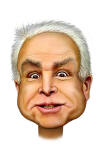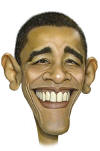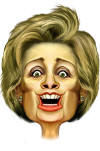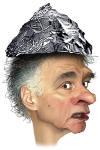 click on each candidate to see today's news stories (caricatures by Linda Eddy)
Tuesday, April 22, 2008
GENERAL NEWS HEADLINES with excerpts
Clinton wins Pennsylvania primary
Justice Dept. to monitor Pa. primary
The federal monitors will be deployed to try to ensure compliance with federal voting rights laws, the Justice Department said in a news release Monday. The monitoring arises from an April 2007 agreement with the city that settled allegations Philadelphia had violated the Voting Rights Act and the National Voter Registration Act...
NYT: exploring possible Clinton and Obama ticket
... All that stands in the way are a few pesky details - like that Obama and Clinton want to be done with each other, starting now. And that Bill Clinton bitterly believes that the Obama camp has portrayed him as a brutish and race-baiting campaigner, according to two associates of Clinton. On top of that, Obama aides assert, Senator Clinton's baggage would damage Obama's image.
Clinton-Obama North Carolina debate canceled
In making the announcement, the North Carolina Democratic Party on Monday blamed "time constraints and logistical issues associated with such a large, national event." And, in the wake of last week's ABC debate where Obama and Clinton tangled on a wide range of topics, state party officials also cited "growing concerns about what another debate would do to party unity" in announcing the decision.
Age great predictor in Dem campaign
In a campaign where demographics seem to be destiny, one of the most striking factors is the segregation of voters by age. In state after state, older voters have formed a core constituency for Mrs. Clinton, who is 60, while younger voters have coalesced around Mr. Obama, who is 46. Age has been one of the most consistent indicators of how someone might vote — more than sex, more than income, more than education. Only race is a stronger predictor of voting than age, and then only if a voter is black, not if he or she is white...
Rice says Carter was warned against meeting Hamas
Secretary of State Condoleezza Rice said Tuesday the Bush administration explicitly warned former President Jimmy Carter against meeting with members of Hamas, the Palestinian faction that controls the Gaza Strip and which is regarded by the U.S. as a terror group.
Rice, attending a regional meeting on Iraq's security and future, contradicted Carter's assertions that he never got a clear signal from the State Department. Rice told reporters that the U.S. thought the visit could confuse the message that the U.S. will not deal with Hamas.
... Carter won no specific concessions from Hamas. He defended his trip during remarks Monday in Jerusalem. He said he failed to convince the top Hamas boss, Khaled Mashaal, that he could gain international goodwill if he stopped rocket fire on Israel for one month.
"I did the best I could," Carter said. "They turned me down, and I think they're wrong."
---
THE CANDIDATES:
John McCain... today's headlines with excerpts
McCain shakes hands, touches hearts in Ala. Black Belt
During the ride across the river, the group sang Gospel songs and took turns having their photos made with the Republican presumptive nominee for the White House.
McCain's ride across the Alabama was the highlight of a day in which he went to places that Republicans seldom visit and that he said too often are forgotten by too many Americans...
McCain tax cuts would bloat deficit or take huge spending curbs  
Sen. John McCain is proposing tax cuts that would either cause the federal deficit to explode or would require unprecedented spending cuts equal to one-third of federal spending on domestic programs...
McCain admits Hagee endorsement was a mistake
John McCain admitted this morning that it was a mistake to accept the endorsement of Evangelical pastor Rev. John Hagee. When asked in an exclusive "This Week" interview with George Stephanopoulos if it was "a mistake to solicit and accept his endorsement", McCain replied "oh, probably, sure." Despite admitting his error, McCain made clear he's still "glad to have his endorsement." 
Elizabeth Edwards and McCain spar over 'cheap shots'
"He has not spent a single day not protected by a federal health plan, not a single day of his entire life, and yet he denigrates this care," said Mrs. Edwards in a recent article in the Wall Street Journal.
Appearing yesterday on ABC News' "This Week with George Stephanopoulos" McCain called Edwards' comments a "cheap shot"...
Hillary Clinton... today's headlines with excerpts
Hillary: 'As President, I'll have your back'
"Here's what I want you to know as president I'll have your back." The boisterous crowd started chanting "Madam! President!" interrupting the New York senator, who followed up saying "it does sound pretty good, doesn't it?"
Hillary on Iran attacking Israel: "...obliterate them"
on "Good Morning America" Tuesday. ABC News' Chris Cuomo asked Clinton what she would do if Iran attacked Israel with nuclear weapons.
"I want the Iranians to know that if I'm the president, we will attack Iran," Clinton said. "In the next 10 years, during which they might foolishly consider launching an attack on Israel, we would be able to totally obliterate them."
11th hour Clinton ad features Bin Laden
In an ad that began airing in Pennsylvania Monday morning, Clinton implies she is tougher than Obama.
"Who do you think has what it takes?" the narrator asks in an ad depicting historical images of crises that presidents have had to deal with: Osama bin Laden, headlines about the stock market crash of 1929, long gas lines from the 1970s oil-shocks, images of the Cold War, Hurricane Katrina and soldiers. It features the first image of Osama bin Laden to be used in a TV ad this political season.
"It's the toughest job in the world," says the ad's narrator. "You need to be ready for anything — especially now, with two wars, oil prices skyrocketing and an economy in crisis." 
The ad quotes President Harry Truman's famous line: "If you can't stand the heat, get out of the kitchen," — to cast Obama as complaining about last week's ABC News presidential debate.
Bill Clinton accuses Obama of playing race card on him
Bill Clinton accused Barack Obama's campaign of "playing the race card on me" and told a Philadelphia radio station that the Obama campaign took his Jesse Jackson comment and "twisted it for political purposes."
And as the interview concluded, Clinton turned to an associate and said,  "I don't think I should take any s..t from anybody on that, do you?"
Bill says under GOP primary system, Hillary would be winning
"I did not actually get the delegates necessary to have a first power of the nomination  under the crazy system the democrats have," Clinton said. "If we were under the republican system which is more like the electoral college, she would have a 300 delegate lead ...It's an eternity 'til the general election, an eternity."
... According to ABC's math --  Clinton would hold more like a 173 delegate-lead if her and Obama were competing in the Republican primary system given the GOP system doesn't have superdelegates. President Clinton was correct, but overestimated what his wife's lead would be by about half.
Barack Obama... today's headlines with excerpts
Obama prepares to spin loss as victory in Pennsylvania

...instead of deteriorating into a snoozer of a Clinton blowout, polls that had her up an average of 16 percentage points in mid-March now show her up an average of just 6 points. And both camps — including a visibly energized Obama campaign in recent days — are now preparing to spin Tuesday's results as a victory.
"I'm not predicting a win. I'm predicting it's going to be close and that we are going to do a lot better than people expect," Obama told the Pittsburgh radio station KDKA Tuesday.
Obama: McCain not too old to be president
"I respect John McCain, I respect his service," Obama said, reciting a typical line from his stump speech. "But John McCain –-"
Then a wayward voice called out from the crowd attempting to finish Obama's line for him: "Is too old!" a man shouted.
Obama responded saying, "No, no. That's not the problem. There are a lot of wise people who –- the problem is he is running for George Bush's third term."
A Willie Horton hit on Obama?
Starting Tuesday, a group of conservative activists led by Floyd Brown, author of the famous Willie Horton ad used so effectively against Michael Dukakis in 1988, will begin a campaign to tar Obama as weak on crime and terrorism, a strategy that aims to upend Obama's relatively strong reputation among Republican voters.
... Brown says the initial effort, a 60-second spot called "Victims," will be aired later this month in North Carolina and e-mailed to between 3 and 7 million conservatives this week, with a plea for more funding to further spread the message. ...
The new ad recounts the deaths of three Chicago residents in 2001 at the hands of criminal gangs. "That same year, a Chicago state senator named Barack Obama voted against expanding the death penalty for gang-related murders," an ominous female narrator intones. "So the question is, can a man so weak in the war on gangs be trusted in the war on terror?"
Obama on 'The Daily Show'
Touching on the controversies that Obama has faced over the course of the campaign, Stewart asked Obama if Americans should expect a "bait and switch" and if he's really planning to "enslave the white race."
And with one last jab at Wednesday night's debate Obama shot back, "That is not our plan Jon, but I think your paranoia might make you a suitable moderator."
Ralph Nader... today's headlines with excerpts
view more past news & headlines