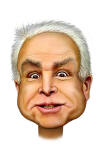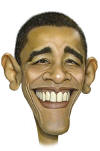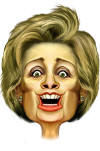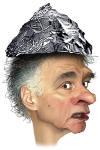 click on each candidate to see today's news stories (caricatures by Linda Eddy)
Wednesday, April 23, 2008
GENERAL NEWS HEADLINES with excerpts
North Carolina GOP attack ad: features Obama, Rev. Wright

Wednesday morning the North Carolina Republican Party introduced a TV ad against Sen. Barack Obama, D-Ill., using images and sound from his controversial former pastor, Rev. Jeremiah Wright.
"For 20 years, Barack Obama sat in his pew listening to his pastor," the narrator says. Cue Rev. Wright and his "God d--- America" sermon.
The ad then mentions Democratic candidates Bev Perdue and Richard Moore, who have endorsed Obama.
"They should know better," the narrator says. "He's just too extreme for North Carolina."
McCain, national RNC condemn anti-Obama ad...
Clinton wins Pennsylvania primary
Obama can't seem to lock up Democratic nomination
Clinton 55%, Obama 45%
"Some people counted me out and said to drop out but the American people don't quit, and they deserve a president who doesn't quit, either," Clinton told supporters at a victory rally...
watch Clinton victory speech here
NYT: The bruising will go on for the party
For better or worse — and many Democrats fear it is for worse — the race goes on...
"This is exactly what I was afraid was going to happen," said Gov. Phil Bredesen of Tennessee, a Democrat who has not endorsed anyone in the race. "They are going to just keep standing there and pounding each other and bloodying each other, and no one is winning. It underlines the need to find some way to bring this to conclusion."
Carter accuses Rice of being untruthful over Hamas meeting
Jimmy Carter accused Secretary of State Condoleezza Rice of being untruthful over remarks made
about his controversial meeting with the Islamist Hamas group.
Rice had chided Carter for meeting with Hamas, saying US State Department officials had told him such talks would not help the Middle East peace process.
Carter-Hamas meeting achieved nothing: Palestinians
Last week's meeting between former US president Jimmy Carter and the exiled leader of Hamas militants did not produce any results, Palestinian foreign minister Riyad al-Malki said here Wednesday...
---
THE CANDIDATES:
John McCain... today's headlines with excerpts
McCain in Youngstown, Ohio... sober message
"I can't tell you that these jobs are ever going to come back to this magnificent part of the country,'' Mr. McCain told another questioner, Sam Carbon, a student at Youngstown, who asked Mr. McCain about how he planned to save American jobs. "But I will commit to giving these workers a second chance. They need it, they deserve it. I know that's small comfort to you, but I can't look you in the eye and tell you those steel mills are coming back.''
see also: Pro-NAFTA McCain delivers bad news to Ohio
McCain signals he 'gets it' on judges
Sen. John McCain has sent a signal to conservatives that he understands what they're looking for when it comes to judicial nominations.
In a response letter to Sen. Arlen Specter, McCain said he wants to see three conservative nominations confirmed to the federal appellate courts by Memorial Day and would support Specter's effort to have the Senate Judiciary discharge the nominations of Peter D. Keisler, Robert Conrad and Steve Matthews. Republicans say all three of those nominations are being slow-walked by the committee. Discharging the nominations would get them to the Senate floor, where an up-or-down vote could be help.
Hillary Clinton... today's headlines with excerpts
NYT editorial: The low road to victory
The Pennsylvania campaign, which produced yet another inconclusive result on Tuesday, was even meaner, more vacuous, more desperate, and more filled with pandering than the mean, vacuous, desperate, pander-filled contests that preceded it.
Voters are getting tired of it; it is demeaning the political process; and it does not work. It is past time for Senator Hillary Rodham Clinton to acknowledge that the negativity, for which she is mostly responsible, does nothing but harm to her, her opponent, her party and the 2008 election...
Clinton camp claims best $$$ night ever
E-mails Clinton spokesman Phil Singer:
As of 11:30 p.m. tonight, we are at nearly $2.5 million since PA was called for HRC — 80% of that money is coming from new donors to the campaign. It's our best night ever.
More finger wagging from mis-remembering Bill Clinton
see video
what he deemed a misinterpretation of his remarks during a radio interview in which he said the Obama campaign "played the race card on me."
... "No, no, no," Mr. Clinton said in Pittsburgh, wagging his finger. "That's not what I said. You always follow me around and play these little games, and I'm not going to play your games today. This is a day about Election Day. Go back and see what the question was, and what my answer was. You have mischaracterized it to get another cheap story to divert the American people from the real urgent issues before us, and I choose not to play your game today. Have a nice day."
Barack Obama... today's headlines with excerpts
Obama shifting focus from Clinton to McCain
Mr. Obama only mentioned Mrs. Clinton by name once in his remarks at a rally late Tuesday night, when he congratulated her on winning the Pennsylvania primary. He referred to Mr. McCain seven times, a pointed reminder to Democrats of the challenge that lies ahead...
Fournier: Why Obama can't close deal
Here are five reasons why Clinton is still alive. Five ways he'd be vulnerable in November.
RACE: The jury is still out on whether a black man can overcome America's original sin and be elected president....
WORKING-CLASS VOTERS: Obama can't win the presidency unless he starts connecting better with blue-collar voters...
FRIENDS IN TROUBLE: The longer the campaign goes, the more questions Obama faces about his friends and associates...
INEXPERIENCE: It's true that Clinton has never run a government or a business, but many voters give her credit for proximity. They consider her experience as first lady preparation for the presidency...
METTLE: Clinton's backers love the fact that she fought Republicans — not to mention the "right-wing conspiracy" — during her husband's presidency. Many Democrats wonder whether Obama is tough enough, a charge that he should be putting to rest in this brass-knuckle nominating contest. But he hasn't...
Obama's gloves are off - and may need to stay off
Sen. Hillary Rodham Clinton's victory yesterday in Pennsylvania has only accentuated the quandary that Obama faces: Stay negative and he risks undermining the premise of his candidacy. Stay aloof and he underscores Clinton's argument that he will not be able to beat a "Republican attack machine" sure to greet him this summer.
Maureen Dowd: Wilting over waffles
He's never going to shake her off.
Not all by himself.
The very fact that he can't shake her off has become her best argument against him...
... Now that Hillary has won Pennsylvania, it will take a village to help Obama escape from the suffocating embrace of his rival...
Roger Simon: Obama can't shake off Clinton
Barack Obama could not "close the deal" in Pennsylvania on Tuesday night. Hillary Clinton said so, and just about every talking head on TV used that phrase.
Though Obama has won twice as many contests as Clinton, this man clearly suffers from a failure to close...
Obama being used by GOP against down-ticket Dem
Supporters of Sen. Barack Obama, D-Illinois, used to brag about how the GOP used to try to tar downticket Democrats by associating them with Sen. Hillary Clinton, D-NY.
The implication -- Clinton is toxic, Obama is magic.
Apparently no longer...
Church sign links Obama with Bin Laden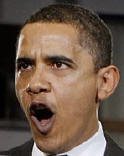 A South Carolina pastor says he wasn't trying to be political when he posted a sign in front of his church linking Democratic presidential candidate Barack Obama and al-Qaida leader Osama bin Laden.
Pastor Roger Byrd said he just wanted to make people think when he put up a sign reading "Obama, Osama _ humm, are they brothers" in front of the Jonesville Church of God on Thursday.
Ralph Nader... today's headlines with excerpts
view more past news & headlines