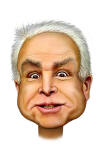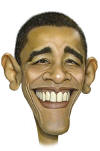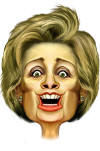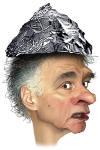 click on each candidate to see today's news stories (caricatures by Linda Eddy)
Monday, April 28, 2008
GENERAL NEWS HEADLINES with excerpts
Supreme Court upholds photo ID law for voters in Indiana
The Supreme Court ruled in a 6-3 decision Monday to uphold an Indiana law requiring voters to present photo identification at the polls, overruling the concerns of Democrats and civil rights advocates who argued the law burdens elderly, minority and student voters. The ruling comes one week before Indiana's Democratic presidential primary, which is shaping up as the next major battleground in the race between Sens. Hillary Rodham Clinton (N.Y.) and Barack Obama (Ill.).
Ruling could hurt Obama
... Those most likely to be affected include important Democratic constituencies: minority, student and poor voters. African-Americans and students are expected to provide crucial support to Obama's campaign next week, and Monday's ruling could cost him thousands of votes.
DNC chairman Howard Dean says either Clinton or Obama must drop out in June
D
ean didn't say which candidate should drop out, only that it should happen after the voters had their say in the primaries, which end June 3.
In an interview Monday on ABC's "Good Morning America," Dean also said that while the party rules say some Democratic delegates can wait until the party's August convention to make up their minds, that would be too late to unify the party.
Wright at Nat'l Press Club:
'An attack on the black church', not him
Rev. Wright said of the controversy:
"It is not an attack on Jeremiah Wright. It is an attack on the black church," he said, to applause, which he noted was "from -- not the working press."
Wright was also at some pains to say that while he admires James Cone's Black Liberation Theology, he identifies his own ministry with another stream: "the prophetic tradition of the black church."
Wright to Obama: 'I'm coming after you'
"I said to Barack Obama last year, 'If you get elected, November the 5th I'm coming after you, because you'll be representing a government whose policies grind under people,' Wright said.
Wright says he isn't divisive; 'I describe the condition in this country'
Speaking to nearly 10,000 people at a fund-raising event for the Detroit branch of the N.A.A.C.P., his largest audience since the controversy over his comments broke, Mr. Wright did not offer an apology. Instead, he faulted news organizations for putting his comments in a political context.
... "I describe the conditions in this country," the Rev. Jeremiah Wright Jr. said during the NAACP's 53rd annual Fight for Freedom Fund Dinner.
---
THE CANDIDATES:
John McCain... today's headlines with excerpts
McCain runs strong as Dems battle on
The protracted and increasingly bitter rivalry between Obama and Clinton for the Democratic nomination is a boost for McCain, too.
He has stayed competitive by drawing support from unlikely quarters.
One in four voters who say the invasion of Iraq was a mistake back him, as do one in four who disapprove of Bush. In a worrisome sign for Democrats, one in five Democrats and Democratic-leaning independents say they'll switch to McCain if the Democrats don't nominate Obama; another one in five say they'll switch if the party doesn't nominate Clinton...
McCain hits Obama on Hamas support
"I think it is very clear who Hamas wants to be the next president of the United States," McCain said in a conference call to bloggers Friday according to Fox News. "I think that the people should understand that I will be Hamas' worst nightmare."
In his own case, McCain said, he wears Hamas's obvious rejection of him as a "badge of honor."
McCain calls Obama insensitive to poor people
John McCain on Sunday called Democratic rival Barack Obama insensitive to poor people and out of touch on economic issues.
The GOP nominee-in-waiting rapped his Democratic rival for opposing his idea to suspend the tax on fuel during the summer, a proposal that McCain believes will particularly help low-income people who usually have older cars that guzzle more gas.
"I noticed again today that Sen. Obama repeated his opposition to giving low-income Americans a tax break, a little bit of relief so they can travel a little further and a little longer, and maybe have a little bit of money left over to enjoy some other things in their lives," McCain said. "Obviously Sen. Obama does not understand that this would be a nice thing for Americans, and the special interests should not be dictating this policy."
McCain blames Obama for 'legitimate' Wright issue
Here's a new angle from McCain, at an avail today, at which he said, more or less, that he didn't plan to attack Obama on Wright, but that Obama — by calling the question "legitimate" — had legitimized it.
It's a move either clever, or too cute, depending on how you see it — but it'll serve to keep the story in the news, and to signal surrogates that it's more than fair game.
DNC ad hits on McCain's '100 years' in Iraq remark
In the commercial, Mr. McCain's words speak for themselves, not misstated as they have been on the campaign trail as though he called for 100 years of war. In the initial exchange with the voter, Dave Tiffany, and in subsequent interviews, Mr. McCain made it clear he was not talking about extended combat, but about the fact that he would not mind maintaining a presence in Iraq to assist with stability. (He likened it to the continuing presence of troops in South Korea or Bosnia.)
McCain criticizes remarks by Obama's former pastor/mentor
Senator John McCain delved on Sunday into remarks made by Senator Barack Obama's former pastor, the Rev. Jeremiah A. Wright Jr., saying it was "beyond belief" that Mr. Wright had likened the Romans at the time of Jesus' crucifixion to the Marines and had suggested that the United States was acting like Al Qaeda under a different color flag.
Hillary Clinton... today's headlines with excerpts
Hillary draws 5,000 at Wilmington rally
Speaking at an outdoor rally to an estimated 5,000 people in downtown Wilmington on Sunday, Clinton unabashedly recalled the 1990s, when her husband, Bill, was president, as a period of economic growth and great national promise. She criticized the economic and foreign policies of President George W. Bush and his Republican administration, barely mentioning her primary opponent, Illinois Sen. Barack Obama...
Bill Kristol: Hillary gets no respect
The fact is Hillary Clinton has turned out to be an impressive candidate. She has consistently defeated Barack Obama when her back was to the wall...
... It's startling how much of the commentary on the Pennsylvania results has had to do with Obama's flaws and mistakes — rather than Hillary's strengths and successes. ..
Which leads to this question: Will the media this week give Obama a pass on refusing to debate Clinton before the Indiana and North Carolina primaries on May 6? Will he be chastised for his lame excuse?
Hillary Clinton's Indiana equalizer: Evan Bayh
Bayh's longstanding relationship with the Clintons, which stretches back 20 years to when both he and Bill Clinton served as governors, also helps explain why he is risking so much political capital on Hillary Clinton.
The two cemented their friendship in 2001 when she arrived in the Senate and moved into an office directly across the hall from Bayh. They also serve on the Senate Armed Services committee together, where they sit next to one another and often can be seen conferring and comparing notes. Last year, the two traveled together to Iraq, Pakistan and Afghanistan...
Faltering economy plays to Clinton strength
...every speech she gave in Indiana on Friday and Saturday had the same topic sentence. "My campaign is about jobs, jobs, jobs and jobs," she said, always to thunderous applause.
In Bloomington, she promised to bring nothing less than economic revolution to the decaying Rust Belt. "You've heard of white-collar jobs and blue-collar jobs," she told her Fort Wayne audience, setting up a line about how efforts to address global warming and other environmental problems could spawn new industries. "We're going to create green-collar jobs."
Bill vs. Barack
... every story has seemed to reinforce an image of Clinton as a sort of ill-tempered coot driven a little mad by Obama's success. "I think this campaign has enraged him," the adviser told me. "He doesn't like Obama." In private conversations, he has been dismissive of his wife's rival.
James Clyburn, an African-American congressman from South Carolina, told me that Clinton called him in the middle of the night after Obama won that state's primary and raged at him for fifty minutes. "It's pretty widespread now that African-Americans have lost a whole lot of respect for Bill Clinton," Clyburn said.
Barack Obama... today's headlines with excerpts
Obama's Religion "Liberation Theology"?
Obama's religious mentor, Rev. Jeremiah Wright, declared that the attack on him was an attack on the Black Church in America. Wright then went on to say that the Black Church in America was about "Liberation Theology."
What is Liberation Theology? It is a movement that worships and proclaims a "let-my-people-go" Jesus. It follows the Bible's Old Testament stories of God liberating His people from oppressors and teaches that Jesus' purpose is the same.
This denies hard, Bible truth: Jesus Christ did not come to set the Jewish people free from Roman oppression. He did not preach "Let my people go." Here is what Christ said to His disciples: "My kingdom is not of this world. If My kingdom were of this world, My servants would fight, so that I should not be delivered to the Jews; but now My kingdom is not from here." (John 18:36) ...
Obama has difficulty wooing seniors
Barack Obama's difficulty attracting older voters now far exceeds Hillary Rodham Clinton's own weaknesses with youth. Repeatedly during the tight race for the Democratic presidential nomination, Obama, who's been defined in part by his popularity among young voters, has seen that strength undercut by his failings with seniors...
Obama shifts style for blue collar voters
On Sunday, Mr. Obama went to a Methodist church in Indianapolis, the kind of event rarely on his public schedule. He suited up for a game of basketball on Friday night before television cameras. And the big, energy-filled stadium rallies that were the bread and butter for most of his campaign have once again given way to smaller town-hall-style meetings, where he is seen talking with people and not at them.
Obama's 'gigantic' database may make him Party's power broker
Barack Obama's supporters are giving him more than just record amounts of cash. They also are providing personal information that may make his donor list the most powerful tool in U.S. politics.
Maureen Dowd: Desperately seeking street cred
It used to be that he was incandescent and she was merely inveterate. Now she's bristling with life force, and he looks like he wants to run away somewhere for three months by himself and smoke.
... With Indiana polls showing the Democratic combatants in a dead heat, and 21 percent of Democrats undecided, this is a perilous time for Obama to lose his fizz.
Obama says he must work harder
Sen. Barack Obama (D-Ill.) acknowledged Sunday that he must work harder to win the support of working-class voters, a group that backed Sen. Hillary Rodham Clinton (D-N.Y.) in droves in last week's Pennsylvania primary. "I am less familiar with some of these blue-collar voters than [Clinton]. . . . They are less familiar with me than they are with her, and so we probably have to work a little bit harder," Obama said on "Fox News Sunday."
Obama links broad ideas to economic specifics
...in a noteworthy shift, the Illinois senator is trying to reach working-class and middle-class voters by arguing more explicitly that the reform ideas driving his campaign can address the economic troubles that threaten their way of life. Supplanting lobbyist influence with citizen activism, uniting the country beyond petty partisan gamesmanship and bringing more candor to government, he argues, are not just abstract goals, but concrete steps that can level the playing field and lead to a more equitable distribution of the nation's wealth.
Ralph Nader... today's headlines with excerpts
view more past news & headlines