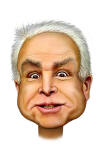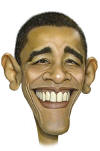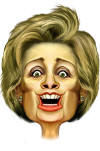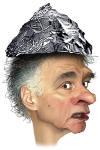 click on each candidate to see today's news stories (caricatures by Linda Eddy)
Tuesday, April 29, 2008
Rev. Jeremiah Wright news coverage:
CounterPunch: Obama holds press conference
Obama says he's outraged by former pastor's comments
Barack Obama says he was outraged by the comments of his former pastor, Rev. Jeremiah Wright, and saddened by the spectacle of his appearance on Monday.
Wright said Monday that criticism surrounding his fiery sermons is an attack on the black church.
Obama told reporters Tuesday that Wright's comments do not accurately portray the perspective of the black church.
Obama said, "I am outraged by the comments that were made and saddened by the spectacle that we saw yesterday."
Obama denounces Wright
"The person that I saw yesterday was not the person that I met 20 years ago," he said. "His comments were not only divisive and destructive, but I believe that they end up giving comfort to those who prey on hate, and I believe that they do not portray accurately the perspective of the black church."
"They certainly don't portray accurately my values and beliefs," he said.
"If Reverend Wright thinks that's political posturing, as he put it, then he doesn't know me very well and based on his remarks yesterday, I may not know him as well as I thought either."
"I gave him the benefit of the doubt in my speech in Philadelphia, explaining that he has done enormous good in the church," he said. "But when he states and then amplifies such ridiculous propositions as the U.S. government somehow being involved in AIDS; when he suggests that Minister Farrakhan somehow represents one of the greatest voices of the 20th and 21st century; when he equates the U.S. wartime efforts with terrorism – then there are no exuses. They offend me. They rightly offend all Americans. And they should be denounced, and that's what I'm doing very clearly and unequivocally here today."
"It is antithetical to my campaign. It is antithetical to what I'm about. It is not what I think America stands for," he said.
Gingrich: Wright may be deliberately hurting Obama
Saying that Wright "went out of his way to weaken Obama" during Monday's address at the National Press Club, Gingrich told Barbara Walters "I think Reverend Wright has a greater interest in his self-importance."
Gingrich described Obama former pastor as "hard-line anti-American", and said "if Rev. Wright continues to talk that the burden that Sen. Obama carries becomes bigger and bigger. "
Eugene Robinson: Where Wright goes wrong
... The problem is that Wright insists on being seen as something he's not: an archetypal representative of the African American church. In fact, he represents one twig of one branch of a very large tree...
... I'm through with Wright not because he responded -- in similar circumstances, I certainly couldn't have kept silent -- but because his response was so egocentric. We get it, Rev. Wright: You're ready for your close-up.
... his basic point -- that any attack on him is an attack on the African American church and its traditions -- is just wrong. In making that argument, he buys into the fraudulent idea of a monolithic, monocultural black America -- one with his philosophy and theology at its center.
Obama adds to distance from pastor and opinions
If it was not clear before Monday, Senator Barack Obama said, it should be clear now: His presidential campaign has no control over what the Rev. Jeremiah A. Wright Jr., his former pastor, says or what he does.
"He does not speak for me," Mr. Obama said. "He does not speak for the campaign. He may make statements in the future that don't reflect my values or concerns."
"I think certainly what the last three days indicate is that we're not coordinating with him, right?" Mr. Obama said.
see also: Obama on Rev. Wright: 'He does not speak for me'
Wright's voice could spell doom for Obama
Should it become necessary in the months from now to identify the moment that doomed Obama's presidential aspirations, attention is likely to focus on the hour between nine and ten Monday morning at the National Press Club. It was then that Wright, Obama's longtime pastor, reignited a controversy about race from which Obama had only recently recovered - and added lighter fuel.
Wright puts Obama on defensive
... as Obama struggles to close out his party's nomination, his message of hope and reconciliation on race and politics has a competing framework, that of the far less conciliatory rhetoric of Wright.
Wright, for example, did not back down, for instance, from assertions that the United States government was responsible for introducing AIDS into the black community.
"Is he (Wright) working for the Hillary campaign?" asked conservative commentator Michelle Malkin, who blogged from the Press Club event. "Is he angry at Barack Obama? Because he has got to know this is killing his spiritual protigi's campaign."
Wright strides back onstage
The Rev. Jeremiah A. Wright Jr. appeared at the National Press Club on Monday, delivering a defiant address in which he defended and amplified some politically and racially charged remarks from past sermons...
Not speaking for Obama, pastor speaks for himself, at length
Mr. Wright, Senator Barack Obama's former pastor, was cocky, defiant, declamatory, inflammatory and mischievous, but most of all, he was all over the place, performing a television triathlon of interview, lecture and live news conference that pushed Mr. Obama aside and placed himself front and center in the presidential election campaign...
Wright at Nat'l Press Club:
'An attack on the black church', not him
Rev. Wright said of the controversy:
"It is not an attack on Jeremiah Wright. It is an attack on the black church," he said, to applause, which he noted was "from -- not the working press."
Wright was also at some pains to say that while he admires James Cone's Black Liberation Theology, he identifies his own ministry with another stream: "the prophetic tradition of the black church."
Wright to Obama: 'I'm coming after you'
"I said to Barack Obama last year, 'If you get elected, November the 5th I'm coming after you, because you'll be representing a government whose policies grind under people,' Wright said.
---
AP Poll:
Clinton leads McCain, doing better than Obama
Poll results suggest Clinton has better chance than Obama of beating McCain in November.
Hillary Rodham Clinton now leads John McCain by 9 points in a head-to-head presidential matchup, according to an Associated Press-Ipsos poll that bolsters her argument that she is more electable than Democratic rival Barack Obama.
Obama and Republican McCain are running about even.
GOP plans half-million hit on Obama, Dems
For months, GOP operatives spoke with dread of the prospects of running against Barack Obama in the fall. But after weeks of controversies over his former pastor, his views of blue-collar voters and even the sincerity of his patriotism, Republicans now are ready to place a $500,000 bet that Obama will be a heavy burden on down-ballot Democrats.
Heated campaign souring Dems on rival candidates
Party members increasingly dislike the contender they are not supporting in the bruising nomination fight, an Associated Press-Yahoo News survey and exit polls of voters show. That is raising questions about how faithful some will be by the November general election.
Dems fear photo-ID voting law fallout
Democratic insiders fear that a number of states, particularly in the Midwest and South, will copy the Indiana law now that the Supreme Court has upheld it. "There's the concern for our side that it can spread, other states can do what Indiana did," said a Democratic strategist. "You may see a lot more of this now."

Racial tensions threaten to divide Dem Party
In the race to the Democratic nomination, tensions between the campaigns of rival Sens. Hillary Clinton, D-N.Y., and Barack Obama, D-Ill., are so uncomfortable some party leaders are openly concerned Democratic voters will not unify after a nominee is chosen.
Much of the tension is based at least in part on racial divisions -- and into the dynamic walked the Rev. Jeremiah Wright, Obama's controversial former pastor.
---
THE CANDIDATES:
John McCain... today's headlines with excerpts
McCain moves to middle on health care
Sen. John McCain is proposing a greater federal commitment to people without health insurance on Tuesday, suggesting that states set up non-profit risk pools to help Americans who are denied coverage or can't afford it.
The federal government would help fund them, with McCain's health-policy experts providing a ballpark estimate of $7 billion a year.
see also: Dissecting McCain's Medicaid Trust Fund
RNC demands networks yank McCain ad
The Republican National Committee demanded Monday that television networks stop running a television ad by the Democratic Party that falsely suggests John McCain wants a 100-year war in Iraq.
... Republican National Committee Chairman Mike Duncan said the ad deliberately distorts what McCain, the likely GOP presidential nominee, said.
Barbour touts moderate McCain
Mississippi Gov. Haley Barbour yesterday said that he is too conservative to be John McCain's running mate but that the Arizona senator's maverick reputation will help him in an election in which moderates and independents will be more important than in recent years.
Mr. Barbour also urged Mr. McCain, the presumptive Republican presidential nominee, not to name his pick for vice president until after the Democrats' convention, when he can draw the sharpest distinction between the parties.
McCain shies away from Wright but won't play 'referee' anymore
On the same day that Jeremiah Wright thrust himself back squarely into the news, John McCain signaled that he was not interested in making Obama's pastor a central issue of his campaign.
A day after bringing up some of Wright's latest provocative comments and saying he could understand why Americans would be uneasy about the pastor, McCain said he wanted to run on policy matters.


Hillary Clinton... today's headlines with excerpts
Hillary Clinton to appear for first time ever on FOX News' Bill O'Reilly Show this Wednesday night
Hillary Clinton vs. Bill O'Reilly - it's finally going to happen.
First reported exclusively by the Drudge Report, Sen. Hillary Clinton, D-N.Y., will appear in a pre-taped interview on Wednesday's edition of "The O'Reilly Factor" on FOX News. The much anticipated interview will take place via satellite with Clinton in South Bend, Indiana, on Wednesday.
Hillary tip toes around Rev. Wright issue
"I have said that that that was a personal decision of his I answered one question about it that made it clear I would not have stayed in that church under those circumstances," Clinton told reporters in Graham, NC. "But, I regret the efforts by the Republicans to politicize this matter and I believe that if Senator McCain were serious he would do more than just send a letter he is the putative nominee I think he could very clearly tell the North Carolina party tell the Mississippi party that he would not tolerate those kinds of advertisements and I'm waiting to see if he does that."
Wright was invited to Nat'l Press Corp event by
Clinton supporter
Wright was invited to the National Press Club by a journalist and minister who supports Clinton.
The Tribune reports that Wright was invited by Barbara Reynolds, a former USA Today editorial board member who has written on personal blog of her support for Clinton...
Press Club prez:
Reynolds pitched Rev. Wright two years ago
North Carolina's governor to endorse Hillary today
Gov. Mike Easley is going to endorse U.S. Sen. Hillary Clinton on Tuesday, according to Tom Hendrickson, a former state Democratic party chairman who is a key Clinton supporter in North Carolina.
see also: New Clinton supporter is potent symbol
Hillary Clinton: $2.3 billion in earmarks
Sen. Hillary Rodham Clinton (D-N.Y.) has requested nearly $2.3 billion in federal earmarks for 2009, almost three times the largest amount received by a single senator this year.
The Democratic presidential candidate's staggering request comes at a time when Congress remains engaged in a heated debate over spending federal dollars on parochial projects.
Hillary Clinton could ease racial tensions
Maybe it's time for another speech on race relations in America -- this time by Sen. Hillary Clinton.
... her camp is the one now being accused of, or at least implicated in, using the race card. The most recent assertions came in the form of comments last week by Rep. James Clyburn, a black Democrat from South Carolina, who accused Sen. Clinton and, more pointedly, former President Clinton, of damaging the Democratic Party by using race to political advantage.
Tax break for summer? Clinton: yes; Obama: no
While Mr. Obama's view is shared by environmentalists and many independent energy analysts, his position allowed Mrs. Clinton to draw a contrast with her opponent in appealing to the hard-hit middle-class families and older Americans who have proven to be the bedrock of her support. She has accused Mr. Obama of being out of touch with ordinary Americans who are struggling to meet their mortgages and gas up their cars and trucks.
Barack Obama... today's headlines with excerpts
Obama's Religion "Liberation Theology"?
Obama's religious mentor, Rev. Jeremiah Wright, declared that the attack on him was an attack on the Black Church in America. Wright then went on to say that the Black Church in America was about "Liberation Theology."
What is Liberation Theology? It is a movement that worships and proclaims a "let-my-people-go" Jesus. It follows the Bible's Old Testament stories of God liberating His people from oppressors and teaches that Jesus' purpose is the same.
This denies hard, Bible truth: Jesus Christ did not come to set the Jewish people free from Roman oppression. He did not preach "Let my people go." Here is what Christ said to His disciples: "My kingdom is not of this world. If My kingdom were of this world, My servants would fight, so that I should not be delivered to the Jews; but now My kingdom is not from here." (John 18:36) ... read entire editorial
Obama pushes new populist message to North Carolina voters
"I didn't get in this race, to run against Sen. Clinton. I ran to run against unemployment. I ran to run against lack of educational opportunity. I ran to run against lack of health care, and substandard housing and a war that we should not have been fought. That's why I'm running," Obama said and then repeated again, "I'm not running against Sen. Clinton."
Obama said he has gotten wrapped up in negative campaigning recently, which has distracted him from his reason for running, and said he spoke with his campaign team about changing the focus.
Obama heads for superdelegate edge
Sen. Obama has taken the lead among elected officials, and Monday got the endorsement of New Mexico Sen. Jeff Bingaman, though Sen. Hillary Clinton will counter Tuesday with a commitment from Gov. Mike Easley, whose North Carolina holds the next primary. Sen. Clinton still leads by double digits among nonelected national and state party officials, but her edge has been narrowing.
On affirmative action, Obama intriguing but vague
Obama left unclear whether he was talking about creating actual written affirmative-action plans to favor lower-income whites, Hispanics, women, or others whose circumstances may be less fortunate...
Ralph Nader... today's headlines with excerpts
view more past news & headlines