McCain likely to let Obama choose veep first
By waiting to make a major announcement in the window after Obama's much-anticipated acceptance speech August 28 at Invesco Field and before he receives his party's nomination the following week, for example, McCain would be able to quickly shift the focus of the race following the Democratic convention.
Further, these advisers say, by waiting until the end of the month he could also gauge his pick based both on who Obama selects and what the contours of the race appear to be just two months out from Election Day.
McCain and NY Times continue long bout
The latest dustup between the Republican presidential candidate and the "All the News that's fit to Print" big-name newspaper centered on the editorial board's back-to-back criticisms of McCain, one dispatch accusing him of taking the low road and another contending that he was playing politics with race...
WalMart for McCain?
Wal-Mart Stores Inc., the world's largest retailer, denied a report Friday that it had pressured employees to vote against Democrats in November because of worries that a bill the party supports would make it easier for workers to unionize.
The measure, called the Employee Free Choice Act, would allow labor organizations to unionize workplaces without secret ballot elections. It was co-sponsored by Barack Obama, the presumed Democratic presidential candidate, and opposed by John McCain, the presumed Republican nominee.
Private equity fears if Romney is veep
Before he was elected governor of Massachusetts, Romney sat atop the private equity world where major investors routinely buy troubled companies, revamp them — often in part through layoffs — and then sell them off for huge profits. Romney founded the private equity firm Bain Capital, which he headed for 15 years, during which time he's estimated to have made about $250 million.
Last year, congressional Democrats targeted the private equity sector for insults and tax increases. With a Romney vice presidential nod, those charges will go national.
Ridge does not think McCain would have abortion litmus test
On ABC News' "This Week with George Stephanopoulos," former Pennsylvania Governor and Secretary of Homeland Security Tom Ridge reaffirmed his pro-choice position on abortion, and said he did not think Sen. John McCain, R-Ariz., would make it a litmus test on whom he would choose to be his running mate.
... When asked whether he thought having a pro-choice candidate at the top of a national ticket would turn off the Republican Party base, Ridge said, "I think, at the end of the day, I think the party would be comfortable with someone Sen. McCain was comfortable with. And that is ultimately his decision."
McCain, the analog candidate
Not knowing how to use a computer could reinforce a notion that Mr. McCain subscribes to the old-way-of-thinking, said Michael Feldman, a veteran of the Clinton White House and a top aide to former Vice President Al Gore. It creates a problematic "optic" for the McCain campaign, Mr. Feldman said, especially when juxtaposed with the younger Mr. Obama, frequently photographed with BlackBerry on his belt clip...
Pelosi pushes Texas lawmaker as Obama running mate
House Speaker Nancy Pelosi is behind on a dark horse in the Democratic veepstakes: Rep. Chet Edwards of Texas.
"I hope he will be the nominee," Pelosi said Sunday on ABC's This Week.
Edwards, first elected in 1990 and now in his ninth term, represents Texas' 17th District, which includes Waco, College Station, Fort Hood and the small town of Crawford, where President Bush has a ranch. He serves as a senior member on the House appropriations and budget committees and has guided funding measures for military veterans.
Obama's VP pick may chafe Hillary supporters
Many of the foremost activists in the women's movement ardently believe that Hillary Rodham Clinton should be Barack Obama's running mate — and primary wounds that are just beginning to heal may be torn back open should the Democratic nominee select someone else, as it seems very likely he will...
Obama: seat Florida, Michigan full delegates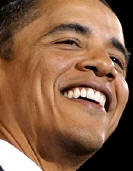 Barack Obama, moving to heal one of his party's deepest wounds, called Sunday for a full seating of the disputed Florida and Michigan delegations at the Democratic National Convention.
The Democratic National Committee had cut the states' delegations as punishment for scheduling early primaries. But Democrats recognize the importance of a motivated base in those classic battlegrounds.
The delegate count for the states was one of the most contentious issues between the Clinton and Obama campaigns as the nominating contests ground down.
Obama shifts positions on off-shore drilling