Poll: too much about Obama, not enough about McCain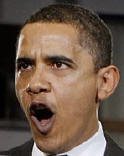 Barack Obama may be the fresh face in this year's presidential election, but nearly half say they're already tired of hearing about him, a poll says.
... Two-thirds of Republicans and about half of independents said they've heard too much about Obama, as did a third of Democrats, a significant number.
At the same time, nearly four in 10 said they've been hearing too little about McCain — about four times the number who said so about Obama. About half of Republicans, four in 10 independents and even a quarter of Democrats said they've not heard enough about the GOP candidate
see also:
Obama stalls in public polling
Paris Hilton strikes back at McCain
with her own 'presidential' ad:
McCain camp response: Paris supports drilling
McCain spokesman Tucker Bounds emails:  "It sounds like Paris Hilton supports John McCain's 'all of the above' approach to America's energy crisis - including both alternatives and drilling. Paris Hilton might not be as big a celebrity as Barack Obama, but she obviously has a better energy plan."
Presidential debate moderators chosen
The Commission on Presidential Debates on Tuesday named Jim Lehrer and Gwen Ifill of PBS, Tom Brokaw of NBC News and Bob Schieffer of CBS News as moderators of the three presidential debates and one vice presidential face-off
Lehrer, anchor of "The NewsHour," will moderate the first presidential debate in Oxford, Mississippi, on Sept. 26.
Brokaw, moderator of "Meet the Press," will handle the second presidential debate in Nashville, Tennessee, on Oct. 7.
Schieffer, host of "Face the Nation," who will handle the third and final presidential debate in Hempstead, New York, on Oct. 15.