Wednesday, August 20, 2008
GENERAL NEWS HEADLINES with excerpts
Lieberman to speak at GOP convention
Connecticut Sen. Joe Lieberman, the Democratic Party's vice presidential candidate in 2000 and now an independent who is one of John McCain's strongest supporters, will speak at the Republican National Convention, an official said.
Lieberman will deliver a speech when Republicans gather in St. Paul, Minn., to nominate McCain for president, a party official told The Associated Press on Wednesday. The official requested anonymity because a formal announcement had yet to be made.
Asked during a visit to Georgia whether he would be speaking at the convention, Lieberman smiled and said: "it's quite possible, but I'll let them announce it."
Lieberman, 66, caucuses with Senate Democrats, though has been a strong supporter of the Iraq war and is a staunch backer of McCain's presidential bid, traveling often with the Arizona senator and campaigning on his behalf during the GOP primary in states like Florida that have large numbers of Jewish voters.
see also:
Rove: Lieberman for Secretary of State
Schwarzenegger opening night speech may not happen
Giuliani to keynote RNC
Carter, Kerry, Gore in DNC speaker lineup
Jimmy Carter, John Kerry and Chicago Mayor Richard Daley will be among the speakers at next week's Democratic National Convention, organizers announced Tuesday.
Former Vice President Al Gore also is scheduled to speak at Invesco Field at Mile High on the night Sen. Barack Obama accepts his party's nomination, according to published reports.
see also:
Homeless get cleaned up with free haircuts for DNC
McCain takes 5-point lead over Obama - Reuters poll
In a sharp turnaround, Republican John McCain has opened a 5-point lead on Democrat Barack Obama in the U.S. presidential race and is seen as a stronger manager of the economy, according to a Reuters/Zogby poll released on Wednesday.
McCain leads Obama among likely U.S. voters by 46 percent to 41 percent, wiping out Obama's solid 7-point advantage in July and taking his first lead in the monthly Reuters/Zogby poll.

Saddleback Faith Forum:
Investors' Business Daily editorial
"What we saw last weekend was Obama's shallowness juxtaposed with McCain's depth, the product of his extraordinary life experience.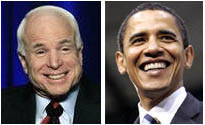 It may not have been a debate,
but it was one of the most lopsided political contests in memory. No wonder Obama wants to keep debate formats boring and predictable."
---
THE CANDIDATES:
John McCain... today's headlines with excerpts
McCain to name VP on August 29th
John McCain plans to celebrate his 72nd birthday on Aug. 29 by naming his running mate at a huge rally in the battleground state of Ohio, Republican sources said.
That's a week from Friday, and the day after his rival, Barack Obama, accepts the Democratic nomination at a 70,000-person spectacular in a Denver stadium.
... Sources close to McCain say he has wrestled with the choice, torn between a high-stakes, high-reward pick like Tom Ridge or Connecticut Sen. Joseph I. Lieberman — the Democratic vice presidential nominee in 2000 — or a safer and more conventional selection such as Mitt Romney or Tim Pawlenty.
McCain camp pushes back against "cross in dirt" claims
Recalling his time as a POW, McCain spoke of one guard who quietly loosened the ropes on his hands. Later, McCain shared, that same guard drew the image of a cross in the dirt.
This story was recounted as part of McCain's Christmas-season ad and in mailers around the holiday.
But some on the left, having heard it for the first time at the Saddlback forum, are now asserting McCain has lifted the story from the recently deceased Russian dissident, Aleksandr Solzhenitsyn.
No mainstream media outlet — to my knowledge — has picked up this claim, but the McCain campaign, seeing both risk and opportunity, has raised it to denounce it...
Barack Obama... today's headlines with excerpts
Obama: McCain 'doesn't know what he's up against'
"Our job in this election is not just 'win,' although I'm a big believer in winning," Obama said during the rally. "I don't intend to lose this election. John McCain doesn't know what he's up against."
"He can talk all he wants about Britney (Spears) and Paris (Hilton), but I don't have time for that mess," Obama said.
His remarks carried forward a theme of feisty campaigning he debuted earlier in the day.