Friday, August 22, 2008
GENERAL NEWS HEADLINES with excerpts
House Wars!
| | |
| --- | --- |
| McCain's: "Housing Problem" | Obama's: "Seven" |
| | |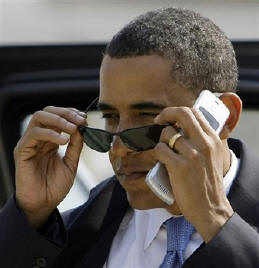 'Biggest celebrity in the world' Obama mocks McCain over houses comment
Barack Obama Thursday depicted John McCain as rich, out of touch and less a foreign-policy expert than he claims—part of the increasingly negative tone of the presidential hopeful's message as he tries to fight the perception that his campaign has stalled.
Two national polls released Thursday showed McCain has drawn almost even with Obama in the last few weeks, thanks to an aggressive new tone and a series of negative campaign commercials painting Obama as a tax raiser who is ill-prepared to lead in a dangerous world. That, in turn, has prompted Obama to step up his rhetoric against McCain...
Speaking to supporters, Obama chided McCain for an interview he gave to the Politico Web site where he said he didn't know how many homes he owns. [story here]
McCain camp's response:
"Does a guy who made more than $4 million last year, just got back from vacation on a private beach in Hawaii and bought his own million-dollar mansion with the help of a convicted felon really want to get into a debate about houses?
Does a guy who worries about the price of arugula and thinks regular people 'cling' to guns and religion in the face of economic hardship really want to have a debate about who's in touch with regular Americans? ...
McCain doesn't own any properties - all owned by wife & her children
John McCain's family owns at least eight properties — not the seven Democrats are alleging or the four McCain's staff identified — according to a Politico analysis of property and tax records, as well as interviews.
The presumptive Republican nominee, though, may have some wiggle room in explaining why he couldn't immediately provide an answer when asked by Politico how many houses he and his wife, Cindy, own. Sen. McCain himself does not own any of the properties. They're all owned by Cindy McCain, her dependent children and the trusts and companies they control.

Club For Growth not happy with GOP speaker roster
Sure, Joe Lieberman, Rudy Giuliani and Arnold Schwarzenegger will grace the stage in St. Paul, but the Club for Growth wants to know why more prominent conservatives aren't speaking at the Republican National Convention next month.
Saying the GOP brand remains "in shambles," the conservative member organization released a statement Thursday questioning the recently announced lineup of speakers at the Xcel Energy Center. The roster includes Lieberman, Connecticut's independent senator who was Al Gore's running mate in 2000, as well as more moderate members of the Republican Party, like Giuliani and Schwarzenegger.
Disclosure reports show Clinton still deeply in debt
According to an FEC report filed Wednesday, Clinton's debt as of the end of July stood at just under $24 million — a decrease of only $1.2 million since the end of June. More than $13 million of that total is owed to the New York senator herself, while close to $11 million is owed to individual vendors. Clinton has suggested she is not seeking to pay back the money she owes herself.
The report also shows Clinton was only able to raise $2 million in the month of July — down from close to $3 million in June. By comparison, Barack Obama raised over $50 million for his White House bid in the same time period.
---
THE CANDIDATES:
John McCain... today's headlines with excerpts
McCain advisers say stance on abortion is crucial for No. 2
Senator John McCain has narrowed his list of potential running mates to a handful of candidates and appears unlikely to select anyone who supports abortion rights, several advisers close to his campaign said on Thursday...
White powder, threats received at 2 McCain offices
Threatening letters containing an unidentified white powder have been received at John McCain's campaign offices in Denver, Colorado, and Manchester, New Hampshire, CBS News has learned.
McCain's campaign office in Denver received a letter containing a threat and "an amount of white powder in it," a McCain campaign said.
"We immediately notified local and federal law enforcement agencies and are looking to cooperate with them," spokesman Jeff Sadosky said.
Another McCain spokesperson later said that McCain's New Hampshire office "received a similar letter."
Byron York thinks it's down to Lieberman and Pawlenty
"I've been talking to more people about the veep thing, and the picture I get is this: McCain is sitting in front of a console with a switch with two positions: GAMBLE and PLAY IT SAFE. If he moves the switch to GAMBLE, he picks Lieberman. If he moves it to PLAY IT SAFE, he picks Pawlenty. It seems increasingly clear that a Tom Ridge gamble doesn't make a lot of sense, and a Mitt Romney choice isn't a big gamble, but it isn't really safe either."
Harry Reid: 'I can't stand John McCain'
Senate Majority Leader Harry Reid had some harsh words for the presumptive Republican presidential nominee Thursday, telling the Las Vegas Review Journal; "I can't stand John McCain.
In the interview, Reid also defended Connecticut Sen. Joe Lieberman, after the former Democratic vice presidential nominee accepted a speaking slot at next month's Republican convention in Minnesota.
"He has a close personal relationship with John McCain. I don't fully understand why he does," Reid told the paper.
"I told him last night, 'You know, Joe, I can't stand John McCain.' He said, 'I know you feel that way,' "
Reid said Lieberman called him Tuesday from the Republic of Georgia to tell him he would be speaking at the Republican convention.
Survey finds hunters, anglers prefer McCain
A survey has found that John McCain holds a considerable lead over Barack Obama in the race to become president — among hunters and fishermen.
Given that there are an estimated 40 million hunters and fishermen of voting age in the United States, there's some significance to their thinking and it may have helped the current president win two terms.
Barack Obama... today's headlines with excerpts
Obama commits to 9/11 forum with McCain
Hosted by TIME Managing Editor Rick Stengel, both candidates will appear separately on stage at a forum hosted by a coalition called ServiceNation.
McCain had previously said he'd appear -- now Obama has confirmed...
Text hoaxes plague Obama VP rollout plan
By the time Barack Obama is ready to announce his vice presidential pick, will anyone believe him?
In recent days, as speculation and anticipation has mounted, so too have phony text messages declaring Obama's supposed running mate – from Evan Bayh and Hillary Rodham Clinton to Olympic gold medalist Michael Phelps.
It's a cruel twist in a prolonged game of guessing that has put political junkies and Democratic supporters on edge since the campaign announced last week that it would disclose Obama's choice through text messaging, which is expected to happen by Saturday.
New group plans Ayers attack on Obama
A new conservative group has produced a television ad attacking Barack Obama for his relationship with former Weather Underground bomber Bill Ayers.
"How much do your really know about Barack Obama? What does he really believe?" asks the ad, which then cites the failed attack on the Capitol on 9/11, and links it to the Weather Underground attack on the Capitol decades earlier.
The group says it will spend $2.8 million airing the ad in Ohio and Michigan — which would be the largest single third-party expenditure this cycle.
"Why would Barack Obama be friends with someone who bombed the Capitol and is proud of it?" asks the narrator. "Do you know enough to elect Barack Obama?"
The group, the American Issues Project, is a 501(c)4 — which means it isn't required to disclose its donors.
Obama vows 'best and brightest' foreign policy team
Barack Obama said on Thursday he would assemble a foreign policy team of the "best and the brightest" and mentioned some people who may be considered for jobs if he wins the White House.
Former Georgia senator Sam Nunn and former U.S. diplomat Richard Holbrooke were among the Democrats Obama said he would turn to for advice.
... he would also seek the counsel of Republicans such as Indiana Sen. Richard Lugar and Nebraska Sen. Chuck Hagel.