Saturday, Feb. 16, 2008
GENERAL NEWS HEADLINES with excerpts
Sunday talk show guests:
NBC Meet the Press: Senate Majority Whip Dick Durbin, and Sen. Charles Shumer
Fox News Sunday: Gov. Jim Doyle, an Obama supporter, and Ohio Gov. Ted Strickland, who's backing Clinton
CBS Face the Nation: top Obama adviser David Axelrod and Clinton communications strategist Howard Wolfson;former Virginia Gov. Douglas Wilder, an Obama supporter, and Los Angeles Mayor Antonio Villaraigosa, who backs Clinton. Politico columnist Roger Simon rounds out the CBS lineup.
ABC This Week: John McCain
CNN Late Edition: focuses on the ongoing recovery efforts in New Orleans in the wake of Hurricane Katrina, featuring an interview with the new Republican governor of Louisiana, Bobby Jindal, a former congressman.

Wisconsin simmers as Midwest indicator
Wisconsin will not decide the Democratic or Republican nominations, but it will likely affirm the sentiments of voters in the Midwest, the most competitive region in presidential politics. Democrat Al Gore won Wisconsin by a razor-thin 5,700 votes in the 2000 general election, and John Kerry won four years ago by 11,400, making the state marginally blue.
While the unquestionably liberal image of Madison may dominate the political perception of this state, it is misleading. Blue-collar employment makes up about 30 percent of the jobs. The percentage of residents with college diplomas is 25 percent, ranking 31st nationally and below the national average of 27 percent, according to the Census Bureau.
DNC has no firm strategy to end standoff
There's lots of chatter but no firm plan to resolve the Democrats' standoff over the states whose delegations would constitute about one-12th of the convention in Denver. At this point, the outcast delegates exist only on paper, and in the calculations of Hillary Clinton's campaign brain trust, which has been clamoring to have them seated when the party convenes late in August to nominate its presidential candidate.
Democrats look for a way to avoid convention rift
Democratic Party officials said that in the past week Mr. Gore and other leading Democrats had held private talks as worry mounted that the close race between Senators Barack Obama and Hillary Rodham Clinton could be decided by a group of 796 party insiders known as superdelegates.
The signs that party elders are weighing whether and how to intervene reflects the extraordinary nature of the contest now and the concern among some Democrats that they not risk an internal battle that could harm the party in the general election.
Blacks in Congress torn over candidates
African American members of Congress, many under enormous pressure from their constituents, are grappling with the question of whether they should abandon their support of Hillary Rodham Clinton and back Barack Obama for the Democratic presidential nomination.
On Thursday, Rep. John Lewis (Ga.), a civil rights icon who endorsed Clinton last fall, wavered publicly in his backing of her after a series of private conversations with other members of the Congressional Black Caucus (CBC). He and his aides declined yesterday to say whether he had formally withdrawn his endorsement or plans to support Obama in his role as a Democratic superdelegate, but colleagues said such doubts are echoing throughout the CBC.
"A lot of members who made commitments a year ago based on prevailing thought are having some real trepidations," said Rep. James E. Clyburn (D-S.C.), who has remained neutral in the race.
THE CANDIDATES:
Mike Huckabee... today's headlines with excerpts
GOP growing irritated with Huckabee

Republican officials and aides to John McCain are growing concerned that the longer presidential candidate Mike Huckabee stays in the race, the more it will suck money, attention, and support away from the likely eventual nominee.
"We're getting pretty frustrated with his campaign," says a top GOP official. "He can't win. Like [McCain campaign manager] Rick Davis said, he'd have to win 125 percent or more of the remaining delegates, and that's not good math for him." The McCain campaign has been careful not to publicly attack Huckabee, but the frustration has also become apparent.
Davis jokes that with Huckabee staying in, at least reporters are paying attention to McCain. But privately, campaign associates are concerned about having to continue spending money to fight Huckabee in upcoming primary states. Republican officials not associated with the campaign are growing louder in their calls for Huckabee to quit the race and back McCain, as Mitt Romney did this week.
Boston rocker to Huckabee: no more covers
Pop music lovers of a certain (advancing) age will recognize a song on the playlist of Mike Huckabee's band, Capitol Offense, as Boston's "More Than a Feeling," a hit from the
band's eponymous 1976 debut album. And a former Boston band member, Barry Goudreau, has done appearances with Huckabee, leaving the impression that the band is backing the bass-playing Baptist preacher. But band leader Tom Scholz, whose guitar forms Boston's signature sound and who wrote "More Than a Feeling," says nope, and has asked Huckabee to drop the song from the playlist.
"Boston has never endorsed a political candidate, and with all due respect, would not start by endorsing a candidate who is the polar opposite of most everything Boston stands for," Scholz, a Barack Obama supporter, wrote to the Huckabee campaign.
John McCain... today's headlines with excerpts
McCain got loan by pledging to seek Federal funds
John McCain's cash-strapped campaign borrowed $1 million from a Bethesda bank two weeks before the New Hampshire primary by pledging to enter the public financing system if his bid for the presidency faltered, newly disclosed records show.
McCain had already taken a $3 million bank loan in November to keep his campaign afloat, and he sought from the same bank $1 million more shortly before this month's Super Tuesday contests...
... The unorthodox lending terms also raised fresh questions from McCain's critics about his ability to repeatedly draw money from the Maryland-based Fidelity & Trust Bank.
McCain to hammer Obama on financing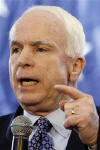 John McCain is accusing Barack Obama of backing away from a promise to participate in a public financing program that would force him to turn off his free-flowing spigot of campaign cash, foreshadowing a likely flash point if the two are pitted in a general election battle for the presidency.
Obama's campaign has denied making the promise, and Obama on Thursday said he'd work with McCain to reach an agreement on financing.
But that didn't satisfy McCain, whose campaign signaled it wasn't ready to let the issue drop.b
see also: McCain says Obama should take public funding
McCain overstates his criticisms of Rumsfeld

... a debate at the Ronald Reagan Presidential Library in Simi Valley, Calif., aired on CNN, McCain said, "I'm the only one that said that Rumsfeld had to go."
A McCain spokesman acknowledged this week that that was not correct. "He did not call for his resignation," said the campaign's Brian Rogers. "He always said that's the president's prerogative." Asked specifically about the senator's statements in Florida and California, Rogers said, "I think he's really just pointing out that he's the only one who really called out the Rumsfeld strategy, and that is certainly true again and again."
Ron Paul... today's headlines with excerpts
Hillary Clinton... today's headlines with excerpts
Bill: Obama ignores accomplishments

Former President Clinton on Friday accused Sen. Barack Obama, his wife's rival for the Democratic nomination, of trying to ignore any accomplishments they achieved during their years in the White House.
"You have one candidate who's made the explicit argument that the only way we can change America is to move into a post-partisan future and therefore we have to eliminate from consideration for the presidency anybody who made good things happen in the '90s or stopped bad things from happening in this decade," said Clinton, who was winding up a day of East Texas campaign appearances for his wife, Sen. Hillary Rodham Clinton.
"It doesn't matter how much good you did," the former president said at Stephen F. Austin University. "We've got to get rid of you because you had to fight to make something good happen. You had to fight to stop something bad from happening. And if you fought, you made somebody mad, we ought to give you an old watch and retire you. You can't possibly make a contribution to America's future."
Without mentioning Obama by name, Clinton said the Illinois senator was promoting a position that it's "actually an advantage to not have any experience because you've not made anybody mad."
"It's been very effective," Clinton said. "It's already taken four good candidates out. It would have taken Hillary out if she didn't have so much grass-roots support and so much guts."
Hillary's counter shout out - 'yes we will'
Hillary Clinton has upped the imperative ante, countering Barack Obama's call of "Yes, we can!" with "Yes, we will!"...
Hillary goes all-out negative in new ad
Mrs. Clinton's new TV spot accuses Mr. Obama of putting out "false attack ads" in response to her original TV spot that criticized him for not agreeing to debate her in Milwaukee. Mr. Obama's ad, put out Thursday, said that the 18 past debates and two upcoming forums in Ohio and Texas were enough.
The new ad not only calls out Mr. Obama for refusing the debate invitation, but it also reiterates her contention that his health care plan would leave 15 million Americans without coverage.
Barack Obama... today's headlines with excerpts
Obama would seat Michigan's Dem delegates - on one condition
On Friday, Obama said that he would let Michigan delegates join the convention if it is done without affecting the outcome...
Obama in Wisconsin - delivers populist message, attacks Clinton

Barack Obama delivered a populist message in Wisconsin today as he shot back at rival Hillary Clinton's claim that he's all talk and no action.
``She's right, speeches alone don't do anything,'' Illinois Senator Obama said at a rally in Milwaukee. ``But you know what? Neither do negative attacks.''
... Obama also took aim at Clinton's failed attempt as first lady to overhaul the U.S. health-care system.
``Hollering at Republicans and engaging in petty partisan politics didn't help health care get done,'' he said.
Obama said Clinton's attacks on his dual messages of ``change'' and ``hope'' are becoming ``silly'' and underscores the former first lady's penchant for fostering divisiveness.
... Obama also shot back at former President Bill Clinton's dig that a vote for Obama would be a ``roll of the dice.''
``This argument doesn't seem to have worked because the American people I think realize the biggest role of the dice would be to have the same old cast of characters doing the same old things over and over and somehow expect a different result,'' Obama said.
Obama: Clinton's attacking because 'she's feeling down'
"I understand that Senator Clinton periodically, when she's feeling down, launches attacks as a way of trying to boost her appeal," Obama said.
"But I think this kind of gamesmanship is not what the American people are looking for."
Obama seeks win on Hawaiian home turf
Sen. Barack Obama, so closely identified with Chicago, has his roots, his family and a clear edge in Hawaii, which holds Democratic presidential caucuses on Tuesday.
The Illinois senator, who was born in Hawaii and spent most of his first 18 years here, is a source of pride for many of the state's voters.
"How often do you have a guy from Hawaii who could very well be the next president of the United States?" Jacce Mikulanec, an Obama district captain on Oahu, asked. "People are very excited about that."
Hawaii's mere 20 Democratic delegates and its distance from the mainland usually make the state an afterthought in presidential campaigns. But Obama's narrow lead and the strong contest Sen. Hillary Rodham Clinton continues to wage means the state could have an impact on the race.
SEIU officially endorses Obama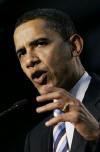 Illinois senator won the endorsement of the 1.9 million-member Service Employees International Union, one day after he collected the support of the United Food and Commercial Workers, a politically active union 69,000 members in Ohio and another 26,000 in Texas. The food workers also have 19,000 members in Wisconsin, which holds a primary Tuesday.
Slams Hillary:
Addressing voters in Wisconsin, Obama accused Clinton of lashing out at him as a cheap ploy to get ahead and being so divisive that she couldn't pass her signature effort of health care reform.
"Hollering at Republicans and engaging in petty partisan politics didn't help health care get done," he said. "The American people don't want to play the same games. They don't want the cheap shots. They don't want the negative ads. What they are looking for are solutions and bringing people together."
Obama has big advertising edge
Obama's ability to blanket the airwaves -- and repeatedly start statewide television ad campaigns a week ahead of Clinton -- has been the defining advantage to emerge from the commanding fundraising lead he staked out in January.
In the nine days following Super Tuesday, the senator from Illinois spent about $13.5 million on television ads, compared with Clinton's $8.3 million, according to a media consultant not connected with any campaign who collected the figures and shared them on the condition of anonymity. In Wisconsin, which will vote on Tuesday, Obama ads monopolized the airwaves for six days before Clinton responded with her own spot.
Obama says US must end gun violence
Barack Obama says the country must do "whatever it takes" to eradicate gun violence but believes in the right to bear arms.
Obama says he's offered his Senate office to help Northern Illinois University with the investigation into a campus shooting rampage. The shooting happened in his home state. Obama was campaigning in neighboring Wisconsin.
The senator, a former constitutional law instructor, says he believes the Second Amendment to the Constitution grants individual gun rights.
Krauthammer: the audacity of selling hope
Obama has an astonishingly empty paper trail. He's going around issuing promissory notes on the future that he can't possibly redeem. Promises to heal the world with negotiations with the likes of Iran's president, Mahmoud Ahmadinejad. Promises to transcend the conundrums of entitlement reform that require real and painful trade-offs and that have eluded solution for a generation. Promises to fund his other promises by a rapid withdrawal from an unpopular war -- with the hope, I suppose, that the (presumed) resulting increase in American prestige would compensate for the chaos to follow.
Democrats are worried that the Obama spell will break between the time of his nomination and the time of the election, and deny them the White House. My guess is that he can maintain the spell just past Inauguration Day. After which will come the awakening. It will be rude.