Obama and Bill Clinton finally speak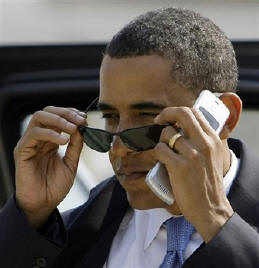 Seeking to beat back reports of a continuing rift, the Obama campaign announced today that Sen. Barack Obama (D-Ill.) and former President Bill Clinton have talked by phone.
Obama campaign spokesman Bill Burton said: "Senator Obama had a terrific conversation with President Clinton and is honored to have his support in this campaign. He has always believed that Bill Clinton is one of this nation's great leaders and most brilliant minds, and looks forward to seeing him on the campaign trail and receiving his counsel in the months to come."
Bill Clinton spokesman Matt McKenna said in a statement, "President Clinton had a very good conversation with Senator Obama today. He renewed his offer to do whatever he can to ensure Senator Obama is our next President.
... The campaign said the call lasted about 20 minutes.
Campaign flashpoint: patriotism and service
As Mr. Obama delivered a speech here on patriotism that tried to defuse attacks on his own background, he responded to the remarks of Wesley K. Clark, the retired general and onetime Democratic presidential candidate who suggested on Sunday that Mr. McCain had not been tested as a wartime commander.
"For those like John McCain who have endured physical torment in service to our country, no further proof of such sacrifice is necessary," Mr. Obama said. "And let me also add that no one should ever devalue that service, especially for the sake of a political campaign — and that goes for supporters on both sides."
Asked if he wanted an apology, Mr. McCain said, "That's certainly up to Senator Obama." Later, he added, "I know that General Clark's comment is not an isolated incident."
The terse exchanges between the rivals, echoed even more vociferously by their campaign representatives and surrogates, underscored a central question both candidates are grappling with: How do they present themselves as practicing a new kind of politics, while they, and particularly their allies, are still pointing out flaws in each other?
see also:
Wesley Clark won't back down
McCain deseiged by slander
Obama: I will never question others' patriotism
'Drill Here, Drill Now' rallies the conservative right
May 20th Newt Gingrich, posted a petition that called for increased drilling as a way of lowering gas prices. "We… the undersigned citizens of the United States, petition the U.S. Congress to act immediately to lower gasoline prices (and diesel and other fuel prices) by authorizing the exploration of proven energy reserves to reduce our dependence on foreign energy sources from
unstable countries," it declared.
Within a week, the Web traffic for American Solutions skyrocketed, even beating out MoveOn.org for a couple of days, which led blogger Soren Dayton, who used to work for McCain, to ask, "Is Drill Now the conservative MoveOn?"
... "The Drill Here Drill Now mantra that Newt came up with rapidly accelerated everyone coming together on the issue," said Erick Erickson, who runs redstate.org, an influential conservative blog.

NRA plans $40 million fall blitz targeting Obama
The National Rifle Association plans to spend about $40 million on this year's presidential campaign, with $15 million of that devoted to portraying Barack Obama as a threat to the Second Amendment rights upheld last week by the Supreme Court.
---
THE CANDIDATES:
John McCain... today's headlines with excerpts
McCain says Obama's word 'cannot be trusted'
"This election is about trust -- trust in people's word,'' McCain, the presumptive Republican presidential nominee, told several hundred donors at a $2 million GOP fundraiser in Louisville, Kentucky, yesterday. ``And unfortunately, apparently on several items, Senator Obama's word cannot be trusted.''
McCain, a four-term Arizona senator, said Obama has gone back on his word by pledging to take public financing during the general election and then deciding not to do so.
McCain meets with Billy Graham and son
John McCain met privately Sunday with evangelists Billy and Franklin Graham at the family's mountaintop retreat in North Carolina.
It was McCain's first sit-down with Billy Graham and his son, although McCain and the elder Graham are acquainted.
With 89-year-old Billy Graham in poor health, McCain flew to North Carolina expecting to meet only with Franklin Graham -- president and chief executive of the group his father founded in 1950, the Billy Graham Evangelistic Assn.
McCain, who is courting religious voters and trying to reassure skeptical conservatives, said he had "a very excellent conversation" with the two "great leaders."
Franklin Graham issued a statement after the meeting praising the Arizona senator's "personal faith and his moral clarity."
He said he was not endorsing anyone for president, but was urging "men and women of faith everywhere" to vote and to be involved in the political process.
Wesley Clark slams McCain's military credentials
"I don't think riding in a fighter plane and getting shot down is a qualification to be president."
-Wesley Clark
The retired general Wesley Clark said McCain had not "held executive responsibility" and had not commanded troops in wartime.
McCain's experience in Vietnam, where he was a prisoner of war for five years, has seemed at times almost to grant him invulnerability to criticism of his security background. But on Sunday he was assailed by a fellow military man, a highly decorated one who was once the NATO supreme commander.
McCain frequently points out that he led "the largest squadron in the U.S. Navy," but Clark said on CBS television that that was not enough to support a claim to the presidency.
"He hasn't been there and ordered the bombs to fall" as a wartime commander, the general said on CBS. Clark is mentioned as a possible Obama running mate, although he originally supported Senator Hillary Rodham Clinton.
see also:
Left target McCain's war record
McCain addresses Latino officials, gets jabs from protestors
... ten minutes into his speech, McCain was interrupted by the first of four protestors.
"We want a peace candidate," a woman yelled. As she was escorted out of the large room she continued to yell "He doesn't represent Arizona! We want a peace candidate!"
"That's a long trip out," McCain laughed. The crowd cheered as he said, "The one thing Americans want us to stop doing is yelling at each other. That's the one thing they want us to stop doing."
The second and third protestors were escorted out just as quickly as the first, and the fourth protestor only made a larger stir among the press, as he had been seated within the press section.
McCain wrapped up his time by speaking about immigration and the need to treat immigrants in a "humane fashion" and with respect.

Obama addresses Latino officials
While speaking at the the National Association of Latino Elected and Appointed Officials Conference, Obama said, "I have to have your help. This election could well come down to how many Latinos turn out to vote."
Obama, who spoke after John McCain, received several standing ovations and cheers from the group. He often used the key Spanish campaign phrase, "Si Se Puede" (Yes, we can), and told the crowd that he hopes there is a Hispanic nominee for president soon.
Obama to take 7-nation tour this summer
Barack Obama will arrive in Britain this summer on a long-expected seven-nation world tour including Europe, designed to answer doubts among global leaders — and US voters — about the direction of his foreign policy.
Over the weekend his campaign confirmed plans to visit Israel, Jordan, France, Germany and Britain. The dates, as well as a full itinerary expected to include Iraq and Afghanistan, have not yet been disclosed for security reasons.