McCain: Social Security funding now 'a disgrace'
The system for funding Social Security is "a disgrace" because it forces young workers to pay into a program that is unlikely to benefit them in its current form, Republican presidential candidate John McCain said this week, wading into politically touchy territory.
Like many other politicians, McCain often questions the long-term viability of the government retirement program. But he raised eyebrows with an unusually harsh assessment Monday at a town-hall forum in Denver.
McCain can't resist the Iran joke...
an Associated Press reporter asked McCain to comment on a report that U.S. exports to Iran had increased tenfold during the last seven years -- with cigarettes ranking as the top export.
"Maybe that's a way of killing them," McCain responded. He quickly followed up: "I meant that as a joke, as a person who hasn't had a cigarette in 28 years."
McCain goes after female vote with townhall event
Republican presidential candidate John McCain is going after the female vote by hosting a women-only town hall meeting Friday in Wisconsin.
The first-of-its-kind event for the McCain campaign is the latest and most overt attempt to woo women turned off by Democrat Barack Obama's rivalry with Sen. Hillary Rodham Clinton during the primaries.
McCain dodges question on Viagra, contraceptives
Republican John McCain prides himself on being a straight talker. But he resisted being dragged into a discussion Wednesday about insurance companies that cover Viagra but not birth control products.
"I certainly do not want to discuss that issue," the presidential candidate said when a reporter asked him about it on his campaign bus, the "Straight Talk Express."
McCain adviser rejects talk of becoming chief strategist
Mike Murphy, Senator John McCain's longtime adviser and friend who had been rumored to be joining the McCain campaign as a chief strategist, said Tuesday that he would not be doing so.
Jimmie Johnson says NASCAR fans will vote McCain
... he thinks the core fan base will back McCain over Sen. Barack Obama. "I have to think McCain. I think our core fan base being strong Republicans like they are, that's going to be the first choice. I also think his credits in history and what he's done for our country, certainly for our country, a lot of those things will be fully noticed by our fan base," says Johnson.
Obama breaks FISA promise, votes in favor of surveillance
Today, Democratic Presidential candidate Barack Obama voted for H.R.6304, which amends the Foreign Intelligence Surveillance Act (F.I.S.A). In doing so he voted to give telecommunication providers immunity against civil damages that they might incur in the course of enabling the government to execute wiretaps and other types of electronic surveillance. He did so, after an amendment to the bill that would have stripped out the immunity provision, S.Amdt. 5064, was defeated 32-66. In voting for the bill, Obama acted in direct contradiction to his earlier statements. In 2007 Bill Burton, an Obama campaign spokesman, said "To be clear: Barack will support a filibuster of any bill that includes retroactive immunity for telecommunications companies."
Obama urges backers to address Clinton debt
After he finished a 30-minute address to about 1,000 donors in a ballroom at the Grand Hyatt New York, Mr. Obama returned to the microphone and said that giving money to Mrs. Clinton was one of the best ways to ensure that the Democratic Party would be unified in the fall campaign.
"Please take this responsibility seriously," he said. "It's important to us, and obviously it's important to Mrs. Clinton, too."
... Mrs. Clinton was not at the Grand Hyatt event, but she and Mr. Obama appeared later at a private dinner at the Regency Hotel with about 150 big-dollar donors from the Clinton orbit. That event carried a price tag of $33,100 a person, to benefit the Obama campaign and the Democratic National Committee.
Obama donors aren't rushing to aid Hillary
A prominent donor to Senator Barack Obama recently sent an e-mail plea to other supporters, asking them — for the sake of Democratic unity — to write checks to Senator Hillary Rodham Clinton to help retire her $23 million in campaign debt.
Some of the replies are unprintable, given the coarse language, the donor said. A sampling of others included:
"Why would I help pay off debts that Hillary amassed simply to keep damaging Senator Obama?"
"Gas prices are up, the markets are in turmoil, my kid's fall tuition bill is coming soon. Writing checks to politicians I don't like is not at the top of my list."
"Not a penny for that woman. Or her husband. Or — god forbid — Mark Penn," a reference to Mrs. Clinton's former senior strategist, whose firm is still owed several million dollars for work that included aggressive attacks on Mr. Obama.
German chancellor says 'no' to Obama's speech location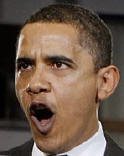 Sen. Barack Obama, D-Illinois, has sought permission to deliver an address at the Brandenburg Gate in Berlin, Germany later this month, but though Berlin Mayor Klaus Wowereit has given his approval German Chancellor and Angela Merkel is inclined to say "nein."
Merkel spox Thomas Steg told reporters that "it is unusual to hold election rallies abroad. No German candidate for high office would even think of using the National Mall (in Washington) or Red Square in Moscow for a rally because it would not be seen as appropriate."
Ja, wir können, indeed.
The Brandenburg Gate is where President John F. Kennedy in 1963 declared to the world, "ich bin ein Berliner" (which, despite urban legend, few locals likely interpreted to mean that the president was declaring himself a jelly-filled pastry.)
The Gate is also where President Ronald Reagan told Soviet leader Mikhail Gorbachev to "tear down this wall" in 1987.