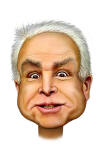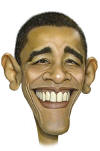 click on each candidate to see today's news stories (caricatures by Linda Eddy)
Monday, July 14, 2008
GENERAL NEWS HEADLINES with excerpts
Glow fading?
Obama lead dwindles to just 3 points
A month after emerging victorious from the bruising Democratic nominating contest, some of Barack Obama's glow may be fading. In the latest NEWSWEEK Poll, the Illinois senator leads Republican nominee John McCain by just 3 percentage points, 44 percent to 41 percent. The statistical dead heat is a marked change from last month's NEWSWEEK Poll, where Obama led McCain by 15 points, 51 percent to 36 percent.
... some Obama supporters worry that the spectacle of their candidate eagerly embracing his old rival, Hillary Clinton, and traveling the country courting big donors at lavish fund-raisers, may have done lasting damage to his image as an arbiter of a new kind of politics.
... perhaps most puzzling is how McCain could have gained traction in the past month.
see also:
McCain vs. Obama on immigration: is there a difference?
McCain, Obama to speak to NAACP
Barack Obama and John McCain vie for African-American votes this week with appearances at the NAACP convention in Cincinnati, a stop with potential opportunities and pitfalls for both candidates.
Obama is to speak tonight. On the surface, the venerable civil-rights organization's 99th convention should be a love fest between the African-American attendees and the first African American with a real chance of being elected president.
But last week's comments by the Rev. Jesse Jackson about Obama "talking down" to African Americans brought to light concerns among some civil-rights activists and African-American academics about Obama.
... McCain's appearance at the NAACP convention Wednesday fits into his effort to reach out to groups that aren't traditionally courted by Republican presidential candidates. Opportunity and education will be the theme of his remarks, according to Brian Rogers, a McCain campaign spokesman.
Candidates' tax plans agree on one thing: more debt -
Analysts say 'fiscal reality' lost on both
The differences between the tax policies being promoted by Sens. Barack Obama and John McCain are stark, but neither candidate's proposal tackles the nation's worsening fiscal problems, analysts say.
Schwarzenegger: 'Flip-flopping is getting a bad rap'
"Let me tell you something. Flip-flopping is getting a bad rap, because I think it is great. Someone has made a mistake. I mean, someone has, for 20 or 30 years, been in the wrong place with his idea and with his ideology and says, 'You know something? I changed my mind. I am now for this.' As long as he's honest or she's honest, I think that is a wonderful thing. You can change your mind...
"I have changed my mind on things and there is nothing wrong with it," Schwarzenegger continued. "But I'd just say to the people, I'd say, 'Look, I once felt this way. Now I think this way,' end of story."
Green Party taps McKinney
For those voters who think Ralph Nader and Bob Barr are too conventional, the Green Party this weekend named former Rep. Cynthia McKinney, D-Georgia, its 2008 presidential nominee.
At the Green Party's nominating convention Saturday in at the Chicago Symphony Center, McKinney received 313 out of 532 votes cast in the first round of balloting.
---
THE CANDIDATES:
John McCain... today's headlines with excerpts
McCain sees himself in Teddy Roosevelt mold
Senator John McCain, in a wide-ranging interview, called for a government that was frugal but more active than many conservatives might prefer. He said government should play an important role in areas like addressing climate change, regulating campaign finance and taking care of "those in America who cannot take care of themselves."
"I count myself as a conservative Republican, yet I view it to a large degree in the Theodore Roosevelt mold," the presumptive Republican presidential nominee said, referring to Roosevelt's reputation for reform, environmentalism and tough foreign policy.
John McCain goes online
John McCain says in an interview published this weekend that he has begun learning the wonders of the World Wide Web, but does not yet e-mail or have a BlackBerry.
The revelation, while putting McCain far behind the majority of Americans in tech savvy, is a big change from his admission this winter that he was "illiterate" when it came to computers.
"I am learning to get online myself, and I will have that down fairly soon, getting on myself," McCain told Adam Nagourney and Michael Cooper of The New York Times...
see also:
What if the 3 am alert came by email?
McCain takes a Social Security risk
President Bush's failed push to privatize Social Security has not deterred John McCain from putting forward the same idea -- and from risking a similar political disaster.
McCain, the presumed Republican presidential nominee, spoke several times last week about changing how the popular retirement program is funded, at one point calling it a "disgrace" that younger workers are forced to pay for a plan that, in his view, is unlikely to benefit them when they retire.
McCain quips about presidential bids by Arizonans
"Arizona may be the only state in America where mothers don't tell their children that some day they can grow up and be president," McCain quipped Sunday.
The four Arizonans who have made presidential bids _ Sen. Barry Goldwater in 1964, Rep. Morris K. Udall in 1976, former Gov. Bruce Babbitt in 1988 and McCain in 2000 _ either lost in the general election or never won their party nominations.
Why Vietnam loves McCain
They jailed him for five years. Now they want him in the White House.
... Just about everyone in Vietnam agrees. They all know who McCain is, and no one seems to hold a grudge about the 23 bombing missions he flew against targets in and around Hanoi. That goes for ordinary Vietnamese, senior bureaucrats and people who met him during his captivity—the district nurse who may have saved his life after he was shot down, and the hard-line military officer who was his chief jailer for more than five years at the Plantation and the notorious Hanoi Hilton. They like the way McCain pushed Washington to normalize relations in the 1990s and the way trade has mushroomed from $1.5 billion in 2001 to $12 billion last year, and they believe he'll help them even more if he wins. It's a far cry from the day McCain parachuted from his disintegrating jet and was severely beaten and stripped to his underwear by the mob that pulled him from Truc Bach Lake.
The New Yorker's cover illustration causes a stir
The sophisticates at The New Yorker have come up with a cover that is sure to get the magazine a lot of attention. Negative attention. From their friends.

An illustration by Barry Blitt depicts Sen. Barack Obama, D-Ill., and his wife Michelle in the Oval Office, revealing their "true" selves: Michelle is in full revolutionary garb, an enormous afro making her look like a millennial Angela Davis, holding an automatic weapon and wearing military pants.

In the cartoon Michelle is giving dap, or fist-bumping, with her husband who is wearing a turban and is dressed in garb perhaps more appropriate for a madrassa in Lahore than the Oval Office.

A painting of Osama bin Laden hangs above the fireplace, where the American flag is being burned.

see also:

Obama slams Muslim portrayal

Obama to visit Israel, West Bank next week

Barack Obama will meet Israeli Prime Minister Ehud Olmert and Palestinian president Mahmud Abbas next week, officials said on Monday.

Senior Palestinian diplomat Saeb Erakat confirmed that Obama would visit Abbas in the occupied West Bank town of Ramallah on July 23.

Troops in Afghanistan need help, Obama says

Senator Barack Obama is proposing that the United States deploy about 10,000 more troops to battle resurgent forces in Afghanistan, a plan intended to shift the American military focus from the Iraq war to the marked rise in violence from the Taliban.

Schwarzenegger weighs post under Obama
Gov. Arnold Schwarzenegger of California, who has endorsed Senator John McCain and called his fellow Republican a role model, suggested in an interview broadcast Sunday that he would be willing to serve as an energy and environment czar under Senator Barack Obama should he win the presidency.
Mr. Schwarzenegger said that whether he held a position in an Obama administration or not, he planned on traveling the world to promote clean energy after his tenure as governor. He also indicated that he was not pursuing a cabinet job.
Obama considering NASCAR sponsorship
NASCAR's BAM Racing team is in discussions with Barack Obama's presidential campaign about a potential sponsorship deal in the Sprint Cup series later this year.
Team spokesman Rhett Vandiver told The Associated Press on Friday that the team has made a sponsorship proposal to the Democratic presidential hopeful's campaign, and has made similar proposals to the campaign of Republican John McCain and at least one third-party candidate.
Sports Illustrated first reported the proposal on its Web site, saying Obama's campaign is in talks with BAM, a part-time operation that hasn't raced in recent weeks, to sponsor its No. 49 car in the Aug. 3 race at Pocono.