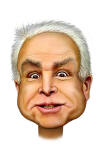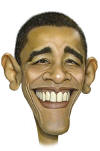 click on each candidate to see today's news stories (caricatures by Linda Eddy)
Wednesday, July 16, 2008 -
GENERAL NEWS HEADLINES with excerpts
Obama at NAACP repeats comments that angered Jesse Jackson
Barack Obama's message Monday night to the NAACP: He won't apologize for calling on black men to take more responsibility as fathers.
"Now, I know there are some who've been saying I've been too tough talking about responsibility," Obama told the civil rights organization's 99th annual convention in Cincinnati. "NAACP, I'm here to report, I'm not going to stop talking about it."
The crowd burst into loud applause.
... Republican John McCain is to address the convention on Wednesday.
see also:
Black activists say Obama must speak to all races
McCain at La Raza: rejects Obama attack on immigration
Republican presidential hopeful John McCain defended himself on Monday against charges from Democrat Barack Obama that he adopted a more aggressive stance against illegal immigration for political purposes..
... In a lively appearance before the National Council of La Raza, one of the most important advocacy groups in the United States for Hispanic Americans, McCain rejected the organizers' attempts to cut off audience questioning of him, at one point tossing his microphone to a man so he could pose his query.
... McCain said he wanted to correct the record. He said he had supported the immigration legislation even though his critics said it would be "political suicide."
"I took my lumps for it without complaint. My campaign was written off as a lost cause. I did so not just because I believed it was the right thing to do for Hispanic Americans. It was the right thing to do for all Americans. Sen. Obama declined to cast some of those tough votes," McCain said.
see also:
McCain says Obama undermined US immigration measure
McCain camp: Obama would swap
Iraq war loss for election win
Republican John McCain's camp has charged that his Democratic foe Barack Obama would trade defeat in Iraq for an election win, as a fierce new row over the war rocked the White House race.
As tensions mounted ahead of Obama's expected to visit to the war zone, his campaign hit back that McCain was oblivious to the real situation in Iraq and warned voters would not be hoodwinked by "fear-mongering."...
McCain tops Obama in Commander-in-Chief test;
stays competitive on Iraq
Poll finds 72% of Americans say McCain would be good Commander-in-Chief...
Americans divide evenly between Barack Obama and John McCain's approaches to the war in Iraq, and rate McCain much more highly on his abilities as commander-in-chief — key reasons the unpopular war isn't working more to Obama's advantage...
Talk show host McLaughlin's 'oreo' comment causes uproar
Longti
me Washington talk-show host John McLaughlin is facing fire Monday for referring to Barack Obama as an "Oreo" during a segment on his Sunday political program, "The McLaughlin Group.
The veteran Washington journalist was discussing the recent comments from the Rev. Jesse Jackson, who was caught last week by an open microphone on Fox News saying the Illinois senator is "talking down to black people" as he campaigns for the White House. Those remarks were largely seen in reference to Obama's recent admonishment at a Chicago church of some black men who he said were not living up to their responsibilities as parents.
Referencing Jackson's comments, McLaughlin said Obama "fits the stereotype blacks once labeled as an Oreo — a black on the outside, a white on the inside."
"Does it frost Jackson, Jesse Jackson, that…an Oreo should be the beneficiary of the long civil rights struggle which Jesse Jackson spent his lifetime fighting for?" McLaughlin asked his panelists.
President Bush lifts offshore drilling ban
President Bush on Monday repealed an executive order banning offshore drilling for oil in the U.S. Outer Continental Shelf, increasing pressure on the Democratic-controlled Congress to follow suit and remove their own moratorium.
Hillary Clinton asks to keep
donor money for 2012
Hillary Clinton's campaign is sending out letters to donors asking permission to roll a $2,300 contribution to Clinton's 2008 general election coffers to her 2012 senate election fund instead of offering a refund.
---
THE CANDIDATES:
John McCain... today's headlines with excerpts
McCain 'unapologetic' in support of NAFTA
Republican presidential candidate John McCain in one of his strongest endorsements of free trade called himself "an unapologetic supporter of NAFTA," an agreement that many Americans feel has cost them jobs.
"I reject the false virtues of economic isolationism," McCain told the National Council of La Raza, a major Hispanic organization. "Any confident, competent country and its government should embrace competition," he said. "It makes us stronger."
Another McCain co-chair bites the dust
McCain finance co-chair and former New Jersey congressman Jim Courter, chief executive of telecom corporation IDT, is resigning from the campaign after the FCC slapped IDT with a $1.3 million fine last week for failing to disclose information about its contracts in Haiti. IDT is being investigated by several federal agencies after a former employee filed a lawsuit alleging that the company engaged in corrupt practices in order to obtain favorable contracts in the country.
The McCains cash in on the Budweiser deal
Cindy McCain, wife of Republican presidential candidate John McCain, is set to get a huge payout from the sale of Anheuser-Busch Cos., brewer of Budweiser and hundreds of other brands, to Belgian beverage giant InBev NV.
McCain, the heiress to the third-largest Anheuser distributor, owns at a minimum $1 million in the American company, according to John McCain's Senate financial disclosure forms, which don't offer any more information for large assets held by his spouse. Under the deal, she and other stockholders will get a cash payout for the stock, which is owned through her company, Hensley and Co.
Anheuser's stock price opened at $67.55 today, almost a 50% gain over the near $47 price in February when the possibility of a deal was made public.
Romney's stock rising as possible McCain veep
Political experts say the weakening U.S. economy, the No. 1 issue for voters, could sway McCain to pick Romney, whose experience as a successful former venture capitalist could compensate for McCain's weaknesses in economic matters.
They add that Romney, a multimillionaire former Massachusetts governor, would bring considerable strengths to the Arizona senator's bid for the White House -- from a proven ability to raise big money and connect with conservative Republicans to his telegenic good looks and executive style...
Barack Obama... today's headlines with excerpts
Obama again vows to send 2 more brigades to Afghanistan
Barack Obama repeated his assertion Monday that as president, he would send at least two more combat brigades to Afghanistan, where U.S. soldiers face rising violence.
Monthly death tolls of U.S. and NATO troops in Afghanistan surpassed U.S. military deaths in Iraq in May and June, and a militant attack Sunday on a remote military outpost killed nine American soldiers — the deadliest assault on U.S. forces in Afghanistan in three years.
Obama's proposed force increase is part of a plan to pull combat troops out of Iraq and focus on the growing threat from a resurgent al-Qaeda in Afghanistan.
Obama will meet Palestinian leaders in the West Bank
Senator Barack Obama, the likely Democratic presidential nominee, will meet with Palestinian leaders in the West Bank during his trip overseas next week, the first details of which began to emerge on Monday...
Obama mines a GOP stronghold - Orange County
On Sunday, the Democratic Illinois senator brought his campaign to the center of Republican power and did what he has done better than any other presidential candidate -- raise money.
Obama would leave with $1.2 million, an organizer estimated. With this infusion, he may exceed the amount GOP candidate John McCain has raised in Orange County.
Obama strategy: downplay Roe v Wade
On June 23, Barack Obama kicked off a "discussion for working women" with a speech directed at working mothers that criticized John McCain for his support of conservative judges, decisions and legislation.
But he didn't once mention or even allude to abortion or Roe v. Wade. Instead, he keyed in on Ledbetter, the woman whose suit against Goodyear for pay discrimination was thrown out by the Supreme Court in a 5-4 decision last year delivered by Justice Samuel Alito. The decision upheld a lower court's ruling that she only had 180 days after she was hired to discover the pay disparity and file suit.