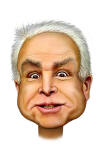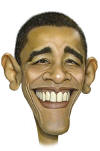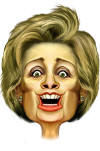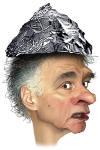 click on each candidate to see today's news stories (caricatures by Linda Eddy)
Tuesday, June 3, 2008
GENERAL NEWS HEADLINES with excerpts
Obama's speech: "Because of you, I can stand here and say that I will be the Democratic nominee for the Presidency of the United States of America...
... I honor [McCain's] service, and I respect his many accomplishments,
even if he chooses to deny mine."
full text
Hillary's speech: "I will be making no decisions tonight...
...I want to hear from you. Go to my website..."
AP: Obama clinches nomination,
plans celebration
Barack Obama clinched the Democratic presidential nomination Tuesday, becoming the first black candidate to lead a major party into a campaign for the White House.
Vanquished rival Hillary Rodham Clinton swiftly signaled an interest in joining the ticket as his running mate.
... According to one participant in an afternoon conference call among Clinton and members of the New York congressional delegation, Rep. Nydia Velazquez said she believed the best way for Obama to win over Hispanics and members of other key voting blocs would be to take the former first lady as his running mate.
"I am open to it," Clinton replied, if it would help the party's prospects in November, said the participant, who spoke on condition of anonymity because the call was a private matter.
Last of the primaries: Montana, South Dakota are today
The primary season, which began on the snowy roads of Iowa and New Hampshire six months ago, ends today on the plains of South Dakota and Montana...
McAuliffe: If Obama reaches 2118,
Clinton will concede
Obama invites Clinton to unity meeting
On the precipice of winning the Democratic nomination, Barack Obama today shared a phone conversation he had with rival Hillary Clinton about uniting the party.
"I emphasized to her what an extraordinary race that she's run and said that there aren't too many people who understand exactly how hard she's been working," he told reporters in Waterford, Mich., relating their talk Sunday when he congratulated her on her victory in Puerto Rico.
"I'm one of 'em because she and I have been on this same journey together, and I told her that once the dust settled I was looking forward to meeting with her at a time and place of her choosing. The sooner we can bring the party together, the sooner we can focus on John McCain and taking back the White House."
Superdelegates predict quick primary end
As the Democratic nomination marathon neared a potential finish line, key senators said the results of Tuesday's South Dakota and Montana primaries will have a domino effect on uncommitted superdelegates – quite possibly clinching the nomination for Barack Obama.
"We want this locked up sooner rather than later," said Sen. Tom Harkin (D-Iowa), who has remained undeclared. "Let's have the nominee and let's move on. That's the common thread among the uncommitted superdelegates. … I will be ready after tomorrow night."
Democrats favor looking beyond the delegate count
Nearly 90 percent of Democrats say the delegate count shouldn't be the deciding factor for superdelegates choosing the party's presidential nominee, a position Sen. Hillary Rodham Clinton is arguing in her bid to overcome Sen. Barack Obama's lead.
This was the finding in a Fox 5/The Washington Times/Rasmussen poll that showed only 13 percent of Democrats want superdelegates to choose the eventual candidate...
Record $201 million spent on TV ads by primary candidates
Presidential contenders spent nearly $201 million — easily a record — on TV ads during the primary season that ends today...
---
THE CANDIDATES:
John McCain... today's headlines with excerpts
McCain sharpens his foreign policy attacks on Obama
Some of Mr. McCain's main points of attack on Mr. Obama — including criticism of Mr. Obama's previous statement that he would meet with leaders of enemy nations without preconditions — were amplified, sharpened versions of attacks that have been leveled at Mr. Obama by his main Democratic rival, Senator Hillary Rodham Clinton. Mr. McCain's voice seemed to drip with sarcasm at times, as when he spoke of Mr. Obama's call for more diplomacy with Iran.
"We hear talk of a meeting with the Iranian leadership offered up as if it were some sudden inspiration, a bold new idea that somehow nobody has ever thought of before," Mr. McCain said. "Yet it's hard to see what such a summit with President Ahmadinejad would actually gain, except an earful of anti-Semitic rants and a worldwide audience for a man who denies one Holocaust and talks before frenzied crowds about starting another."
McCain to try to claim mantle of change
With voters sour on the status quo, Republican John McCain plans to spend the next five months arguing that he has a history of fighting to reform government and that Democrat Barack Obama talks of change with nothing to show for it.
"I have a record of doing that, not a rhetoric of doing that," McCain told an audience last week, claiming he long has taken a bipartisan approach to fixing the country's ills while suggesting that Obama simply offers empty promises of working across party lines...
McCain lavishes praise on Hillary

"Yes, Sen. Clinton is still in the race," McCain acknowledged to scattered laughter among the conservative crowd. "I have known Sen. Clinton, I admire her and I respect her. She has inspired generations of American women to believe that they can reach the highest office in this nation and I respect that."
McCain's praise drew a nice if not boisterous round of applause -- but he wasn't done.
After noting that he and Clinton had "stark differences" on issues, McCain continued: "But I admire the campaign she has run and I think she deserves a great deal of credit."
McCain a one-term president?
The idea of making a one-term pledge was first reported by Marc Ambinder in his blog for The Atlantic.com, who wrote that some advisers had hoped to make it the central theme of his campaign kickoff speech in New Hampshire in the spring of 2007. Two aides to the McCain campaign, who were granted anonymity to discuss internal deliberations, said that the idea of a one-term pledge had been broached by some campaign advisers but was ultimately rejected by Senator McCain...

Hillary Clinton... today's headlines with excerpts
Hillary to withdraw later in week?
Senator Hillary Rodham Clinton invited fund-raisers and other supporters to an election-night rally in New York City where, aides said, she was prepared to deliver what they described as a farewell speech that summed up the case for her candidacy. They said Mrs. Clinton was not likely to withdraw from the race on Tuesday night, probably waiting until later in the week, once Mr. Obama's victory appeared clear.
Hillary's one chance at redemption: St. Paul, MN tonight
If Hillary Rodham Clinton wants to restore her tattered reputation and repair the party she has shattered, there is only one place for her to be tonight: St. Paul, Minn.
That is where Barack Obama will kick off his general-election campaign tonight.
He chose the convention center in St. Paul because it is the very hall where Republicans will officially nominate John McCain later this summer.
Hillary staffers urged to turn in receipts
Clinton Campaign staffers and former campaign staffers are being urged by the Clinton campaign's finance department to turn in their outstanding expense receipts by the end of the week. That's a sign, to them, that the campaign wants to get its affairs in order soon. If Clinton were staying in the race, there'd be no real reason to collect these receipts now; she'd still be raising and spending money from the same primary campaign account. The campaign is in arrears to the tune of about $11 million.
Clinton donors poised to back Obama
Noah Mamet, a Democratic party consultant and fundraiser who has organised high-profile events in Los Angeles for Mrs Clinton, told the Financial Times that Mr Obama's finances would be boosted by Mrs Clinton's backers, when he wins the nomination.
As Clinton campaign winds down, a spouse remain wound up
Former President Bill Clinton took the microphone here on Monday and began with a lament that it might be his last day as a campaigner.
If so, he went out venting the kind of anger that has punctuated his efforts to put his wife in the White House....
... the Vanity Fair article injected back into the campaign subjects that Mr. Clinton's supporters have sought to tamp down as baseless and unfair. Aides to Mr. Clinton and to Mrs. Clinton's campaign spent much of the day fighting back against the article, which asked, above all, what had become of Mr. Clinton, once considered by some a politician without peer.
Mrs. Clinton's campaign aides responded vigorously, turning the full force of their "war room" — a term epitomized by Mr. Clinton's 1992 campaign — against Mr. Purdum and the magazine.
Clinton in negotiations with Obama to help pay off debt
One source close to a major donor said: "It's not about the vice-presidency or any other position she might get. It's about the money – in particular the Clinton family money." The Obama campaign might have to reach deeply into its well-stocked coffers in order to secure the full support of Mrs Clinton and her husband Bill in the November general election...
Barack Obama... today's headlines with excerpts
At least 25 superdelegates reportedly poised to back Obama
With an expected late wave of support from congressional Democrats, Sen. Barack Obama appeared poised to secure enough delegates to earn his party's presidential nomination, perhaps even before the votes from the final two primaries in South Dakota and Montana are counted Tuesday night.
Amid signs Monday that Sen. Hillary Clinton's campaign may be preparing to exit the 16-month-old nomination fight soon, Obama appeared headed for the finish line with a potential victory rally Tuesday in St. Paul, in the same arena where Sen. John McCain is expected to accept the Republican nomination this summer....
Obama wins Rep. Clyburn's endorsement
It should surprise no one that Rep. James Clyburn (D-S.C.,) the highest ranking black in congressional leadership, has endorsed Sen. Barack Obama for the Democratic presidential nomination...
Obama pushes effort to claim victory tonight
Senator Barack Obama's campaign began a concerted effort on Monday to rally undecided superdelegates around him so he can claim the Democratic presidential nomination after the primaries end on Tuesday night.
Obama carefully hones partisan image
As Mr. Obama stands poised to claim the crown of presumptive Democratic nominee, he is, gingerly, fitting himself with the cloth of a partisan Democrat despite having long proclaimed himself above such politics. That his shift in tone was inevitable and necessary, particularly as Mr. McCain, the presumptive Republican nominee, slashes at Mr. Obama as weak on Iran and terrorism, does not entirely diminish the cognitive dissonance.
Obama shifts towards Republicans on Iranians
Senator Obama's campaign, in advance of the candidate's speech to America's largest pro-Israel lobby, is highlighting the candidate's support for designating Iran's Revolutionary Guard forces as a foreign terrorist organization.
Ralph Nader... today's headlines with excerpts
view more past news & headlines