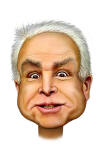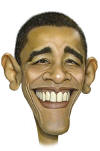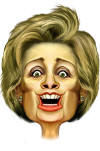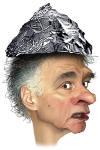 click on each candidate to see today's news stories (caricatures by Linda Eddy)
Wednesday, June 4, 2008
GENERAL NEWS HEADLINES with excerpts
Obama speaks with Clinton
"I just spoke to her today, and we're going to be having a conversation in coming weeks. And I'm very confident how unified the Democratic party's going to be to win in November," Obama told reporters as he left the Senate.
Asked if Clinton indicated she planned to concede, Obama replied, "It wasn't a detailed conversation. As I said, I'm very confident of how we're going to be able to bring the party together." He dismissed a question about her refusal to concede after the final two primaries Tuesday night by saying she was "understandably focused on her supporters."
Dean, Pelosi, Reid set Friday deadline for superdelegates' choice, move to force end to Clinton bid
Howard Dean, chairman of the Democratic National Committee, House Speaker Nancy Pelosi, Senate Majority Leader Harry Reid and West Virginia Gov. Joe Manchin, chairman of the Democratic Governors Assn., issued the brief statement for unity just minutes ago:
"The voters have spoken," they said, adding later, "Democrats must now turn our full attention to the general election. To that end, we are urging all remaining uncommitted super delegates to make their decisions known by Friday of this week, so that our party can stand united."
Obama's speech:
"Because of you, I can stand here and say that I will be the Democratic nominee for the Presidency of the United States of America...
... I honor [McCain's] service, and I respect his many accomplishments, even if he chooses to deny mine."
full text
Hillary's speech:
"I will be making
no decisions tonight...
...I want to hear from you.
Go to my website..."
Obama locks in Democratic nomination
Sen. Barack Obama Tuesday night swept aside two centuries of American history and dethroned the dynasty that has dominated national politics for a generation.
After a draining, sometimes brutal nominating contest that began five months ago in Iowa, Obama finally bested Hillary Rodham Clinton, the woman many Democrats had assumed for years would be her party's nominee this fall.
In becoming the presumptive nominee — the first African-American to ever lead a major-party ticket — he put himself just one step away from an achievement that would echo around the globe: No black man has ever led a major Western democracy, much less the world's leading superpower.
"Tonight we mark the end of one historic journey with the beginning of another — a journey that will bring a new and better day to America," Obama told a cheering throng in St. Paul, Minn. "Tonight I can stand before you and say that I will be the Democratic nominee for president of the United States."
Pfleger punished by Church for comments
The Rev. Michael Pfleger has apparently been silenced, for now. The confidante to Sen. Barack Obama, known nationwide for mocking Sen. Hillary Clinton from the pulpit, has been put on a two week leave from his job, a punishment he has objected to, the Chicago archdiocese said in a statement released today.
The decision by Francis Cardinal George of Chicago came the day after Web logs featured a clip from a guest sermon at Trinity United Church of Christ, in which Pfleger said: "America is the greatest sin against God."
---
THE CANDIDATES:
John McCain... today's headlines with excerpts
McCain challenges Obama to 10 joint townhalls
McCain's letter to Obama:
...I invite you to join me in participating in town hall meetings across the country to discuss the most important issues facing Americans. I also suggest we fly together to the first town hall meeting as a symbolically important act embracing the politics of civility.
...I suggest we agree to participate in at least ten town halls once a week with the first on June 11 or 12...
McCain: the general election begins... draws sharp contrast with Bush, Obama
Offering his most pointed critique yet of both President Bush and Barack Obama, John McCain entered the general election fray Tuesday night by attempting to distance himself from an unpopular incumbent while also leveling a series of harsh attacks on the Democrat's new nominee-in-waiting.
In plain recognition of the peril of running in Bush's shadow, McCain addressed head-on the central Democratic critique of his candidacy.
"You will hear from my opponent's campaign in every speech, every interview, every press release, that I'm running for President Bush's third term," McCain said, speaking to about 600 supporters just outside of Katrina-scarred New Orleans. "You will hear every policy of the president described as the Bush-McCain policy. Why does Sen. Obama believe it's so important to repeat that idea over and over again? Because he knows it's very difficult to get Americans to believe something they know is false."
... Using a refrain he would recite after each jab at Obama, McCain seized on his rival's trademark slogan to say: "That's not change we can believe in."
McCain to try to claim mantle of change
With voters sour on the status quo, Republican John McCain plans to spend the next five months arguing that he has a history of fighting to reform government and that Democrat Barack Obama talks of change with nothing to show for it.
"I have a record of doing that, not a rhetoric of doing that," McCain told an audience last week, claiming he long has taken a bipartisan approach to fixing the country's ills while suggesting that Obama simply offers empty promises of working across party lines...
Hillary Clinton... today's headlines with excerpts
Fournier: What does she want? Respect and more

What does Hillary want? The former first lady wants campaign donations to forgive her debt. And she will press her case for relevancy at the risk of widening the divide between Barack Obama's supporters and her older, whiter, working-class coalition.
... Clinton did not bow out Tuesday because she wants to retain her political leverage, advisers said privately, eying a spot on the ticket, a convention role and perhaps other benefits.
... What does Hillary want? She wants to be president—still—and she wants the respect she's due.
Ed Rendell: Obama camp would control Bill Clinton
"There's no bargaining. You don't bargain with the Presidential nominee. Even if you're Hillary Clinton and you have 18 million votes, you don't bargain," said Pennsylvania's Governor Ed Rendell.
Rendell was also refreshingly direct on the difficulty Bill Clinton would pose. "The Obama campaign would have to make strict rules, you know, about what President Clinton could and could not do during the campaign... For example, the Obama campaign would have to control his schedule; where he would go into, what states."
Dowd: She's still here!
He thought a little thing like winning would stop her?
Oh, Bambi.
Whoever said that after denial comes acceptance hadn't met the Clintons...
Milbank: she graciously pretends to win
Her public defiance reflected a shift in the balance of power that came with Obama's victory. Now that he had won the race, he would need to woo Clinton if he wanted to prevail in November.
... For a candidate who had just lost the nomination, she seemed very much in charge.
That must be what Hillary wants.
Gary Hart's advice for Hillary
Plenty of parallels have been drawn between the Clinton-Obama and Mondale-Hart races...
Hillary: no decision on what next
Hillary Rodham Clinton says she will consult with party leaders and supporters to determine her next steps now that Barack Obama has enough delegates to clinch the Democratic nomination.
In a speech in New York, Clinton told supporters that: "This has been a long campaign and I will be making no decisions tonight." As she spoke, supporters chanted "Denver, Denver," thinking ahead to the site of the party's convention in August.
Earlier in the day, Clinton told congressional colleagues she would be open to joining Obama's ticket as his vice presidential nominee. But in her speech, the former first lady stopped short of ending or suspending her campaign. She did say she was committed to a united Democratic Party moving forward.
Hillary staffers urged to turn in receipts
Clinton Campaign staffers and former campaign staffers are being urged by the Clinton campaign's finance department to turn in their outstanding expense receipts by the end of the week. That's a sign, to them, that the campaign wants to get its affairs in order soon. If Clinton were staying in the race, there'd be no real reason to collect these receipts now; she'd still be raising and spending money from the same primary campaign account. The campaign is in arrears to the tune of about $11 million.
Clinton in negotiations with Obama to help pay off debt
One source close to a major donor said: "It's not about the vice-presidency or any other position she might get. It's about the money – in particular the Clinton family money." The Obama campaign might have to reach deeply into its well-stocked coffers in order to secure the full support of Mrs Clinton and her husband Bill in the November general election...
Barack Obama... today's headlines with excerpts
Obama taps 3 to lead veep search - including Caroline Kennedy
Barack Obama pivoted quickly to the general election campaign for the White House on Wednesday, naming a three-person team including Caroline Kennedy to lead his search for a running mate while expressing confidence that the Democratic Party would soon unify after a bruising battle for the presidential nomination.
"I'm very confident of how we're going to be able to bring the party together," Obama said after a brief conversation with Hillary Rodham Clinton, his vanquished rival.
Campaign officials said Kennedy, who is the daughter of the late President John F. Kennedy, as well as former Deputy Attorney General Eric Holder and longtime Washington insider Jim Johnson have already begun compiling information on potential running mates. They disclosed no names.
Obama's first test: handling Hillary
Barack Obama would like to remind you of something: He won and she didn't. It's about him now and not her. He has made history, and she is history.
Not that Hillary Clinton admitted to any of that in her nonconcession concession speech Tuesday night, after Obama attained the delegate votes he needs for the Democratic presidential nomination.
For someone giving indications she would like to be Obama's running mate, Clinton was surprisingly ungracious. In fact, if you had just awakened from a (blissful) 17-month sleep, you would have thought she had won...
... But her fighting words only increased the need for Obama to show that he can be strong, tough and in charge. Clinton's unwillingness to recognize Obama as the victor only increased the need for Obama to act like a president and not like a doormat. And denying her a vice presidential slot may be a way of doing that.
see also:
Obama, after victory, must heal rift, reconcile with Clinton

Ralph Nader... today's headlines with excerpts
view more past news & headlines