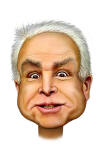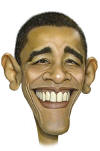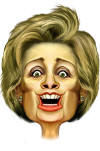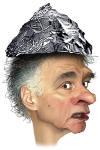 click on each candidate to see today's news stories (caricatures by Linda Eddy)
Thursday, June 5, 2008
GENERAL NEWS HEADLINES with excerpts
Would the dream ticket be a nightmare?
Should Barack Obama choose Hillary Clinton as his running mate? Does he have to? Would she be better off without it?
... If Hillary has baggage, Bill is a Samsonite factory. Forget about the old stuff. Look at his diminished status with voters, especially black voters, in this election. Look at his drama. "I have never seen anything like it," he said recently, referring to his wife's treatment in the primaries. "I have never seen a candidate treated so disrespectfully just for running!" And is the White House really big enough for one president in the West Wing and another in the East Wing?


The map for Obama & McCain
...the Illinois senator probably will battle McCain most fiercely in states around the Great Lakes and in the Southwest -- those with the narrowest vote margins between Bush and his 2004 Democratic challenger, Massachusetts Sen. John F. Kerry.
McCain stands a plausible chance of carrying perhaps half a dozen states that Kerry won. The Arizona senator's popularity with independents puts states such as Wisconsin and New Hampshire within reach.
Two other states that went Democratic in the last presidential contest -- Pennsylvania and Michigan -- are also top McCain targets, thanks partly to Obama's trouble bonding with working-class white voters.
Obama, McCain work together behind the scenes
Sens. Barack Obama (D-Ill.) and John McCain (R-Ariz.) are quietly working together on a good-government bill despite their campaign-trail battle over who is tougher against Washington's special interests.
McCain's Senate office contacted Obama's office Monday night asking to sign on to a bill opening federal government contracts to public scrutiny, according to three knowledgeable sources.

Jewish voters could tip battleground states
Jewish voters made up about 3% of the electorate in 2004, according to surveys of voters as they left polling places. But high turnout among Jewish voters in November could make a difference for McCain or Obama in battleground states.
"If it turns out to be a close election, the Jewish vote could make the difference," said M.J. Rosenberg, director of policy with the Israel Policy Forum, a liberal think tank.
Rosenberg and other Jewish leaders say the Jewish vote could make a difference in Florida, Ohio, Pennsylvania and New Jersey.
GOP fears Obama money machine
With Hillary Clinton's campaign coming to an end this weekend, Barack Obama's rise as the Democratic nominee brings serious bad news to a new group — John McCain's finance team.
A review of campaign finance data offers not one ounce of good news and barely any hope for the McCain campaign's ability to compete with Obama's fundraising prowess.
Tony Rezko convicted
A federal jury Wednesday convicted developer Antoin "Tony" Rezko of corruption charges for trading on his clout as a top adviser and fundraiser to Gov. Rod Blagojevich.
Rezko's guilty verdict on 16 of 24 corruption counts could have broad repercussions for Blagojevich, who made Rezko a central player in his kitchen cabinet. It could also prove a political liability for U.S. Sen. Barack Obama, who once counted Rezko as a friend and fundraiser, as the likely Democratic presidential nominee heads into the general election campaign against Republican John McCain.

Club For Growth scored in GOP primaries
The conservative, anti-tax Club for Growth had a big night Tuesday, as the two candidates it endorsed and funded prevailed in hotly contested Republican primaries in New Mexico and California...

---
THE CANDIDATES:
John McCain... today's headlines with excerpts
McCain: don't call me Bush
"You will hear from my opponent's campaign in every speech, every interview, every press release that I'm running for President Bush's third term," McCain said. "You will hear every policy of the president described as the Bush-McCain policy. Why does Senator Obama believe it's so important to repeat that idea over and over again? Because he knows it's very difficult to get Americans to believe something they know is false."
In other words, America, I'm not Bush...
McCain challenges Obama to 10 joint townhalls
McCain's letter to Obama:
...I invite you to join me in participating in town hall meetings across the country to discuss the most important issues facing Americans. I also suggest we fly together to the first town hall meeting as a symbolically important act embracing the politics of civility.
...I suggest we agree to participate in at least ten town halls once a week with the first on June 11 or 12...
McCain to visit Florida Everglades tomorrow
John McCain will venture into the Everglades for the first time as a presidential candidate Friday, an obligatory rite of passage for politicians shoring up their environmental credentials in a crucial state.
But the Arizona senator opposed spending $2 billion on restoring the national park, siding with President Bush against Florida's political establishment -- including top Republican supporters Gov. Charlie Crist and Sen. Mel Martinez.
... ''I believe that we should be passing a bill that will authorize legitimate, needed projects without sacrificing fiscal responsibility,'' he said in a statement at the time.
McCain's campaign said he supports ''adequate funding'' for Everglades protection but had broader concerns about wasteful, scattershot spending in the $23 billion Water Resources Development Act.
McCain changes tone to woo Michigan voters
In January, John McCain campaigned for the Republican nomination in Michigan by giving voters in the economically depressed state a taste of his signature ``straight talk'': some of the jobs they've lost won't be coming back.
Nowadays, the party's presumptive nominee is singing a different tune, striking a populist pose and saying ``new jobs are coming.''
Hillary Clinton... today's headlines with excerpts
Hillary will likely drop out on Saturday
Sen. Hillary Rodham Clinton is likely to suspend her presidential campaign on Saturday and endorse Sen. Barack Obama, the Democratic Party's presumptive nominee, according to informed sources, after a day in which many of her key supporters and party leaders encouraged the senator from New York to make a quick decision in the interest of party unity.
The Clinton campaign issued a statement late yesterday that did not officially confirm her decision but said Clinton would hold an event in Washington "to thank her supporters and express her support for Senator Obama and party unity." The event was originally scheduled for tomorrow, but in a subsequent release her campaign announced that it would be moved to Saturday "to accommodate more of Senator Clinton's supporters who want to attend."
Hillary could return to the Senate soon
Unless Barack Obama chooses her as his running mate, Clinton will find herself back in the Senate with some colleagues who know what it's like to have run and lost.
... "We're used to this," said Sen. Robert Bennett, a Utah Republican. "Granted, Senator Clinton is a little higher profile than some of those, but not all. And I think we'll just say, 'Welcome back.'"
Clinton's Senate colleagues say they expect a smooth transition, even though some senators backed Obama early in the race and more have endorsed the Illinois senator since he won the delegates needed for the nomination Tuesday.
Superdelegates didn't hold for Hillary
...the Obama campaign convinced many superdelegates that they should follow the voters' will in making their endorsements. To the puzzlement and increasing frustration of the Clinton camp, few flowed her way. Her campaign never recovered from its string of losses through February. By the time she started winning again, with Ohio on March 4, her support among superdelegates hardly inched up.
At the same time, Mr. Obama posted a small but steady increase, culminating in a flood that surged on Tuesday and helped him claim the nomination...
Barack Obama... today's headlines with excerpts
Obama repeats devotion to Israel
Barack Obama reassured the American Jewish community on Wednesday that he's a devoted friend of Israel, a view seconded enthusiastically by Hillary Clinton.
... Addressing the American Israel Public Affairs Committee, Obama opened his remarks by noting that "I know some provocative e-mails have been circulating throughout Jewish communities across the country . . . they're filled with tall tales and dire warnings about a certain candidate for president.
"And all I want to say is," he paused and smiled, "let me know if you see this guy named Barack Obama, because he sounds pretty frightening."
Don't worry, he said, because "I am among friends. Good friends."
Sen. Barack Obama's speech to AIPAC has convinced Hamas that he and Sen. John McCain are interchangeable. If the group had its druthers, neither one would win.
"Obama's comments have confirmed that there will be no change in the U.S. administration's foreign policy on the Arab-Israeli conflict," Hamas official Sami Abu Zuhri told Reuters in Gaza.
Black lawmakers reflect on Obama's success
On Capitol Hill, as across the country Wednesday, African-Americans reflected on Illinois Democratic Sen. Barack Obama's historic rise as the first black presidential nominee to lead a major political party. They noted that only a few decades ago, African-Americans were fighting across large swaths of the South for basic human rights, hardly pondering the possibility that one of them might soon lead the country.
Many black lawmakers said they were elated at Obama's victory.
Many said they never thought such a day would come.
Many cried...
Obama campaign open to helping with Clinton debt
Barack Obama's campaign is open to paying off some of the more than $20 million in debt accrued by defeated rival Hillary Clinton, a top adviser said.
``Certainly that is something that would be on the table,'' the adviser, former Senate Majority Leader Tom Daschle, told Bloomberg News reporters and editors yesterday. ``Obviously we want to help each other.''
Money for Clinton to retire her campaign debt -- $11.4 million of which is owed to herself -- may help smooth relations between the two camps ...
Obama taps 3 to lead veep search - including Caroline Kennedy
Barack Obama pivoted quickly to the general election campaign for the White House on Wednesday, naming a three-person team including Caroline Kennedy to lead his search for a running mate while expressing confidence that the Democratic Party would soon unify after a bruising battle for the presidential nomination.
"I'm very confident of how we're going to be able to bring the party together," Obama said after a brief conversation with Hillary Rodham Clinton, his vanquished rival.
Campaign officials said Kennedy, who is the daughter of the late President John F. Kennedy, as well as former Deputy Attorney General Eric Holder and longtime Washington insider Jim Johnson have already begun compiling information on potential running mates. They disclosed no names.
Ralph Nader... today's headlines with excerpts
view more past news & headlines