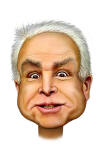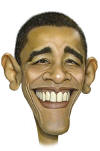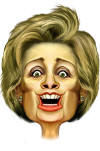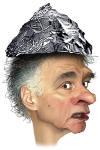 click on each candidate to see today's news stories (caricatures by Linda Eddy)
Friday, June 6, 2008
GENERAL NEWS HEADLINES with excerpts
Obama and Clinton meet in D.C., discuss uniting Dems
Hillary Rodham Clinton and likely Democratic presidential nominee Barack Obama met privately Thursday night to talk about uniting the Democratic Party.
"Senator Clinton and Senator Obama met tonight and had a productive discussion about the important work that needs to be done to succeed in November," their campaigns said in joint statement.
The statement included no details of their talks, as pressure mounted for Obama to invite Clinton to become his running mate.
Edwards rules out VP slot
John Edwards has ruled out being Barack Obama's running mate on the Democratic presidential ticket, according to interviews carried by two leading Spanish newspapers on Friday.
"I already had the privilege of running for vice president in 2004, and I won't do it again," Edwards was quoted by El Mundo as saying. El Pais, the country's other leading daily, carried similar comments.
Dean remains DNC chairman
Acting swiftly as his party's presumed presidential nominee, Barack Obama is keeping Howard Dean at the helm of the Democratic National Committee, while bringing in one of his top strategists to oversee the party's operations
see also: DNC bars Washington lobbyist money
Tom DeLay calls Obama a Marxist
Former House Republican Leader Tom DeLay (Texas) called Barack Obama a "Marxist" on the Mike Gallagher radio show Thursday.
Explaining that Obama clinching the Democratic nomination is a good thing for John McCain, DeLay said Obama's "weakness" is that "nobody knows him."
"And if McCain does not define him as what he is — hey, I have said publicly, and I will again, that unless he proves me wrong, he is a Marxist," DeLay said.
---
THE CANDIDATES:
John McCain... today's headlines with excerpts
McCain's first ad of general election - war heroism themed
The McCain campaign today will release its first ad of the general election, a spot called "Safe" which features Sen. John McCain talking to the camera about his war heroism and judgment on national security.
That theme gives a hint of the McCain campaign's planned positive message, in addition to its plans to hit Sen. Barack Obama as inexperienced.
A campaign official calls the ad "the first shot in John McCain's major general election ad campaign."
In the ad, McCain says: "Only a fool or a fraud talks tough or romantically about war. ... I was shot down over Vietnam and spent five years as a POW. ... I hate war. And I know how terrible its costs are. I'm running for president to keep the country I love safe. I'm John McCain, and I approve this message."
The ad is posted here.
McCain pledges to keep racial issues out of campaign
Asked during that session with editors in Florida how he'd keep the racism and sexism that flared up in the Democratic primary out of the general election, McCain said he'd do his part:
"I will do everything I can to keep that kind of ugliness out of this political campaign."
$21.5 million is a record for McCain
Senator John McCain's presidential campaign raised at least $21.5 million in May — its best fund-raising month yet — in a sign that its effort to draw donations in tandem with the Republican National Committee is yielding dividends...
Advisor ways McCain backs Bush wiretaps
A top adviser to Senator John McCain says Mr. McCain believes that President Bush's program of wiretapping without warrants was lawful, a position that appears to bring him into closer alignment with the sweeping theories of executive authority pushed by the Bush administration legal team.
McCain bumbles the delivery
...the concern about McCain's wooden and stumbling address before a few hundred supporters here Tuesday night – the same evening as Barack Obama's soaring acceptance address before thousands of screaming fans – has sent something of a shudder through the party and left GOP operatives shaking their heads in dismay...
Advice for McCain: rethink strategy
McCain's latest proposal, challenging Obama to a series of town hall forums, is smart strategy. That Obama didn't immediately agree to McCain's proposal shows that his team has some nagging doubts about it.
But McCain needs to rethink his entire campaign strategy if he is going to compete with Obama...
McCain would like to see man on Mars
Presumptive Republican White House nominee John McCain said Thursday he would like to see a manned mission to Mars as part of a "better set of priorities" for NASA that would better engage the public.
At a townhall event in Florida, the Arizona senator was asked about funding for the US space agency's shuttle program, which is due to end in 2010.
He said he "would be willing to spend more taxpayers' dollars" to continue the program but argued that NASA must do a better job of inspiring the American public, as when it sent a man to the moon in 1969.
Hillary Clinton... today's headlines with excerpts
Clinton's exit: when push came to shove
In the end, the same man who ushered Hillary Clinton into electoral politics nine years ago pushed her out.
Wednesday, Clinton was asking supporters to wait – it was unclear for what — and to give her time to gather her thoughts. Many seemed willing to accede to the request, but Charles Rangel, the blunt, 77-year-old dean of New York's congressional delegation, had had enough.
In public statements and on a crucial afternoon conference call, he told Clinton it was time to go. And Rangel, for reasons of state politics, personal history, and race, was not a man Clinton could afford to ignore...
Senate Dems say Clinton leadership spot doubtful
Sen. Hillary Rodham Clinton's (D-N.Y.) imminent return to the Senate does not mean she will be greeted with a newly created position within her conference's leadership, Democratic leaders said Thursday.
Clinton has not sought a special leadership position and has made clear that she is open to being Sen. Barack Obama's (D-Ill.) vice presidential nominee. If she does not get chosen for the No. 2 spot, some have speculated that Democratic leaders might carve out a special position within the leadership as a way to appease her supporters and bring the party together.
But so far, such a position has not been considered...
Clinton disavows push to put her on the ticket
Hillary Rodham Clinton on Thursday disavowed a campaign by some of her supporters to press Senator Barack Obama into selecting her as the Democratic party's vice presidential candidate. Clinton said the supporters were acting on their own, and that the choice of a running mate was "Senator Obama's, and his alone."
The statement, issued by Clinton's campaign, came after two days in which a number of her key supporters had pushed the idea of an Obama-Clinton ticket, saying it would salve wounds in the Democratic Party and assure a Democratic victory in the fall. And Clinton had made no obvious effort to discourage the effort, telling New York lawmakers in a private conference call earlier this week that she was open to serving as Obama's running mate.
Barack Obama... today's headlines with excerpts
Obama denies Michelle 'whitey' rant video
Sen. Barack Obama on Thursday batted down rumors circulating on the Internet and mentioned on some cable news shows of the existence of a video of his wife using a derogatory term for white people, and criticized a reporter for asking him about the rumor, which has not a shred of evidence to support it.
"We have seen this before. There is dirt and lies that are circulated in e-mails and they pump them out long enough until finally you, a mainstream reporter, asks me about it," Obama said to the McClatchy reporter during a press conference aboard his campaign plane. "That gives legs to the story. If somebody has evidence that myself or Michelle or anybody has said something inappropriate, let them do it."
Obama: no rush to pick running mate
Senator Barack Obama said today he felt no pressure to rush through his vice-presidential selection process, declaring that he would not be swayed by Democrats who have sought to push him to put Senator Hillary Rodham Clinton on the ticket....
Obama defends Jerusalem remarks
Democratic White House candidate Barack Obama on Thursday defended his remarks that Jerusalem should not be divided under any Israeli-Palestinian peace pact, saying a divided city would be "very difficult to execute."
A day after sparking outrage among Palestinians when he told a Jewish group that Jerusalem must remain the "undivided" capital of Israel, Obama told CNN that the issue is still up to the two sides.
Obama confronts Lieberman on McCain advocacy, tone, on Senate floor
Sen. Joe Lieberman, the self-described "Independent Democrat" who caucuses with the Democratic party in the Senate even though he has endorsed Sen. John McCain, R-Ariz, got some tough talk from Sen. Barack Obama, D-Illinois, yesterday about his advocacy for the presumptive Republican presidential candidate and the general tone of the campaign, Democratic sources tell ABC News...
Obama jokes if Congress doesn't pass healthcare bill "I'll whup 'em"
"... if members of Congress don't pass my health care bill, I'm ready," Obama said wielding the stick as supporters laughed and cheered.
"I'll whup 'em," he joked. "They better not mess with me. I'll have that stick."
Ralph Nader... today's headlines with excerpts
view more past news & headlines