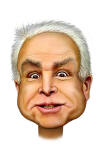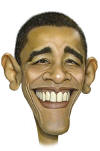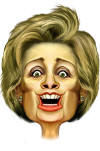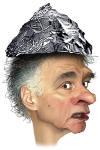 click on each candidate to see today's news stories (caricatures by Linda Eddy)
Monday, June 9, 2008
GENERAL NEWS HEADLINES with excerpts
Gallup national poll: Obama, McCain statistical tie
McCain, Obama decline invitation to New York town hall
John McCain and Barack Obama rejected an offer Sunday from Mayor Michael Bloomberg and ABC News to host the first proposed presidential town hall because they do not want it limited to one television network...
Old partisan gulf is back,
broad and looming large
The clash of Republican conservatism and Democratic liberalism has been obscured by the extended Obama-Clinton contest, but it will dominate the general election campaign...
Clinton women bloc becomes the prize for Nov. 4
With Senator Hillary Rodham Clinton's ending her campaign for the Democratic nomination, the presumptive nominees are moving to claim her followers, especially her signature bloc, the millions of women who cast primary votes for her.
Senator Barack Obama's campaign is positioning itself as the rightful heir to these Democratic voters. Senator John McCain's strategists are plotting to convert them, particularly older women who are skeptical of Mr. Obama's thin résumé. Even the Democratic National Committee chairman is avidly trying to make up for accusations that he allowed sexism in the race to pass unchallenged.
---
THE CANDIDATES:
John McCain... today's headlines with excerpts
McCain extends his outreach, but evangelicals are still wary
Mr. McCain's campaign has been ramping up its outreach to evangelicals over the last month, preparing a budget and a strategic plan for turning them out in 18 battleground states this fall.
... Mr. McCain's outreach to Christian conservatives has been a quiet courting, reflecting a balancing act: his election hopes rely on drawing in the political middle and Democrats who might be turned off should he woo the religious right too heavily by, for instance, highlighting his anti-abortion position more on the campaign trail.
see also: Novak: McCain's evangelical problem
The unhappy warrior
Openly frustrated by what they see as an ongoing double standard in the press's treatment of his campaign, Sen. John McCain and his aides have been aggressively denouncing unfavorable stories as "smear jobs" and "scurrilous attacks," while the candidate himself has launched a series of stinging attacks on Sen. Barack Obama.
... But in doing so, they've already raised the question of whether McCain can maintain his upbeat warrior image while running an uphill race against an opponent for whom the candidate can barely conceal his contempt, and covered by a press the campaign sees as biased.
McCain deploying staff, expanding fundraising
With his Democratic foe now certain, Republican John McCain is deploying dozens of staffers into battleground states, boasting of improved fundraising and expanding his advertising into some of the most competitive terrain of the general election...
Hillary Clinton... today's headlines with excerpts
Feinstein pushes Obama-Clinton ticket
Sen. Dianne Feinstein (D-Calif.), a backer of Sen. Hillary Rodham Clinton (D-N.Y.) during the primary campaign, reiterated on ABC's "This Week" that Clinton had won the popular vote — an assertion that is not accepted by Illinois Democrat Sen. Barack Obama's camp and one that, if repeated often, could harm Democratic attempts to unify behind him.
"Hillary Clinton is well known, certainly she had the popular vote in this election," she said, according to a transcript. "That is something and that is something tremendous. Now, I believe the [vice presidential] nomination is up to him. I can't tell him what to do. Nobody else can tell him what to do. All I can say is I agree with [Pennsylvania Gov.] Ed Rendell, that if you really want a winning ticket, this is it."
Will Clinton take the blame if Obama falls?
In classic Washington finger-pointing style, the Democratic primary is only barely over but the recriminations are already being teed up.
The main thrust of them is this: Will supporters of Sen. Barack Obama blame Sen. Hillary Rodham Clinton if Obama loses in November?
Campaign adds to complicated Clinton legacy
Mr. Clinton, forever a riddle as a man and a public figure, was seen by many at the beginning of his wife's campaign as a political genius, a statesman and a racial healer who had done much through his charitable work to erase the stigma of his impeachment for lying about an affair with a young White House aide and other personal sins. But his conduct during his wife's campaign, right up to a blistering tirade against a magazine writer last week, raised new questions about his judgment and blotted his legacy.
... "The Clintons are and probably always will be a paradox," said Leon Panetta, who served as chief of staff in the Clinton White House...
see also: For Clintons, an old dream finally fades
Clinton bows out, throws 'full support' to Obama
"I endorse him and throw my full support behind him," Clinton said, after announcing that she had suspended her campaign. She called on her supporters to "take our energy, our passion, our strength and do all we can to help elect Barack Obama the next president of the United States."
... The suspension of Clinton's campaign means that she is still able to raise money to retire a reported $30 million in debt, but she has effectively withdrawn from the race.
see also: For Clintons, an old dream finally fades
Barack Obama... today's headlines with excerpts
Obama starts national tour in North Carolina
Barack Obama plans to rally in North Carolina on today as his campaign begins to expand operations in the state, hoping to become the first Democratic presidential winner here in three decades.
Raleigh is Obama's first stop on a two-week national tour to talk about the economy, a strong indicator that he considers the state one he might be able to swing to his side. North Carolina, which holds 15 electoral votes, hasn't voted for a Democratic president since Jimmy Carter in 1976, but its large black population and bloc of new voters changes the election outlook this year.
Obama maps a nationwide push in GOP strongholds
Senator Barack Obama's general election plan calls for broadening the electoral map by challenging Senator John McCain in typically Republican states — from North Carolina to Missouri to Montana — as Mr. Obama seeks to take advantage of voter turnout operations built in nearly 50 states in the long Democratic nomination battle, aides said.
... Mr. Obama has moved in recent days to transform his primary organization into a general election machine, hiring staff members, sending organizers into important states and preparing a television advertisement campaign to present his views and his biography to millions of Americans who followed the primaries from a distance.
Ralph Nader... today's headlines with excerpts
view more past news & headlines