Friday, June 13, 2008
GENERAL NEWS HEADLINES with excerpts
Tim Russert dead at 58
Tim Russert, moderator of NBC's "Meet the Press" and one of the world's best-known journalists, died Friday afternoon after collapsing at the network's Washington bureau, officials said.
Russert, who was also the bureau chief, was preparing for Sunday's broadcast and felt ill, the officials said.
He was 58. His death was announced on NBC at 3:39 p.m. by Tom Brokaw, who had been his companion this winter and spring through long nights of Democratic primary coverage on MSNBC.
Pew Poll: Obama global pick over McCain
People around the world are hoping a new president in the White House will bring positive change to US foreign policy — and more trust Sen. Barack Obama rather than Sen. John McCain to "do the right thing" in world affairs, according to an international survey of 24 countries by the Pew Research Center.
CNN poll: Obama's best on economy:
McCain's best on foreign policy
More Americans say Barack Obama is the White House hopeful better prepared to handle the No.1 issue on voters' minds: the economy.
A new CNN/Opinion Research poll found 50% of registered voters believe Obama would best guide the economy, compared with 44% for GOPer John McCain.
But the Republican has the upper hand on foreign policy, with a 54%-to-43% edge.
McCain, Obama split on justices' Guantanamo ruling
The presidential candidates took differing positions Thursday on the Supreme Court decision granting foreign terrorism suspects at Guantánamo Bay a right to challenge their detention in civilian courts. Senator John McCain expressed concern about the ruling, while Senator Barack Obama lauded it.
Mr. McCain and Mr. Obama have both long advocated closing the Guantánamo detention center but have disagreed on the rights of prisoners there.
Obama a no-show at first town hall
John McCain played Federal Hall downtown as a solo act Thursday night, which turned out to be his main talking point in the absence of Barack Obama.
"It probably would have been a little more interesting" if Obama had taken up his challenge for a series of town hall debates beginning at the historic site, McCain said before a friendly handpicked audience of about 150.
Despite the Wall Street venue and his GOP pedigree, McCain used his free hour on Fox News Channel (the network also has offered time to Obama) to go after Big Oil for the spike in prices at the pump.
see also: Dean slams Fox's McCain town hall
Huckabee becoming a pundit

Mike Huckabee, whose quips and one-liners livened up the Republican nomination race, has a new gig: political commentator for Fox News Channel.
Huckabee will regularly contribute to the "America's Election HQ" coverage, the network announced Thursday afternoon.
"Governor Huckabee's campaign experience and knowledge of politics makes him a great addition to our ongoing election coverage," Bill Shine, Fox senior vice president of programming, said in a statement.
Ron Paul, phase 2
Ron Paul announced on Thursday that he was legally suspending his Web-driven campaign for the Republican presidential nomination.
... Mr. Paul is starting the Campaign for Liberty, which represents "Phase 2 of the revolution that his presidential campaign has inspired," Mr. Benton said. The new group will raise money for and field candidates who agree with Mr. Paul's libertarian-leaning philosophy.
---
THE CANDIDATES:
John McCain... today's headlines with excerpts
Krauthammer: War could win it for John McCain
The choice could not be more clearly drawn. The Democrats' one objective in Iraq is withdrawal. McCain's one objective is victory.
... Obama and the Democrats would forfeit every one of these successes to a declared policy of fixed and unconditional withdrawal. If McCain cannot take to the American people the case for the folly of that policy, he will not be President. Nor should he be.
Give the speech, senator. Give it now.
Democrats hit McCain on Social Security
Democrats are trying to use John McCain's comments on Social Security in New Hampshire today as the latest evidence of a two-faced candidate.
The presumptive Republican nominee said at a town hall in Nashua, "I am not for privatizing Social Security. I never have been. I never will be."
The Democratic National Committee, however, dug up a quote and video from a 2004 appearance in which he says, "Without privatization, I don't see how you can possibly, over time, make sure that young Americans are able to receive Social Security benefits."
McCain takes populist message to Wall Street
John McCain had a national audience for his town-hall meeting tonight, but his populist message appeared to deliver the hardest hit to the local crowd: Wall Street.
At a town-hall meeting in Federal Hall in Lower Manhattan, across the street from the New York Stock Exchange, McCain proposed "a thorough and complete investigation of speculators" in the energy industry and "a whole lot more transparency and consequently oversight" in "the whole international financial system."
In addition, McCain continued to mock academics who have dismissed the thinking behind his plan for a summertime gas-tax holiday. "I trust the people and not the so-called economists to give the American people a little relief," McCain said, to no applause from a crowd largely dressed like bankers.
Dems attack lobbying record of McCain's VP vetter
Democrats on Thursday pounced on the lobbying background of Arthur B. Culvahouse, the former presidential counsel currently leading a quiet search for Sen. John McCain's (R-Ariz.) running mate, and its similarity to that of Sen. Barack Obama's (D-Ill.) top VP vetter who resigned Wednesday.
Culvahouse and his firm, O'Melveny & Myers, have lobbied for troubled mortgage firm Fannie Mae, defense giant Lockheed Martin, and Occidental Petroleum, the U.S.'s fourth-largest oil and gas firm.
Italy's Berlusconi rooting for McCain - because of age
Italian Premier Silvio Berlusconi, at a joint news conference with President Bush in Rome, initially demurred when asked about the U.S. election, saying, "I cannot express any preference with regard to an electoral campaign going on in another country."
But Berlusconi quickly shifted his stance, acknowledging a preference for Republican McCain based on a "very selfish reason": If the Arizona senator wins, Berlusconi no longer will be the oldest leader when the Group of 8 industrial nations meet, "because McCain is a month older than me."
... Berlusconi gets points for doing his homework. Born on Sept. 29, 1936, he is exactly one month younger than McCain.
McCain's young backers push elders to embrace Obama web tactics
The young Republican activists, who range from Silicon Valley veterans to kids just out of college, are trying to help their party narrow the gap.
All, a Democrat in college who became a Republican because of the party's support for limited government, acknowledges the difficulty of attracting younger people. He'll soon start a Web site, RealWorldRepublicans.com, targeted at 18-to-29-year olds...
Barack Obama... today's headlines with excerpts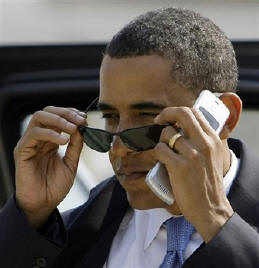 Obama moves quickly to reshape DNC
Barack Obama's move to merge key elements of the Democratic National Committee into his own campaign's Chicago headquarters appears aimed at the goal of a centralized and united Democratic Party.
The shift of the DNC's political and field organizing operations to Chicago will consolidate the Democratic presidential campaign apparatus more than in either of the last two cycles, when staffers at DNC headquarters overlapped – and occasionally competed – with aides to Al Gore and John Kerry...
Michelle Obama becomes GOP target
It's less than a week into the general election campaign, but already Michelle Obama is a Republican target.
Former Secretary of State Lawrence Eagleburger leveled the first blow, introducing Republican John McCain's wife at a fundraiser this week as someone who is "proud of her country, not just once but always." Obama wasn't mentioned by name, but the audience got it.
The dig signaled the start of what Democrats expect will be a concerted effort to cast Michelle Obama...
Obama launches website against 'smears'
Barack Obama has fought rumors for months now -- that he's a secret Muslim, that he won't say the Pledge of Allegiance, and some so scurrilous or ridiculous that they shouldn't be dignified with being repeated.
The presumptive Democratic nominee apparently has had enough -- especially after a rumor that says a video exists of his wife Michelle excoriating "whitey."
It is the top item in a new website his campaign has launched, fightthesmears.com, that tries to debunk the rumors...
GOP hits another Obama adviser
The criticism Thursday centered on Obama adviser Eric H. Holder Jr., who is scrutinizing candidates to be the Democratic presumptive presidential nominee's running mate. As deputy attorney general under President Clinton, Mr. Holder reviewed the last-minute pardon of fugitive financier Marc Rich.
Obama campaign dispatching thousands
Moving to harness the grass-roots energy that helped win the Democratic nomination, Sen. Barack Obama's campaign will deploy 3,600 volunteers in 17 states this weekend, each committed to six consecutive weeks of full-time political work...