Thursday, June 19, 2008
GENERAL NEWS HEADLINES with excerpts
Obama breaks pledge with McCain
- will decline public financing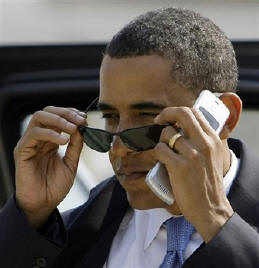 Obama can expect sharp criticism from influential newspaper editorial boards and campaign reform groups.
They lavished Obama with praise last year for winning an opinion from the Federal Election Commission granting flexibility in the public financing program and for announcing that if he won the Democratic nomination, he would "aggressively pursue an agreement with the Republican nominee" for both to accept public financing.
McCain was the only candidate who matched him, agreeing to take public funding if his general election opponent did the same.
Their public statements on the matter, which at the time were celebrated by editorial boards and good government groups as efforts to save an embattled good government program, were presented as matching "promises" or "pledges."
Obama's campaign did nothing to correct that impression at the time.
But on Thursday, Obama framed his decision as a principled effort to fix a "broken system" and used it to solicit donations.
Change? Obama's foreign policy team is old Clinton hands
With former Secretaries of State Madeleine Albright and Warren Christopher and former Defense Secretary William Perry signing on to a panel already heavy with former Clinton administration officials, Obama continued to consolidate the support of Clinton loyalists...
... "There's nothing 'new' about this group of Washington insiders," Republican National Committee spokesman Alex Conant said. He urged Obama to spend more time meeting with commanders in Iraq and considering the positive effects of the military troop buildup there instead of "sitting down in a room with a bunch of Washington elites, many of whom also opposed the surge."
Clinton supporter planning "holy chaos" for Obama camp
Ed Hale and his feisty flock are nearing action. The Texas rancher's website (HillarySupportersForJohnMcCain.com) for Hillary Clinton supporters planning to back John McCain over Barack Obama has attracted thousands of supporters along with ridicule and investigations online.
Now he's launching a 527 political action committee intent on sending a message to the DNC: put Clinton at the top of the ticket or her die-hard supporters will defect to the GOP.
Below is an excerpt from Hale's website:
Our Plans
Ok, it is time to get serious and let the DNP know that we are not coming home in the fall. One of our members said it was time to take action and Ii agree.
I think what we need to do is run a 1/2 or full page ad in the Chicago Sun Times letting the whole dam world know that we are full of the BS that Obama and the DNP is feeding us.
If we do this in Chicago, then the Obama camp will shit a brick. We will go into his own backyard and mess with him. That would be fun because the shoe would be on the other foot.
Let our ad show that there is over a 2 million of us who are unhappy and will vote for John McCain if Hillary is not the nominee. Also we will vote a straight Republican Ticket if Hillary is not the nominee.

[IPW NOTE: liberal bloggers are identifying Ed Hale as a Green Party member, not a Democrat. However, Hale has been confirmed by the Texas Democratic Party as a state party convention delegate. See FoxNews story, June 5, 2008]
GOP aiming to link Obama with Carter
Sen. John McCain (Ariz.) and his supporters see little downside in linking his Democratic opponent to former President Jimmy Carter.
They've spent the past week drawing parallels between Sen. Barack Obama (D-Ill.) and Carter over rising energy costs and economic worries, two factors that hamstrung Carter's single White House term.
... Carter has become persona non grata among Republicans and conservative American Jews for meeting with Syrian leaders and Hamas leader Khaled Meshaal in April. McCain criticized Carter at the time and chastised Obama for failing to condemn the meeting.
GOP recycles Clinton's attacks against Obama
Democrats warned that the prolonged Obama-Clinton battle could give Republicans ammunition, and they have been proved right as Mrs. Clinton's harsher words resurface in campaign missives from Sen. John McCain and national, state and local Republicans.
He is naive and inexperienced on foreign policy, Mrs. Clinton suggested for months. Republicans have echoed the attacks.
"We could point to many, many examples during the debates where the words 'irresponsible' and 'naive' were applied to Senator Obama, but not by a Republican, but by Hillary Clinton. She'll probably be in a different position now, but these are issues that Hillary Clinton very dramatically pointed out during the Democratic primary," former New York Mayor Rudolph W. Giuliani told reporters Wednesday.
---
THE CANDIDATES:
John McCain... today's headlines with excerpts
McCain wants 45 new nuclear reactors by 2030
Mr. McCain, the presumptive Republican nominee, told the crowd at a town-hall-style meeting at Missouri State University that he saw nuclear power as a clean, safe alternative to traditional sources of energy that emit greenhouse gases. He said his ultimate goal was 100 new nuclear plants.
Mr. McCain has long promoted nuclear reactors, but Wednesday was the first time that he specified the number of plants he envisioned.
Currently there are 104 reactors in the country supplying some 20 percent of electricity consumed. No new nuclear power plant has been built in the United States since the 1970s.
McCain talks energy, slams Obama as 'Carter'
In a speech intended to kick off a lengthy discussion about the nation's energy needs, McCain accused Democratic Sen. Barack Obama of favoring failed energy policies based largely on the imposition of higher taxes.
"If the plan sounds familiar, it's because that was President Jimmy Carter's big idea too -- and a lot of good it did us," McCain said in the speech. "Now as then, all a windfall profits tax will accomplish is to increase our dependence on foreign oil, and hinder exactly the kind of domestic exploration and production we need. I'm all for recycling -- but it's better applied to paper and plastic than to the failed policies of the 1970s."
McCain goes 'global' while Sierra Club hits back
John McCain has started airing an ad that outlines some of his environmental proposals. Meanwhile, a leading environmental group has begun slamming him over those same ideas.
McCain's ad "Global" will air on national cable stations, and in key battleground states.
... In the meantime, the Sierra Club started airing a new radio ad in Ohio on Monday that is critical of McCain's environmental record.
Libertarian blasts McCain, says his campaign will benefit from GOP defectors
Bob Barr, the Libertarian Party presidential nominee, offered a scathing critique of Sen. John McCain (R-Ariz.) today and predicted he would garner substantial conservative Republican support in a handful of battleground states critical to McCain in his campaign against Democratic Sen. Barack Obama (Ill.).
Barr, a one-time conservative Republican House member from Georgia who broke with the Bush administration and many of his former congressional colleagues, blasted McCain for his support of the war in Iraq, his energy policies and his stand on reducing government spending.
McCain hit on tanker deal
Democrats jumped on a report today by congressional investigators that recommended reopening a $35 billion Air Force tanker contract pushed by Republican presidential candidate John McCain.
The Government Accountability Office says it found "a number of significant errors" in the process that led to a joint bid by Northrop Grumman Corp., and Airbus beating Boeing's bid earlier this year.
McCain had helped block a contract with Boeing in 2004 and pressed the Pentagon in 2006 to change bidding rules opposed by Northrop Grumman and Airbus.
Barack Obama... today's headlines with excerpts
Obama says Osama bin Laden must not be a martyr
Democratic presidential candidate Barack Obama said Wednesday he would bring Osama bin Laden to justice in a way that wouldn't allow the terrorist mastermind to become a martyr, but he may be killed if the U.S. government finds him.
... "What would be important would be for us to do it in a way that allows the entire world to understand the murderous acts that he's engaged in and not to make him into a martyr, and to assure that the United States government is abiding by basic conventions that would strengthen our hand in the broader battle against terrorism," Obama said.
Obama meets with labor leaders
Sen. Barack Obama met last night with dozens of union leaders in an effort to mobilize their support for the general election as lingering rifts from a hard-fought primary campaign as well as broader tensions among major unions threaten to undermine organized labor's efforts on his behalf.
Several of the largest unions in the AFL-CIO supported Sen. Hillary Rodham Clinton, and the American Federation of State, County and Municipal Employees spent heavily on ads attacking Obama. AFSCME's president, Gerald W. McEntee, criticized Obama until the end of the primaries, declaring in late May that Obama was a weak candidate who "will literally walk almost lame into the Democratic National Convention" and who "has a problem with the blue-collar worker and relating to that worker."
It was the second straight election cycle in which AFSCME picked a loser. In 2004, it endorsed former Vermont governor Howard Dean.
Politico: Gored: Obama could win vote, lose election
Until 2000, it hadn't happened in more than 100 years, but plugged-in observers from both parties see a distinct possibility of Barack Obama winning the popular vote but losing the Electoral College — and with it the presidency — to John McCain.

... Even as the national mood moves left, the 2004 map largely holds. Obama's 32 new electoral votes from Nevada, New Mexico, Colorado and Virginia are offset by 21 new electoral votes for McCain in Michigan and New Hampshire — and despite a 2- or 3-point popular vote victory for Obama, America wakes up on Jan. 20 to a President McCain.

Obama campaign tightens control of image, access

The campaign on Monday barred cameras from a large gathering of African-American civic leaders Mr. Obama attended. It recently refused to provide names of religious figures with whom Mr. Obama met in Chicago and directed some of them to avoid reporters by using a special exit. And on Wednesday, the campaign orchestrated Michelle Obama's appearance on the friendly set of "The View" and a flattering spread in the pages of Us Weekly.

... While the strategy has won compliments from political professionals of both parties, who say Mr. Obama's campaign is exhibiting a high level of discipline, it has also created some early turbulence for a candidate who has run on promises of openness and cultivated a grass-roots following and a cottage industry of homemade campaign videos, memorabilia and street murals.

Mr. Obama's campaign is making a transition typical of any newly minted presidential nominee preparing for a general election race. It mirrors the stagecraft once so successfully practiced by the campaigns of President Bush to the envy — and, sometimes, anger — of Democrats.

Obama eyes running mate who confers with McCain
Standing well over 6 feet, General Jones cuts an imposing figure, but he is described as congenial and thoughtful. One Democratic Senate aide said he was known to avoid theatrics during congressional testimony and largely epitomized the Theodore Roosevelt mantra of "speaking softly and carrying a big stick."
The chief obstacle to General Jones's selection is likely his near-total lack of familiarity among voters nationwide, but the benefits to an Obama-Jones ticket are also clear: As a potential running mate to a man with little foreign policy experience, General Jones could signal a reassuring presence without upstaging the headline act...
Michelle Obama on 'The View'
Highlights of Michelle Obama's much ballyhooed appearance yesterday morning on ABC's "The View" can be read here...
Obama steps up outreach to evangelicals
With the Democratic presidential nomination in his grasp, Sen. Barack Obama is making a full-throttle push for centrist evangelicals and Catholics.
It's a move that's caught off guard some conservative evangelicals, who say they are surprised and dismayed to see a progressive-minded politician attempting to conscript their troops. At the same time, they say Sen. John McCain has done little to court their affections.