Weekend Report, June 21-22, 2008
GENERAL NEWS HEADLINES with excerpts
Poll: Obama opens up 15-point lead over McCain
Obama's personal ratings have improved, as well: 62 percent of voters overall say they have a favorable opinion of him compared to only 26 percent who have an unfavorable opinion. By comparison, McCain's ratings are 49 percent favorable to 37 percent unfavorable, representing a drop from his previous 54 percent favorable rating. In the previous poll, coming at a time when Clinton's attacks on him were still fresh in Democrats' minds,
Obama's favorability ratings were just 55 percent favorable versus 40 percent unfavorable. In the new survey, Clinton supporters' view of Obama have turned solidly positive (70 percent favorable versus 18 percent unfavorable).
Obama is trusted more to handle what may prove the biggest issue of the 2008 election--the economy and jobs—by a wide margin (54 percent to 29 percent). He also has a sizable advantage on energy policy, 48 percent to 34 percent, despite McCain's attempts this week to turn voters his way by supporting some new oil drilling and renewing his call for a gas-tax holiday. Voters do not lean as strongly to Obama on the issue of the Iraq War, but he is still preferred over McCain by 46 percent to 40 percent.
McCain closes the cash gap against Obama
For the first time in the campaign, Republican John McCain in May raised about the same amount of money, $22 million, as Democrat Barack Obama.
McCain also closed the gap in the amount of cash the two parties' presumptive presidential nominees have in the bank at their respective disposals as they enter the first phase of the general election.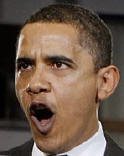 ... Obama's fundraising in May marked a sharp dropoff after months of record-breaking donations. Even in difficult times, such as the key loss he suffered in Pennsylvania in April, Obama brought in a steady flow of cash that usually topped $30 million a month.
The surprising cash parity between McCain and Obama means the candidates begin the general campaign more evenly matched than many experts expected, although things could change swiftly given Obama's ability to raise money through small online contributions.


GOP's Hagel says he'd consider Obama veep offer
Republican Sen. Chuck Hagel says he would consider an offer to serve as Democratic presidential candidate Barack Obama's running mate.
But the Nebraska senator says he doesn't expect to be on any ticket this year.
Hagel's vocal criticism of the Bush administration since the 2003 invasion of Iraq has resulted in speculation that if Obama were to pick a Republican running mate, it might be Hagel.
Woodhouse to DNC
The takeover of the Democratic National Committee by Barack Obama's campaign continues apace with the hiring of communications operative Brad Woodhouse at the national party committee.
Woodhouse will share duties with current communications director Karen Finney -- a similar setup to the one the Obama campaign has put in place with other recent moves such as installing Paul Tewes as the de facto executive director of the committee but leaving current DNC executive director Tom McMahon in his job. Those familiar with the setup say that Finney will remain a spokesperson for the DNC while Woodhouse will run the day to day operations of the organization. All of the current DNC press staff will remain in place.

Clinton campaign $22.5 million in debt
time to write another book...
---
THE CANDIDATES:
John McCain... today's headlines with excerpts
McCain blasts Obama on NAFTA
"For months, Barack Obama said that he would 'make sure that we renegotiate' NAFTA, demanded unilateral changes and threatened to unilaterally withdraw if he did not get his way. Barack Obama knew better. America has not had a protectionist president since Herbert Hoover, but Barack Obama held his position anyway to further his cynical political purposes in the primary campaign.
Now he claims: 'I'm not a big believer in doing things unilaterally.' Barack Obama should know words matter -- especially in a campaign based on rhetoric rather than a record of accomplishment. The American people and our allies deserve better than calculated efforts to re-invent positions to sound less irresponsible."
Jake Tapper: Is McCain's 'maverick' brand eroding?
52% of voters in our latest poll think Obama's views are "just about right" ideologically. Eight years ago, in February 2000, 55% of those polled said the same about McCain.
But today, only 40 percent call McCain "just about right" ideologically.
That's a problem for Mr. McCain...
McCain's immigration zig-zag
McCain, the Arizona senator, dismayed Latinos last year when he stepped back from his immigration bill that would have tightened the borders and legalized undocumented immigrants. As boos and hisses from angry Republican conservatives grew louder at campaign events, he switched course and vowed to "first" secure the borders. Were his failed bill to come up again, he would not vote for it, he said.
Now, as the likely GOP nominee, McCain is talking again about the urgent need for comprehensive immigration reform, though he still mentions border security first. Confusion over his position has been compounded by pundits who wrongly suggest that McCain and Obama share the same views on immigration.
Truth is, McCain's position on immigration is not a flip-flop but a zigzag...

The Great Seal of Obamaland?
At a discussion with a dozen Democratic governors in Chicago on Friday morning, each of the governors was identified with a small name plate but Senator Barack Obama sat behind a low rostrum to which was attached an official-looking seal no one had seen before.
It is emblazoned with a fierce-looking eagle clutching an olive branch in one claw and arrows in the other and is deliberately reminiscent of the official seal of the president of the United States. Around the top border are the words "Obama for America;" across the bottom is the campaign's Web address. It also contains the logo of the Obama campaign
Obama alienates the editors with flip flop on public financing
Obama's announcement Thursday that he would become the first candidate to opt out of the public financing program for the general election was a big deal for some of the nation's most influential newspaper editorial boards, which have long been ardent champions of campaign finance reform and which had thought they'd found a kindred spirit on the issue.
Friday morning, scathing editorials in many top broadsheets characterized Obama's move as a self-interested flip-flop, dismissed his efforts to cast it as a principled stand and charged that Obama wasn't living up to the reformer image around which he has crafted his political identity.
The scolding could mark a turning point in what has been, on balance, fawning treatment of Obama, an Illinois Senator and the presumptive Democratic presidential nominee, on editorial pages.
Obama camp adds women to top ranks
After taking primary season criticism over the number of women in its upper ranks, the campaign of Barack Obama has significantly ramped up its hiring of women in senior staff positions.
The move appeared aimed, in part, at reversing what one top aide said was a "bit of a bad rap" for running a male-dominated campaign organization...
Obama comes out against anti-affirmative action initiatives, McCain mum
Democrat Barack Obama opposes three state ballot measures which would end affirmative action in Colorado, Arizona, and Nebraska. Republican John McCain, by contrast, continues to take no position, according to a campaign spokesperson.
The McCain campaign's reluctance to take a stance after multiple requests from ABC News has led Ward Connerly, the proponent of the measures, to say that the presumptive Republican nominee is missing an opportunity to draw a sharp contrast with his Democratic rival.
"If (McCain) came out and said, 'I believe that our country is at its best when it treats everybody as an equal' . . . and I have read these initiatives and they do precisely that. . . . He puts Sen. Obama in one hell of a spot," Connerly told ABC News.
She might not have known its name, but White House/Black Market -- the store where Obama got the floral black and white print dress she wore on Wednesday's installment of "The View"-- could not care less.
"The minute it happened our call centers started receiving calls," said Jessica Wells, director of public relations for White House/Black Market, a subsidiary of Chico's FAS Inc., which owns Chico's (a fav of View co-host Joy Behar) and Soma Intimates.
"Shortly there after women were actually coming in and asking for the dress and we noticed a huge increase in traffic on our website," said Wells.
The dress is already on back order on the company's web site just two days after Mrs. Obama appeared in it. It's called the tank leaf print dress and it retails for $148 dollars. Fashion stalkers can call White House Black Market's customer service at (877) 948 -2525 to tract down the dress across the country.
Wells said the company expects more to arrive in August or maybe September.