GENERAL NEWS HEADLINES with excerpts


Gallup poll: McCain, Obama tied nationally
The latest Gallup Poll Daily tracking update on the presidential election finds John McCain and Barack Obama exactly tied at 45% among registered voters nationwide.
Obama's Hindu 'monkey god' Lord Hanuman
"Obama has deep faith in Lord Hanuman and that is why we are presenting an idol of Hanuman to him"
Obama to get gold-plated Lord Hanuman idol
New Delhi, June 24: With Democrat senator Barack Obama busy in the run-up to the US presidential polls, a group of well-wishers here have decided to send him a symbol of his lucky charm, Lord Hanuman, to help him emerge victorious.
Obama's representative Carolyn Sauvage-Mar today received a gold-plated two-feet-high idol, which she will pass it on to the Obama after it is sanctified.
The idol is being presented to Obama as he is reported to be a Lord Hanuman devotee and carries with him a locket of the monkey god along with other good luck charms.
An hour-long prayer meeting to sanctify the idol was earlier organised at Sankat Mochan Dham and by Congress leader Brijmohan Bhama, Balmiki Samaj and the temple's priests.
"Obama has deep faith in Lord Hanuman and that is why we are presenting an idol of Hanuman to him," said Bhama.
Obama turns to Lord Hanuman for blessing
BARACK OBAMA, the 46-year-old Illinois senator, who emerged victorious in an epic 17-month long electoral battle for Democratic party nomination, by defeating his rival Hillary Clinton, carries a 'tiny monkey god' with him for good luck. It apparently represents Lord Hanuman...
Obama swipes McCain on energy;
McCain calls Obama 'Dr. No'
Sen. Barack Obama attacked Sen. John McCain for saying offshore drilling would probably have more of a "psychological effect" rather than bringing the price of gas down immediately.
"The American people don't need psychological relief or meaningless gimmicks ... they need real relief that will help them fill up their tanks and put food on the table," Obama said in Las Vegas.
... The McCain campaign struck back at the comment, calling Obama "Dr. No" on energy policy proposals.
"While John McCain is putting the country first with the best ideas from both parties, Barack Obama has become the 'Dr. No' of energy, refusing to accept any idea that will contribute to solving America's energy crisis," McCain spokesman Tucker Bounds said in a statement.
Obama also launched an attack on McCain's idea to award a $300 million prize to anyone who could develop a better battery to run automobiles.
see also:
Obama: McCain's energy plan just a bunch of gimmicks
Bolton: Israel will strike Iran is Obama is elected
Former US Ambassador to the United Nations, John Bolton, said on Tuesday that he believes Israel will stage a raid against Iran's nuclear facilities if Democratic nominee Senator Barack Obama wins the upcoming presidential elections.
Bolton said the IAF would likely strike in the interim term between election day (November 4th) and the inauguration (January 20th 2009) – while George W. Bush is still in office.
Hillary returns to the Senate
She missed a morning procedural vote on the housing bill, but arrived in grand fashion for the Democrats' weekly strategy lunch, pulling up in a three car motorcade to cheers from 50 or so interns and staffers gathered on the East steps of the Capitol Building.
Hillary gets royal treatment at the Senate
Talk about rolling out the red carpet. Hillary Rodham Clinton's much-hyped return to the Senate after dropping out of the presidential race included a crowd of adoring interns, a phalanx of Senate staff, hugs from Democratic colleagues and an ovation from a closed luncheon of Democratic senators.
Obama asks top money folks to help Hillary retire her debt
ABC News has learned that on a conference call with his national finance team Tuesday afternoon, Sen. Barack Obama, D-Illinois, asked his top contributors to help Sen. Hillary Clinton, D-NY, retire her more than $10 million in outstanding vendor debt. He did not specify an amount.
Clinton's debt has been a major point of contention as the two former rivals attempt to reconcile.

Bill Clinton offers support to Obama
Former President Clinton on Tuesday offered to help Barack Obama win the White House, although what work he'll do for his wife's former rival remained uncertain.
... the former Democratic president and the man running to be the next one haven't talked since the campaign ended.
Pelosi on Clinton: 'She may run again'
"[W]omen are wildly enthusiastic about her candidacy. Not just a woman but this woman, this talent, this intellect, stamina," she said. "I think her candidacy was a bright bright moment for us and she may run again."
---
THE CANDIDATES:
John McCain... today's headlines with excerpts
McCain says only WW III would justify draft
Asked about that possibility by a potential voter in Florida during a telephone "town hall meeting," McCain said: "I don't know what would make a draft happen unless we were in an all-out World War III."
The United States ended its last military draft in 1973 in the waning years of the Vietnam war, moving to an all-volunteer military force.
McCain, a Vietnam veteran, said the draft during that conflict weighed most heavily on lower-income Americans, and that this should not be repeated.
"I do not believe the draft is even practicable or desirable," McCain said.
McCain to travel to Colombia to talk about trade, drugs
John McCain announced Tuesday that he will make a campaign trip to Colombia next week. The Republican presidential candidate is expected to talk about trade relations — a trade deal between the two countries is pending–and drug traffic from the Latin American country.
"It is a vital ally in our struggle against the scourge of drugs, a great amount of cocaine that comes into the United States of America as we know comes from Colombia," the Arizona senator said during a press conference in Riverside, Calif.
McCain told reporters he has traveled to Colombia before, and he emphasized his strong relationship with President Alvaro Uribe. "I know the struggle that nation has undergone," McCain said, adding that he was going there to thank Uribe for his efforts to strengthen the ties with the U.S.
More grief for McCain on secret Hispanic meeting
Sen. John McCain took some grief from the Left for keeping a tight handle on who he invited to his secret meeting with Hispanics in Chicago last week. And he took some grief from the Right for apparently promising at that meeting to pursue a pathway to citizenship for some illegal immigrants.
The grief from the Right continued today. Anti-amnesty crusader Rep. Tom Tancredo, R-Colo., wrote McCain a letter calling him out on the meeting, questioning McCain's commitment to pledges made earlier in the campaign, and snarkily invoking McCain's "Straight Talk" mantra.
Tancredo asks if promises made by McCain earlier in the presidential campaign to hold off on giving longtime illegal immigrants a "pathway to citizenship" until after the borders were secured were any more than lip service, and wonders whether the presumptive Republican nominee's candidacy is a Trojan horse for amnesty.
McCain lambasted by panelist at Energy event
During a roundtable discussion on energy security at Santa Barbara's Natural History Museum, one of the panelists invited by the McCain campaign to sit onstage beside the candidate -- disagreed with the Arizona senator's energy plans and lambasted his nuclear energy proposal.
Watch the VIDEO HERE.
"I'm a little bit bemused that I ended up on this panel," said Michael Feeney, chair of the Santa Barbara Land Trust, a non-profit conservation group.
He excoriated a proposal McCain outlined last Wednesday to build 45 new nuclear plants in the United States by 2030 and another 55 in later years....
Romney comes to McCain's defense
Appearing on MSNBC, Romney dismissed the controversy regarding Charlie Black's comments to Fortune magazine that a terrorist attack would benefit John McCain politically. Romney claimed that the comments of a campaign strategist have "little to do with the policy of an individual," while arguing that McCain "understands foreign policy" and that any one "thinking of security and foreign policy" will say "John McCain's the man for me."
AFL-CIO leaders preparing to endorse Obama
The leaders of the nation's largest labor organization started voting Tuesday on whether to endorse the Illinois senator. The election, which is being done by fax, is scheduled to end on Thursday.
Obama's name is the only one on the ballot sent to the AFL-CIO's 56 unions...
Republicans hit hard at Obama's image
If there's a label that Republicans are trying to pin on Barack Obama, it might be something like arrogant hypocrite.
They're chortling over the Obama campaign's decision to retire after one appearance a seal that to many eyes presumptuously too closely resembled the presidential seal. The Republican National Committee sent out a compilation of ridicule of the seal, with words like egomaniacal.
And John McCain's campaign launched an Internet ad Tuesday that pummels Obama for his decision to opt out of public financing...
LA Times poll: Obama has 15-point lead
Democrat Barack Obama has opened a 15-point lead in the presidential race, and most of the political trends -- voter enthusiasm, views of President George W. Bush, the Republicans, the economy and the direction of the country -- point to even greater trouble for rival John McCain...
Obama takes on Dobson, Black and Bill Clinton
Barack Obama says Charlie Black was wrong to say that a terrorist attack would help John McCain in November; that he spoke to Hillary Clinton today and is trying to reach out to her husband; and that Christian leader James Dobson distorted his words on religion in a wide ranging media availability in the back of his press plane...
In L.A., the stars line up for Obama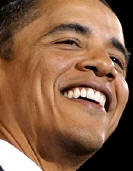 Sen. Barack Obama's bid for Hollywood's financial support was officially cinched Tuesday night at -- where else? -- a gala attended by celebrities, studio executives, producers, directors and other well-moneyed people.
British recording artist Seal sang Sam Cooke's R&B song "A Change Is Gonna Come" for 900 people gathered at Dorothy Chandler Pavilion in downtown Los Angeles to toast the senator from Illinois. It was Obama's first trip to Los Angeles since New York Sen. Hillary Rodham Clinton conceded defeat early this month in the battle for the Democratic nomination.
Although Obama's staff declined to give exact numbers, organizers estimated that the event raised more than $5 million...
RollingStone magazine interview...
In an interview with Rolling Stone magazine to be published on Wednesday, Mr. Obama revealed that his iPod was full of dozens of selections from, top to bottom, Bob Dylan, Sheryl Crow, Jay-Z and Yo-Yo Ma. (Joining perhaps every other Democratic politician alive, he also confessed a deep love for Bruce Springsteen.)
When asked what books have most inspired him, Mr. Obama named "the tragedies of William Shakespeare" and Hemingway's novel of the Spanish Civil War "For Whom the Bell Tolls" — incidentally, a favorite of Senator John McCain, who is known to quote from it at random.
Obama sought 'ops-intel' briefing
Barack Obama was to have a military briefing from officials with the Joint Chiefs of Staff office last week, but canceled to attend Tim Russert's funeral.
Pentagon press secretary Geoff Morrell confirmed the original plan for the meeting and said Obama was seeking a so-called "ops-intel" briefing.
Members of Congress typically request such information on military intelligence and operations in advance of foreign trips. Following a conversation last Monday with Iraq's foreign minister, Obama told reporters that he intended to visit both Iraq and Afghanistan before the election.