Friday, March 14, 2008
GENERAL NEWS HEADLINES with excerpts
13% of registered voters think Obama is Muslim
The latest Wall Street Journal/NBC poll asked respondents what Barack Obama's religion is.
Among registered voters, 37 percent said Protestant. Two percent said Catholic, two percent said "other," two percent said "none."
Forty-four percent said they weren't sure or refused to answer.
Thirteen percent answered "Muslim."

More Clinton, Obama TV debates...
Taking the stage for the 21st and possibly 22nd time, Hillary Clinton and Barack Obama could debate at least twice more before the critical Pennsylvania primary on Tuesday, April 22.
Both candidates have accepted an ABC News debate in Philadelphia and Obama has accepted a similar invitation from CBS News to debate at a location to be determined in North Carolina.
Florida Democrats say mail-in re-vote looks unlikely
Florida's Democratic leaders Thursday all but pulled the plug on the day-old idea of a mail-in mulligan election to ensure the state gets a say in the historic battle between Barack Obama and Hillary Clinton. State party officials said they have just a few days to get fighting factions to embrace a new round of voting that would end on June 3.
"I know that it won't happen," said U.S. Rep. Robert Wexler, a Boca Raton Democrat and Obama supporter. All nine of Florida's Democrats in the U.S. House reiterated their strong opposition to the re-vote plan on Thursday.
Michigan, campaigns talk do-over primary
Michigan Democrats are close to an agreement with presidential candidates Sens. Hillary Clinton and Barack Obama to hold a do-over primary.
Party officials and the campaigns negotiated on Thursday, and state Democratic leaders were hopeful that an agreement could be reached on Friday, said Democratic officials, who spoke on condition of anonymity because of the sensitivity of the talks. To go forward, any plan would require the approval of the two campaigns, the Democratic National Committee, state party leaders and Gov. Jennifer Granholm, who is backing Clinton.
Mitt Romney to form new PAC
According to two Republicans with knowledge of his plans, Romney, at some point during the next few weeks, intends to establish a new political action committee to help elect Republican candidates.
"We're thinking about what new entity can be created to allow Governor Romney to remain politically active so he can raise money and campaign for Republicans, and advocate for the issues he cares about," Eric Fehnrstrom, Romney's long-time aide, said in an e-mail message.
NRCC says ex-treasurer diverted up to $1M
The former treasurer for the National Republican Congressional Committee diverted hundreds of thousands of dollars -- and possibly as much as $1 million -- of the organization's funds into his personal accounts, GOP officials said yesterday, describing an alleged scheme that could become one of the largest political frauds in recent history.
For at least four years, Christopher J. Ward, who is under investigation by the FBI, allegedly used wire transfers to funnel money out of NRCC coffers and into other political committee accounts he controlled as treasurer, NRCC leaders and lawyers said in their first public statement since they turned the matter over to the FBI six weeks ago.
THE CANDIDATES:
John McCain... today's headlines with excerpts
McCain's 'earmarks' plan blocked
The U.S. Senate rejected a proposal by John McCain to place new restrictions on the congressional pet projects known as earmarks.
... The Senate's 71 to 29 vote to reject the earmark proposal was a setback for Arizona Senator McCain, who has made the fight against such spending an issue in his presidential campaign. McCain, who took a break from the campaign trail to cast votes yesterday on the budget, said his plan would have pared wasteful spending.
McCain wants to paint blue states red
Though still very early in the planning stages, McCain aides have begun eyeing between 20 and 25 states that could be competitive, a list that includes some places that are anything but rock-ribbed conservative. Next month, they'll make this case symbolically by sending the candidate on a different-kind-of-Republican tour into places where party members typically don't tread.
McCain benefits from the off-balance media
What we have seen (contrary to what the constantly off-balance MSM would have liked to have occurred) is that the Democrat candidates have begun to inflict potentially serious and long-lasting damage on each other. More importantly, they have done the work in undermining each other that McCain could never have possibly done himself. And their handiwork is not limited to a single issue.
First, with help from Bill Clinton (who compared Barack Obama to Jesse Jackson) and Geraldine Ferraro (who uttered a truthful but impolitic comment that Obama would not have gotten this far had he been a white politician), Clinton has made race a prime issue in her presidential contest.
Hillary Clinton... today's headlines with excerpts
Clinton's role in health program disputed
Hillary Clinton, who has frequently described herself on the campaign trail as playing a pivotal role in forging a children's health insurance plan, had little to do with crafting the landmark legislation or ushering it through Congress, according to several lawmakers, staffers, and healthcare advocates involved in the issue.
Clinton's options open on earmarks
Sen. Hillary Clinton has left herself room to request earmarks this year if she loses the Democratic presidential nomination and remains in the Senate, in contrast to the other two senators still running for president.
While Clinton has joined Sen. Barack Obama (Ill.), her rival for the Democratic presidential nomination, in backing a measure banning earmarks for a year, she has not explicitly promised to request no earmarks this year.
Clinton opens her home to woo unaligned lawmakers
On Wednesday night, the Democratic presidential candidate held a private reception for several dozen members of Congress at her house on Whitehaven Street in Kalorama.
... After the Clinton reception, Chris Haylor, a campaign official, sent out a memo listing the undecided lawmakers who had attended and asking for help with lobbying them. "We encourage you all to seek them out today and thank them for attending and to get their feedback," he wrote. "We want to make sure we strike while the iron is hot."
Barack Obama... today's headlines with excerpts
Obama and the minister
In a sermon delivered at Howard University, Barack Obama's longtime minister, friend and adviser blamed America for starting the AIDS virus, training professional killers, importing drugs and creating a racist society that would never elect a black candidate president.
The Rev. Jeremiah A. Wright Jr., pastor of Mr. Obama's Trinity United Church of Christ in Chicago, gave the sermon at the school's Andrew Rankin Memorial Chapel in Washington on Jan. 15, 2006.
... The media have largely ignored Mr. Obama's close association with Mr. Wright. This raises legitimate questions about Mr. Obama's fundamental beliefs about his country. Those questions deserve a clearer answer than Mr. Obama has provided so far.
Obama's pastor: God damn America, U.S. to blame for 9/11
Sen. Barack Obama's pastor says blacks should not sing "God Bless America" but "God damn America."
... "The government gives them the drugs, builds bigger prisons, passes a three-strike law and then wants us to sing 'God Bless America.' No, no, no, God damn America, that's in the Bible for killing innocent people," he said in a 2003 sermon. "God damn America for treating our citizens as less than human. God damn America for as long as she acts like she is God and she is supreme."
In addition to damning America, he told his congregation on the Sunday after Sept. 11, 2001 that the United States had brought on al Qaeda's attacks because of its own terrorism.
9/11 slur by Obama's Rev. Wright
Barack Obama's pastor has blamed the United States for bringing the 9/11 attacks upon itself and has said Hillary Clinton "ain't never been called a n-----," a review of his sermons reveals.
The Rev. Jeremiah Wright, who for decades ministered at Obama's Trinity United Church of Christ on the South Side of Chicago, has also preached about the vast influence of "rich white people" and slammed Clinton from the pulpit for never having experienced the suffering of African-Americans.
"Jesus was a poor black man who lived in a country and who lived in a culture that was controlled by rich white people," Wright preached in one Christmas sermon.
Obama's angry pastor
The more Americans hear this man who's been an influential part of Obama's life for two decades, the more they're going to have the audacity to look beyond Obama's inspirational milquetoast speeches, probing what makes him tick, what influences him, who advises him, what he believes. And not just on Sundays. It's the Wright thing.
Obama cuts into Clinton's delegate lead among elected officials
In the overall race for superdelegates -- elected and party officials who automatically receive votes at the Democratic National Convention that will choose the nominee -- Clinton leads Obama in commitments by 249 to 212, according to an Associated Press tally.
The trend, though, is running against the New York senator. Since March 5, the day after she won primaries in Texas, Ohio, Rhode Island and Obama took Vermont, the Illinois senator has won backing from nine superdelegates and Clinton one, according to the campaigns and interviews.
Obama's budget vote could come back to bite him
Republicans yesterday forced Sen. Barack Obama to vote against what they labeled his own $1.4 trillion spending plan, cobbled together from his presidential campaign promises — one of a series of budget votes that will provide political fodder for the rest of the election year.
Mr. Obama and Sens. John McCain and Hillary Clinton jetted back to Washington yesterday to vote during the annual budget free-for-all that compresses votes on a host of contentious issues into a single day.
Obama releases earmark info, after initial refusal
After refusing since June to make public earmark requests from 2005 and 2006, Sen. Barack Obama (D-Ill.) is releasing all the earmark requests he has made since he entered the Senate in 2005.
... Here's one highlight: Obama sought money for the University of Chicago Hospitals. Wife Michelle works for the University of Chicago Hospitals, appointed in spring 2005 as vice president for community and external affairs at the University of Chicago Hospitals. She is now on leave from the job to campaign for her husband. Top campaign adviser and friend Valerie Jarrett is the Chair of the University of Chicago Medical Center Board and also Chair of the Executive Committee of that board. She has also been named Vice-Chair of the University's Board of Trustees. Obama taught at the U. of Chicago law school and the Obama's two daughters attend school there.
MoveOn launches video contest to help Obama
Hollywood mainstays Matt Damon, Ben Affleck, Steve Buscemi and Oliver Stone are among the celebrity judges selected to crown a winner in a MoveOn.org video contest aimed at helping Sen. Barack Obama's (D-Ill.) presidential campaign.
According to the liberal group, the "Obama in 30 Seconds" contest, which awards a $20,000 gift certificate to the winner, is about "ads that are of the people, by the people, and for the people."
Obama's mother: A free-spirited wanderer who set his path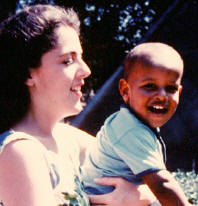 Kansas was merely a way station in her childhood, wheeling westward in the slipstream of her furniture-salesman father. In Hawaii, she married an African student at age 18. Then she married an Indonesian, moved to Jakarta, became an anthropologist, wrote an 800-page dissertation on peasant blacksmithing in Java, worked for the Ford Foundation, championed women's work and helped bring microcredit to the world's poor.
She had high expectations for her children. In Indonesia, she would wake her son at 4 a.m. for correspondence courses in English before school; she brought home recordings of Mahalia Jackson, speeches by the Rev. Dr. Martin Luther King Jr. And when Mr. Obama asked to stay in Hawaii for high school rather than return to Asia, she accepted living apart — a decision her daughter says was one of the hardest in Ms. Soetoro's life.
Ralph Nader... today's headlines with excerpts