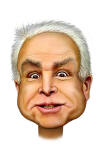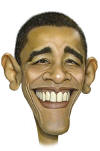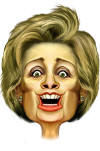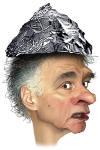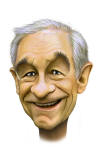 click on each candidate to see today's news stories (caricatures by Linda Eddy)
Wednesday, March 19, 2008
GENERAL NEWS HEADLINES with excerpts
McCain takes lead nationally as Obama, Clinton feud
Democrat Barack Obama's big national lead over Hillary Clinton has all but evaporated in the U.S. presidential race, and both Democrats trail Republican John McCain, according a Reuters/Zogby poll released on Wednesday.
The poll showed Obama had only a statistically insignificant lead of 47 percent to 44 percent over Clinton, down sharply from a 14 point edge he held over her in February when he was riding the tide of 10 straight victories.
McCain leads 46 percent to 40 percent in a hypothetical matchup against Obama in the November presidential election, according to the poll.
That is a sharp turnaround from the Reuters/Zogby poll from last month, which showed in a head-to-head matchup that Obama would beat McCain 47 percent to 40 percent.
"The last couple of weeks have taken a toll on Obama and in a general election match-up, on both Democrats," said pollster John Zogby.
Hillary, Obama snub liberal convention
The hundreds of activists assembled at the Omni Shoreham Hotel in Washington this week for the Take Back America conference. Many were the same ones who two years ago hissed Clinton for refusing to support a timetable for withdrawing U.S. forces from Iraq. She got a better reception last year, though she didn't totally silence the anti-war boos.
Neither Obama nor Clinton spoke to the group this year.
Obama Speech coverage transcript full video
ABC's Jake Tapper: cliff's notes for Obama's race speech
How we got here to this speech today

Wright is Wrong (and I'm not anti-Isreal)

Yes, I've heard some controversial stuff in the pews

But disowning him would be like disowning the black church itself... or my grandma

We need to talk about the 'racial stalemate' we've been stuck in for years

Why Wright and blacks are angry

Why whites are angry

I = America

American can change

What blacks can dot o fix this mess

What whites can do to fix this mess

Stop covering the Wright controversy and talk about race and my platform instead
Hillary Clinton reacts to speech:
"In the end, the test is not the speeches a president delivers," she said. "The test is whether the president delivers on the speeches."
LATimes: Obama stands his unique ground on race
"It was a speech that seemed unlikely to come from a politician viewed as simply white or black. Obama rejected the most controversial of Wright's comments, while saying he could never renounce the man who had helped introduce the senator to Christianity, officiated at his wedding and baptized his children."
WSJ: Obama puts race closer to center of campaign
While the speech was hailed by many Democrats, some conservative critics and others said the senator didn't -- and perhaps can't -- explain why he allied with a pastor of such views for two decades if he didn't agree.
Bloomberg: Obama's race speech echoes Kennedy's 1960 address on religion
Obama's speech ``made clear that his own views differed'' from those expressed by his longtime pastor, just as Kennedy made clear that a Catholic president would not answer to the Vatican, said Ted Sorensen, 79, an Obama supporter who helped Kennedy write the Houston speech that was a turning point in his race for the White House.
``The parallels with Kennedy instantly came to mind,'' said political scientist Stephen Hess of the Washington-based Brookings Institution who was a speechwriter for President Dwight Eisenhower.
Robinson/WashPost: Obama's road map on race
Obama called on African Americans to embrace "the burdens of our past without becoming victims of our past," and to take "full responsibility for our own lives." And he's absolutely right.
This amounts to a new set of talking points for a discussion about race: Don't be paralyzed by history but acknowledge its effects. Recognize that whites have legitimate grievances that are not racist. Don't cling to victimhood as an all-purpose excuse. Accept personal responsibility.
NYTimes: Obama urges U.S. to grapple with race issue
Standing against a backdrop of eight American flags on Tuesday morning, Mr. Obama offered the most thorough explanation to date about his association with the church and his pastor, whom he has known for nearly 20 years.
"For some, nagging questions remain. Did I know him to be an occasionally fierce critic of American domestic and foreign policy? Of course," he said. "Did I ever hear him make remarks that could be considered controversial while I sat in church? Yes. Did I strongly disagree with many of his political views? Absolutely ...
Politico: Obama parses Wright & wrong in race speech
... Why wasn't this issue dealt with until now? What else do voters not know about Obama? And how will voters receive his pledge to unite the country given his attendance at a church where those of his mother's hue might not feel comfortable?
Amid much keen thought and fine oratory, those questions, today, went unanswered.
Liberal groups set $400M spending target
MoveOn.org and the other groups participating in this week's "Take Back America" conference are trying like never before to avoid stepping on each others' toes — and messages — as they gear up for an intense general election battle.
... Robert Borosage, co-director of the Campaign for America's Future, which is hosting the conference, floated the possibility of $400 million in combined spending during a telephone interview with Politico after the news conference.

THE CANDIDATES:
John McCain... today's headlines with excerpts
Obama belittles McCain for confusing extremists
"Just yesterday, we heard Senator McCain confuse Sunni and Shi'ite, Iran and al Qaeda," Obama said.
"Maybe that is why he voted to go to war with a country that had no al Qaeda ties. Maybe that is why he completely fails to understand that the war in Iraq has done more to embolden America's enemies than any strategic choice that we have made in decades," the Illinois senator said.
He also mocked McCain's oft-stated vow to follow Osama bin Laden to "the gates of hell" if elected, arguing the U.S. focus should have been on Afghanistan and Pakistan instead of Iraq.
"We have a security gap when candidates say they will follow Osama bin Laden to the gates of hell but refuse to follow him where he actually goes," Obama said.
McCain missteps on Iraq, Dems pounce
Mr. McCain said several times in his visit to Jordan — in a news conference and in a radio interview — that he was concerned that Iran was training Al Qaeda in Iraq. The United States believes that Iran, a Shiite country, has been training and financing Shiite extremists in Iraq, but not Al Qaeda, which is a Sunni insurgent group.
It was not until he got a quiet word of correction in his ear from Sen. Joseph Lieberman, who was traveling with Mr. McCain as part of a Congressional delegation, that Mr. McCain corrected himself.
... Democrats wasted little time in jumping on his misstatement to question his knowledge and judgment.
"After eight years of the Bush administration's incompetence in Iraq, McCain's comments don't give the American people a reason to believe that he can be trusted to offer a clear way forward," Karen Finney, a spokeswoman for the Democratic National Committee, said in a statement. "Not only is Senator McCain wrong on Iraq once again, but he showed he either doesn't understand the challenges facing Iraq and the region or is willing to ignore the facts on the ground."
see also: McCain mixes up Iraqi groups
Raising McCain
Meghan McCain, 23, has been given a prominent place in her father's presidential campaign, most notably with her blog, McCainBlogette.com. Loosely inspired, she says—loosely!—by Fear and Loathing: On the Campaign Trail '72, McCain Blogette is a sometimes irreverent, sometimes overly rah-rah account of life on the Straight Talk Express ("Lindsey Graham is hilarious!"), with tons of photographs and even iPod playlists (favorites have included Wolfmother and Hot Hot Heat). Charming and self-deprecating, McCain Blogette often makes Meghan's 71-year-old father seem less old, which is surely one of the reasons it exists, even if Meghan occasionally does something like refer to Barack Obama as "sexy," which she did right before the New Hampshire primary...
Hillary Clinton... today's headlines with excerpts
Hillary's records from 90's to be released today
More than 11,000 pages of Hillary Clinton's schedules as first lady, records sought by a conservative watchdog group and journalists, will be released on Wednesday, the National Archives announced Tuesday.
The records to be released Tuesday amount to virtually all of her schedules of meetings, speeches and the like as first lady...
Clinton camp hires another pollster
The Clinton campaign has hired Democratic pollster Geoff Garin to do polling for the campaign. Garin and his firm has plenty of experience polling in the upcoming battlegrounds of Pennsylvania, North Carolina, and Indiana.
The question becomes, of course: How does this impact pollster and chief strategist Mark Penn? Some in the campaign have been arguing for months that the chief strategist shouldn't be polling his own message ideas...
Hillary aims to revive efforts for Michigan revote
Michigan Democrats seemed to smother any chance of a presidential-primary revote yesterday, but the campaign of Sen. Hillary Clinton added a surprise stop to the state set for this morning to try to keep prospects alive.
... Michigan's efforts to regain those seats seemed likely to end after state legislators yesterday were unable to agree to a bill that would have authorized a state-run, privately funded primary. The bill would have needed the support of Republican legislators for the required two-thirds majority.
Barack Obama... today's headlines with excerpts
Anti-Obama pastor unleashed:
'he was born trash'...
'he's a long-legged mack daddy'...
YouTube.com video by Pastor James David Manning (ATLAH World Missionary Church, Atlah, NY) has over 550,000 views so far...
Dick Morris: Obama has already won the nomination... it's over
Regardless of how the remaining primaries and caucuses go, including Michigan and even Florida, Sen. Hillary Rodham Clinton (N.Y.) can never catch Obama in elected delegates. His current lead of 170 pledged delegates will not be overcome no matter what happens. Even if Clinton beats him by 10 points in each of these primaries, he will still lead among elected delegates by over 100. The superdelegates will not override the will of the voters unless Obama is in jail. They will not let themselves in for a civil war by overruling a black man who is beloved by the young by going over the heads of the electorate and naming the candidate that lost the primaries as the nominee. Regardless of how damaged Obama may be by the Wright tapes, it will not provide sufficient cover or cause for them to do so.
Obama's racial problems transcend Wright
Obama's cross-racial and even cross-partisan support has been driven by a belief that he is a new-era politician, not defined by the grievances and ideological habits of an earlier generation.
Then came Wright, who Obama has described as an important mentor, suggesting that in important ways he is a product of familiar animosities. "Barack knows what it means to be a black man living in a country and a culture that is controlled by rich, white people. Hillary ain't never been called a n——-," he thundered in a sermon played relentlessly on television and on the Web this past week.
Merle Black, an expert on Southern voters at Emory University, said Wright is a "huge, huge problem."
"The new information, especially about his minister and his twenty-year association with this church, really undermines the message he's been delivering for the last year, it completely undercuts it," said Black. ..
Michigan re-vote at risk as Obama withholds support
Michigan state legislative leaders have indicated that Obama needs to agree to a repeat election before it will pass legislation.
But the Obama campaign has suggested that it is waiting on the Michigan legislature before signing off on a re-vote.
Ralph Nader... today's headlines with excerpts
view more past news & headlines