Friday, March 28, 2008
GENERAL NEWS HEADLINES with excerpts
Dean wants superdelegates to decide by July 1
DNC chairman Howard Dean: "Well, I think the superdelegates have already been weighing in. I think that there's 800 of them and 450 of them have already said who they're for. I'd like the other 350 to say who they're at some point between now and the first of July so we don't have to take this into the convention."
Poll: Obama has 10-point lead over Hillary
Barack Obama, 49 percent
Hillary Rodham Clinton, 39 percent
MoveOn.org joins Pelosi to deplore Clinton-backers' letter
MoveOn responds to the letter Clinton donors sent yesterday to Nancy Pelosi by sending out a letter of their own:
Dear MoveOn member,
This is pretty outrageous: A group of Clinton-supporting big Democratic donors are threatening to stop supporting Democrats in Congress because Nancy Pelosi said that the people, not the superdelegates, should decide the presidential nomination.
It's the worst kind of insider politics — billionaires bullying our elected leaders into ignoring the will of the voters...

Dodd calls on party leaders to bring race to end
... we've got a contest coming up in Pennsylvania and one in North Carolina and Indiana very quickly afterwards. In my view, the outcome of those three races will determine — I think the race has been determined, anyway, at this point. I think it's very difficult to imagine how anyone can believe that Barack Obama can't be the nominee of the party. I think that's a foregone conclusion, in my view, at this juncture given where things are. But certainly over the next couple of weeks, as we get into April, it seems to me then, that the national leadership of this party has to stand up and reach a conclusion. And in the absence of doing that — and that's not easy and I realize it's painful — but the alternative, allowing this sort of to fester over the months of June, and July and August, I think are irresponsible.
Condoleezza would mull VP job
Despite saying she wants to return to Stanford University, Secretary of State Condoleezza Rice has let it be known in Republican circles that she would consider running for vice president if asked.
One source told Newsmax that she expressed interest in the possibility when Rudy Giuliani was running for president. Another source said she has more recently let her interest be known discreetly within top Republican circles, presumably including John McCain's camp.
THE CANDIDATES:
John McCain... today's headlines with excerpts
McCain targets Obama in new general election ad
The ad, is called "624787." That's not some weird new zip code; that was McCain's Navy serial number which you see him rattle off from his hospital bed as a North Vietnamese prisoner of war.
... McCain appears to be banking on enough voters not buying Obama's concept about "we are the change." Rather, his campaign is saying presidential elections are about the proven leadership of the person offering himself as the nation's ultimate leader.
... The still gripping footage of a physically broken but mentally unbowed McCain in Vietnam all those years ago are the senator from Arizona's way of saying that he, and he alone, has walked the walk.
watch it
McCain launching 'biographical' tour
Reintroducing himself to voters as the Republicans' presumptive presidential nominee, Senator John McCain will visit several states next week in what his campaign is billing as a biographical tour.
Each stop will represent a chapter in McCain's life and military career and be used to emphasize a "service to America" theme and to highlight issues and aspects of his character...
McCain leads by 10 over Obama, Clinton
John McCain continues to lead both potential Democratic opponents. McCain leads Barack Obama 51% to 41% and Hillary Clinton 51% to 41%. McCain is now viewed favorably by 56% of voters nationwide and unfavorably by 41%. Obama's reviews are 46% favorable and 52% unfavorable. For Clinton, those numbers are 44% favorable, 54% unfavorable.
McCain, Romney on their differences: that was then
...no one would have guessed Thursday that the men were anything but pals as they strode from a black SUV, framed by Salt Lake City's snowy mountains, to face the cameras during a fundraising swing through the West.
The animosity had vanished -- spurring speculation that they might be able to stomach being running mates after all. McCain, with Romney standing beside him, said the two would be spending lots of time together on the campaign trail.
see also: McCain-Romney?
Novak: McCain could score with payroll tax cut
...As part of Democratic obsession with making a progressive tax system still more progressive and redistributing income, Obama actually would raise the $97,500 cap on the payroll tax, and his $500 tax credit would not change payroll tax withholding for employee or employer. There is an open field for John McCain, if he has the wit and will to enter it.
Hillary Clinton... today's headlines with excerpts
Sen. Leahy to Sen. Clinton: give up
Sen. Patrick Leahy is suggesting that Democratic presidential candidate Hillary Rodham Clinton abandon her White House run.
... "Senator Clinton has every right, but not a very good reason, to remain a candidate for as long as she wants to. As far as the delegate count and the interests of a Democratic victory in November go, there is not a very good reason for drawing this out. But as I have said before, that is a decision that only she can make," Leahy said in the statement.
Ralph Nader defends Hillary
A startling ally is calling on Senator Clinton to resist suggestions that she consider abandoning the presidential race - Ralph Nader, the independent presidential candidate who arguably cost Al Gore the presidency in 2000.
Nader has released a statement reacting to comments by Sen. Patrick Leahy (D-Vt.) suggesting an apparently insurmountable lead by Sen. Barack Obama (D-Ill.)...
Hillary Clinton: fibber in chief
The Bosnia misspeak, unnecessary as it was, revealed much, however. It helped to expose a much bigger untruth Mrs Clinton has been peddling throughout the Democratic primary campaign - that her time in the White House means she has the necessary foreign policy experience to be president.
Hillary Clinton's Belfast role draws criticism
Hillary Clinton cites her role in bringing peace to Northern Ireland as one of the top foreign policy credentials of her presidential bid.
Her critics point to an empty, wind-swept Belfast park - which Clinton a decade ago proclaimed would become Northern Ireland's first Catholic-Protestant playground - as evidence that her contribution as peacemaker was more symbolic than substantive.
... Critics say the playground-that-never-was illustrates the wider lack of accomplishment from Clinton's half-dozen visits to Northern Ireland - that they emphasized speechmaking, chiefly to women's groups, leaving no lasting mark...
Hillary details premium cap in health plan
In an extensive interview on health policy, Mrs. Clinton said she would like to cap health insurance premiums at 5 percent to 10 percent of income.
The average cost of a family policy bought by an individual in 2006 and 2007 was $5,799, or 10 percent of the median family income of $58,526, according to America's Health Insurance Plans, a trade group. Some policies cost up to $9,201, or 16 percent of median income.
The average out-of-pocket cost for workers who buy family policies through their employers is lower, $3,281, or 6 percent of median income, according to the Kaiser Family Foundation, a health research group.
A cap on premiums has been part of Mrs. Clinton's universal coverage proposal since she announced it in September.
Chelsea misspeaks on Bush Mideast travel
Chelsea Clinton mistakenly said President Bush had not toured the Middle East as president before arriving there earlier this year.
"President Bush was in the Middle East last month, and its great that he was there, but that was his first trip there as president," she said at the Wood River Village Assisted Living Center. "He'd visited our men in northern Iraq before but he'd never been to Israel; he'd never been to Jordan, he'd never been to Saudi Arabia or Egypt; he just hadn't been."
Bush in fact traveled to Egypt, Jordan and Qatar in 2003, and was in Jordan again in 2006. His trip in January 2008 was his first to Israel.
Poll: Hillary hits lowest
As expected, one of the two major Democratic candidates saw a downturn in the latest NBC/WSJ poll, but it's not the candidate that you think. Hillary Clinton is sporting the lowest personal ratings of the campaign. Moreover, her 37 percent positive rating is the lowest the NBC/WSJ poll has recorded since March 2001, two months after she was elected to the U.S. Senate from New York.
Barack Obama... today's headlines with excerpts
Gallup poll: Barack is back in the lead
Today's Gallup Poll Daily tracking update finds Barack Obama with an eight percentage point advantage over Hillary Clinton (50% to 42%), this gives him a statistically significant advantage for the first time since before the Rev. Jeremiah Wright controversy.
PA Sen. Bob Casey to endorse Obama, join bus tour
Pennsylvania Sen. Bob Casey plans to endorse Sen. Barack Obama for president today in Pittsburgh, sending a message both to the state's primary voters and to undecided superdelegates who might decide the close race for the Democratic presidential nomination.
Dan Pfeiffer, deputy communications director for the Obama campaign, confirmed that Casey would announce his support during a rally at the Soldiers and Sailors Military Museum and Memorial and that he would then set out with the Illinois senator on part of a six-day bus trip across the state.
Obama appears on 'The View', talks about Rev. Wright
"Had the reverend not retired, and had he not acknowledged that what he had said had deeply offended people and were inappropriate and mischaracterized what I believe is the greatness of this country, for all its flaws, then I wouldn't have felt comfortable staying at the church," Obama said Thursday during a taping of the ABC talk show, "The View."
see also: Obama now says he might have left church
Church newsletters fuel controversy over Obama's former pastor
Even as fresh polls suggested that Barack Obama emerged mostly unscathed from the controversy over his former pastor, new potentially troublesome remarks came to light yesterday.
This time it's church newsletters from the Rev. Jeremiah A. Wright Jr.
NBC News reported that newsletters at Trinity United Church of Christ in Chicago, while Wright was in charge, reprinted anti-Israel writings.
Obama Muslim lie lingers on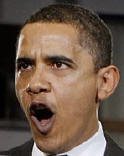 A new Pew poll out today reports that the Wright affair hasn't really hurt Obama among Democrats, but he's still having trouble with the older, white, working-class members of his party:
White Democrats who hold unfavorable views of Obama are much more likely than those who have favorable opinions of him to express less tolerant views on race. In addition, nearly a quarter of Democrats (23 percent) who hold a negative view of Obama believe he is a Muslim.
Obama blames 'ethic of greed' for economy
Barack Obama went to New York Thursday and blamed lobbyists, greedy businessmen and complacent Washington politicians for creating "an ethic of greed" that led to today's foreclosure crisis.
Not long after he left the stage, the Democratic presidential hopeful attended a fundraiser held by his campaign in a room in the Manhattan headquarters of Credit Suisse, one of the major investment companies caught up in the subprime lending mess...
Obama begins push in Pennsylvania
When he steps aboard a campaign bus in Pittsburgh on today, Senator Barack Obama begins a six-day journey across Pennsylvania and its complex political landscape, one that is largely favorable to his rival, Senator Hillary Rodham Clinton.
Mr. Obama will travel from the gritty western part of the state to the more prosperous east, at times riding straight into unfriendly territory, like that in Johnstown, the hardscrabble, blue-collar base of John P. Murtha, the powerful congressman, who is one of Mrs. Clinton's staunchest allies.
see also: Obama plays catch-up in Pennsylvania
Obama rewriting rules for online fundraising
Obama's unprecedented online fundraising success is often depicted as a spontaneous reaction to a charismatic candidate, particularly by young, Internet-savvy supporters. But it is the result of an elaborate marketing effort that has left Sen. Hillary Rodham Clinton, his rival for the Democratic nomination, and Sen. John McCain, the presumed Republican nominee, struggling to catch up.
Ralph Nader... today's headlines with excerpts