Monday, March 31, 2008
GENERAL NEWS HEADLINES with excerpts
Obama, McCain forged fleeting alliance in 2006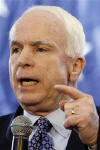 ...what began as a promising collaboration between two men bent on burnishing their reformist credentials collapsed after barely a week. The McCain-Obama relationship came undone amid charges and countercharges, all aired publicly two years ago in an exchange of stark and angry letters. Obama questioned whether McCain sided with GOP leaders rather than searching for a bipartisan solution; McCain accused Obama of "typical rhetorical gloss" and "self interested partisan posturing" by a newcomer seeking to ingratiate himself with party leaders.
... the reform fight has emerged as a looking-glass moment of what a fall campaign could resemble. McCain's backers view it as emblematic of Obama's ability to talk grand ideas and aspirations, but also of his ultimate failure to produce substantive results. Obama's supporters contend that the moment was vintage Obama, with the newcomer defusing the feud with a cool demeanor that allowed him to claim the high ground while rolling up his sleeves to eventually help pass a broader ethics overhaul bill in August 2007."
see also: Obama-McCain letter exchange
Clinton, Obama shift to wider range of economic woes

...as they traveled through Pennsylvania last week, neither Clinton nor her opponent, Barack Obama, once mentioned the North American Free Trade Agreement - a frequent bugaboo in their Ohio politicking - and refrained from a prolonged discussion of trade issues altogether.
As the Democrats enter a 10-state closing stretch in which economic concerns are likely to dominate the debate, Clinton and Obama - who both gave speeches on the subject last week, as did John McCain - are expanding beyond their past populist appeals and using a broader language that can address different experiences of economic change.
Mideast Watch...
Suicide bombing attacks decrease due to West Bank fence
The leader of the Palestinian Islamic Jihad again admits that the Israeli security fence built by Israel in Judea and Samaria prevents the terrorist organizations from reaching the heart of Israel to carry out suicide bombing attacks...
PIJ leader Ramadan Abdallah Shalah told Hezbollah's Al-Manar TV that the terrorist organizations had no intention of abandoning suicide bombing attacks but that their timing and the possibility of carrying them out from the West Bank depended on other factors. "For example," he said, "there is the separation fence which is an obstacle to the resistance [i.e., the terrorist organizations], and if it were not there, the situation would be entirely different" (Nov. 11, 2006)
Mousa Abu Marzouq , deputy chairman of Hamas's political bureau in Damascus , was asked by a group of Egyptian intellectuals and politicians why the suicide bombing activity had decreased during since the Hamas government came to power. He said that " [carrying out] such attacks is made difficult by the security fence and the gates surrounding West Bank residents " (June 2, 2007)
THE CANDIDATES:
John McCain... today's headlines with excerpts
Blogger outreach boosts McCain
Mr. McCain's blogger outreach, the most extensive of any presidential campaign in either party, helped keep him afloat in the dark days last summer when the major press was sizing up his campaign grave. During those times, Mr. McCain got attention and digital ink from the bloggers he invited to biweekly conference calls, and got a chance to talk policy.
"If anybody needed the blogosphere it was McCain," Mr. Lewis said, adding that Mr. McCain recently told bloggers he would continue to give them access throughout the campaign. "He essentially said, 'How could I not — there for a while this summer, you were the only people who talked to me.' "
McCain polls well amid war, economic worries
Recent polling shows large numbers of Democrats who back either Clinton or Obama would vote for McCain if their candidate does not win the nomination. One survey, for example, shows 28% of Clinton supporters would cast their ballot for McCain ahead of Obama. Among Obama supporters, 19% would back McCain over Clinton.
Those figures are particularly distressing inside the Democratic party because the crossover effect in McCain's favor intensifies as the Illinois and New York senators focus on one another over McCain with five months remaining before the August party convention.
McCain's re-launch begins - highlighting family's military roots
from today's McCain speech:
"...Generations of McCains were born and raised in Carroll County, on land that had been in our family since 1848… By all accounts, the McCains of Carroll County were devoted to one another and their traditions; a lively, proud and happy family on the Mississippi Delta. Yet, many McCains left here as young men to pursue careers in what has long been our family's chosen profession -- the United States Armed Forces."
McCain's campaign also has released a Web video highlighting his family's military service.
see also: McCain takes walk down memory lane
McCain tour to reveal his story to voters
McCain faces test in wooing elite donors
With attention focused on the Democrats' infighting for the presidential nomination, Senator John McCain is pressing ahead to the general election but has yet to sign up one critical constituency: the big-money people who powered the Bush fund-raising machine.
As he reintroduces himself to voters this week with stops like one at the Naval Air Station in Meridian, Miss., where he was a flight instructor, Mr. McCain will also attend to another crucial task by courting donors in Mississippi, Florida and Tennessee.
Young voters may not remember McCain's heroic past
Half of all living Americans today were born after McCain's A4E Skyhawk was shot down in an attempted bombing run on the Yen Phu power plant. Thus his story here bears retelling.
When his father became head of U.S. forces in Vietnam, the North Vietnamese offered to let McCain out. But he refused to go unless all the POWs went home with him. That meant remaining in captivity until March 1973.
He came home having suffered numerous broken bones. To this day he is unable to raise his arms above his head because of his injuries.
Hillary Clinton... today's headlines with excerpts
Clinton didn't pay health insurance bills
Among the debts reported this month by Hillary Rodham Clinton's struggling presidential campaign, the $292,000 in unpaid health insurance premiums for her campaign staff stands out.
Clinton, who is being pressured to end her campaign against Barack Obama for the Democratic nomination, has made her plan for universal health care a centerpiece of her agenda.
Rosy words for Hillary Clinton by 90's nemesis
To Bill and Hillary Clinton, Richard Scaife qualifies as a charter member of the "vast right-wing conspiracy," having bankrolled an elaborate multimillion-dollar campaign throughout the 1990s to unearth damaging information about the couple.
But in a striking about-face, Mr. Scaife now says he has changed his mind — at least about one half of the duo.
"I have a very different impression of Hillary Clinton today," he wrote in an opinion article published Sunday, amid her campaign for president. "And it's a very favorable one indeed."
His sudden conversion from fervid Clinton basher to lukewarm Clinton fan occurred after Mrs. Clinton, a Democratic senator from New York, sat down for a 90-minute interview with reporters and editors of The Pittsburgh Tribune-Review, a newspaper owned by Mr. Scaife, the billionaire heir to the Mellon banking fortune.
... Mr. Scaife, who attended the meeting, wrote in The Tribune-Review that the senator "exhibited an impressive command of many of today's most pressing domestic and international issues." Her answers, he added, "were thoughtful, well-stated and often dead on."
Bill Clinton: debate does not hurt the Dem party
Allowing the Democratic presidential race to continue several more weeks will not hurt the party's chances in November, former president Bill Clinton said Sunday in San Jose, Calif. He urged people to "chill out" and let the balloting run its course.
Clinton said Sen. Hillary Rodham Clinton of New York wasn't damaging the party by staying in the race even though she is behind in delegates and unlikely to overtake the Illinois senator based on the contests to come.
Barone: Clinton wins popular vote, Obama w
ins delegate count
... the Clinton campaign could argue that Obama cannot win states with most of the nation's people even if he wins all the remaining eight primaries. Could argue—but I don't think that's going to persuade any superdelegates that Clinton is the real winner.
Barack Obama... today's headlines with excerpts
Obama had greater role on liberal survey
Obama's handwriting found on liberal statements he 'never saw;...
During his first run for elected office, Barack Obama played a greater role than his aides now acknowledge in crafting liberal stands on gun control, the death penalty and abortion– positions that appear at odds with the more moderate image he's projected during his presidential campaign.
The evidence comes from an amended version of an Illinois voter group's detailed questionnaire, filed under his name during his 1996 bid for a state Senate seat...
Obama gains another superdelegate
Sen. Amy Klobuchar of Minnesota is expected to endorse Sen. Obama Monday, according to a Democrat familiar with her plans. Meanwhile, North Carolina's seven Democratic House members are poised to endorse Sen. Obama as a group -- just one has so far -- before that state's May 6 primary, several Democrats say.
Obama exaggerates Kennedys' role in helping his father
Contrary to Obama's claims in speeches in January at American University and in Selma last year, the Kennedy family did not provide the funding for a September 1959 airlift of 81 Kenyan students to the United States that included Obama's father. According to historical records and interviews with participants, the Kennedys were first approached for support for the program nearly a year later, in July 1960. The family responded with a $100,000 donation, most of which went to pay for a second airlift in September 1960.
Obama's charm offensive in PA
Obama has launched a charm offensive in Pennsylvania, forgoing days packed with town halls and cheering crowds at rallies to make small unannounced stops that take the locals by surprise. Case in point, trying not to strike out in Pennsylvania to Clinton, Obama went bowling Saturday night at Pleasant Valley Lanes in Altoona, five minutes from a hot dog shop that he had visited earlier in the day.
When Obama walked in with Sen. Bob Casey, who recently endorsed him, locals stopped munching mid-fry to stare. The presidential hopeful shook hands, posed for pictures and then joined local Roxanne Hart to bowl a few frames.
"I haven't bowled in 30 years," Obama declared before putting on size 13 1/2 shoes. Casey joined in, and the two rolled. Casey's ball went into the left gutter; Obama's rolled into the right. And so it went, though the locals didn't seem to mind the poor performance. Little kids offered advice and joined in the game. Casey managed to improved steadily, though the last time he bowled was in high school. Obama's balls on the on the other hand meandered their way into the gutter time and time again.
"My economic plan is better than my bowling!" Obama declared at one point to the crowd that had gathered around the lane, growing with each frame as patrons texted and called friends and family to see the political spectacle.
Eventually, in the seventh frame, Obama made a spare, cleaning up one pin left standing with his second ball. He started chanting, "Yes I can!" and a few in the crowd joined in. He quit while he was ahead, signing two bowling pins for the owners before leaving...
Obama's war stance woos some Republicans
With an eye to the general election and the Pennsylvania primary, some Republicans who oppose President Bush's war policy are endorsing Senator Obama.
Call them the Obamacans...
The Obamacans include a former senator of Rhode Island, Lincoln Chafee; a former senior Justice Department official under President Reagan and senior legal adviser to Mitt Romney's presidential campaign, Douglas Kmiec, and a granddaughter of President Eisenhower, Susan Eisenhower. The group one day may include Senator Hagel, a Republican of Nebraska, who has co-sponsored Iraq withdrawal legislation with leading Democrats. Asked yesterday on CNN whether he would endorse his party's presumptive nominee, Mr. Hagel said he would base his support on the candidates' positions on withdrawing from Iraq.
Ralph Nader... today's headlines with excerpts