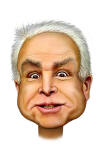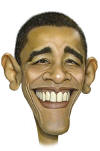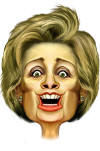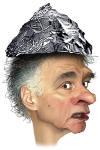 click on each candidate to see today's news stories (caricatures by Linda Eddy)
Thursday, May 1, 2008
GENERAL NEWS HEADLINES with excerpts
McCain tells Iowans he would veto farm bill over subsidies
"I have to give you a little straight talk about the farm bill that is wending its way through Congress," McCain said Thursday at the Polk County Convention Center.
"I do not support it. I would veto it," he said. "I would do that because I believe that the subsidies are unnecessary."
McCain was in the heart of farm country, a place where subsidies for corn and ethanol fuel are wildly popular.
Dem leader under Clinton switches to Obama
switched his allegiance to Barack Obama and is encouraging fellow Democrats to "heal the rift in our party" and unite behind the Illinois senator.
Joe Andrew, who was Democratic National Committee chairman from 1999-2001, planned a news conference Thursday in his hometown of Indianapolis to urge other Hoosiers to support Obama in Tuesday's primary, perhaps the most important contest left in the White House race. He also has written a lengthy letter explaining his decision that he plans to send to other superdelegates.
"I am convinced that the primary process has devolved to the point that it's now bad for the Democratic Party," Andrew said in a telephone interview with The Associated Press.
Hillary also picks up a superdelegate today
Clinton is expected to pick up one today as well -- John Olsen, president of the Connecticut AFL-CIO. The Hartford Courant first reported it this morning. Olsen will hold a 2 p.m. news conference at the state capitol to announce the endorsement, per a Connecticut AFL-CIO source. Yesterday, Clinton got the backing of another state AFL-CIO president, Bill George of Pennsylvania.
Obama's negatives rise, Clinton tops McCain in new poll
A new CBS/New York Times poll released on Wednesday shows Sen. Obama, D-Ill., and presumptive Republican nominee Sen. John McCain, R-Ariz., tied in a hypothetical general election match-up, while Sen. Hillary Clinton, D-N.Y., edges out McCain by a five-point margin.
Poll: Obama-Clinton divide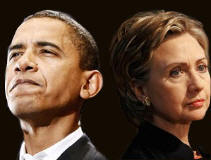 As the Democratic nominating contest rages on, most of Barack Obama's supporters say they would be satisfied if Hillary Clinton wins the party's nomination for president. But that positive sentiment is not entirely reciprocated among Hillary Clinton's supporters, according to the latest New York Times/CBS News poll.
Support for Republicans falls, but race for Prez is tight
Only 27% of voters have positive views of the Republican Party, according to the latest Wall Street Journal/NBC News poll, the lowest level for either party in the survey's nearly two-decade history.
Yet the party's probable presidential nominee, Sen. John McCain, continues to run nearly even with Democratic rivals Sen. Barack Obama and Sen. Hillary Clinton. His standing so far makes for a more competitive race for the White House than would be expected for Republicans, who face an electorate that overwhelmingly believes the country is headed in the wrong direction under President Bush.
Economists criticize plan to halt gas tax
Backing up Obama's position against Clinton's proposal to suspend the 18.4-cent-per-gallon tax for the summer is a slew of economists who argue that the proposal, first offered by Sen. John McCain, the presumptive GOP nominee, would be counterproductive. They argue that cutting the tax would drive up demand for gas at a time when the supply is tight, which would mean that the price at the pump would drop by much less than 18 cents per gallon.
The tax suspension would, as a result, cut into the highway trust fund that the tax supports, a loss of about $9 billion over the summer, but also result in fatter profit margins for oil companies. Clinton says she would replace the lost revenue by raising taxes on the oil industry.
Carter says Obama can transform America's image
"overseas there is an intense infatuation with Obama, perhaps more than there ever has been in previous history with any candidate".
"A lot of them see Obama as kind of a diametrical opposite from George W. Bush and they think that he will bring to the presidency a brand new picture of what the White House and Washington and the United States ought to be."
---
THE CANDIDATES:
John McCain... today's headlines with excerpts
Interest groups slam McCain
Liberal political action group MoveOn.org began showing a new television ad tying John McCain to President Bush on Wednesday, the five-year anniversary of President Bush's "Mission accomplished" remark about Iraq.
Another powerful labor organization, the AFL-CIO, rolled out a new, multi-dimensional campaign warning swing-state voters that a McCain presidency would be bad for working class families. The group is sending mailers, handing out fliers to union members at the workplace, and on May 17 will conduct a door-to-door drive against Mr. McCain
Fred Thompson to campaign with McCain next week
The Winston-Salem Journal reports that Fred Thompson, who for much of last year's presidential shadow campaign was the great conservative hope, will finally campaign in person with John McCain.
Thompson, like most of the rest of McCain's former opponents for the Republican presidential nomination, has endorsed McCain but, unlike the others, had not appeared with him on the campaign trail.
Senate formally declares McCain is qualified for run
The Senate on Wednesday delivered its judgment on a constitutional question involving one of its own and formally declared that Senator John McCain is eligible to be president — at least from a citizenship perspective.
McCain visit innovative hospital in Allentown, Pa.
Doctors at the facility used several large flat-screen televisions to connect to remote locations, displayed real-time patient data on computer screens and showed how medical records, including X-rays, could be instantly retrieved on its network...
Funding McCain's campaign
John McCain's fund-raising report for March revealed that the presumptive Republican presidential nominee had returned nearly $3 million in contributions that had been earmarked for the general election. That action sets the stage for Mr. McCain to accept the $84 million in public financing for the general election. The money will be available after the Republican Party's convention in early September.
Hillary Clinton... today's headlines with excerpts
Wright uproar boosts Hillary's confidence
... if the mathematics of the race has not changed, aides believe the psychology has.
Before, the Clintons knew they were fighting a story line that said she could never win unless superdelegates take the nomination away from a popular African-American who came in first.
Now they hope that they have subtly shifted to a new story line: Superdelegates must think twice before bestowing the nomination on an increasingly controversial politician who has missed repeated opportunities to wrap up the contest with a decisive, big-state victory...
Hillary pulls even on the air
Given the huge financial disparity that separates Sen. Barack Obama from Sen. Hillary Clinton, it may be surprising to learn that they are now spending at almost an even clip on television advertising in Indiana and North Carolina.
Obama and Clinton have both been spending about $100,000 a day in Indiana this week, and Clinton's $135,000 daily advertising purchase in North Carolina actually exceeds the $120,000 that Obama is spending there this week...
Hillary decries China's acquisition of Indiana company - despite husband's role in the sale
Sen. Evan Bayh, D-Ind,, Clinton's top surrogate in the state, often joins her on the stump in bashing the president for allowing Magnequench to move abroad. What Bayh doesn't tell voters these days is that he has blamed the company's moving on a 1995 decision made by Clinton's husband's administration.
Clinton supporters fund anti-Obama ads in Indiana
With Sen. Barack Obama's campaign stumbling in recent days, Sen. Hillary Rodham Clinton's backers have poured $1 million into an independent ad campaign in Indiana critical of Obama's economic recovery program.
With $220,000 in ad buys Wednesday alone, the California-based American Leadership Project has spent more on advertisements in Indiana than in the other, more populous states where it has been active: Texas, Pennsylvania and Ohio.

Barack Obama... today's headlines with excerpts
Voters in next primary states say Wright has hurt Obama but question how deeply
Black and white voters in next week's primary states agreed on one thing Wednesday: Barack Obama's preacher had hurt the Democratic presidential candidate at a crucial time. The question was how much...
Bayh warns that GOP may 'swift boat' Obama over Rev. Wright
Sen. Evan Bayh (D-Ind.) praised Sen. Barack Obama for denouncing his former pastor, but warned that Republicans will use the association to try to "Swift Boat" the Illinois senator if he becomes the Democratic presidential nominee this fall.
Obama's lawmakers try to shrug off Rev. Wright
Some lawmakers, such as Rep. Emanuel Cleaver (D-Mo.), suggest worries behind the scenes about the re-emergence of Wright are more serious. After coming off the floor Tuesday night, Cleaver said an Obama supporter had just told him, "We're scared to death."....
Broder: A pastor's influence
In his achingly slow steps toward repudiating the repugnant words of his former pastor, the Rev. Jeremiah Wright, Barack Obama has run the risk of serious political damage by leaving vague what it was that attracted him to this outspoken critic of American society.
see also: Novak: Obama's misplay
Michelle Obama on Wright: 'We gotta move forward'
NBC has released an excerpt from its interview with Barack and Michelle Obama.
MEREDITH VIEIRA: Michelle, do you feel that the Reverend Wright betrayed your husband?
MICHELLE OBAMA: I think Barack has spoken so clearly and eloquently about this.
MEREDITH VIEIRA: But do you personally feel that the Reverend Wright...
MICHELLE OBAMA: You know what I think Meredith? I think we gotta move forward. You know, this conversation doesn't help my kids. You know, it doesn't help kids out there who are looking for us to make decisions and choices about how we're going to better fund education.
Loss and furor take toll on Obama, poll finds
Fifty-one percent of Democratic primary voters say they expect Mr. Obama to win their party's nomination, down from 69 percent a month ago. Forty-eight percent of Democrats say he is the candidate with the best chance of beating Senator John McCain of Arizona, the presumptive Republican nominee, down from 56 percent a month ago....
Wright remains a concern for some Democrats
... some party leaders and superdelegates said the Wright controversy has given them pause, raising questions about Mr. Obama's electability in the general election next fall.
... Chris Redfern, the chairman of the Ohio Democratic Party, who is uncommitted, said Mr. Obama's delay in responding to Mr. Wright may have hurt the senator's standing with many voters — in particular, the so-called Reagan Democrats who live in places like Toledo.
Obama camp files complaint against pro-Clinton group
The Obama campaign stepped up its attack on The American Leadership Project, a pro-Clinton 527 organization that has been running ads in a number of primary states praising the policies of Hillary Rodham Clinton and criticizing those of Barack Obama.
Bob Bauer, the Obama campaign finance lawyer, called the group a "Swift Boat Wannabe," in a conference call with reporters today. The conference call was convened in response to group's plan to broadcast television ads in Indiana accusing Mr. Obama of lacking proposals to fix an "economy in trouble."
Mr. Bauer said the Obama campaign would file a complaint with the Federal Election Commission, claiming that the American Leadership Project should register with the commission as a political action committee, a designation that would require it to abide by federal campaign finance restrictions that limit donations.
Ralph Nader... today's headlines with excerpts
view more past news & headlines