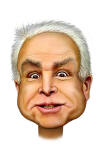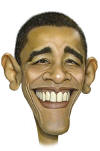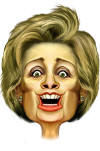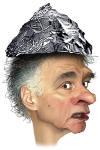 click on each candidate to see today's news stories (caricatures by Linda Eddy)
Monday, May 5, 2008
GENERAL NEWS HEADLINES with excerpts
Tuesday's primaries unlikely to end Dem race
Barring the unexpected -- a blowout in either state, or twin victories by either Obama or Clinton -- the probable outcome is a continued stalemate.
That would give each candidate incentive to keep running at least until June 3, the last day of the primary season: Obama because of his seemingly insurmountable lead in nominating delegates and the popular vote, and Clinton because of doubts sown in recent weeks about Obama's general-election viability.
Zogby poll: Obama lead in N.C. only 8 points; Indiana turmoil
More evidence of turmoil in Indiana: among those Hoosier voters who said they have changed their support in the last two weeks, one-third of them – 33% - said the recent statements of Barack Obama's former pastor, the Rev. Jeremiah Wright, made them less likely to support him.
Gallup poll: Obama 'significantly damaged' by pastor
In the USA TODAY survey, taken Thursday through Saturday, Clinton leads Obama among Democrats and Democratic-leaning independents by 7 percentage points, the first time in three months she has been ahead. Two weeks ago, before the controversy over comments by Jeremiah Wright reignited, Obama led by 10 points.
Indiana poll: Clinton soars in Obama territory
Hillary Rodham Clinton leads Barack Obama by double digits in northwest Indiana, an urban area with a sizable minority population where the Illinois Democrat should be doing well, according to a poll released yesterday.
Obama trails Clinton by 13 points in the region bordering Chicago, according to a poll conducted by the Munster Times.
... The Obama campaign also got more bad news yesterday out of North Carolina. A CNN poll released yesterday has Clinton within 8 points of Obama, who leads 50 percent to 42 percent.
Clinton steals one show, while Obama endures another
Mrs. Clinton was forceful, confident and at times even frisky as she easily deflected questions from Mr. Stephanopoulos and members of a town-hall-style meeting in Indianapolis. Mr. Obama, usually the one to see the humor in politics, instead looked grave and dispirited...
Barack Obama, Hillary Clinton, Howard Dean... FOX News is now 3-for-3
It must be time to hold hands around the campfire and start singing "Kumbaya": Democratic National Committee Chairman Howard Dean appeared this morning on "Fox News Sunday," capping a week of appearances by party heavyweights on the network the Democrats had once shunned.
Last Sunday, Sen. Barack Obama stopped the "Obama Watch" clock at 772 days when he was questioned by Chris Wallace on "Fox News Sunday." And Sen. Hillary Clinton chatted amiably with Bill O'Reilly for a two-part interview on "The O'Reilly Factor" broadcast Wednesday and Thursday.
Wallace grills Howard Dean
Howard Dean made his much-anticipated appearance on Fox, and found the environment much less friendly than did Barack Obama last week. Chris Wallace pressed the DNC chair hard on the latest ads from his organization, which even the nonpartisan group Fact Check insist are distortions of John McCain's remarks on the economy and on Iraq: video
Something wasn't Wright...
Why Oprah left Rev. Wright's church

Winfrey was a member of Trinity United from 1984 to 1986, and she continued to attend off and on into the early to the mid-1990s. But then she stopped. A major reason—but by no means the only reason—was the Rev. Jeremiah Wright.
According to two sources, Winfrey was never comfortable with the tone of Wright's more incendiary sermons, which she knew had the power to damage her standing as America's favorite daytime talk-show host...
---
THE CANDIDATES:
John McCain... today's headlines with excerpts
Grand Old Patriot has a fighter's chance: poll
John McCain's reputation as a patriotic war hero gives him a shot at the White House despite a horrible political environment for Republicans, surveys show.
"Character always matters, and character is [his] strongest selling point," poll analyst Frank Luntz said. "The issues are against him; the partisan makeup of the electorate is against him; everything is against him - except his character."
McCain in Florida targets Obama with Cuban, Jewish voters
Obama has said he is willing to meet with such nefarious foreign leaders such as Raúl Castro, who took over the leadership of Cuba from his ailing brother, and Mahmoud Ahmadinejad, the Iranian leader who denies the Holocaust happened.
Where the Democratic front-runner sees opportunities to inspire democracy and defuse military threats, the Republican nominee-in-waiting warns of gambles that would compromise the security of the United States and its allies. Democrat Hillary Clinton also has assailed Obama's position as ``naive.''
Will McCain's age be just a number in '08?
Veterans of both campaigns agree that with McCain as the GOP nominee, age will again be an issue — and say the Reagan and Dole experiences offer the McCain team some best-case and worst-case scenarios on how to deal with it...
McCain urged to play up personal life and war heroics
McCain's reticence, born of both a natural modesty and a fierce determination to protect his family's private life, has begun to worry prominent Republican strategists, who believe the endless Democratic feuding between Hillary Clinton and Barack Obama has opened the White House door to McCain – provided he opens up his own life to the kind of intimate scrutiny that presidential voters have come to expect.
Obama and McCain's differences to well beyond the obvious
John McCain, more spontaneous and accessible, and Barack Obama, more disciplined and remote, are two unconventional presidential candidates, each with styles all their own.
Contrasts on the campaign trail run the gamut, from the way they stage events and draw crowds to how they court voters and handle reporters...
NYTimes: McCain not forthcoming about his health

Senator John McCain is 71 years old, a survivor of an aggressive form of skin cancer. If elected, he would be the oldest man to become president.
These factors are not disqualifying, but they impose on Mr. McCain a larger duty than usual to provide detailed, timely disclosure about his health. So far, he has failed to meet this obligation to voters, even though he is now the presumed Republican nominee.
Hillary Clinton... today's headlines with excerpts
Hillary turns tables on Stephanopoulos during interview
Here's the comment by the former first lady during the interview:
"Now, you remember this, because George did work in that '92 campaign, and George and I actually were against NAFTA," she told the audience of voters who were present for the television interview.
"I'm talking about him in his previous life, before he was an objective journalist and didn't have opinions about such matters."
see also:
Hillary's ABC interview in one word: awkward
Hillary: 'Still the underdog' in Indiana
Clinton urged her supporters to be there for her on Tuesday. She set low expectations, saying she has been down and still is down. "Let's just do this final push. We came from so far behind in Indiana. We're still the underdog. But we are moving forward. We're moving forward because of you."
Broder: Can Hillary win without blowing up the party?
...In effect, my friend was saying that may well be beyond Clinton's power to win the nomination without severely damaging the party. Only Obama can make her winning seem right....
Hillary hedges on convention question
When asked if she would go all the way to the convention -– she said, "Well, I plan on going through the next contests -– West Virginia, Kentucky and others."
Clinton has previously said she plans to go all the way to the convention if Michigan and Florida are not settled. This may indicate a possible shift in thinking about how the rest of this campaign will play out, depending on what happens in the North Carolina and Indiana primaries...
Hillary says she's 'unapologetic' over gas tax proposal

Hillary Clinton said she will not give up in her pursuit to temporarily eliminate the federal gas tax for the summer.
"I am unabashed! I am unapologetic! I am going to fight for the middle class and I am going to take on the oil companies and everybody else who's had it their way for way too long!" said Clinton in Indiana.
see also:
Clinton 'not going to put my lot in with economists' on gas tax
Hillary disses elite economists
Hillary says she is 'no shrinking violet' amid cheers for Obama
Hillary Clinton had to endure cheers for Sen. Barack Obama and boos for the North Carolina governor, who has backed her, at the North Carolina Democratic Party's Jefferson-Jackson dinner in Raleigh, N.C., Friday evening -- where both she and Obama spoke.
Toward the end of her speech, Clinton pointed out to the crowd that she thinks she is tough, saying to the crowd, "I am no shrinking violet."
Clinton, attempting to show that there will be party unity, said, "If Sen. Obama is the nominee, you better believe I'll work my heart out for him."
Hillary: Limbaugh has 'always had a crush on me'
Stephanopoulos pointed out that Limbaugh has encouraged Republicans to vote for Clinton in state primaries, in an effort to divide and weaken the Democratic Party before the general election.
"He's always had a crush on me," Clinton said jokingly, prompting the audience of about 200 people to erupt into laughter.
Hillary visits DQ: 'two of my favorite things - ice cream and Snickers'
Barack Obama... today's headlines with excerpts
Obama reels in Tom Hanks
Tom Hanks has just released a new short film - endorsing Barack Obama for president.
"As an official celebrity, I know my endorsement has just made my mind up for you," the two-time Oscar winner jokes in a 2 1/2-minute homemade video on his myspace.com page.
"I want Barack Obama to be the next president of this country," Hanks says. "My support for Obama isn't just about breaking boundaries; it's because of his character and vision and the high road he has taken in this campaign."
Obama says Teamsters need less oversight
Sen. Barack Obama won the endorsement of the Teamsters earlier this year after privately telling the union he supported ending the strict federal oversight imposed to root out corruption, according to officials from the union and the Obama campaign.
It's an unusual stance for a presidential candidate. Policy makers have largely treated monitoring of the International Brotherhood of Teamsters as a legal matter left to the Justice Department since an independent review board was set up in 1992 to eliminate mob influence in the union.
Obama's health care record
As a presidential candidate, Mr. Obama says people lack health insurance because "they can't afford it." He's right. But he is also partly responsible for why health insurance is too expensive. A long list of studies show that mandates like the ones Mr. Obama has championed drive up the cost of insurance for the very people priced out of coverage...
Obama on Meet the Press: transcript
Clinton's 'obliterate' Iran statement too much like Bush
Barack Obama on Sunday accused Sen. Hillary Clinton of echoing the "bluster" of President Bush when she said the U.S. would be able to "obliterate" Iran if it used nuclear weapons against Israel.
"It's not the language we need right now, and I think it's language reflective of George Bush," Obama told NBC's "Meet the Press."
Obama: Wright was never my political counsel
Barack Obama said Sunday he never sought Rev. Jeremiah Wright's counsel on political issues and would "absolutely not" seek his advice on policy if he gets to the White House.
... "He put gasoline on the fire," Obama said, describing Wright as someone who felt attracted to the national spotlight, but who used that position to divide the country, not unite it. He added that he disagrees with Wright's views about the country, and considers the U.S. "a force for good in the world" despite its troubled history of race relations.
Obama: change in ethanol policy might be needed
Democrat Barack Obama said Sunday the federal government might need to rethink its support for corn ethanol because of rising food prices, a stance similar to Republican John McCain's but at odds with farm states considered important to the November election.
CBS poll shows Obama gains after denouncing pastor
Among Democratic primary voters, the Illinois senator now leads opponent Hillary Clinton by 12 points -- 50 percent to 38 percent -- the poll found. Obama led the New York senator by 8 points in a CBS/New York Times poll released just a few days ago...
Obama slams Hillary for gas tax holiday proposal
"This [issue] defines, I think, the difference between myself and Senator Clinton," Obama said, calling her proposal "a classic Washington gimmick." He said the proposal, to suspend the federal gas tax for three months and make up the hit to the federal budget by taxing oil companies, would save the average driver just 30 cents per day. "It is a political response to a serious problem we have neglected for decades," he said.
"What I've said is my top priority is making sure people are able to get enough to eat. If it turns out we need to make changes in our ethanol policy to help people get something to eat, that has got to be the step we take," said Obama, D-Ill., on NBC's "Meet the Press."
Obama's patriotic,
family values closing
in Indiana
The entire Obama family is on the campaign trail. It's the first time Obama's daughters (ages 6 and 9) have been with him on the stump since the Iowa caucuses.
Charlotte Observer backs Obama
North Carolina's biggest paper backs Obama for his potential to restore decency to politics, and for a list of reasons it doesn't like Hillary...
Ralph Nader... today's headlines with excerpts
view more past news & headlines