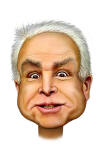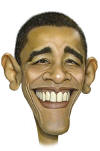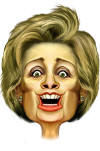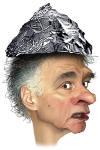 click on each candidate to see today's news stories (caricatures by Linda Eddy)
Wednesday, May 7, 2008
GENERAL NEWS HEADLINES with excerpts
North Carolina...

Obama 56% Clinton 42%

Indiana...

Clinton 51% Obama 49%
Politico's Ben Smith: Obama takes decisive step toward nomination
Clinton's case to party elders — that Obama was a flawed, flagging candidate — lost much of its altitude despite a nail-biting and narrow victory in Indiana. Her bread-and-butter pitch to voters fell prey to the doubts Obama's television campaign raised about her sincerity. What had been, in the best of scenarios an up hill climb, became far steeper...
NYTimes: Options dwindling for Clinton
If anything, Mrs. Clinton's hopes for overtaking Senator Barack Obama dwindled further on Tuesday night...
WashingtonPost: Obama is decisive winner in N.C.; Clinton ekes out victory in Indiana
Clinton presses on: "...it's full speed -- on to the White House."
WashingtonTimes: Obama: N.C. win a victory against 'politics of division'
"... today, what North Carolina decided is that the only game that needs changing is the one in Washington, DC.," said Obama...
... Obama acknowledged there were "bruised feelings on both sides" in the marathon fight for the Democratic nomination. "Each side desperately wants their candidate to win."
Still, he said, "This fall, we intend to march forward as one Democratic Party, united by a common vision for this country."
"We can't afford to give John McCain the chance to serve out George Bush's third term," he said.
Exit polls: race key in N.C., IN but Wright's impact mixed
Race again played a pivotal role in Tuesday's Democratic presidential clashes, as whites in Indiana and North Carolina leaned solidly toward Hillary Rodham Clinton and blacks voted overwhelmingly for Barack Obama, exit polls showed. Half the voters said they were influenced by the focus on Obama's former pastor, the Rev. Jeremiah Wright....
North Carolina: full exit poll results
Tim Russert:
"We now know who the nominee will be"
James Carville:
Democrats deeply divided
Carville concludes that for the Democratic nominee,
uniting the party "is going to be one demanding,
difficult job" ...
Gingrich: GOP needs swift changes
"This plan should involve real change in legislative, communications, and campaign strategy and involve immediate, real action, including a complete overhaul of the Congressional Campaign Committee," Mr. Gingrich wrote.
---
THE CANDIDATES:
John McCain... today's headlines with excerpts
26% of GOP voters
against McCain in North Carolina
22% of GOP voters
against McCain in Indiana
McCain seeks to quash fears on the right; pledges conservative Supreme Court judges
John McCain promised on Tuesday to nominate conservative judges to the Supreme Court and for other judicial vacancies, seeking to quash doubts among some Republicans about his conservative credentials.
The Republican presidential candidate said he would use John Roberts and ­Samuel Alito, who were appointed to the Supreme Court by President George W. Bush, as his "model" when choosing nominees.
McCain: Obama's wrong on judges
McCain: "Somehow, by Sen. Obama's standard, even Judge Roberts didn't measure up. And neither did Justice Samuel Alito. Apparently, nobody quite fits the bill except for an elite group of activist judges, lawyers, and law professors who think they know wisdom when they see it –- and they see it only in each other.
"I have my own standards of judicial ability, experience, philosophy, and temperament. And Chief Justice Roberts and Justice Samuel Alito meet those standards in every respect. They would serve as the model for my own nominees if that responsibility falls to me."
Hillary Clinton... today's headlines with excerpts
Hillary camp cancels all Wednesday appearances
was scheduled to appear on all morning shows...
Clinton lends herself $6.4 million as Obama's lead grows
A campaign aide says Hillary Rodham Clinton loaned herself $6.4 million in the past month...
Hillary pledges to press ahead despite loss in N.C.
"Tonight, we've come from behind. We've broken the tie, and thanks to you, it's full speed on to the White House," Clinton told hundreds of supporters in downtown Indianapolis. Former President Clinton and daughter Chelsea were by her side.
Underscoring the difficulty of her effort to block Obama from claiming the Democratic nomination, Clinton also made a direct fundraising appeal to backers to help her compete against his better-financed operation.
Clinton aides doubtful about future
After failing to win the decisive sweep in North Carolina and Indiana that could have reshaped the Democratic race, disappointed aides to Sen. Hillary Rodham Clinton conceded it would be difficult for her to catch Sen. Barack Obama in either delegates or overall votes in the six remaining contests.
The outcome caused the candidate and her campaign to intensify their efforts to persuade party leaders to include the results of disqualified contests in Michigan and Florida, both of which she won. The Democratic National Committee's Rules and Bylaws committee is scheduled to meet on May 31 to consider two challenges pending on whether, and how, to seat delegates from those states.
Clinton desperate for super turnaround
Hillary Clinton's strategy for winning the Democratic nomination is now a fond wish wrapped in a desperate hope.
... she needs momentum, spin and fear.

Barack Obama... today's headlines with excerpts
Obama's North Carolina victory speech
video
transcript
Ralph Nader... today's headlines with excerpts
view more past news & headlines