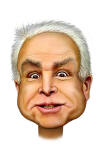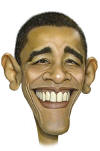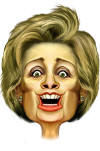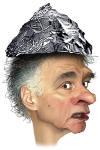 click on each candidate to see today's news stories (caricatures by Linda Eddy)
Thursday, May 8, 2008
GENERAL NEWS HEADLINES with excerpts
Obama plans to declare victory May 20th
Not long after the polls close in the May 20 Kentucky and Oregon primaries, Barack Obama plans to declare victory in his bid for the Democratic presidential nomination.
And, until at least May 31 and perhaps longer, Hillary Clinton's campaign plans to dispute it...
Clinton pushes Obama on Michigan, Florida delegates
Hillary Clinton on Thursday sent a letter to Democratic front-runner Barack Obama, asking him to work with her on a solution to allow delegates from Florida and Michigan to help choose the party's presidential nominee.
"Your commitment to the voters of these states must be clearly stated and your support for a fair and quick resolution must be clearly demonstrated," the former first lady said..
Fla. Dems ask national party to seat presidential delegation
Florida's Democratic congressional delegation called on the national party Thursday to seat the state's delegation based on its January primary, and the state party is growing more hopeful that the campaigns will agree on a plan by the end of the month...
Clinton camp opposes giving Obama more Michigan delegates
Hillary Rodham Clinton's campaign opposes Michigan's plan to give fewer delegates to her and more to rival Barack Obama.
... Michigan Democrats now back a plan that would give Clinton four delegates less than the 73 she gained by winning the state's Jan. 15 primary. Obama would get 59 pledged delegates even though he took his name off the ballot, forcing his supporters to vote for Uncommitted.
McAuliffe: it will end in June
"I think it will be all over. I don't see it going to the (August) convention. We'll have a nominee in June," the legendary fundraiser said on NBC television.

Clinton won't quit, Obama doesn't care
As Sen. Hillary Rodham Clinton made a last-minute trip to West Virginia and declared her intent to stay in the race, aides to Sen. Barack Obama signaled Wednesday that he would move towards a general election strategy over the next month.
Pundits declare the race over
Very early Wednesday morning, after many voters had already gone to sleep, the conventional wisdom of the elite political pundit class that resides on television shifted hard, and possibly irretrievably, against Senator Hillary Clinton's continued viability as a presidential candidate...
Key superdelegates keeping preferences strictly under wraps
"I plan to keep my 'secret' for a few more weeks," Brazile wrote in an e-mail. "Also, I plan to keep secret the metric I might use - a combination of electability, the will of the people, and a candidate who can help unify the party."
Clinton-Obama cash gap looms large
the extreme financial imbalance between the two candidates at this phase underscores the strategic advantage Obama gained by forcing Clinton to spend all her money to capture Pennsylvania and stay in the race. (See Politico story here.)
For Dems, signs of a
possible changing
of the guard
"There is going to be a new set of people running the show," said Simon Rosenberg, the executive director of the New Democratic Network, a political action organization not affiliated with any candidates. "The Clintons and their allies have been running the show for 16 years. You're going to see a new generation of political leaders coming to the fore. It's going to create an upheaval."
Limbaugh calls off 'operation chaos'
Limbaugh called off the operation yesterday, saying he wants Obama to be the party's pick, because "I now believe he would be the weakest of the Democrat nominees."
He added: "He can get effete snobs, he can get wealthy academics, he can get the young, and he can get the black vote, but Democrats do not win with that."
see also: Rush Limbaugh urges vote for Obama
---
THE CANDIDATES:
John McCain... today's headlines with excerpts
McCain camp's new 'Mom' video
Navy releases McCain's military record
From his five years in a North Vietnamese prison camp to his tenure as the Navy's liaison to the Senate, John McCain's Navy record boils down to a series of unadorned paragraphs that bestow upon him some of the nation's top military honors.
The Navy recently released McCain's military record - most of it citations for medals during his Navy career - after a Freedom of Information Act request by The Associated Press...
McCain jokes about his temper
In response to a question from a self-described Republican about the issue of his temper, McCain first joked, "How dare you ask that question? Get that microphone away from him." But then he confessed to being angry about governmental failures...
Romney talks up McCain, talks down Obama
Repeating a line of criticism from the McCain campaign, Romney said of Obama: "He can read a prompter very well and energize a crowd, but he has not accomplished anything during his life in terms of legislation or leading an enterprise or making a business work or a city work or a state work. He really has very little experience, and, you know, the presidency of the United States is not an internship...
Democratic schism could put some Clinton loyalists in McCain's camp
Hillary Clinton's loyalists appear to be hardening in their disdain for Barack Obama as he gets closer to the Democratic nomination.
Fewer than half of Clinton supporters in both Indiana and North Carolina said they would vote for Obama in November, according to exit polls. Instead, most said they would vote for presumptive Republican John McCain - or just stay home...
McCain pushes priorities that resonate on the right
Senator John McCain appealed to religious conservatives on Wednesday with pledges to prosecute sex traffickers, fight Internet child pornography and make religious freedom a priority in American diplomacy.
McCain's quest for the
Hispanic vote
In order to remain competitive in the general election, John McCain will have to perform a Herculean task: Court the Hispanic vote without alienating the base of the Republican Party.
Maverick McCain is currently viewed with suspicion by both camps. Hispanic immigration activists insist that Mr. McCain's current proposal which emphasizes enforcing the border first and then establishing a temporary worker program is insufficient. On the other hand, many conservatives will not support Mr. McCain if he appears weak on immigration.
Jack Kemp: McCain's savvy tax ideas
Mr. McCain understands that to raise tax rates on capital formation and entrepreneurial investments at this time of recessionary expectations and a weakening currency would be inexplicable, inexcusable and completely counterproductive.
Mr. McCain's support for the lower marginal tax rates on capital gains and dividends is on the right side of history, as well as the right side of the electorate — no pun intended.
Hillary Clinton... today's headlines with excerpts
Hillary presses on with visits to 3 states
Hillary Clinton is pushing on in her race for the Democratic White House bid, despite calls to drop out. She has events scheduled in the upcoming primary states of Oregon, South Dakota and West Virginia...
Former Clinton-backer McGovern urges her to drop out
Former Sen. George McGovern, an early supporter of Hillary Rodham Clinton, urged her to drop out of the Democratic presidential race and endorsed her rival, Barack Obama.
After watching the returns from the North Carolina and Indiana primaries Tuesday night, McGovern said Wednesday it's virtually impossible for Clinton to win the nomination. The 1972 Democratic presidential nominee said he had a call in to former President Clinton to tell him of the decision...
Support for Clinton wanes as Obama sees finish line
With the political world trained on Mrs. Clinton's financial and electoral viability, Senator Barack Obama moved closer to becoming the first African-American presidential nominee of a major party. Mr. Obama spent the day at home in Chicago, after increasing his delegate lead in Tuesday's primaries — a result that led David Plouffe, a top Obama aide, to say on Wednesday, "We can see the finish line here."
Dems quietly send word to Clinton it's over
many Democrats instead preferred to say softly what the party's 1972 presidential nominee said for all to hear. Barack Obama has won the nomination "by any practical test," McGovern said...
Stephanopoulos:
Hillary would take VP spot
Is Sen. Hillary Clinton staying in the race to get the vice presidential slot?
George thinks so.
Hillary meets with superdelegates
Sen. Hillary Clinton emerged from the Democratic National Committee headquarters in Washington after she said she met with Superdelegates. She spoke briefly to cameras, and once again stressed the importance of resolving the situation in Florida and Michigan. She did not answer a question about whether she met with Chairman Howard Dean nor did she respond when asked if she received any new superdelegate commitments.
Hillary v. Huckabee?
Compare Clinton today to Huckabee in February, and it's worth noting the similarities as this continues. Similar statements on math and notice GOP operative saying it's OK for Huckabee to stay in the race, "as long as Mike Huckabee stays positive." But, it must be pointed out, that Clinton still has a FAR greater claim to this nomination than Mike Huckabee ever did, which is why Huckabee's hanging on became the stuff of Saturday Night Live.
Roger Simon: Tough road ahead for Clinton
Why would superdelegates want to go along with her? Because she would be a much stronger candidate than Barack Obama in November?
The results so far don't suggest that. Look at what Obama accomplished Tuesday night with his overwhelming win in the 10th-largest state in the nation, North Carolina, and his narrow loss in Indiana:
Obama spent weeks with the Rev. Jeremiah Wright hanging around his neck, and Obama still did well...
5 mistakes Clinton made
1. She misjudged the mood
2. She didn't master the rules
3. She underestimated the caucus states
4. She relied on old money
5. She never counted on a long haul
Clinton lends herself $6.4 million
as Obama's lead grows
A campaign aide says Hillary Rodham Clinton loaned herself $6.4 million in the past month...
Clinton online fundraising has slowed
Clinton advisers said they were concerned that her online fund-raising, which boomed after her Ohio primary victory in March and her Pennsylvania win in April, had slowed by comparison on Tuesday night and Wednesday...
Barack Obama... today's headlines with excerpts
Obama: World wants to see U.S. lead
Sen. Barack Obama said Thursday that the most important thing he could achieve as president would be to deal with Iraq and the threat of al Qaeda in Afghanistan while improving "our influence around the world."
... "The world wants to see the United States lead. They've been disappointed and disillusioned over the last seven, eight years," he told CNN's Wolf Blitzer in an interview on "The Situation Room."
Former Edwards campaign manager endorses Obama
Former Michigan Rep. David Bonior, who directed John Edwards' presidential campaign, endorsed Sen. Barack Obama for president Thursday, saying he's the best candidate to fight for working people.
... Bonior could be a key figure in helping to sway organized labor behind Obama. Many unions, including the United Auto Workers, have not yet made an endorsement.
Invoking senatorial privilege, Obama schmoozes on House floor
Sen. Barack Obama invoked senatorial privilege and got himself onto the House floor today, where he passed the time schmoozing, signing autographs and, hmmm, maybe doing a little politicking.
... said Obama about his visit: "I just wanted to make sure that I gave an update not only to my supporters, but to those who are trying to figure out what direction to go in," he said. "Obviously some have been anxious about some of the sense of division in the party, and I just wanted to assure them that whatever happens, we will be coming together."
Obama maps out
general election strategy
"Yes, we know what's coming; I'm not naïve," he said. "The attempts to play on our fears and exploit our differences, to turn us against each other for political gain, to slice and dice this country into red states and blue states; blue-collar and white-collar; white, black, brown; young, old; rich, poor," would continue, he said.
"At this defining moment in history - a moment when we're facing two wars, an economy in turmoil, a planet in peril - we can't afford to give John McCain the chance to serve out George Bush's third term."
Obama's game changing
The formerly charismatic Obama had undergone a transformation of his own: from John F. Kennedy to Adlai Stevenson, from dashing rhetorician to good-government egghead...
Obama picks up 3 superdelegates
The Obama campaign announced three superdelegates -- Jeanette Council (NC); Jerry Meek (NC) and Inola Henry (CA) -- have pledged support. AP is reporting one more, a switch from Clinton in Virginia, Jennifer McClellan.
Obama camp: the finish line is near
In its own conference call with reporters this morning, the Obama campaign and some of its key surrogates argued that the results from last night's contests marked the beginning of the end of the Democratic race...
Ralph Nader... today's headlines with excerpts
view more past news & headlines