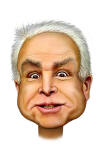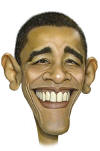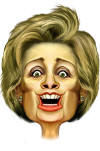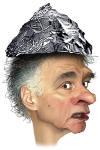 click on each candidate to see today's news stories (caricatures by Linda Eddy)
Monday, May 12, 2008
GENERAL NEWS HEADLINES with excerpts
Obama, McCain map fall strategies
Senators John McCain and Barack Obama are already drawing up strategies for taking each other on in the general election, focusing on the same groups — including independent voters and Latinos — and about a dozen states where they think the contest is likely to be decided this fall, campaign aides said.
Obama willing to meet McCain at townhall debates
Republican strategist Mark McKinnon has suggested the two candidates agree to campaign in some states together, to attend joint town hall meetings and debate each other without a moderator. McKinnon called the town hall meeting McCain's "best format" and said joint campaigning would test Obama's "claims that he wants a clean fight on the issues."
... Obama said Saturday that he was open to the idea, should he become the nominee.
GOP convention head resigns over Myanmar ties
The man picked by the John McCain campaign to run the 2008 Republican National Convention resigned Saturday after a report that his lobbying firm used to represent the military regime in Myanmar.
... Goodyear is chief executive of DCI Group, a lobbying firm that Newsweek reported in a story posted online was paid $348,000 in 2002 to represent Myanmar's junta.
Feminists sharply divided between Clinton, Obama
No constituency is more eager to see a woman win the presidency than America's feminists, yet - despite Hillary Rodham Clinton's historic candidacy - the women's movement finds itself wrenchingly divided over the Democratic race as it heads toward the finish.
Rush Limbaugh: 'My impact will increase'
"If anything, my impact will increase with a McCain presidency," Limbaugh said. "The question is whether the MSM's impact will be lessened, which is slowly happening all around us. I will thrive as always."
Ron Paul's forces quietly plot GOP convention revolt against McCain
... the forces of Rep. Ron Paul have been organizing across the country to stage an embarrassing public revolt against Sen. John McCain when Republicans gather for their national convention in St. Paul at the beginning of September.
... While Paul has consistently refused a third-party bid, he has vowed not to endorse McCain, a refusal mirrored by hundreds of his supporters
---
THE CANDIDATES:
John McCain... today's headlines with excerpts
McCain addresses climate change
John McCain is set to outline his proposal for offsetting global warming in a major address in Portland, Ore., this afternoon. His campaign says he'll "propose a domestic cap-and-trade system that will mobilize market forces to develop and commercialize alternatives to carbon-based fuels" — a split from the Bush administration, which has largely ignored the topic.
see also:
McCain urges free-market principles to reduce global warming
McCain camp vs. Newsweek
Newsweek's cover piece about the coming Obama-McCain battle prompts a lengthy Saltergram to the mag's editor Jon Meacham.
I'm guessing Salter took umbrage (with some justification) at this, among other passages: "The Republican Party has been successfully scaring voters since 1968, when Richard Nixon built a Silent Majority out of lower- and middle-class folks frightened or disturbed by hippies and student radicals and blacks rioting in the inner cities."...
Another McCain aide out over Myanmar ties
The Atlantic's Ambinder reported: "Doug Davenport, the regional campaign manager for the mid-Atlantic states, founded the DCI Group's lobbying practice and oversaw the contract with Myanmar in 2002. …He joins former DCI Group CEO Doug Goodyear, who resigned yesterday from the post of convention CEO after Newsweek reported that DCI was paid more than $300,000 to represent Myanmar's ruling junta.
Obama's 2-front battle has given McCain an edge
...because of the long, bruising Democratic campaign, McCain has gotten an early jump. Day by day, week by week, McCain has been portraying Obama as inexperienced, self-entitled and effete, a candidate coddled by a loving press corps and lacking the judgment necessary for the highest office in the land.
It's a line of attack likely to last through the fall election.
"We'll make the case that Barack Obama is a wonderful new voice selling old, discredited ideas, including the most massive tax increase since Walter Mondale ran for president," said Steve Schmidt, a senior McCain adviser. "It's a combination of weakness, not being ready to be president and not being able to deliver on the things he says he will deliver on."

Hillary Clinton... today's headlines with excerpts
Group pushing Hillary as VP choice tied to her campaign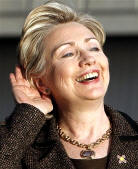 A group called VoteBoth has been leading the charge for Hillary Clinton and Barack Obama to team up on the Democratic ticket.
But the people behind it come from just one of those camps — Clinton's — and one of their goals may be keeping Clinton's White House prospects alive.
The group's founder, Adam Parkhomenko, until recently worked as an assistant to Patti Solis Doyle, who was Clinton's campaign manager until February. Parkhomenko in 2003 founded the Draft Hillary for President Committee...
Clinton team acknowledges $20 million debt
Clinton aides continued to insist that she will remain in the race even while confirming that she is $20 million in debt. "The voters are going to decide this," senior adviser Howard Wolfson said on "Fox News Sunday," acknowledging the $20 million figure. "There is no reason for her not to continue this process." Wolfson said he has seen "no evidence of her interest" in pursuing the second-place spot on the Democratic ticket, contrary to rumors that she is staying in the race to leverage a bid for the vice presidential nomination...
Conyers very worried about Clinton
Rep. John Conyers said Saturday he is "very worried" that Hillary Clinton's continued campaign will make it more difficult to unify the Democratic Party this fall, but told fellow supporters of Barack Obama that the best way to end the nomination race is with kindness.
"Here's how we close this thing down early," the Detroit Democrat told 100 or more Obama supporters. "We are going to be real nice to anybody who did not support Sen. Obama. Real nice. Super nice.
"It's the most difficult thing one can do in the political system: Beat the crap out of your opponent, and then be nice and friendly after you do it."
McAuliffe: need 'something big'
Terry McAuliffe, campaign chairman for Hillary Clinton, admitted Sunday that "something big would have to happen" for his candidate to overtake Barack Obama in the race for the Democratic presidential nomination.
However, McAuliffe vowed that the campaign would press on, despite increasing calls for Clinton to step aside.
Hillary courts media backlash, protest vote
The legions of Hillary Rodham Clinton backers still investing their cash, energy and emotion into her faltering bid for the Democratic presidential nomination seem driven not by the reasonable expectation that she can beat Barack Obama, but by the emotional desire to see her through to the end of voting and stick it to those who have already written her off.
Clinton's campaign is fanning the flames of that backlash — against the media, against superdelegates who recently backed Obama and against Obama himself. Aides hope to convert the sentiments into protest votes that could deliver landslide victories in West Virginia and Kentucky, Clinton strongholds that are among the next three states to cast ballots.
Hillary's 'Mother's Day Celebration' in 'home of Mother's Day'
Twice during her remarks, she cited e-mails she has received from supporters, most of them women, encouraging her to fight on. She said her favorite was from a woman named Angela who urged her to "keep strong." "It's not over until the lady in the pantsuit says it is," Clinton said, quoting the letter.
... "Happy Mother's Day," the woman wrote to Clinton. "Hopefully I'll be wishing you one next year as president. You have already succeeded at the world's hardest job, being a mother. The second hardest job should be a breeze for you."
Edwards hints that Clinton give up race
John Edwards, an influential Democrat and erstwhile candidate for the presidential nomination, cautioned Sunday that Senator Hillary Rodham Clinton "has to be really careful that she's not damaging our prospects" by staying in the contest now that Senator Barack Obama appears to have won it.


Barack Obama... today's headlines with excerpts
Hillary who? Obama acts like it's over
When the election returns filter in Tuesday from West Virginia, Sen. Barack Obama won't be there. Nor will he leapfrog ahead to a later primary state, as he usually does on election nights.
Exercising his new-found role as the likely Democratic nominee, Obama will instead travel to Missouri, a general election swing state, to begin laying the groundwork for November. He will do the same next week in Florida, raising money and setting out on what aides describe as a fence-mending bid in the orphaned state.
Obama now leads in superdelegates
Sen. Barack Obama erased Sen. Hillary Rodham Clinton's once-imposing lead among superdelegates yesterday when he added more endorsements from the group of Democrats who will decide the party's nomination for president.
Mr. Obama added superdelegates from Utah and Ohio, as well as two from the Virgin Islands who had previously backed Mrs. Clinton. The additions enabled the Illinois senator to surpass the former first lady's total for the first time in the campaign. He picked up nine endorsements Friday...
West Virginia folks leery of Obama... "I hear he's a Muslim"

Like most people in Mingo County, West Virginia, Leonard Simpson is a lifelong Democrat. But given a choice between Barack Obama and John McCain in November, the 67-year-old retired coalminer would vote Republican.
"I heard that Obama is a Muslim and his wife's an atheist," said Mr Simpson, drawing on a cigarette outside the fire station in Williamson, a coalmining town of 3,400 people surrounded by lush wooded hillsides.
Mr Simpson's remarks help explain why Mr Obama is trailing Hillary Clinton, his Democratic rival, by 40 percentage points ahead of Tuesday's primary election in the heavily white and rural state, according to recent opinion polls...
Novak: Michelle vetoes Hillary
Close-in supporters of Sen. Barack Obama's presidential campaign are convinced he never will offer the vice presidential nomination to Sen. Hillary Clinton for one overriding reason: Michelle Obama.
Ralph Nader... today's headlines with excerpts
view more past news & headlines