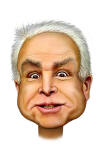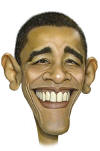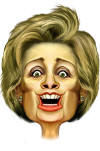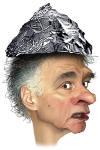 click on each candidate to see today's news stories (caricatures by Linda Eddy)
Tuesday, May 13, 2008
West Virginia primary is today
5 things to watch in West Virginia
Even if Hillary Clinton beats Barack Obama in Tuesday's West Virginia primary by the huge margins predicted by polls, the victory won't go very far towards chipping away at Obama's lead in pledged delegates in their race for the Democratic presidential nomination.
It could, however, give Clinton's sputtering campaign one last chance to alter – or at least mute – the prevailing narrative that Obama's nomination is inevitable.
Obama braces for West Virginia setback
Barack Obama has conceded he will likely lose the West Virginia primary Tuesday, but as the Illinois senator shifts his focus to the general election, he must prove he can win over the state's working-class white voters...

Trouble at the polls in West Virginia?
A Democratic lawyer in West Virginia is raising questions about the Voter ID requirements being used by West Virginia election officials...
Huckabee becomes MSNBC 'insider' for primary night
For coverage of the West Virginia primary, MSNBC has a new "Insider" spouting his opinions and analysis: Mike Huckabee.
The former presidential candidate, who many see as having a future in television (as well as politics), will be paired with DLC chairman Harold Ford. That role usually goes to Joe Scarborough, who's on vacation this week.
GOP at risk of losing Deep South seat
The increasingly frantic hopes of the GOP rest on Greg Davis, the mayor of the Memphis suburb of Southaven, who is running against Childers to succeed former congressman and now-Sen. Roger Wicker (R-Miss.)...
Bob Barr officially running on Libertarian ticket
Former Republican Rep. Bob Barr launched a Libertarian Party presidential bid Monday, saying voters are hungry for an alternative to the status quo who would dramatically cut the federal government.
His candidacy throws a wild card into the White House race that many believe could peel away votes from Republican Sen. John McCain given the candidates' similar positions on fiscal policy.
Barr, who has hired Ross Perot's former campaign manager, acknowledged that some Republicans have tried to discourage him from running. But he said he's getting in the race to win, not to play spoiler or to make a point.
---
THE CANDIDATES:
John McCain... today's headlines with excerpts
McCain differs with Bush on climate change
Senator John McCain sought to distance himself from President Bush on Monday as he called for a mandatory limit on greenhouse gas emissions in the United States to combat climate change....
McCain speaks on global warming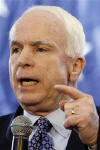 The presumptive Republican nominee declares that climate change is undeniable and urgent, suggesting that the United States hasn't acted quickly enough and pledging to return to international negotiations. Bush refused to sign the Kyoto global warming accord.
"We have many advantages in the fight against global warming, but time is not one of them," he plans to say, according to excerpts provided by his campaign. "Instead of idly debating the precise extent of global warming, or the precise timeline of global warming, we need to deal with the central facts of rising temperatures, rising waters, and all the endless troubles that global warming will bring. We stand warned by serious and credible scientists across the world that time is short and the dangers are great. The most relevant question now is whether our own government is equal to the challenge."
For McCain, distance from Bush is key
McCain's burden this year is as much about convincing voters that he is not a continuation of the Bush presidency as it is about beating his Democratic opponent.
... How serious is the problem for McCain? A USA Today/Gallup Poll released Monday states: "George W. Bush may do as much damage to John McCain's chances of being elected as Jeremiah Wright does to Barack Obama's."
Environmental stances are balancing act for McCain
McCain has made the environment one of the key elements of his presidential bid. He speaks passionately about the issue of climate change on the campaign trail, and he plans to outline his vision for combating global warming in a major speech today in Portland, Ore.
"I'm proud of my record on the environment," he said at a news conference Friday at the Liberty Science Center in Jersey City. "As president, I will dedicate myself to addressing the issue of climate change globally."
But an examination of McCain's voting record shows an inconsistent approach to the environment: He champions some "green" causes while casting sometimes contradictory votes on others...
MoveOn's former political honcho outline how the left will take on McCain
McCain has a credible brand with the public, who see him as a maverick and a reformer. If McCain succeeds on his current path, he may be able to use his own popularity to infuse the Republicans with new life and a new narrative--the "Change Republican."
The risk is amplified because there are 34 open House seats and 5 open Senate seats. Unlike incumbents, these Republican candidates--who aren't from Washington--could seize onto McCain's "Change Republican" brand and ride his coattails to a Republican comeback. Democrats could lose the House and Senate, and the White House would be out of reach.
It wouldn't be all "change." They'd combine this with the usual scare tactics and terror-mongering--tired old tactics that failed in 2006.
Cindy McCain lags with public image
The latest Fox 5/The Washington Times/Rasmussen Reports poll asked Americans which mother has "had the most positive influence on America," and Mrs. McCain trailed the pack, with just 4 percent — well below Mrs. Obama, Mrs. Clinton and top-choice first lady Laura Bush. She even trailed the fictional matriarch from "The Simpsons," who garnered 9 percent.
Hillary Clinton... today's headlines with excerpts
Hillary hints she's ready to pull the plug
"Thank you for caring so much about our country," Clinton said in a video sent yesterday to supporters. "And now it's on to West Virginia and Kentucky and Oregon, and we'll stay in touch."
Not mentioned in her apparent video swan song are the final three primaries, in Puerto Rico, Montana and South Dakota, to be held after next week - leading to speculation that she might pull the plug on her campaign after what are expected to be strong wins in West Virginia and Kentucky.
But a new poll says 64 percent of Democrats nationwide, want her to stay in the race.
Hillary running hard in campaign's last laps
Forget the calls for her to quit the presidential race: Senator Hillary Rodham Clinton is determined to rack up two big primary victories in the next eight days — in West Virginia and Kentucky — as she seeks to prove her continued political viability and claim bargaining chips that might help her exit the race on her terms, her advisers say.
... she and her chief political counselor, her husband, see the two coming primaries as crucial to strengthening her standing and, if it comes to it, to allowing her to leave the race on a high note, the advisers say.
Hillary lightens up wardrobe as race winds down
Hillary Clinton has swapped color for Kleenex.
Instead of revealing a softer side by shedding tears in public, as she did Jan. 7 during a New Hampshire campaign stop, the candidate's strategy is sartorial - the senator has been sporting surprisingly bright hues these days, defying her dark horse status in the race for the White House...
Barack Obama... today's headlines with excerpts
A silver lining in Obama's slog
...the good news for the Obama team is that a lot of the work it has been forced to perform to survive this bruising primary season has had the unintended side effect of laying the groundwork for a general-election campaign. Voter-registration lists, ground operations and the Obama money network -- all are bigger and better developed than they would have been had the race quietly wound down in mid-February.
Johnson switches sides again
Prince George's County Executive Jack B. Johnson, a Democratic convention delegate pledged to support Sen. Hillary Rodham Clinton, said yesterday that he thinks Sen. Barack Obama has "in a real sense" won the Democratic nomination and that he now plans to support Obama at the August convention. Johnson, who endorsed Clinton nine days before Maryland's February primary, said he will urge Gov. Martin O'Malley and Sen. Barbara A. Mikulski, who co-chair Clinton's Maryland campaign, to bring all of her delegates to Obama's camp for the sake of party unity...
Confronting questions, Obama assures Jews of his support
Faced with doubts about his support for Israel and American Jews, Senator Barack Obama has stepped up his efforts to reach out to the Jewish community over the past month, giving speeches and granting interviews to confront questions about the militant Palestinian group Hamas and his commitment to Jewish causes and values...
Obama brings up his middle name: Hussein
Byron York: "just for people who don't have time to go through the entire Atlantic interview, the section in which Obama brings up his middle name is this:
Look, we don't do nuance well in politics and especially don't do it well on Middle East policy. We look at things as black and white, and not gray. It's conceivable that there are those in the Arab world who say to themselves, "This is a guy who spent some time in the Muslim world, has a middle name of Hussein, and appears more worldly and has called for talks with people, and so he's not going to be engaging in the same sort of cowboy diplomacy as George Bush," and that's something they're hopeful about. I think that's a perfectly legitimate perception as long as they're not confused about my unyielding support for Israel's security.
Putting aside the foreign policy analysis, one obvious result of this, I think, is that it will make it more difficult for the Obama campaign, or the McCain campaign, for that matter, to try to shush people who, for whatever reason, refer to Obama by his full name.
Racist incidents give some Obama campaigners pause
For all the hope and excitement Obama's candidacy is generating, some of his field workers, phone-bank volunteers and campaign surrogates are encountering a raw racism and hostility that have gone largely unnoticed -- and unreported -- this election season. Doors have been slammed in their faces. They've been called racially derogatory names (including the white volunteers). And they've endured malicious rants and ugly stereotyping from people who can't fathom that the senator from Illinois could become the first African American president...
Ralph Nader... today's headlines with excerpts
view more past news & headlines