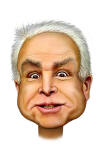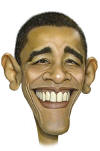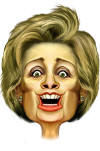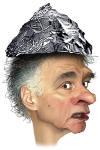 click on each candidate to see today's news stories (caricatures by Linda Eddy)
Thursday, May 15, 2008
GENERAL NEWS HEADLINES with excerpts
Edwards endorses Obama
At a rally in Grand Rapids, Mich., on Wednesday evening,

John Edwards endorsed Barack Obama, who was on the stage with him, to be the Democratic nominee for president.

Sounding a theme of a nation divided into parts by walls, Mr. Edwards said, "The reason I am here tonight is that Democratic voters in America have made their choice and so have I."

Mr. Edwards then went on to say, "There is one man who knows in his heart that it is time to tear down that wall and make one America, Barack Obama."

Mr. Obama, who had introduced Mr. Edwards as "one of the great leaders we have in the

Democratic Party, " responded by saying he was grateful to him for coming to Michigan and giving his endorsement.

Mr. Obama also noted how Mr. Edwards and his wife, Elizabeth, had emphasized health care as an issue that is of primary concern, then said it would be a major issue in his administration.

The endorsement comes at a time when the appeal of Mr. Obama appears to be lagging among white, blue-collar voters, a group to which Mr. Edwards openly appealed.

Mr. Edwards's endorsement also brings in tow 19 convention delegates he won in early party selections. He could certainly urge them to give their support to Mr. Obama, though they would not be obligated by party rules to do so.

Emily's List vs. NARAL

A rift in the women's movement, as the head of Emily's List -- a key Clinton backer -- attacks Naral for endorsing Obama:

I think it is tremendously disrespectful to Sen. Clinton - who held up the nomination of a FDA commissioner in order to force approval of Plan B and who spoke so eloquently during the Supreme Court nomination about the importance of protecting Roe vs. Wade - to not give her the courtesy to finish the final three weeks of the primary process. It certainly must be disconcerting for elected leaders who stand up for reproductive rights and expect the choice community will stand with them.


GOP cancer: Party could lose 20 more seats

The Republican defeat in Tuesday's special election in Mississippi, in a deeply conservative district where, in an average year, Democrats cannot even compete, was a clear sign that the GOP has the political equivalent of cancer that has spread throughout the body. Many House GOP operatives are privately predicting that the party could easily lose up to 20 seats this fall.

see also:

Mississippi Democrat takes longtime GOP House seat

Former RNCC chair Tom Davis: Atmosphere worst for GOP since Watergate

---
THE CANDIDATES:
John McCain... today's headlines with excerpts
Quinnnipiac national poll bad news for McCain
McCain losing to Obama by 7 and Clinton by 5 nationally
The religification of John McCain
In the past, Sen. McCain has tended to emphasize a sense of duty as the key to his survival in Vietnam. "Glory belongs to the act of being constant to something greater than yourself, to a cause, to your principles, to the people on whom you rely, and who rely on you in return," he wrote. "A filthy, crippled, broken man, all I had left of my dignity was the faith of my fathers. It was enough."
This is a powerful testament to Sen. McCain's character and code of honor. What it is not is a declaration that God was the primary source of strength or object of his faith.
Compare that to his comments in a recent interview in which he described his religion as "my sword and my shield and my sustenance and my strength." Sometimes, he said, "I prayed for another minute that I could withstand what I was experiencing."
That powerful sentiment is no doubt genuine. It is also a sign that he's begun to "overcome" his reticence.
McCain to make appearance on Saturday Night Live
Sen. McCain, R-Ariz., is scheduled to make a cameo appearance on 'Saturday Night Live' this weekend in New York.
So far, the campaign is tight-lipped on the nature of his appearance, but in the race to November both his Democratic rivals have made appearances in recent weeks on the long-running sketch comedy staple on NBC.
McCain hosted the program back in 2002, memorably playing then-Attorney General John Ashcroft in one sketch, and singing a retinue of Barbara Streisand songs in another.
You can watch the video HERE.
Judge rejects DNC's McCain fundraising lawsuit
A federal judge in Washington has curtly dismissed a lawsuit the Democratic Party brought to block the presumptive Republican nominee for president, Senator McCain of Arizona, from withdrawing from the system for public financing of presidential elections.
NRA chief stresses common ground with McCain
A top official of the National Rifle Association said Republican John McCain has been a reliable ally of gun owners despite divisions with the powerful lobbying group on some issues.
"We've had our disagreements, everybody knows it," NRA executive vice president Wayne LaPierre told The Associated Press in an interview Tuesday. "I guess we'll just have to agree to disagree on those. We're not foolish enough to ignore the vast areas of agreement in which John McCain has been a friend to gun owners."
McCain is scheduled to address the NRA convention Friday in Louisville, Ky.
McCain's appeal to Latinos
In 1998, while Texas Gov. George W. Bush made headlines for earning an impressive 49 percent of the Latino vote in his re-election, McCain walked off with an unheard-of 65 percent in his Senate re-election bid. Six years later, he did even better, earning around 70 percent of the Latino vote.
Most political observers don't expect McCain to match those numbers in a national election, but half of that - 35 percent - is a definite possibility. With that kind of support among Latinos, McCain could win the White House.
McCain wins Nebraska with nearly 90% of vote
With almost 40% of the vote counted, McCain had 88% of the tally. Texas Rep. Ron Paul, who recently suspended his presidential quest, was second. McCain and Paul were the only two candidates on the ballot and neither has campaigned in Nebraska.
In the three prior GOP primaries, McCain had failed to reach the 80% mark despite having locked up the Republican nomination, raising questions about whether there was lingering resistance to his candidacy within his own party.
Cindy McCain divests $2 million with Sudan ties
Cindy McCain, wife of Republican presidential candidate John McCain, on Wednesday divested herself of $2 million in mutual funds that invested in Sudan after inquiries from a news organization.
Sen. John McCain has called for international sanctions against the Sudanese government for killings in Darfur. The Associated Press reported that his wife sold the mutual funds -- American Funds Europacific Growth fund and American Funds Capital World Growth and Income fund. Both funds have holdings in companies that operate in Sudan.

Hillary Clinton... today's headlines with excerpts
Clinton predicts nominee before convention
Asked whether the intraparty fight will still be ongoing at the convention in August, Clinton said in an interview with Brian Williams on NBC's Nightly News: "I think we'll have a nominee. I really believe that. But again, we'll know a lot more on June 4." In another interview, with Wolf Blitzer on CNN's "Situation Room," Clinton said it would be a "terrible mistake" for Democrats to vote for Sen. John McCain over Sen. Barack Obama if she is not the nominee herself...
Clinton camp on Edwards' endorsement of Obama
"It's not great news," said a senior Clinton advisor of the news that former Sen. John Edwards, D-N.C., will break his neutrality and endorse Sen. Barack Obama, D-Ill., in Michigan Wednesday night.
"Well, I don't think it's good news, but there's a lot of news in this business and we move forward and move past it," the Clinton advisor said.
Asked what effect the Edwards endorsement might have: "We don't know. We'll see. We'll see how much of it is transferable," referring to Edwards' popularity with white working class voters.
McAuliffe defiant in face of Edwards endorsement of Obama
Asked what he thought about the timing of Edwards' endorsement, McAuliffe said it was not an endorsement or a media figure that could tell Americans who should be their next commander-in-chief. "We have six million eligible Democrats left to vote," McAuliffe said. "They're going to determine who the nominee of the Democratic Party is. And it's not someone on television telling them what to do. People like it that Hillary Clinton is fighting for them."
"These folks are not quitting on Hillary Clinton, and she is not quitting on them. We are in this thing 'til the end. We are in it. We are taking it to Denver, and we're taking it to the White House. Hillary Clinton will be the next President of the United States of America."
Clinton campaign paints a rosy picture
On the day after her landslide victory in the West Virginia Democratic primary, Sen. Hillary Clinton's campaign was eager to boast about momentum and try to dispel any rumors that it is running low on cash.
On their first conference call with the press since a week ago, campaign aides claimed they have the resources to go forward.
"Financially, we're in very good shape," said a cheerful campaign chairman Terry McAuliffe. "We continue to raise more money. We continue to need more money but we'll bring it in."
McAuliffe said the campaign raised "seven figures" following Clinton's West Virginia win but when pressed aides would not specify how much money had been raised. Clinton heads to Los Angeles Thursday for another fundraiser.
Bill says Florida and Michigan are "embarrassing" for Democrats
Former President Bill Clinton continued to make a case for seating the delegates in Florida and Michigan Wednesday, saying that it's "shocking and embarrassing" to see the Republican party dealing with this situation in a better manner than the Democrats.
President Clinton chose to begin his speech to a crowd in Missoula, Mont. with what turned into a six-minute discussion of the status of Michigan and Florida.
"All [Hillary] has ever asked for is that everybody vote, that we count the voters that show up, this is about the people not the mechanism. If you wanna punish them fine, but don't pretend they don't exist. And don't pretend it didn't happen. And don't pretend that she wasn't willing to let them vote again and help them raise the money to let them vote again," Clinton said.
Barack Obama... today's headlines with excerpts
Obama gaffes on Iraq and Afghanistan
Sporting a shiny new American flag pin at an appearance in Rush Limbaugh's hometown, Sen. Barack Obama came up with some novel reasons why the U.S. may be struggling in the war in Afghanistan.
"We don't have enough capacity right now to deal with it -- and it's not just the troops," Obama, D-Ill., told a crowd in Cape Girardeau, Missouri.
Obama posited -- incorrectly -- that Arabic translators deployed in Iraq are needed in Afghanistan -- forgetting, momentarily, that Afghans don't speak Arabic...
Obama says Childer's win is proof of his Michigan chances
Senator Obama used Congressman-elect Travis Childers' win last night in a Mississippi special election as proof that he can beat John McCain in Michigan.
Obama, in his first visit to Michigan since June, told a Warren audience that regardless of the fierce Republican attacks, the Democratic candidate was still able to win over a Republican seat. ..
Obama pledges help for manufacturers in appeal to working class
Barack Obama promised more money to help manufacturers find ways to save jobs a day after his loss in West Virginia highlighted his need to reach out to working class voters.
Campaigning in a Detroit suburb, the Illinois senator proposed doubling funding for the Manufacturing Extension Partnership, a federal program which aims to improve the productivity of companies, and creating a $100 million fund to invest in new manufacturing strategies...
Obama tours not-so-friendly turf
When Sen. Claire McCaskill (D-Mo.) introduced Sen. Barack Obama at an economic town hall meeting in rural Missouri, she didn't mention any aspect of his economic plan.
McCaskill instead talked about patriotism. She vouched for Obama's love of country, his work on behalf of veterans and his grandfather who fought in Gen. George Patton's Army.
Obama had set foot Tuesday in staunch Republican territory – the birthplace of Rush Limbaugh, no less – and certain things apparently needed to be said.
It was the beginning of what turned out to be a tour of not-so-friendly turf, a two-day trip through two general election swing states that allowed Obama to showcase his cross-party appeal but also advertise his challenges. Each stop underscored the work he would have to do as the Democratic Party nominee...


Ralph Nader... today's headlines with excerpts
view more past news & headlines