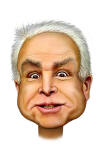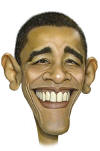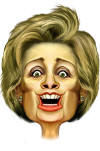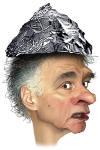 click on each candidate to see today's news stories (caricatures by Linda Eddy)
Weekend Report, May 17-18, 2008
GENERAL NEWS HEADLINES with excerpts

White House says real target of Bush 'appeasement' comment was Jimmy Carter
Ed Gillespie: "We did not anticipate that it would be taken that way, because its kind of hard to take it that way when you look at the actual words. ... There was some anticipation that someone might say you know its an expression of rebuke to former President Carter for having met with Hamas. that was something that was anticipated but no one wrote about it or raised it."
Bush assails 'appeasement,' touching off storm
President Bush used a speech to the Israeli Parli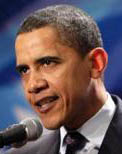 d negotiate with "terrorists and radicals" to appeasers of the Nazis — a remark widely interpreted as a rebuke to Senator Barack Obama, who has advocated greater engagement with countries like Iran and Syria.
Mr. Bush did not mention Mr. Obama by name, and White House officials said he was not taking aim at the senator, though they were aware the speech might be interpreted that way.
The comments created an angry tussle back home, as Democrats accused Mr. Bush of breaching protocol by playing partisan politics overseas...
see also:
Bush's comments seen as jab at Obama
Bush derides terrorism 'appeasement'; Obama bristles
Behind the Bush-Obama smackfest
Peggy Noonan says Republicans are falling apart
The Democrats aren't the ones falling apart, the Republicans are. The Democrats can see daylight ahead. For all their fractious fighting, they're finally resolving their central drama. Hillary Clinton will leave, and Barack Obama will deliver a stirring acceptance speech. Then hand-to-hand in the general, where they see their guy triumphing. You see it when you talk to them: They're busy being born.
The Republicans? Busy dying. The brightest of them see no immediate light. They're frozen, not like a deer in the headlights but a deer in the darkness, his ears stiff at the sound. Crunch. Twig. Hunting party...
Ted Kennedy hospitalized after seizure; not in immediate danger
The senator was stricken by what was initially believed to be strokelike symptoms at his Cape house on Saturday, but Kennedy's Senate office released a statement around 2 p.m. that confirmed he had experienced a seizure.
A government official said he was believed to have suffered a second seizure on the flight to Boston.
''He is undergoing a battery of tests at Massachusetts General Hospital to determine the cause of the seizure,'' a brief statement from his Senate office read. ''Senator Kennedy is resting comfortably, and it is unlikely we will know anything more for the next 48 hours.''
---
THE CANDIDATES:
John McCain... today's headlines with excerpts
McCain hints at flexibility on wife's tax returns
Cindy McCain has been adamant about not releasing her tax returns now or even as First Lady, but John McCain suggests in a new interview with Glamour that the matter may still be under review. He said twice that they'd continue to discuss it...
Another top McCain official resigns
Former Rep. Thomas G. Loeffler, a Texan who is among the McCain campaign's most important advisers and fundraisers, has resigned as a national co-chair over lobbying entanglements, a Republican source told Politico on Sunday.
It's at least the fifth lobbying-related departure from the campaign in a week...
McCain criticizes Obama, Clinton on gun control
Senator John McCain reached out to the National Rifle Association on Friday and warned 6,000 people at the group's annual convention that a President Barack Obama or Hillary Rodham Clinton would put the rights of "law-abiding'' gun owners at risk...
McCain and Bush to appear together at Phoenix fundraiser
President George W. Bush will join John McCain for a fundraiser in the Arizona senator's hometown later this month, McCain's campaign confirms.
The reception, to be held in Phoenix on May 27th, will mark the first time the two have appeared together at a campaign event this year and the first time Bush has lent his fundraising skills to McCain.
Dems accuse McCain of hypocrisy on Hamas
Democrats accused Sen. John McCain Friday of hypocrisy on the question of whether the United States should negotiate with terrorists and dictators, saying the certain Republican nominee had previously been willing to negotiate with the militant Palestinian group Hamas.
In an op-ed published Friday in The Washington Post, former Clinton State Department official James Rubin said that McCain, responding to a question in a television interview two years ago about whether U.S. diplomats should be working with the Hamas government in Gaza, said:
"They're the government; sooner or later we are going to have to deal with them, one way or another, and I understand why this administration and previous administrations had such antipathy toward Hamas because of their dedication to violence and the things that they not only espouse but practice, so ... But it's a new reality in the Middle East. I think the lesson is people want security and a decent life and decent future, that they want democracy. Fatah was not giving them that."
McCain believes Iraq war can be won by 2013
Republican John McCain declared for the first time Thursday he believes the Iraq war can be won by 2013, although he rejected suggestions that his talk of a timetable put him on the same side as Democrats clamoring for full-scale troop withdrawals...
McCain reaches out to liberal blogs
Sen. John McCain's presidential campaign is trying to tap a new audience of potential voters by taking his campaign message straight to liberal and nonpolitical issues-based blogs, which reach millions of readers but don't often delve into conservative politics...
Hillary Clinton... today's headlines with excerpts
Hillary turns fire on media
On the campaign trail, in a new ad and in her meetings with donors and superdelegates, she blasts the D.C. punditocracy for counting her out and urges anyone who'll listen to ignore the hardening storyline that places Obama as the Democratic presidential nominee.
The goal is two-fold. Clinton, a New York senator, wants to staunch the flow of uncommitted superdelegates to Obama, an Illinois senator, by convincing them she can still win the nomination. She also wants to generate a protest vote in the four states that have yet to hold primaries, as well as in Puerto Rico...
Amid clamor to drop out, Hillary campaigns on
...the former first lady soldiers on, but her campaign for the Democratic presidential nomination is on the down-swing.
Crowds are shrinking, media attention is waning, supporters are jumping ship and calls are growing for her to drop out and help unite the Democrats behind Barack Obama.
... Clinton, a New York senator, vows to stay in the race until the last primary despite a campaign deeply in debt. She trails Illinois Sen. Obama in the popular vote, in pledged convention delegates and in superdelegates...
see also:
A subdued Clinton, and a subdued audience, on the campaign trail
Party's rules committee has crucial role in Clinton's hopes
The panel, the Rules and Bylaws Committee, is to meet on May 31 in Washington and could determine the nominating process, or at least heavily influence it. What the committee will do is a major question mark before the last primaries on June 3...
Florida, Michigan delegates cannot save Hillary
Sorry, Sen. Clinton. Michigan and Florida can't save your campaign. Interviews with those considering how to handle the two states' banished convention delegates found little interest in the former first lady's best-case scenario.
Her position, part of a formidable comeback challenge, is that all the delegates be seated in accordance with their disputed primaries.
And even if they were, it wouldn't erase Barack Obama's growing lead in delegates over Hillary Rodham Clinton...
Belittled woman - Hillary refuses to bend, or bow out. Cue another chorus of 'poor Hillary'
"Poor Hillary" means Clinton finally is being brought low (she is forever being brought low, isn't she?), the know-everything who tries so hard but never gets enough votes to be class president.
Eons ago, the smart folks at Slate likened Clinton to Tracy Flick, the hyperactively ambitious teenager played by Reese Witherspoon in the movie "Election."
And it's true; somewhere in our collective gray matter, Clinton is still wearing those schoolgirl headbands from when Bill first ran for president.
Barack Obama... today's headlines with excerpts
Barack's biggest problem now: how to get rid of Hillary gently
What does Hillary want? Whatever it is, Barack Obama should just say yes. Unless she wants to be his running mate. Then he definitely should say no.
Obama has to say no nicely, of course, to let her save face and, more important, not to drive away her supporters. But he also has to say no firmly enough that she realizes there is no room for negotiation. Clinton's blowout win in West Virginia yesterday puts an exclamation point on the dilemma Obama faces. He has the nomination nearly sewn up, but her refusal to quit could disrupt his plan to claim victory next week.
As the results proved again, her hold on older women and white, working-class voters illustrates his weakness. Obama's inability to appeal to those groups is the biggest threat to his chance against John McCain in November...
Obama criticizes McCain, Bush on appeasement talk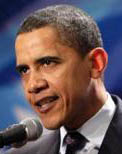 Barack Obama rebuked Republican rival John McCain and President Bush for "dishonest, divisive" attacks in hinting that the Democratic presidential candidate would appease terrorists, staunchly defending his national security credentials for the general election campaign.
Obama responded Friday to Bush's speech Thursday to the Israeli Knesset. The president referred to the leader of Iran, who has called for the destruction of the U.S. ally, and then said some seem to believe that we should negotiate with terrorists and radicals—comments Obama and Democrats said were directed at them. McCain subsequently said Obama must explain why he wants to talk with rogue leaders.
"I'm a strong believer in civility and I'm a strong believer in a bipartisan foreign policy, but that cause is not served with dishonest, divisive attacks of the sort that we've seen out of George Bush and John McCain over the last couple days, " Obama told about 2,000 voters at a town hall-style meeting in a livestock barn.
Obama said McCain had a "naive and irresponsible belief that tough talk from Washington will somehow cause Iran to give up its nuclear program and support for terrorism."
Huckabee jokes about Obama ducking gunfire
When his speech to the National Rifle Association was interrupted by a loud noise from backstage, Mr. Huckabee quipped, "That was Barack Obama. He just tripped off a chair. He's getting ready to speak and somebody aimed a gun at him and he — he dove for the floor."
Though the audience laughed at the first part of the joke about Mr. Obama falling off the chair, the gun comment the former Republican presidential contender drew a few murmurs.
McGovern switches to Obama
McGovern, the 1972 Democratic presidential candidate and former South Dakota senator, made a memorable endorsement last October of Sen. Hillary Rodham Clinton, telling an Iowa crowd: "We have an old rule of courtesy in the United States: Ladies first."
Not anymore. He made his switch to the Obama campaign official Friday, introducing the Illinois senator at a rally
Ralph Nader... today's headlines with excerpts
view more past news & headlines