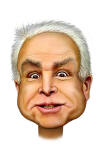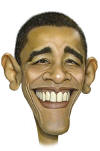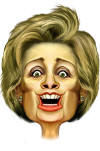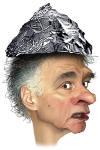 click on each candidate to see today's news stories (caricatures by Linda Eddy)
Thursday, May 22, 2008
GENERAL NEWS HEADLINES with excerpts
Novak: McCain won't play by Obama's rules
The shorthand, widely repeated by the news media, is that the Republican candidate must not "Swift boat" Obama. That amounts to unilateral political disarmament by McCain.
McCain is not about to disarm. His campaign has no intention of fighting this battle on Democratic turf. During the more than five months ahead, Republicans will explore the mindset of this young man who is a stranger to most Americans. That includes his association with the Chicago leftist William Ayers, who has remained unrepentant about his violent role as a 1960s radical. This will not be popular with McCain's erstwhile admirers in the mainstream news media, but America has not heard the last of Bill Ayers in this campaign...
Pundits, like candidates, find themselves in limbo
Two weeks after the political commentator class declared the contest all but over for Mrs. Clinton, there it was again on Tuesday night, wearily chewing over another split decision that failed to significantly reduce the perception that Mr. Obama would be the Democratic nominee: Groundhog Day, Primary Season Edition...
---
THE CANDIDATES:
John McCain... today's headlines with excerpts
McCain's veepstakes survivor: 9 couples, 3 contenders, 1 weekend
Three elected officials widely rumored to be under consideration for the Republican vice presidential nomination will spend part of their Memorial Day weekend at the McCain compound in Sedona, Arizona, according to a campaign official.
Gov. Bobby Jindal of Louisiana, Gov. Charlie Christ of Florida, and former Gov. Mitt Romney of Massachusetts have all been invited to spend some leisure time with presumptive Republican presidential nominee, Sen. John McCain, R-Ariz.
see also: Grading McCain's veep prospects
Illegals haunt McCain
Sen. John McCain (Ariz.) is backing the renewal of a $250 million-a-year program that will pay illegal immigrants' hospital bills.
The very idea that McCain is again supporting a program that some view as rewarding illegal immigrants is certain to attract attention from the same conservatives he's trying to win over for the White House.
McCain struggles on cusp of general election
The campaign recently has been rattled by fallout from McCain's determination to purge his campaign of lobbying conflicts. The departure of five staff members has provided ammunition to Democrats and produced a snarl of damaging news coverage questioning McCain's reformist image....
McCain set to release health data on Friday
Senator John McCain is set to release 400 pages of medical records, including documents related to his melanoma surgery in August 2000, to a tightly controlled group of reporters on the Friday before Memorial Day weekend.

Hillary Clinton... today's headlines with excerpts
Can Hillary muscle to a VP nod?
It is possible to muscle your way into a vice presidential nod: You have something the nominee wants, and he has to give it to you.
The question is: Does Hillary Clinton have that kind of muscle?
Her victories in states such as Ohio, Pennsylvania and West Virginia and her strength with women and white working-class voters have fueled the argument that Barack Obama must put her on the ticket if he wins the nomination and wants those states and those votes in the fall...
Clinton signals she may carry fight to convention
A day after Senator Barack Obama gathered a majority of pledged delegates in the Democratic presidential nominating contest, Senator Hillary Rodham Clinton defiantly sent out new signals Wednesday that she might take her fight for the nomination all the way to the party's convention in August...
Clinton compares the Florida and Michigan fight to civil rights movement
Hillary Clinton compared her effort to seat Florida and Michigan delegates to epic American struggles, including those to free the slaves and win the right to vote for blacks and women.
The current stalemate over the two states' primary votes threatens to replicate the disputed 2000 presidential election in Florida, she warned an elderly crowd in Palm Beach County - one of the jurisdictions where Democrats allege voters were disenfranchised in 2000.
Clinton debt means tough choices ahead
Paying herself back the money she pumped into her campaign might prove to be trickier if she exits the race. FEC rules limit a candidate from raising more than $250,000 after the conventions to pay personal debt. However, she has until now and the Democrats' August convention in Denver to fundraise to pay herself back...
Hillary evokes ghosts of Bush v. Gore
As the New York senator presses party officials to count the unsanctioned Florida and Michigan primaries, she is warning that doing otherwise would smack of the resolution of the 2000 presidential election in Florida and provoke a November backlash against Democrats.
"We still have nightmares about 2000 and what happened in that election – it was wrong," she told hundreds of supporters packed into a retirement community clubhouse in this South Florida city of 90,000 residents. "Many of us believe that the candidate who got fewer votes was inaugurated president. And we all know that – of all states – this state should have extra attention to make sure your votes are counted."
Hillary's popular vote strategy: the Zimbabwe argument
As she made her way down Florida, Sen. Hillary Clinton continued to push her popular vote argument. As an example, Clinton mentioned what happened in the elections in Zimbabwe to illustrate what can happen when the popular vote is not observed.
Speaking in Sunrise, Fla., Clinton said: "You heard Diana talk about coming from a country where votes don't count. People go through the motions of an election only to have it discarded and disregarded. We're seeing that right now in Zimbabwe -- tragically an election was held, the president lost, they refused to abide by the will of the people. So we can never take for granted our precious right to vote."
Madame President Clinton? Chelsea Clinton, that is
"If you asked me (if Chelsea would run for office) before Iowa, I would have said, 'No way. She is too allergic to anything we do.' But she is really good at it," former President Bill Clinton tells PEOPLE magazine in their latest issue, hitting newsstands Friday.
In the PEOPLE exclusive, Clinton called his daughter's "emergence" the "second best thing" of the campaign...
Barack Obama... today's headlines with excerpts
Karl Rove: Obama's troubling instincts
If Mr. Obama believes he can change the behavior of these nations by meeting without preconditions, he owes it to the voters to explain, in specific terms, what he can say that will lead these states to abandon their hostility. He also needs to explain why unconditional, unilateral meetings with Iran's Mahmoud Ahmadinejad or North Korea's Kim Jong Il will not deeply unsettle our allies.
If Mr. Obama fails to do so, voters may come to believe that he is asking them to accept that he has a "Secret Plan," and that he is hopelessly out of his depth on national security.
Obama hits Florida, focuses on McCain
In a speech that lasted seven minutes, Obama praised his party rival Sen. Hillary Clinton, D-N.Y., for an "admirable campaign, quickly changing focus to the presumptive Republican nominee John McCain, targeting him on foreign policy and lobbying...
see also: Obama at square one in Florida
Obama faces uphill battle
to win over Florida's Jews
"The fate of the world for the next four years," mused Rabbi Ruvi New as his Sunday morning Kabbalah & Coffee class dispersed in East Boca Raton. "It's all going to boil down to a few old Jews in Century Village," he added, referring to a nearby retirement community...
Webb: Affirmative action behind Obama woes
Virginia Sen. Jim Webb (D), who has not made a 2008 endorsement, blamed antipathy towards affirmative action -- and not racism -- on Wednesday for Barack Obama's lack of support among the Scots-Irish in places like Kentucky, West Virginia, and Pennsylvania.
"We shouldn't be surprised at the way they are voting right now," said Webb in an interview with MSNBC. "This is the result of how affirmative action, which was basically a justifiable concept when it applied to African-Americans, expanded to every single ethnic group in America that was not white. And these were the people who had not received benefits and were not getting anything out of it."
Viral e-mails attack Obama's life story
What began as a demonstrably false attempt to cast Obama as a Muslim has now metastasized into something far more threatening to the likely Democratic nominee. The spurious claims about his faith have spiraled into a broader assault that questions his patriotism and citizenship and generally portrays him as a threat to mainstream, white America...
see also:
The emails that just won't die
Is Obama-Biden the ticket?
Sen. Joe Biden's audition to be Sen. Barack Obama's running mate continued Tuesday when he delivered a scathing critique of the "holes" in Sen. John McCain's foreign policy.
"Who opened the door to al Qaeda in Iraq?" asked Biden. "President Bush."
"And who would keep the door open?" he continued. "John McCain."
... Biden is viewed by some senior Democratic Party strategists as holding the potential to help Obama on two of his perceived vulnerabilities: foreign policy heft and an affinity with white-working class voters.
Ex-network reporter leaves journalism to join Obama's campaign
Linda Douglass, a longtime network news correspondent in Washington now working as a contributing editor to The National Journal, said Wednesday that she would leave the magazine to work for Senator Barack Obama's campaign.
In an interview, Ms. Douglass said she would spend most of her time on the road with Mr. Obama as a traveling strategist and spokeswoman, a position created as the campaign expands operations for its expected involvement in the general election.
IRS: Obama's church did not break rules
The Internal Revenue Service says the United Church of Christ did not violate rules when it hosted Democratic presidential candidate Barack Obama at its convention in Hartford last year.
The IRS says Obama's appearance at the UCC's national meeting in June 2007 did not violate federal rules governing the appearance of politicians at religious events.
Ralph Nader... today's headlines with excerpts
view more past news & headlines